Best Halloween dog collars: Dress your dog for the holiday
Accessorize your pooch with one of the best Halloween dog collars and make a spooktacular statement this holiday season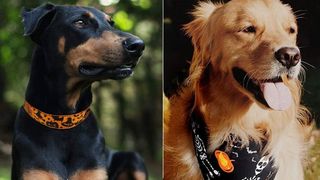 (Image credit: Amazon)
We can't say for sure whether or not dogs can see ghosts – but if your pooch is wearing one of the best Halloween dog collars, they're at least going to be attracting the attention of the living.
After all, your canine companion is bound to put many a passer-by under their spell with these cutesy yet spooky collars around their neck. They'll certainly look great by your side when you go trick-or-treating, ensuring they're well and truly included in the festivities.
One thing's for sure, you won't be compromising on quality thanks to our guide. We've steered clear of poorly made gimmicks and instead focussed on collars made from solid materials printed with fun, cool designs. You'll find all sorts of iconic images on these accessories from cobwebs and candy to broomsticks and moons. Some of them even have some extra adornments.
Why not consider a flashing LED collar, for instance, or try a collar-bandana combo. Just be sure that you're opting for a strong, durable accessory that is waterproof, comfortable and preferably washable in a size that fits well.
All of the things, in fact, that you'd want from a regular dog collar, only with added spookiness. You could even go the whole hog and team them up with the best Halloween dog costume. With all of these goodies to choose from, October 31 can't come soon enough!
PetsRadar's pick of the best Halloween dog collars
Why you can trust PetsRadar Our expert reviewers spend hours testing and comparing products and services so you can choose the best for you. Find out more about how we test.
Best overall Halloween dog collar: Blueberry Pet Fall Halloween Thanksgiving Dog Collar
Best budget Halloween dog collar: Dog Karma Store Halloween Dog Collar
Best two-piece Halloween dog collar: Taglory Halloween Dog Bandanas and Collars
Best homemade Halloween dog collar: Lionet Paws Soft Bowtie Dog Collar
Best bling Halloween dog collar: Lamphyface Halloween Dog Collar
Best LED Halloween dog collar: Azuza Halloween LED Dog Collar
Blueberry Pet Fall Halloween Thanksgiving Dog Collar
Best overall Halloween dog collar
Specifications
Size:
12"-16", 14.5"-20", 18"-26"
Color/style:
Pumpkin Party
Reasons to buy
+
Choice of designs
+
Quick-release buckle
+
Made from strong high-density polyester
Not sure what Halloween collar to get your lovable pet pooch? Not sure what color will suit them? A dog needs to look their best when stepping out for the Halloween holiday and Blueberry Pet brings together a selection of designs to help make this happen.
Made from strong high-density polyester the collars boast contrasting patterns on the inside and outside. An eco-friendly plastic roll buckle lets you adjust the collar to get the perfect fit for your pet pooch while a durable quick-release buckle makes it easy to slip on and off with the minimum of fuss. A strong golden metal D ring complements the design and provides the connection point for a leash. Color-coded matching leashes are available too if you fancy going all out.
There are four designs to choose from. Pumpkin Party is a purple collar populated with pumpkins, witches hats, bats and skulls, while on the inside is a complimentary polka dot pattern. A 3 x 2-inch material pumpkin attaches to the collar via a small piece of elastic. On smaller collars, the pumpkin looks a little too large and uncomfortable for the dog, but at least it can be moved to suit.
The Witch Hat is orange with bats, flowers, hats and candy and a contrasting diamond pattern on the inside. The decor for this collar is a sparkly purple witch hat. Again quite large for smaller dogs. Candy Corn reveals a black collar with slightly odd-looking pumpkins, spiders and candy corn with a large candy corn decoration. The final design - Deserted Castle - is very much like Pumpkin Party with a smaller pumpkin decor. All come in small, medium and large sizes, so all you need to do is decide which one you and your pet pooch want.
Dog Karma Store Halloween Dog Collar
Best budget Halloween dog collar
Specifications
Color/style:
Black and orange
Reasons to buy
+
Inexpensive
+
Heavy-duty zinc alloy D-ring
+
Strong and sturdy
If you are on the lookout for a no-nonsense dog collar for Halloween at a budget-friendly price point then you will be hard pushed to find a better option than this simple, but smart collar. There are no extras here, just the collar, but thanks to its glowing pumpkins patterns you get a good-looking, if not so cute collar.
Unlike a lot of dog-friendly Halloween collars, the pattern on this collar moves away from the cute and whimsical and heads to the darker side of Halloween. It's predominantly black with various grinning dark orange Jack-O'Lantern designs - just the faces here - that have a subtle glow and well-placed shadows to add depth to the design.
In fitting with the style of the collar it is made from a strong sturdy polyester webbing and some heavy-duty stitching ensures that it will happily stay in place wherever you may roam on the Halloween holiday. A durable quick-release plastic buckle is an able companion along with a heavy-duty zinc alloy D-ring, which boasts a reflective logo making it easier to spot in the dark.
But, on the downside, there is only one size available - large. So if you're the owner of a toy or small dog breed then this collar is not for your pup, unfortunately. It simply won't fit them, but check the size chart if you have a medium breed.
Taglory Halloween Dog Bandanas and Collars
Best two-piece Halloween dog collar
Reasons to buy
+
Two-piece set
+
Machine washable
+
Waterproof collar
Nothing says Halloween like pumpkins, witches on broomsticks, black cats and bats. Add in orange and black as the color scheme and you immediately think it's time to go trick or treating. This Halloween dog set from Taglory has all this and a little bit more. Not only do you get a dog collar in the ubiquitous orange and black but as an added bonus you get a bandana in black and orange.
Both are made from soft polyester material which is strong, durable, waterproof, and perhaps more importantly; comfortable. The stitching on the collar not only strengthens it but the edges have been carefully sewn so they don't irritate your dog's neck. This will help prolong the life of the collar and keep your pet pooch happy at the same time.
While both the collar and bandana are made from the same material, they don't carry the same Halloween patterns. The collar is orange with black silhouettes of cats, bats, pumpkins, witches, trees and stars. To complement the collar, but still retain its own identity, the bandana is black with orange details. There's not as much going on in terms of detail, it's predominantly a witch on a broomstick and a half-moon. No pumpkins, skulls or spiders here. Try combining the two or wear them separately for a stylish Halloween look.
The collars - and bandana - start at XS and go up to large, with no XXS or XL options. But the bandanas even in the small size are reasonably large measuring 17.7 x 25.6 inches, maybe a little too large for small breeds. But you can always double up to get the size you want.
Lionet Paws Soft Bowtie Dog Collar
Best handmade Halloween dog collar
Reasons to buy
+
Fits all dog breeds
+
Box X reinforcement stitching
+
Handmade
Reasons to avoid
-
Single Halloween pattern
From Pugs, Pomeranians and Chihuahuas through to Great Danes, Newfoundlands and St. Bernards, this handmade holiday collar is available in sizes for pretty much every dog breed in existence.
Made from thick and durable cotton fabric, the range kicks off with XXS and goes all the way up to XL. This sits at one and a half inches wide - to make sure that it's strong enough for large breeds - and measures an impressive 16-26-inches in length. Big enough for most, but you will need to make sure to measure properly as the material is not stretchy. There is a premium roll buckle though, which allows you to adjust to get the perfect fit for your pet pooch.
A cute pumpkin pattern with varying faces to break up the design and an easy snap-on alloy buckle, box-x reinforcement stitching and a metal D-ring ensure that this collar is going to last for many Halloweens to come.
But it's not all about the collar, keeping it company is a handsome removable bow tie that boasts the same pumpkin pattern as the collar for a smart matching look for the Halloween holiday. A couple of pieces of elastic sit on either side of the back of the bow tie to hold it in place and make it easy to put on and take off.
If you're loving the cute pumpkin design you don't just have to stick with the bow tie. You can go all out and invest in a matching dog leash and dog bandana to go pumpkin-tastic.
Lamphyface Halloween Dog Collar
Best bling Halloween dog collar
Specifications
Color/style:
Blue, orange
Reasons to buy
+
Strong and durable
+
Two collar set
+
Glitter decorations
Do you and your pet pooch want to celebrate the Halloween holiday with a little more polish and panache? Then this smart and functional dog collar set could just be what you are looking for. It offers options, quality and a little sparkle and bling that will undoubtedly bring admiring glances from other dog owners.
Made from strong, durable nylon there are two Halloween collar options to choose from. Start the celebrations with the blue ghost collar and its cute glitter ghost decoration and as the evening turns into night you can swap over to the orange bat collar with its glitter moon and bat decoration. Fancy mixing it up a little? The decorations are detachable and can be swapped to whichever collar you want. But be careful when removing them as they are not the most sturdy of decorations.
A quick-release buckle makes it easy to remove when Halloween comes to an end. But just because the holiday is over it doesn't mean that your happy hound can't carry on wearing their special occasion collar. It incorporates a strong heavy-duty metal D-ring to make sure that any lead stays attached whatever the size of your hound and how much they pull.
For small dogs, there is a 10-13.7-inch option which is five-eighths of an inch thick. For medium dogs the width moves up to three-quarters of an inch thick and is 12.2-17.7" in length. The largest collar beefs up the width to one inch while it measures 13.8-21.6" in length. So make sure you measure up before you buy.
Azuza Halloween LED Dog Collar
Best LED Halloween dog collar
Reasons to buy
+
Glow in the dark
+
Rechargeable via USB
+
Up to five-hour runtime
When darkness descends on Halloween eve it's time to go out trick or treating. But if you have a standard holiday dog collar covered in skulls, pumpkins, witches and bat designs it will be hard to see and hard to be fully appreciated. What you need is something that stands out, something that will get you seen as you walk through the neighborhood. This glowing dog collar with an LED light-guiding tube will undoubtedly make this happen.
On the outside, this collar is very much standard fare. Halloween orange with a bat design it's made from strong, durable waterproof nylon, has an adjustable buckle to help get the perfect fit, a quick-release buckle for easy release and a chrome-plated D ring to attach a leash and nameplate.
What isn't standard is the LED switch which gives control over the LED light tube that runs inside the collar to make it glow in the dark. Inside the switch sits a rechargeable Lithium-ion battery and a handy mini USB port to charge it. No need to worry about replacing small fiddly batteries, but you will need to take out the switch to recharge every so often. On the plus side, it only takes 30 minutes to charge before you can see the three light modes in action. A full charge gives three hours on steady light, four hours on quick flash and five hours on slow blinking.
On the downside, while the collar is waterproof it's only suitable for light rain and splashes. So no swimming. There is a very small gap between the charging port and the lid and if water gets in there the light tube will stop working. This is definitely more of a novelty dog collar - ideal for Halloween - rather than an all-purpose everyday collar, but worth the investment.
How to choose the best Halloween dog collar
Size
It may seem obvious when buying a dog collar but it is important that you get the right size. To see what size you need to get, place two fingers inside the measuring tape when getting your dog's neck size. This gives a little leeway when deciding on size. It's better to be a little loose than a little tight, but most collars are adjustable so you should be able to get the perfect fit. If you have a toy breed, very small breed or very large breed you might not be able to get the collar you want. The majority of collars come in small, medium and large, so make sure that you check the size chart before you buy.
Style
When looking for a Halloween dog collar it's very much a matter of personal taste. Do you want pumpkins, witches, cobwebs, skulls or spiders? Do you want one with a decoration? Do you want an added extra such as a bow tie or bandana? Do you want cute or something a bit more sinister?. There are plenty of designs out there, mainly cute and friendly but we have included a couple of collars that offer something a little different.
Material
Collars need to be strong enough to go the distance. Most are made from some form of polyester/nylon as these are lightweight, durable, waterproof, and can be thrown in the washing machine when needed. However, if your dog has sensitive skin and doesn't work well with one of these collars look for a soft cotton collar or a natural leather one instead.
Get the best advice, tips and top tech for your beloved Pets
Steve Jenkins is a freelance content creator and long-time journalist with more than 20 years in the industry. He has written for numerous titles covering tech to pets, with his latest faithful hound always by his side. When not walking his dog, or discussing who's best - cats or dogs? Loud guitars, AFC Bournemouth, Photoshop, and trying to save the world take up the rest of this time.