Welcome to PetsRadar, the home of expert advice for happier pets
By Dave Harfield published
PetsRadar is dedicated to making every pet's life a long and happy one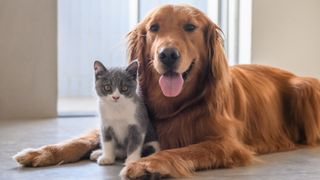 (Image credit: Getty)
Welcome to PetsRadar, a website dedicated to providing expert advice for happier pets.
Whether you're a parent to a dog, cat, reptile, horse or rabbit, PetsRadar offers a pathway to healthier pets and happier owners through our unique combination of trusted advice, expert guides and in-depth reviews. PetsRadar writers are a mix of qualified vets and veterinary professionals along with long-term pet owners with lived experience of everyday animal care.
Our recommendations will ensure you make all pet-related decisions with total confidence, from making the right choices around your pet's diet and healthcare to upgrading his or her lifestyle with the latest accessories and pet-related technology. With a mix of buying advice, reviews, how-to guides and pet care tips we hope you'll find PetsRadar to be a reliable and compassionate voice that's dedicated to making every pet's life a long and happy one.
PetsRadar is brought to you by Future PLC which also publishes LiveScience, Real Homes, TechRadar, T3, Tom's Guide, Digital Camera, Woman & Home, Living etc and many other popular titles.
To introduce myself, I'm Dave Harfield, Editor in Chief, I've previously worked on numerous magazine titles including How It Works, All About History and All About Space. I'm also the proud parent of a retired police dog named Vinnie, a German Shepherd who began a new life as our family pet when he left the force in 2018. In between walks I'll be heading up the PetsRadar team of expert writers and editors.
We've always got lots of great content planned for the site but it would be great to hear from other pet owners about what you like, what you'd like to see more of and anything you think we could improve on. If you work in animal care or training and you have products, services or techniques you'd like us to write about, do let me know about that too.
HOW TO GET IN TOUCH WITH US
Contact the editorial team with feedback, suggestions and with PR enquiries
Follow us on social media (feel free to share pet pics)
Advertising and licensing enquiries
For advertising enquiries, please contact Amanda Burns, Commercial Partnerships Director.
For information on using our logos, quotes and review content, click here or email licensing@futurenet.com.
OUR PR, REVIEWS AND ETHICS POLICY
Our reviews are independent and free from commercial considerations. We never take payment for reviews. We always return products on request or at the end of our agreed loan period.
Separate to our editorial content and process, we publish advertorial feature content which is clearly marked and tagged as 'sponsored'. We also run 'in association with' articles, which are independent editorial articles, created by writers employed by PetsRadar that have been funded through the support of a commercial partner. You can read more about content funding on PetsRadar here.
We often include shopping links in articles to enable readers to buy the products we write about – these prices are automatically populated from a selection of retailers. Our parent company, Future Publishing, gets paid a small percentage of the purchase price if you click through and buy a product as a result of using one of these links. That fee, known as an affiliate fee, is not added to your purchase price so the price you pay is the same whether you click to visit the retailer from PetsRadarl.com or you go to the retailer's site direct. These fees help us to fund the content that you read on PetsRadar.
PETSRADAR AND THE IPSO
PetsRadar is a member of the Independent Press Standards Organisation (which regulates the UK's magazine and newspaper industry). We abide by the Editors' Code of Practice and are committed to upholding the highest standards of journalism. If you think that we have not met those standards and want to make a complaint please contact us by calling 01225 442244 or writing to us at Future Publishing, Quay House, The Ambury, Bath, BA1 1UA, UK. If we are unable to resolve your complaint, or if you would like more information about IPSO or the Editors' Code, contact IPSO on 0300 123 2220 or visit the IPSO website.
Dave has over 20 years experience in publishing during which he launched many successful magazine titles including How It Works, All About Space and All About History. He's also pet parent to a retired police dog called Rebel, who can't work anymore due to a health condition. When's not busy trying to amuse a boisterous, three-year-old German Shepherd, Dave's the Editor on PetsRadar.
Get the best advice, tips and top tech for your beloved Pets
Thank you for signing up to Petsradar. You will receive a verification email shortly.
There was a problem. Please refresh the page and try again.