About PetsRadar: who we are, what we do and how to contact us
PetsRadar is dedicated to making every pet's life a long and happy one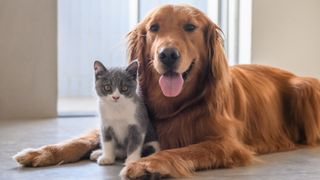 (Image credit: Getty)
Welcome to PetsRadar, a website dedicated to providing expert advice for happier pets.
Whether you're a parent to a dog, cat, reptile, horse or rabbit, PetsRadar offers a pathway to healthier pets and happier owners through our unique combination of trusted advice, expert guides and in-depth reviews. PetsRadar writers are a mix of qualified vets and veterinary professionals along with long-term pet owners with lived experience of everyday animal care.
Our recommendations will ensure you make all pet-related decisions with total confidence, from making the right choices around your pet's diet and healthcare to upgrading his or her lifestyle with the latest accessories and pet-related technology. With a mix of buying advice, reviews, how-to guides and pet care tips we hope you'll find PetsRadar to be a reliable and compassionate voice that's dedicated to making every pet's life a long and happy one.
PetsRadar is brought to you by Future PLC which also publishes LiveScience, Real Homes, TechRadar, T3, Tom's Guide, Digital Camera, Woman & Home, Living etc and many other popular titles.
Meet our team of experts
Sophie is Editor of PetsRadar and has been working in publishing for six years. Leading the team and daily direction of the website, Sophie has worked across some of PetsRadar's biggest sister sites including LiveScience, TechRadar, and was most recently, Editor of Fit&Well. While she's not busy making sure our readers have the very best advice for helping keep happier and healthier pets, Sophie is training her teenage cocker spaniel, Wally. Having found heaps of conflicting information out there when it comes to helping a reactive dog, or even choosing the right nutrition, Sophie is determined to cut through the confusion and bring the very best expert-led knowledge to PetsRadar.
Jessica is Staff Writer at PetsRadar and has previously written for the site's sister brands including Fit&Well and LiveScience. Jessica holds a Masters in Journalism and her career has spanned working in local news, lifestyle titles, and more recently, digital journalism. She has a wealth of experience writing features, product guides, and news. Growing up with a rescued golden lurcher, Sam, Jessica is driven to sharing expert-led information with pet owners and is particularly interested in pet nutrition and how it affects your pet's overall wellbeing.
Kathryn is a freelance writer who has spent the past two years dividing her writing time between her two great loves - pets and health and wellness. When she's not busy crafting the perfect sentence for her features, buying guides and news pieces, she can be found hanging out with one very mischievous Cocker Spaniel, drinking copious amounts of Jasmine tea and attempting to set numerous world records for the longest ever FaceTime calls with her family back home in NZ.
After graduating as a veterinarian from the University of Nottingham, Dr Joanna Woodnutt went on to practice companion animal medicine in the Midlands. She quickly developed a love of consulting and helping clients with medical problems such as dermatology, behavior and nutrition - anything that involved helping clients understand their pets better.
Jo started writing about pet health in 2017, realising that it meant she could help even more pet parents. Since then, she has written for countless online and print publications and is a regular contributor for Edition Dog Magazine. Jo now lives in the Channel Islands with her husband Ian and terrier Pixie, and they are expecting their first child very soon.
Rebecca MacMillan BVetMed BSAVA PGCertSAM MRCVS
Rebecca is a veterinary surgeon who graduated in 2009 from the Royal Veterinary College in London. She has a wealth of experience in first opinion small animal practice, having done a mixture of day-to-day routine work, on-call emergency duties and managerial roles over the years.
She enjoys medicine in particular and she is proud to have recently achieved a BSAVA postgraduate certificate in small animal medicine (with commendation). She writes on various feline and canine topics, including behavior, nutrition, and health. Outside of work and writing she enjoys walking her own dog, spending time with her young family and baking!
Dr. Elizabeth Racine is a small animal general practice veterinarian covering all things pet health and wellness. Her special interests include veterinary behavior, nutrition, and internal medicine. As a freelance writer, Dr. Racine has written content for major companies in the industry such as the American Kennel Club, Merck Animal Health, Bayer PetBasics, Elanco, and CareCredit. In her free time, Dr. Racine enjoys playing trampoline dodgeball, hiking with her beagle Dasher, and spending time with her three mischievous cats. Dr. Racine can be found at www.theveterinarywriter.com and at https://www.linkedin.com/in/eracinedvm/
Dr. Diana Hasler BVM&S MRCVS
Dr. Diana Hasler graduated with distinction from the University of Edinburgh Royal (Dick) School of Veterinary Studies in 2018. She has experience working as a small animal veterinarian in general practice, where she has treated many dogs, cats, rabbits, and rodents. She has also recently branched out into the field of medical communications, doing freelance work as a medical editor and writer. Dr. Hasler currently lives in Edinburgh where she enjoys spending time with her husband Gavin and playing with their feisty tabby cat Poppy.
Dr Sarah-Jane Molier BVM&S MRCVS
Sarah-Jane Molier graduated in 2009 and has been enjoying life as a vet ever since. She currently works as Head Veterinarian in a small animal practice. Sarah-Jane particular enjoys internal medicine, alongside her managerial role. When not working in practice Sarah-Jane enjoys sharing her knowledge and helping pet parents by writing on a wide variety of animal health and medicine topics. In her spare time Sarah-Jane loves walking Nero (her rescue dog), gardening with her two young children and reading.
Dr. Ellen Marcinkiewicz BVSc. MRCVS
Ellen is an experienced small animal vet and copywriter who graduated from the University of Melbourne in 2012. She has worked in clinics across Australia, the UK and New Zealand, including the Massey University Veterinary Teaching Hospital where she discovered her passion for writing and education. Ellen's veterinary interests include small animal medicine, surgery, nutrition, and rabbit medicine. She currently lives in Somerset with her fiancé and bouncy borzoi puppy named Yeti.
Dr. Hannah Godfrey BVetMed MRCVS
Dr Hannah Godfrey is a small animal vet with a love of dentistry and soft tissue surgery. She lives in Wales with her partner, son, and their two cats.
Dr. Barnette is a graduate of the University of Florida, where she received both her B.S. in Zoology and her Doctor of Veterinary Medicine (DVM). She has 15 years of clinical experience as a small animal veterinarian, treating dogs, cats, and occasional exotic patients. She now works as a freelance veterinary writer, creating educational content for veterinarians, veterinary team members, and dedicated pet owners. Dr. Barnette lives in southwest Florida with her husband and daughter (plus two cats, a dog, and a rescued dove!) and enjoys kayaking, biking, and hiking. Learn more about Dr. Barnette at www.linkedin.com/in/catherinebarnette.
PETSRADAR ADVERTISING AND LICENSING CONTACTS
For advertising enquiries, please contact Amanda Burns, Commercial Partnerships Director.
For information on using our logos, quotes and review content, click here or email licensing@futurenet.com.

Contact the editorial team with feedback, suggestions and with PR enquiries
Follow us on social media (feel free to share pet pics)
DELIVERY ADDRESSES
Bath office
Future PLC, Quay House, The Ambury, Bath, BA1 1UA
London office
Future PLC, 121 - 141 Westbourne Terrace, Paddington, London, W2 6JR
Newport office
Future PLC, Imperial House, Imperial Way, Newport, NP10 8UH
Washington DC office
Future PLC, Suite 600, 555 11th St NW, Washington, D.C., 20004
New York office
Future PLC, Full 7th Floor, 130 West 42nd Street, New York, NY,10036
Please note the majority of our team works remotely, please email for personal addresses.
OUR PR, REVIEWS AND ETHICS POLICY
Our reviews are independent and free from commercial considerations. We never take payment for reviews. We always return products on request or at the end of our agreed loan period.
Separate to our editorial content and process, we publish advertorial feature content which is clearly marked and tagged as 'sponsored'. We also run 'in association with' articles, which are independent editorial articles, created by writers employed by PetsRadar that have been funded through the support of a commercial partner. You can read more about content funding on PetsRadar here.
AFFILIATE & ADVERTISING DISCLOSURE
We always aim to provide unbiased editorial created by our journalists and writers. We also need to pay our teams and website costs so we make money in a number of ways. We sometimes use affiliate links to products and services on retailer sites for which we can receive compensation if you click on those links or make purchases through them. From time to time we also publish advertorials (paid-for editorial content) and sponsored content on the site. When this is the case the content is clearly marked as sponsored or promoted, so you'll always know which content is editorial and which is not. Future PLC is our parent company and has an in-depth terms and conditions page with a lot more information that you can read right here.
PRIVACY POLICY
PetsRadar is part of Future PLC. We are committed to protecting your privacy. Please have a look at our in-depth privacy policy.
PETSRADAR AND THE IPSO
PetsRadar is a member of the Independent Press Standards Organisation (which regulates the UK's magazine and newspaper industry). We abide by the Editors' Code of Practice and are committed to upholding the highest standards of journalism. If you think that we have not met those standards and want to make a complaint please contact us by calling 01225 442244 or writing to us at Future Publishing, Quay House, The Ambury, Bath, BA1 1UA, UK. If we are unable to resolve your complaint, or if you would like more information about IPSO or the Editors' Code, contact IPSO on 0300 123 2220 or visit the IPSO website.
Get the best advice, tips and top tech for your beloved Pets