Sign up for the PetsRadar newsletter and we'll send you a FREE Perfect Pets ebook
You'll also receive regular advice, how-to guides, special deals and more if you sign up to the PetsRadar newsletter email today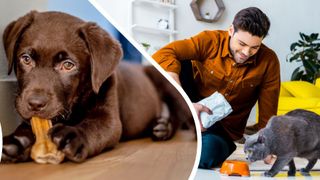 (Image credit: Future)
If you've not signed up to the PetsRadar email newsletter then you're missing out on getting a host of buying advice, reviews, how-to guides and expert pet care tips delivered to your inbox every week.
The PetsRadar newsletter highlights the very best articles on PetsRadar.com ensuring you don't miss anything important, whether it's making the right choices around your pet's diet and healthcare to upgrading his or her lifestyle with the latest accessories and pet-related technology.
As well as receiving great animal care advice, we'll also send a FREE 132 page Perfect Pets eBook to anyone who signs up today. This comprehensive guide to the world's most popular pets contains everything you need to know about your favourite furry friends and how to take care of them. You can unsubscribe whenever you like and the book remains yours to keep.
So sign up today and continue on the path to healthy, happier pets. All we need are a few simple details to get you on board...
Dave has 20 years experience in publishing during which he launched many successful magazine titles including How It Works, All About Space and All About History. He's also the proud pet parent to a partially paralysed, retired police dog named Vinnie. When he's not busy giving Vinnie the love and care he deserves, Dave's the Editor in Chief on PetsRadar.
Get the best advice, tips and top tech for your beloved Pets
Thank you for signing up to Petsradar. You will receive a verification email shortly.
There was a problem. Please refresh the page and try again.