German Shepherd's adorable playtime with toddler best friend will melt your heart
A video showing a German Shepherd frolicking around a giggling toddler has gone viral online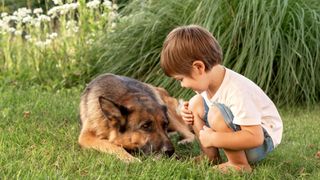 (Image credit: Getty)
A TikTok video shared by Jessica Berlin (astorsmom) in which a German Shepherd shares noisy playtime with a toddler has gone viral both on and off the video sharing app. With over 38 million views on TikTok, it is easy to see why German Shepherds are such popular family dogs.
Despite their vast size difference, the dog, whose name is Bang, seems to understand that his playmate isn't a grown-up yet and plays accordingly, with lots of bows and tail wagging to show they're just playing a game.
The toddler laughs with obvious delight as Bang bounces around and gently tussles with him.
German Shepherds are excellent family dogs due to their even temperament and steadiness in the face of unpredictable situations.
Originally used as livestock herding dogs, they were the fourth most popular dog in the USA in 2021 according to the American Kennel Club, which is the world's largest dog registry.
The American Temperament Test Society list the German Shepherd as one of the calmest and most appropriate dogs to have around children, due to its high pass rate for dog temperaments.
The breed are used by the military, police and as service and guide dogs due to their high levels of intelligence and attentiveness. GSD owners will attest that they are smart, loyal and sometimes stubborn dogs with heaps of courage and confidence, making them a great addition to the family, even with young children and other animals (both supervised).
Known for their loyalty and intelligence, you can tell that Bang is going to be a friend for life to his smaller playtime companion.
Get the best advice, tips and top tech for your beloved Pets
Lou is an experienced writer and keen dog lover who works at PetRadar's sister site, LiveScience. When Lou isn't covering health and fitness, she's busy spending time with her family dogs or growing all kinds of veggies and flowers on her allotment.