Major Biden dog bite incident was "played down", documents suggest
The Major Biden dog bite incident was not fully revealed last year, angering Secret Service agents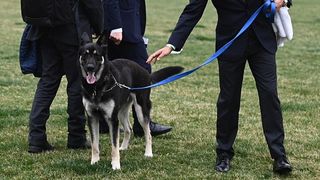 (Image credit: Getty)
White House officials played down injuries caused by bites from President Joe Biden's youngest German Shepherd, it has emerged.
According to official White House documents, First Dog Major attacked Secret Service agents over eight straight days – biting one agent twice.
Yet Secret Service leaders and White House officials rejected one agent's detailed account and didn't document the incident, the New York Post reports.
This caused anger among the agents involved, with one going as far as trying to get President Biden to personally pay for a damaged coat valued at more than $500.
The attacks took place in February and March 2021 and the extent of them came to light across 36 pages or records following a Freedom of Information lawsuit by Judicial Watch which included advice for agents to put their hands "in their pockets" to protect their hands and fingers.
At the time of the attacks, the White House press secretary, Jen Psaki, shared a biting incident which took place around 7am on 8 March in the second-floor White House residential area with first lady Jill Biden, saying, "the First Family's young dog, Major, was surprised by an unfamiliar person and reacted in a way that resulted in a minor injury to the individual."
But this was the last attack of several which had taken place over eight days and it left the bitten agent feeling angry that the full extent of the incident and the injury were not being disclosed.
Indeed, a source close to the White House said the injury "cannot be described in any other term than 'severe'". The agent himself wrote in an email to a co-worker: "NO I didn't surprise the dog doing my job by being at [redacted] as the press secretary just said!".
Meanwhile, a newly-released incident report said: "Without warning or provocation, Major barked loudly at [the agent]... and changed. Having no time to seek cover from the attack, [the agent] turned away from the dog as he bit into [redacted] right leg."
In the incident involving the coat, an agent was told to change his subsequent report. He had written: "As Major came around the corner, he attacked me unprovoked, tearing the wool overcoat I was wearing that evening. This attack occurred through no fault of my own and I could not avoid this unusual circumstance due to the nature and requirements of my position."
In reply, he was told: "Please submit with the language that has been approved by [the legal office]. Unless you dispute anything in the verbiage that was presented to you, there shouldn't be a need to embellish with additional details that aren't required for approval."
Since the attacks Major – the first shelter dog to live in the White House – has moved out of the President's home, after being given to family friends.
Judicial Watch President Tom Fitton said: "We're sure Major is a good dog but these records show he was involved in many more biting incidents than the Biden White House has publicly acknowledged. It is disturbing to see a White House cover-up of numerous injuries to Secret Service and White House personnel by the Bidens' family pet."
German Shepherds have a gentle side but, as we discuss in "are German Shepherds good family dogs?", it can take time to nurture. The breed has a bite force as powerful as 238 pounds per square inch but they usually make great family dogs.
Get the best advice, tips and top tech for your beloved Pets
David Crookes has been a journalist for more than 20 years and he has written for a host of magazines, newspapers, websites and books including World of Animals, BBC Earth, Dogs and Canines, Gadget and The Independent. Born in England, he lives in a household with two cats but he's also keenly interested in the differences between the huge number of dog breeds — in fact, you can read many of his breed guides here on PetsRadar. With a lifelong passion for technology, too, he's always on the lookout for useful devices that will allow people to spend more time with their pets.