Biden passes PAWS Act allowing service dogs to help war veterans cope with trauma for free
Puppies Assisting Wounded Service members for Veterans Therapy Act (PAWS Act) will assist veterans dealing with mental illnesses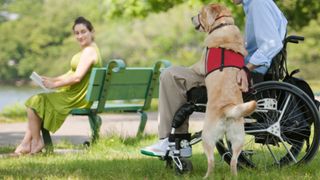 (Image credit: Getty Images)
President Biden has signed a law which will give war veterans suffering from mental trauma free access to service dogs. Known as the PAWS Act, the five-year pilot program recognizes the aid companion dogs have provided to recovering military personnel in the past, and hopes to extend the program to reduce the suffering of those returning from combat.
After serving in active military duty, many young men and women have a difficult time adapting to civilian life. Conditions such as post-traumatic stress disorder (PTSD), traumatic brain injury (TBI), and military sexual trauma (MST) make if very hard to return to a normal routine and fit back into society. Service dogs are often used to help bridge this disconnect.
As Representive Mikie Sherrill, (D-N.J) said as the bill was passed, "We know service dogs are a proven life-changing and life-saving form of therapy for our veterans suffering from post-traumatic stress."
Rep. Michael Waltz (R-Fla.) added: "It's incredibly heartening that the PAWS for Veterans Therapy Act has been signed into law after so much overwhelming bipartisan support from Congress."
"Many of our veterans who have put their lives on the line often come home with trauma that demands a menu of options for treatment. I'm pleased that service dogs will now provide therapy to our veterans."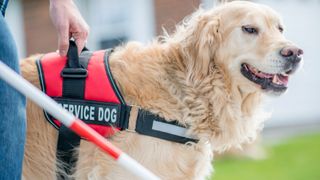 What is the PAWS act?
Known as the Puppies Assisting Wounded Service members for Veterans Therapy Act, or the PAWS Act, the bill will allow the Department of Veterans Affairs (VA) to partner with non-profit organizations which help veterans train aspiring service dogs. The dogs will learn how to shield a veteran from an overwhelming crowd or wake them up if they're having a nightmare, and help veterans reintegrate into situations like shopping and going out for a meal.
One such non-profit organisation is K9 For Warriors which has been helping veterans train service dogs since 2011. Rory Diamond, CEO of K9s For Warriors said of the news, "We commend the White House for supporting this bill as a critical step in combatting veteran suicide, and we're confident in the path ahead for service dogs ultimately becoming a covered VA benefit to veterans with PTSD."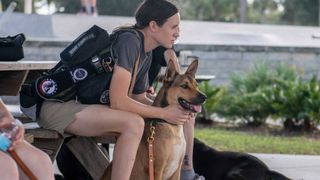 The organization says that in a 2021 VA study it was found "that veterans with post-traumatic stress who were paired with Service Dogs showed less suicidal ideation and more symptom improvement compared to veterans paired with an emotional support dog. Given that roughly 20 veterans die by suicide each day, the finding underscores the notion that properly trained Service Dogs can be instrumental in battling this public health crisis."
With $10 million set aside for the programme, the Bill will offer improvements in veterans' interpersonal relationships, lower risk of substance abuse, and create overall better mental health. And of course, we know the power of having a loyal canine companion by your side!
Get the best advice, tips and top tech for your beloved Pets
Jamie Middleton is a freelance editor and writer who has been editing and creating content for magazines and websites for over 20 years. As well as writing about the pets he loves, he has helped create websites about tech and innovation like TechRadar.com, Innovate UK and TechSPARK, written programmes for music festivals, books on inventions and architecture, TV listings magazines, and edited publications about cars such as Lexus, Toyota and Jaguar. In his spare time he writes fiction books and poetry - or at least he does when he is permitted to by his cat Pirate, who enjoys the warmth of laptops too much to allow being creative to get in the way.