The fake service dog scam: Passengers dupe airlines to get pets on planes
"Normal" pooches can't board flights so fake service dogs are flying round the restrictions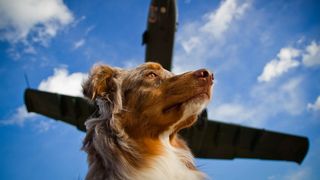 (Image credit: Getty)
It has long been known that service dogs perform amazing duties for their owners. The best service dog breeds are canine superheroes that enable humans to lead an independent life and they're certainly invaluable for people who are blind or partially-sighted as well as anyone who is deaf or suffering from PTSD.
But it would seem travelers have been taking advantage of a law which restricts businesses from asking passengers to prove their service dog is actually a service dog. According to a report in The Guardian, people are dishonestly claiming their dogs are performing service duties. They're also going as far as placing a vest on their pets and getting on board planes which has been causing a problem.
Service dogs are specially trained to perform tasks for their owners and they have also been taught how to behave in public. It's a process that can take at least two years, at considerable cost, but it means they can travel on planes and other forms of public transport while enjoying protection under the Americans With Disabilities Act.
This prohibits discrimination against individuals with disabilities in all areas of public life, including transportation. But it has emerged that a number of people have been passing off emotional support dogs as service dogs. Doing so has enabled them to take the dogs on planes where, in some cases, they have become overwhelmed by the cabin environment, causing them to behave badly.
It wasn't all that long ago when emotional support dogs were allowed in an airplane cabin. The authorities recognized that the the best dogs for emotional support are important since they can help ease symptoms of anxiety, phobia and depression. But there has been a huge rise in the number of registered emotional support dogs.
Between 2002 and 2015, the newspaper said there was a 1,000% rise in applications for emotional support animal (ESA) certificates and that increased by a further 200% between 2015 and 2019. Such numbers caused grave concern that many of those applications were, in fact, fake and were simply a way of gaining pet privileges.
One of the issues was the ease in which certificates can be obtained. A pet owner only requires a therapist's note and the certificates can also be bought from profit-making websites – or ESA mills as they are often dubbed. These simply entail a speedy phone call or online survey and it's even possible to buy dog vests for a more official look.
It has left the process open to abuse and, when reports of badly behaved emotional support dogs rose, the Department of Transport decided to intervene. In December 2020, it defined a service animal as one individually trained to do work or perform tasks for the benefit of a person with disability (including psychiatric). Crucially, it said it no longer considered an emotional support animal to be a service animal.
It was at that point people began to claim their pets weren't emotional support dogs but actually trained service dogs: an out-and-out lie but one that is awkward to challenge and that has only made the issue worse and even more complex to tackle. Reports of dogs displaying aggressive and bad behavior on planes continues and, as it stands there is no no easy answer.
Some say the solution is to charge a reasonable sum of money for dogs to travel in the cabin while others want to see cargo shipping of pets resumed for large-breed dogs. In reality, it may end up taking a slight tweak in the Americans With Disabilities Act to resolve. Until then, it's relying on people being honest which, it would appear, isn't working too well.
Get the best advice, tips and top tech for your beloved Pets
David Crookes has been a journalist for more than 20 years and he has written for a host of magazines, newspapers, websites and books including World of Animals, BBC Earth, Dogs and Canines, Gadget and The Independent. Born in England, he lives in a household with two cats but he's also keenly interested in the differences between the huge number of dog breeds — in fact, you can read many of his breed guides here on PetsRadar. With a lifelong passion for technology, too, he's always on the lookout for useful devices that will allow people to spend more time with their pets.