Veterinarian faces animal cruelty charge after "horrific" video posted on social media
Three dogs have been removed from the home by Animal Control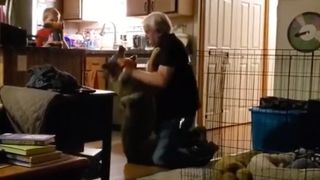 (Image credit: Macomb County officials)
Warning: The information and images in this article may be distressing to some readers.
A Michigan veterinarian faces an animal cruelty charge after a video appearing to show him "choking" a five-year-old German Shepherd was posted online. After being made aware of the incident, Macomb County Animal Control acted quickly to remove three dogs from the home featured in the footage.
Following the seizure of the dogs, Macomb County Executive Mark Hackel held a press conference in which he described the "graphic" and "horrific" nature of the video. He said the dog could be heard "screaming and crying" as the man appeared to be "choking it out" and "slamming" its head against the floor of the kitchen. In a separate video statement seen by PetsRadar, Hackel later added: "We're fortunate that charges are being brought and the person is being held accountable for what they did to this dog."
The incident is understood to have occurred around October 9th. Macomb County officials were first made aware of it on the morning of Wednesday, October 12th, after a video was posted late the night before. It is believed the video was filmed and posted by a child within the home.
One citizen who saw the footage recognised the man involved and contacted the police, who alerted officials. Animal Control was sent to the home and three dogs were removed from the premises.
At a press conference later that day, Chief Animal Control Officer Jeff Randazzo said: "We want the public to know that, ever since we did have custody of these three dogs, we are doing enrichment with them, letting them decompress, and now we're looking into getting them into foster care."
After Animal Control attended the home, evidence was passed to the prosecutor's office. Now the 52-year-old male subject of the video, who is yet to be named, is facing an animal cruelty charge, 93-day misdemenaor. This was reported by the Detroit Free Press (opens in new tab) after viewing a release from the prosecutor's office.
The publication says the incident was filmed after the German Shepherd, called Josie, got into a fight with a second dog in the house - an eight-year-old German Shorthaired Pointer. During this altercation, the dog is said to have bitten a juvenile and a puppy. The male owner of the dogs said he disciplined the German Shepherd over the incident, but would never hurt his pet.
In an official release, Macomb County Prosecutor Peter Lucido urged people to refrain from holding further press conferences and making statements about the "evolving" case "until all of the evidence is secured".
He added: "We take these allegations very seriously and do not condone the mistreatment of animals in any regard."
Get the best advice, tips and top tech for your beloved Pets
Having grown up on farms in rural south west England, there has rarely been a moment in Harry's life when his home hasn't been filled with a cacophony of animal noises. From dogs, cats, hamsters and rabbits to chickens, goats, tortoises and a particularly mischievous lamb, he has always enjoyed being surrounded by a wide variety of pets. Currently, he enjoys living in the (comparatively quiet) company of his one-year-old cavachon, Archie. As a writer, he started his journalistic career in 2018 as a reporter earning bylines in more than 70 regional and national UK newspapers over the next three years. After this, he began writing for magazines, producing features and reviews for titles including Men's Health, Good Housekeeping, Elle and Esquire.