Rescue Dog Week: How to adopt a dog
Celebrate Rescue Dog Week with a guide on how to adopt a dog in the US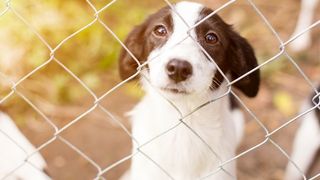 (Image credit: Getty)
It's Rescue Dog Week, and if you're interested in how to adopt a dog, we've got you covered with the steps you'll need to take to add a furry member to your family.
The ASPCA reports that over 3.3 million dogs end up in US shelters every year, either surrendered by former owners or found as strays on the street. While that number is down (it was over 7 million as of 2011), there are still over 670,000 dogs euthanized a year in shelters. Rescue dog week is all about giving those dogs a chance, and if you've decided you want to help get a dog a home, it's time to get familiar with the adoption process.
In the United States, the process of adopting a dog will vary state-by-state, as will the breeds of dogs available. There are also public (or municipal, city shelters) and private rescues run by individuals or small groups of volunteers. The adoption processes between these two may vary, but keep in mind that the overall adoption process is similar no matter where you go – and if it differs from this, you may be dealing with a less-than-aboveboard rescue, so make sure to do your research. That being said, here's how to adopt a rescue dog in the US.
Manage your expectations
Adopting a rescue dog is a serious responsibility, and though your heart may be in the right place, you'll need to determine if you're a suitable candidate for a rescue dog. While most shelters will filter out those who aren't suitable, ask yourself if your life and housing situation is the best fit for a new dog. Dogs can also be costly, so make sure you're in a good financial position before taking home a furbaby.
Keep in mind that rescue dogs are often not puppies, which means they will come with their own set of learned behaviors. Some rescue dogs came from the street or from abuse or neglect cases, and may need some work with a professional trainer. Most of the time, shelters make sure to alert potential adopters to a dog's unique personality, and may request that only experienced adopters apply for a dog.
Research dog breeds
Find a local shelter that is open to adoptions, whether that's a city or town shelter (here in New York there are multiple Animal Care and Control centers across the boroughs), or a private, local rescue.
Then you'll want to go through their available dogs – most shelters offer filters for size, age, and breeds, so make sure to figure out what type of dog is right for you. You can use websites like Petfinder, ASPCA, and AdoptAPet.com. Remember, however, that many shelter dogs are mixed breeds, so don't hold out for any pure breds (although there are plenty in shelters, as well).
Are you more of a Staffordshire Bull Terrier owner, a breed that, according to Green Cross Vets, is "fearless, friendly, tolerant, and totally reliable, in particular with children?" Or would you prefer a smaller dog like a Yorkshire Terrier Mix? Do your research on the kind of lifestyles required for breeds you're interested in to make sure they'll be a great fit.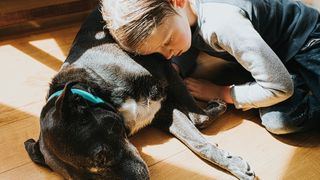 Submit an application and prepare for screening process
Keep in mind that the details of a shelter's adoption will differ from shelter to shelter, but the general idea remains the same.
After submitting an application (which usually requires personal information like address, job security, household members, pets currently in the household, your lifestyle, and rescue experience), you'll likely be contacted by a shelter for an interview. Expect some of these questions to overlap with the application, as the shelter wants to confirm your household is a great fit for a rescue dog.
Some private rescues or well-staffed shelters will require a home check to determine that your household is safe for an incoming dog family members. If you have a yard, they'll check that it's secure and an escape artist can't sneak out from under a gap in the fence, or crawl under your house. If you rent an apartment, they'll want to chat with your landlord over the phone to ensure you're allowed to have a pet in the space.
If a shelter wants to give you a trial period, they may ask you to foster in a foster-to-adopt scheme, which is a great way to test if the dog is a great fit for you, but leave the door open for another family to adopt the furbaby just in case.
Prepare your home
If you've been approved – congratulations, you can finally adopt a dog! Most shelters will have some kind of adoption fee to help offset the costs to run the shelter. These fees will usually include spaying/neutering your dog, the necessary vaccines, and a micro-chipping.
It's up to you how you want to prepare your dog to come home, but dog-proofing is imperative. You might want to get a trash can that can't be opened by a dog and cover electrical sockets. Crate training is a great option for a newly adopted dog to ensure they don't get destructive when you leave. The Animal Rescue League of Boston has some great tips for bringing home a rescue dog.
It's adoption time
Now that you know how to adopt a dog, the best way to celebrate Rescue Dog Week is by finding one to bring home today. With so many dogs in need of homes, you'll be doing a great deed, one that will enrich the lives of you, your family, and a dog.
Get the best advice, tips and top tech for your beloved Pets