Rescue for senior dogs: Advice on adopting an older dog
Our vet gives advice on rescue for senior dogs, for those of you who've decided to adopt an older pooch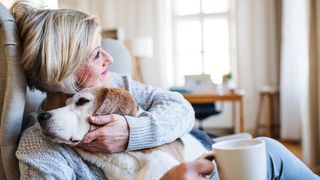 (Image credit: Gettyimages)
Perhaps you've found a dedicated rescue for senior dogs, or maybe you've just found a 'golden oldie' in a shelter near you. Either way, rescuing a senior dog is one of the most feel-good things you can do. Not only will you be giving an older dog a stable home and a chance to live out their golden years in peace, but they'll often reward you with quiet, calm love – a far cry from the manic first few months of owning a puppy! There are a few things you should be aware of, though, which we'll cover in our advice below.
Get a full medical history
The biggest difference between adopting a young dog and adopting an older one is that, instead of getting a blank slate, you have a higher chance of your pet having medical issues. Don't let that put you off, though. Many medical issues are easily managed, but it's important to understand what you're getting yourself into. If your chosen dog comes with expensive pre-existing medical conditions, some rescues may offer a shared ownership, where they will pay the medical fees for these known conditions. Make sure you have a full and frank discussion about your rescue dog's medical needs with the adoption center before you agree to adopt a senior pet.
Get pet insurance if possible
Regardless of the age of your dog, you should consider paying for the best pet insurance you can afford. It's actually more important as your dog ages, as they are more likely to have diseases. You should shop around, though, as some insurance companies will not cover old dogs, and it pays to know how to get cheaper pet insurance.
Don't forget that any disease or condition your pet is known to have already is unlikely to be covered – you'll need to declare these to insurance companies so they can give you the correct quote for cover. Don't try to cover it up if you know that your adopted dog has a medical condition, as they'll soon discover it from your pet's history and might refuse all cover for your pet. If you don't want to get pet insurance for your older dog, make sure you have a plan to access at least $2,000 in a hurry.
Build a relationship with your vet
Your vet is your partner when it comes to your pet's health, especially as they get older. As soon as your new dog has settled in, you should take them to see your vet for a full check-up. Ask about the best dog food, preventative care, and any conditions you know the pet has, so that you can be clear what the plan for your dog's care is. Health checks every six months are a good idea, but you should pop your rescue dog in for a quick weight check in between these appointments. This enables your vet to advise you on what to do if your dog is overweight, and gives your dog a chance to see the vet clinic in a fun, positive light.

Research the signs of common diseases in older dogs
It's your responsibility to notice signs of a disease or condition so that you can raise the issue with your vet. But it can be hard when you adopt a senior pet to know what's normal for them, and when you should be concerned. You should make sure you know the common signs of kidney disease, arthritis, cancer, Cushing's, and other common conditions of old age so that you're prepared. Don't forget, you can always call and ask the shelter if you are unsure whether a behavior is normal for your new dog.
Ask the rescue about your dog's behavioral and training needs
Senior dogs can come with training in place, or not, depending on their background. You should ask the rescue center about their behavioral and training needs before adoption, so that you're prepared. Is your senior dog toilet trained? Can they follow basic commands? Even if the answer to these questions is 'yes', you should still be prepared to have to reiterate their training for the first couple of weeks. And don't forget that your dog may have an ingrained fear or have learned bad habits, which may take some patience to smooth out.
Setting up your home for a senior dog
When you get your rescue dog home for the first time, there are a few things you should do to make sure your home is suitable.
Give them the best dog bed or best orthopedic dog bed – their old joints will thank you
Remove or block off dangers, such as the garden and charging cables, until you better understand your dog's temperament
If you have hard flooring rather than carpets, consider buying rubber-backed rugs to give them some grip – slips can be devastating on older joints
Buy a bag of whatever food they were on at the rescue center – you can change it later, but for now it's a good idea to keep it the same to ward off stomach troubles.
Consider investing in ramps for the car or any stairs in the garden, especially if you are adopting a large-breed dog that you can't lift. Not all old dogs are arthritic, but most are, so prepare accordingly.
Congratulations and good luck!
Adopting from a rescue for senior dogs will bring you loads of love and rewards. Senior dogs are often easier to look after, and are much more likely to be happy with curling up on the sofa all day rather than needing to be stimulated all the time. Just take care and follow these tips to make sure that your adoption goes as smoothly as possible.
Get the best advice, tips and top tech for your beloved Pets
After graduating as a veterinarian from the University of Nottingham, Dr Joanna Woodnutt went on to practice companion animal medicine in the Midlands. She quickly developed a love of consulting and helping clients with medical problems such as dermatology, behaviour and nutrition - anything that involved helping clients understand their pets better. Jo started writing about pet health in 2017, realising that it meant she could help even more pet parents. Since then, she has written for countless online and print publications and is a regular contributor for Edition Dog Magazine. Jo now lives in the Channel Islands with her husband Ian and terrier Pixie, and they are expecting their first child very soon.