Best dog grooming kit: Keep your dog looking clean and smart, at least until the next walk...
By Amy Davies
Choose from our pick of the best dog grooming kits and make sure your dog always looks their smartest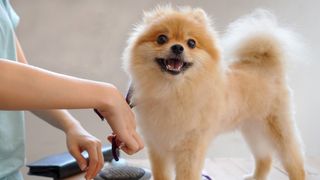 (Image credit: Getty)
No matter what kind of dog you have, caring for them with a dog grooming kit delivers a number of benefits – to both you and your canine friend. 
For longer-haired dogs, grooming is pretty much a necessity, as it can be quite uncomfortable for them to have longer fur, especially that which is prone to matting or getting foreign objects stuck in it. A dog that is well-groomed is also much less likely to have that "doggy smell" that many find offensive, inside your home and out. 
Grooming your dog gives you the opportunity to have important bonding time with your pet. Even if you have a short-haired dog that is relatively fuss free, finding some time to groom them can help build your relationship for the both of you. 
Regularly grooming your dog is also a good idea to help keep your home free of fur, dander and dirt, particularly if you have a dog which is prone to shedding, rolling around in things they shouldn't, and those who can't resist jumping on the furniture.
Lastly, grooming is a good way to keep on eye on your dog's overall health. While grooming you might find lumps which need checking out, areas which are causing your dog pain, ingrown claws and so on. Regularly grooming your dog can help catch these problems early and save expensive – or heartbreaking – issues in the long run. 
In this guide, we've found grooming kits for puppies, long-haired dogs, short-haired dogs, and even for those that will be nervous around traditional grooming kits and clippers. 
1. PetKing Pet Grooming Clippers Kit: Best overall dog grooming kit
A good solid all-round grooming kit for most dog owners
Type of kit: Full grooming | Requires power?: Yes (battery included) | Type of hair: Short, long
Includes accessories 
Quiet for nervous dogs
Easy to clean
Battery life somewhat limited
If you find you're spending a fortune taking your dog to be groomed regularly, you could save some serious cash by investing in a comprehensive kit like this one. 
Not only do you get cordless dog clippers, you also get a range of accessories including scissors, thinning scissors, plus nail clippers too. It's a relatively high outlay for the entire kit, but in terms of value for money, you might find it saves you much more in the long run.
The clippers are designed to be quiet as possible to help with dogs who find the noise of normal clippers too frightening, while it is also cordless for a fuss-free approach. 
Because it's cordless, you'll need to charge the battery before you use it – some users report that the battery life is on the low side, especially if you have a dog that takes a long time to groom. 
It also doesn't come with a dedicated battery charger, instead being charged by USB – most people will likely have a USB port available for use somewhere, but you might want to think about buying an adaptor if you need to travel with the kit. 
Designed to work with all hair types, from thick and curly down to shorter lengths, with users impressed by how quickly and efficiently it manages to cut through fur. When you need to clean the clippers, you can simply remove the blade and wash it, before reattaching to the clippers when you need to use it. 
For those looking for a good quality, dependable and versatile dog grooming kit, this is a solid option which should suit most users.
2. Mikki Puppy Groom Kit: Best kit for grooming puppies
Get your new companion used to grooming from an early age
Type of kit: Brush | Requires power?: No | Type of hair: Long, short
Easy to use
Good price
Gentle on dog's coat
Need separate kit if you need to cut dog's hair
Getting your new canine friend used to grooming from an early age sets them up for a lifetime of happy grooming, and a kit like this is the ideal thing to get them started. 
Although it doesn't include any clippers for cutting very long hair, it does include a brush, comb and a flea comb. It's a great way to introduce your puppy to the sensation of being brushed, so that either you can do it with ease in the future, or they'll be less nervous around professional groomers and handlers.
Designed to be gentle on your dog, the soft bristles of the brush should be a pleasant feeling for most dogs, while even short-haired dogs can benefit from being brushed as it removes dandruff and promotes healthy skin oils. 
It's also a good bonding exercise between you and your puppy who is learning to be in its new home. 
The handle on both the brush and the comb are made from strong and sturdy materials so they feel pleasant in the hand – and if your puppy should get their claws and teeth stuck into it, it should resist being completely destroyed. 
We also like the flexible head of the brush while helps you to match it to the curves of your dog with ease. 
There's no reason why you can't continue to use the puppy set once your dog reaches adulthood, but you may want to invest in something larger if you have a particularly large dog breed. 
You will also need to invest in additional products if you need to trim or cut your dog's fur.
3. SAMMIU Pet Grooming 5 in 1 Brush: Best for long-haired dogs
A versatile brush to meet a wide range of grooming needs
Type of kit: Brush | Requires power?: No | Type of hair: Long
Lots of tools in one
Easy to clean
Good value
Doesn't cut hair
If you have a dog with longer hair, you'll find that they regularly require simple grooming that can be done from home without expensive trips to the dog groomer. 
Although this kit stops short of being able to cut your dog's hair, you can perform a number of other tasks, including dematting, removing loose hair, and detangling fur. 
The kit consists of a brush which you can change the "heads" of depending on the function that you need – you can even try experimenting to see which one your dog prefers the feeling and texture of you using. 
There's also a 2 in 1 comb which again you can change the heads easily of and can be used for deshedding and removing loose hair. The blades are made from stainless steel, which prevents problem with dirt and rust. 
If you need to clean the brush or comb, being able to remove the heads of the brushes makes that job very easy and quick. The handle of the brush is thick and features a non-slip surface, which is useful when spending long periods of time grooming a dog with thick hair. Additionally, there's an eyelet in the brush handle for easy storing when not in use.
The downside here is that it's quite expensive for a dog brush, but if you have a long-haired dog you're like to use it frequently enough to make it good value for money. Additionally, if you want to actually cut or clip your dog's hair, you'll have to invest in a separate product. 
4. Thunderpaws Professional Deshedding Tool: Best for shedders
A cost-effective way to reduce dog hairs in your home
Type of kit: De-shedder | Requires power?: No | Type of hair: Long, Short
Easy to use
Cost-effective
Encourages healthier skin
Only covers one job
Most people who own a dog have come to terms with the fact that their house might have more than its fair share of dog fur. However, if you have a particularly problematic shedder in your life, there is something you can do about it. 
The Thunderpaws "professional" shedder claims to reduce the amount of shedding by up to 95%, while also having the benefit of promoting healthy skin in your dog. It works by removing the loose hair to leave behind a naturally soft and shiny top coat. 
We like the fact that it has a non-slip ergonomic rubber handle, which can be particularly useful when engaging in long grooming sessions with a long-haired dog, while the simple design also makes it easy to use and easy to clean. There's an easy-release button for removing the blades, so you can give it a good clean when you need to. The blades themselves are made from high-quality stainless steel to prevent damage and rusting. 
Another thing we like about the Thunderpaws De-Shedder is the lifetime warranty it comes with. If you're not sure whether you'll like it, or whether it will do the trick for your dog, there's also a 90-day 100% money-back guarantee.
While the Thunderpaws does an excellent job, the downside here is that this is a tool only designed for one problem – if you need a brush, or you want to cut or clip your dog's hair, you'll need to invest in extra tools.
5. ScaredyCut Silent Pet Grooming Kit: Best for nervous dogs
If your dog hates the clippers, this is the one to get
Type of kit: Clippers | Requires power?: No | Type of hair: Long, Short
Silent operation
Gel finger inserts for comfort
Comes with case
High price for non-electric kit
If you've got an anxious dog, it's  likely that the vibration and buzzing sound of conventional clippers will put them on edge. We even know of some dogs that cower and hide as soon as they see the clippers come out. Although some electric clippers are signed to be as quiet as possible, anything that is battery powered is never going to be completely silent. That's where, the ScaredyCut comes in. 
It's a low-tech option, in that it's essentially a pair of scissors with a clipper blade attachment, but if you have an anxious animal it's well worth giving it a go. It comes with seven different comb lengths depending on the length of your dog's fur (and the length that you want it to be), while the scissor blades are made from stainless steel. You also get two different blades – one is serrated for finer fur. 
Since it could take a while to clip your fur using this method, we like the gel inserts that can be used to make the scissors better fit your hand and feel more comfortable.
If you're not sure how it all works, you can watch instructional videos to help you learn the best way to soothe your animal. If you're sceptical, then there's a money back guarantee for peace of mind. 
The downside here is the high price for something which is a low-tech option. But if you've tried other kits before and had no success thanks to your dog's nervous disposition you haven't got much to lose.
6. Mikki Grooming Glove: Best for short-haired dogs
A simple solution for your short-haired dog
Type of kit: Brush | Requires power?: No | Type of hair: Short
Simple to use
Good price
Excellent for anxious dogs
Only does one job
Doesn't fit bigger hands
If you've got a short-haired dog, the amount of grooming that you'll need to do is relatively minimal. It's still a good idea to invest some time in grooming, even if you don't need to actually cut or clip your dog's fur. 
This glove is great  for anxious dogs as you simply slip it on your hand and stroke them as you would anyway. The bristles on the glove help remove dirt, excess hair, dander and dandruff and should leave them with a healthy shine. It's also useful as a "finisher" for dogs with medium fur who've just been clipped. 
The rubber bristles of the glove also provide a massaging action, which your pet should find comforting and soothing – it's unlikely they'll even realise they're being groomed. You could also use it as a "starter" kit to get your dog used to the idea of grooming before moving up to more "intense" tools such as brushes or clippers. 
Mikki also has a range of other dog grooming tools which are specifically designed for nervous dogs, so if you have a longer haired animal, it's worth looking into what they have. 
There's a couple of downsides to this product however. Users with particularly large hands report that the glove doesn't fit them that well, so you may want to double check the product dimensions if you think that's going to be a problem for you.
Also, as with some of the other products mentioned here, it's only designed for one job – if you need to clip or cut your dog's hair, you will need additional tools. 
How to choose the best dog grooming kit
When it comes to buying the best dog grooming kit, there's a world of choice out there. 
Which one is right for you will largely come down to the type of dog you have, and the type of fur/coat it has. If you have a short-haired dog, the amount of grooming you'll need to do will be minimal, but never-the-less important. 
On the other hand if you have a long-haired dog, you'll need something which has been specifically designed to tackle that kind of coat, so look at the product description to see which it has been recommended for. 
A set of electric clippers is a good idea for a dog that needs a lot of grooming, but pay attention to how loud the clippers are. Most dogs are a little bit wary of very noisy clippers, so don't be tempted to think you can get away with standard human-grade ones. 
Look for kits which offer lots of different options, including different fur lengths and types of brush. It's unlikely you'll find a kit which has been specifically made with your breed of dog in mind, so that which comes with lots of attachments gives you a better chance of matching your needs.
Get the best advice, tips and top tech for your beloved Pets
Thank you for signing up to Petsradar. You will receive a verification email shortly.
There was a problem. Please refresh the page and try again.