Best dog conditioner: 7 skin conditioners that restore shine and target problem areas
A good dog conditioner can help with a whole range of issues from tangled and matted fur to dry and itchy skin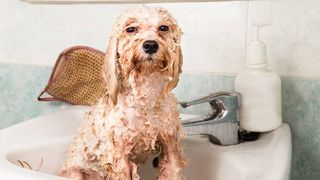 (Image credit: Getty Images)
The best dog conditioner is a must-have item in your bathroom cabinet if you're looking for a way to restore shine to your dog's coat, detangle matted fur or soothe dry and itchy skin. Alongside the best dog shampoo, a good conditioner will ensure your dog stays looking and feeling their best.
Do dogs need conditioner? It's a common question amongst pet parents and while there's definitely some debate around this, there's no denying that there are benefits to using one. If your dog's coat is looking a bit flat and lacklustre, a conditioner can really help give their fur a lift and add a touch of gloss. It's also wonderful for dogs with thick and long fur that's prone to tangling.
But, with so many conditioners to choose from, how do you know which one is right for your canine companion? Well, that's largely going to depend on their coat and skin type. If your dog's fur tends to suffer from frequent mats, then a good detangling conditioner will help make these easier to break up.
If, however, dry skin is the issue, you'll want a moisturizing conditioner that contains ingredients such as oatmeal and shea butter that will help soothe and nourish the skin. Dry skin on dogs is a fairly common issue and using a moisturizing conditioner alongside a moisturizing shampoo can really help to reduce inflammation and stop your dog from itching and scratching.
Finally, we recommend that you opt for a soap-free or tear-free conditioner as this will prevent any stinging or discomfort should the conditioner accidentally wind up in your dog's eyes. To help you find the right dog conditioner for your beloved bundle of fur, we've rounded up our favorite bottles lining the shelves in 2022...