Best dog conditioner: 7 skin conditioners that restore shine and target problem areas
By Ashleigh Gibbs published
A good dog conditioner can help with a whole range of issues from tangled and matted fur to dry and itchy skin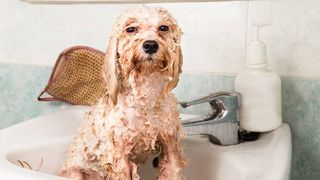 (Image credit: Getty Images)
The best dog conditioner is a must-have item in your bathroom cabinet if you're looking for a way to restore shine to your dog's coat, detangle matted fur or soothe dry and itchy skin. Alongside the best dog shampoo, a good conditioner will ensure your dog stays looking and feeling their best.
Do dogs need conditioner? It's a common question amongst pet parents and while there's definitely some debate around this, there's no denying that there are benefits to using one. If your dog's coat is looking a bit flat and lacklustre, a conditioner can really help give their fur a lift and add a touch of gloss. It's also wonderful for dogs with thick and long fur that's prone to tangling.
But, with so many conditioners to choose from, how do you know which one is right for your canine companion? Well, that's largely going to depend on their coat and skin type. If your dog's fur tends to suffer from frequent mats, then a good detangling conditioner will help make these easier to break up.
If, however, dry skin is the issue, you'll want a moisturizing conditioner that contains ingredients such as oatmeal and shea butter that will help soothe and nourish the skin. Dry skin on dogs is a fairly common issue and using a moisturizing conditioner alongside a moisturizing shampoo can really help to reduce inflammation and stop your dog from itching and scratching.
Finally, we recommend that you opt for a soap-free or tear-free conditioner as this will prevent any stinging or discomfort should the conditioner accidentally wind up in your dog's eyes. To help you find the right dog conditioner for your beloved bundle of fur, we've rounded up our favorite bottles lining the shelves in 2022...
Expert opinion in this guide is provided by:
Expert opinion in this guide is provided by:
Dr. Diana Hasler BVM&S MRCVS
Dr. Diana Hasler graduated with distinction from the University of Edinburgh Royal (Dick) School of Veterinary Studies in 2018. She has experience working as a small animal veterinarian in general practice, where she has treated many dogs, cats, rabbits, and rodents.
PetsRadar's pick of the best dog conditioners
Everyday Isle of Dogs Silky Coating Dog Conditioner
Best overall dog conditioner
Specifications
Ingredients:
Moisturizing
Reasons to buy
+
Great price
+
Long-lasting scent
+
Leaves coat soft and shiny
Reasons to avoid
-
Not specifically tear-free
If you want to feel like you're giving your pup a bath in a fancy dog spa, look no further than the Everyday Isle of Dogs Silky Coating Dog Conditioner.
It's less expensive than some of the brand's other leading dog conditioners, but its seductive jasmine and vanilla scent may make you think it comes with a much higher price tag.
It may smell a little on the strong side in the bottle, but once applied to your dog's fur you might be surprised by how subtle the vanilla scent is, while the rich formula will leave your dog's coat feeling soft and shiny. Pet owners will also be pleasantly surprised by how long the scent lasts long after application.
However, when it comes to applying the conditioner, keep in mind the product isn't specifically tear-free so if you want to use it on your dog's face, be sure to apply with care, avoiding the eyes.
Bobbi Panter Nourishing Dog Conditioner
Best dog conditioner for matted hair
Specifications
Ingredients:
Salt free, concentrated
Reasons to buy
+
Effective at detangling matted hair
+
Fast-drying
+
Leaves coat soft and shiny
+
Ideal for short and long coats
For pooches with particularly long manes prone to tangling, Bobbi Panter Nourishing Dog Conditioner is a must-have essential.
The fragrant conditioner features a nourishing formula made with safflower oil, keratin shea butter, and aloe vera oil that's ideal for tackling even the hardiest of matted hair.
You don't need to use a lot here, simply put a dollop on your hand and run it through your pup's hair or mix with water to make your dog's hair feel soft and silky.
If your pup has particularly sensitive or dry skin, Bobbi Panter Nourishing Dog Conditioner is also ideal for short-haired canines whose coats require plenty of moisture.
The long-lasting scent is likely to hang around for days; great news if you love the soft sea fragrance, however some pet owners have reported that it can come off synthetic.
Earthbath Oatmeal and Aloe Conditioner
Best dog conditioner for itchy skin
Specifications
Ingredients:
Clean, no soap, parabens and cruelty-free
Reasons to buy
+
Gentle fragrance
+
Soap-free
+
Leaves coat soft and shiny
+
Natural ingredients
Often used in partnership with its dog shampoo counterpart, but can be used in isolation, Earthbath Oatmeal and Aloe Conditioner excels at treating itchy skin in pups.
Oatmeal is ideal for both soothing and moisturizing dry, itchy skin, helping to relieve the symptoms of conditions such as hot spots and flaky skin.
Earthbath's soap-free formula is ideal for both pups with itchy skin and owners who are concerned about harsh chemicals and soaps in their conditioner.
Its natural formula not only works a treat on creating a soft and shiny coat on even the most sensitive of pups, but smells so heavenly you won't believe you're using a medicated conditioner.
Some pet owners may find the conditioner a little on the thick side, however, so if you're looking to make rinsing your dog a breeze, consider watering it down in a bottle first.
Warren London Hydrating Butter Leave in Dog Conditioner
Best leave-in dog conditioner
Specifications
Ingredients:
Non-oily hydrated treatment
Scent:
Fruity or unscented
Reasons to buy
+
Luxurious
+
Multiple tropical scents
+
Great selection of matching products
Reasons to avoid
-
Small size
-
May not be suitable for dogs with sensitive skin
So stylish and luxe that you might mistake it for a human product from a cosmetics company, Warren London Hydrating Butter Leave-in Dog Conditioner offers a heavenly treatment for pups looking to be spoiled.
The product is available in two scents, including Pomegranate and Acai or Guava and Mangosteen, offering a tantalizingly tropical fragrance on the nose.
Whether your dog suffers from allergies or dry, dull skin, the formula will work a treat on their skin, helping to restore moisture and keep their coat feeling super soft.
It's best used for routine maintenance and can used alongside other dog shampoo and conditioners, providing a deodorizing refresher between washes.
You can also pick up an unscented balm too, which is a richer version of the hydrating skin & coat butter, if your pup experiences a dry nose or paws, perfect for giving them the full spa day treatment.
If your dog has particularly sensitive skin or is prone to hot spots, however, you might be better off considering a medicated option.
TropiClean PerfectFur Long Haired Coat Shampoo
Best dog conditioner for long hair
Specifications
Ingredients:
Soap and paraben free
Reasons to buy
+
Specialist product
+
Lathers well
+
Can improve overall quality of coat
If your dog's hair is particularly long and bothersome, then TropiClean PerfectFur Long Haired Coat Shampoo offers a specialist option. The product is great for tackling unruly manes, leaving them soft, shiny, and without any greasy feel.
In some cases, it may even help your canine's hair feel smoother and thicker as if they've just stepped out of a doggie salon.
For pet owners who love a strong fragrance while conditioning, however, you may be disappointed with the simple clean fresh smell on your dog.
The sweet citrus fragrance could be stronger, but if you're willing to forfeit scent for great usability, you'll find the TropiClean PerfectFur Long Haired Coat Shampoo lathers well and performs well on long, matted hair.
Furtastic Crème Rinse, 16.1oz Blueberry Muffin
Best smelling dog conditioner
Specifications
Ingredients::
Moisturizing
Reasons to buy
+
Has a blueberry muffin aroma
+
Eco-friendly formula
+
Provides elasticity to the coat
Reasons to avoid
-
Smell may be too strong for some
Aimed at dogs with long and curly coats, this conditioning crème rinse by Pet Head contains oat proteins which strengthens the hair and leaves it tangle-free. It comes in a wonderful-looking bottle with a bone-headed easy-grip top (handy when your hands are wet) and it's pH balanced eco-friendly formula aims to smooth and moisturize leaving both the fur and skin looking and feeling great.
Perhaps more intriguing is the smell, however: a fun, quirky scent of blueberry muffin. Some users say it's perhaps a little too strong but others say it doesn't overwhelm, wears off after a couple of days and even fills their bathroom with sweetness.
That aspect of the product is ultimately going to come down to sensitivity and preference but it's certainly good to know that there are no harmful chemicals involved here: it's free of DEA which can strip away natural oils as well as petroleum derivatives. What's more, the maker say it hasn't been tested on animals. Even the bottle is 100 percent recyclable.
Veterinary Formula Solutions Ultra Oatmeal Moisturizing Conditioner for Dogs
Best nourishing dog conditioner
Specifications
Ingredients:
Oatmeal, jojoba oil, shea butter
Scent:
Raspberry tea and pomegranate
Reasons to buy
+
Hydrates and moisturizes
+
Adds strength and shine
+
Affordable
If your dog suffers from dry, scaly or itchy skin, this gentle and nourishing conditioner is well worth considering. Enriched with soothing colloidal oatmeal, super moisturising jojoba oil, and silk proteins and shea butter to hydrate your dog's skin and coat, this is a lovely conditioner that will leave your pup feeling like they've just stepped out of the salon!
The ingredients in this conditioner don't just soothe the skin, they also penetrate deep into the hair fibers to add strength and shine, and the potent moisturizers leave the coat itself looking and feeling silky soft. The long-lasting raspberry tea and pomegranate fragrance last for days and will have your canine companion smelling their best.
Sulfate-free, paraben-free and pH balanced, this formula is ideal for sensitive skin and is safe to use in conjunction with topical flea treatments. While it is a little thinner in consistency than some other brands, it's effective, affordable and great for pups with skin conditions.
Ashleigh is Digital Editor on PetsRadar. With over 8 years of experience in print and digital media, she has acted as an editorial lead on a variety of projects, with animal themes a keen interest. As an avid animal lover, you can often find Ashleigh checking out the newest trends in animal care or looking at cute cat videos on TikTok.
Get the best advice, tips and top tech for your beloved Pets
Thank you for signing up to Petsradar. You will receive a verification email shortly.
There was a problem. Please refresh the page and try again.