Longest lasting dog chews: Six treats to keep your dog's teeth busy
Find the perfect longest lasting dog chews that will keep your pooch occupied much longer than a quick treat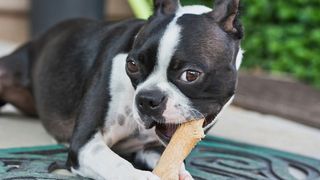 (Image credit: Getty Images)
Finding the longest lasting dog chews is important! Anyone who has a dog knows that they like to chew, and sometimes it isn't even food that our beloved canines put in their mouths. However, chewing is a natural behavior that helps dogs explore the world around them as well as get vital exercise for their jaw and clean their teeth at the same time. Chewing also has the ability to keep dogs mentally engaged and alleviate boredom.
To avoid dogs nibbling on the things they shouldn't, you need to ensure you are providing them with the things they should have in their mouths, such as a long lasting chew. But with so many on the market, how do you know which one to pick?
From natural chews to those that help maintain a healthy coat, there are a wide variety of these dog treats available. It's important to make sure that you give your dog the chew that's most appropriate for their size, age, activity level, and specific dietary requirements. It's also worth bearing in mind that the treats you give your pet should only account for 10% of their daily diet (less if your dog is overweight).
Let's take a look at some of the top long lasting dog chews currently available.
1. SmartBones SmartSticks Peanut Butter Chews: Best overall long-lasting dog chew
SmartBones SmartSticks Peanut Butter Chews
Tasty, nutritious treats that come in a variety of flavors
Supplements: Enriched in vitamins and minerals, such as vitamin E and B12 | Free from: 100% rawhide-free | Size: Five inches long
Contains chicken breast, sweet potatoes, peas, carrots, and peanut butter
Gentle on gums
Raw-hide free
Contains red dye
Confusion as to the country of origin since the packaging states that it was made in Mexico, whereas the website says that the product is made in Vietnam
Is not for daily consumption, but intermittent or supplemental feeding only
SmartBones SmartStick Peanut Butter Chews is an easy to digest, long lasting dog chew that is completely rawhide free. This product contains an outer layer made of vegetables and peanut butter, and a center made of real chicken breast.
They are described as a healthier alternative to rawhide treats, which have the potential to cause intestinal blockages. It is also claimed that they do not pose a choking hazard, and will also not create sharp splinters that could harm your dog as they chew (although it is always advised to watch your pet as they chew their treat, as no food is 100% choke risk free).
This product is suitable for dogs of all sizes over the age of eight weeks old. They also come in a variety of flavors such as beef, chicken, sweet potato, and bacon and cheese. One dog owner said that their ten-week-old terrier/poodle puppy absolutely loved them: "I got a full half hour of peace from those tiny teeth… it takes him about four days to go through one".
However, as with any treats or food we give to our pets, not all dogs like them or can digest them properly. Some customers have reviewed this product as being dropped on the floor by their dogs "as if to tell me they tasted bad", as well as giving some pets a "very bad tummy reaction to it." If your puppy or dog has experienced reactions to food in the past, it's worth giving them a small amount of a treat when trying out a new product before letting them devour the entire long lasting chew.
2. Bones & Chews Slim Beef Gullet Stick: Best budget long-lasting chew
Bones & Chews Slim Beef Gullet Stick
These thin long-lasting dog chews are perfect for adult dogs with smaller jaws
Supplements: Single-ingredient, all-beef chew with no additional vitamins and minerals | Free from: Chemicals or preservatives | Size: Five to six inches long
All-natural since the only ingredient is beef
Help to clean your dog's teeth and gums as they chew
Great alternative to rawhide
Not suitable for puppies
Depending on the dog, it may not be as long lasting as some thicker chews
Bones & Chews Slim Beef Gullet Stick is exactly what it says on the packet: 100% beef gullet (a cow's esophagus, which is the part that connects the throat and stomach). Unlike some of the other long lasting chews, these sticks are thin and hollow, making them perfect for a quick and instant reward. As well as helping to keep your pets teeth and gums clean, this product provides dogs with a good source of chondroitin, which has the potential to boost your dog's joint health.
The product is described as being treated with irradiation, which is the exposure to radiation such as alpha or X-ray particles. When it comes to food, irradiation is used to kill any parasites or bacteria that could potentially cause disease.
One customer's beagles sounded like they thoroughly enjoyed their Slim Beef Gullet Sticks – "My beagles are addicted to the turkey tendon chews and have been super finicky… but they did like these!... A good alternative to turkey chews, which are quite expensive".
Some dog owners have commented on how quickly their dog eats this product due to it's thick and hollow tube-like design – "My dog usually takes three to four days to eat a normal bully stick, and she ate this in less than a minute". Whereas others have described the product as turning into a "long stringy chewy mess" instead of breaking off into easy to swallow pieces, which caused their dog to choke as they attempted to swallow it whole.
3. SmartBones Calming Care Chicken Chews: Best calming long-lasting chew
SmartBones Calming Care Chicken Chews
A chew that is perfect for settling down your excitable pooch
Supplements: Vitamin A, vitamin B12, and Biotin | Free from: Rawhide | Size: Four to five inches long
Contains chamomile and lavender, natural ingredients that encourage calm behavior
Helps keep teeth clean and healthy
Suitable for dogs of all sizes
Contains artificial flavors and colors, such as blue dye
Some dogs don't stay calm for long
SmartBones Calming Care Chicken Chews contains both chamomile extract and lavender extract, two of the most famous herbs commonly used to aid sleep and ease anxiety, stress, and digestion. Alongside these unique ingredients, these long lasting dog chews contain real chicken and wholesome vegetables, such as sweet potato, peas, and carrots.
This long lasting dog chew has a firm exterior, which helps scrape the teeth clean whilst dogs nibble away at them. It's gummy texture also has a part to play in your dog's oral health, providing double the scraping action on teeth during the up and down motion of the chewing.
It's recommended that ahead of any stressful event, such as the sound of fireworks around the New Year or a thunderstorm, dogs should be given a SmartBones Calming Care Chicken Chew dog treat at least one to two hours beforehand. For larger dogs, one chew should be plenty enough to promote a calming feeling, whereas for smaller dogs and toy breeds, a portion of the dog chew may suffice.
Many customers are able to notice the difference in their dog after they have eaten one of these chews. "I have a very high strung labradoodle who is terrified of any loud noises (Fireworks, thunder, guns, you name it)... A day after these arrived we had a nasty storm. After we heard the first big thunder we gave him a whole chew, and in about 10 minutes he was relaxed and snoozing on the bed, even when the power went out!" described one happy dog owner.
Unfortunately, the special ingredients in these chews don't have the same calming effect on every dog – one customer explained that their dog is "A heavy chewer. So I'd say these lasted her about 5-10 minutes to chew through and was running around like a nut directly afterwards. Maybe an hour later she calmed down a little more than usual, which lasted probably 30 minutes."
4. USA Bones & Chews Curly Bully Stick: Best natural long-lasting chew
USA Bones & Chews Curly Bully Stick
A 100% natural, slow-roasted, long-lasting twizzly dog chew
Supplements: No additional supplements – 100% pure beef | Free from: additives, preservatives, artificial flavors or colors | Size: Six to nine inches
100% natural
It's curly design makes this challenging chew last even longer
Helps remove plaque and tartar build up
Some customers have commented on the size difference received in single packs compared to multipacks
Can be unsuitable for some small and toy breeds
Previous studies have revealed that some bully sticks may pose a health risk, what with being high in calories and potentially being contaminated with bacteria
USA Bones & Chews Curly Bully Stick are made from 100% USA beef pizzle (a high-protein beef muscle, specifically the penis of a bull). These chews are never treated with chemicals, bleach, or formaldehyde, nor do they contain any artificial flavors, colors, or preservatives. They are slow-roasted to boost their natural meat flavor and – perhaps – to eliminate any potential bacteria that may have been in the product, should it be given to a dog to eat whilst still raw.
Its curly design and tough texture encourages good dental health, helping to remove any plaque and tartar build up. These chews have also been known to help relieve boredom and stress. It is important to note, however, that should this product create splinters or develop sharp edges, it must be thrown away immediately.
Many customers comment on how long it takes their dog to chew through these curly treats. One dog owner said, "This treat takes my two-year-old goldendoodle a little longer to chew than the straight sticks. So, I might have 10 minutes of her being occupied. She enjoys them tremendously!", whereas another claimed that their dog "Goes through a curl in a day to a day and a half."
A common review found for this product is the variation in sizes compared to the image shown on the website. When buying single packets instead of the multipacks or cases, customers described how the chews were significantly slimmer. "Having bought 3 packs and cases in the past, I opted for the singles with the buy three get one free [offer]. These are not near the same quality. Not only are they smaller, but much thinner. Thus, doesn't last as long. Strangely, they are much lighter in color as well. Guess the quality is lower? So, the 3-pack and cases are fine, and I would recommend them. The singles however, I would stay away from", explained one customer.
5. SmartBones Skin & Coat Care Chicken Chews: Best long-lasting chew for maintaining skin and coats
SmartBones Skin & Coat Care Chicken Chews
For glossy and healthy coats and skin, try these long-lasting chews
Supplements: Omega 3 and 6 fatty acids, vitamins E, A and B12, as well as Biotin | Free from: Rawhide | Size: Approximately four inches long
Helps maintain a healthy skin and coat
Contains real chicken and vegetables
Enriched with vitamins and minerals
Contains artificial flavors and colors, including yellow dye
Some customer's dogs have experienced upset stomachs after these treats
SmartBones Skin & Coat Care Chicken Chews are tasty treats that, without the dogs knowledge, helps maintain their skin and coat ensuring they are kept healthy. Plus it's not just their coat and skin that will benefit from this chew, as it will also help keep dogs teeth clean and healthy.
As with many of the SmartBones products, this particular chew contains real chicken (not chicken by-products, chicken fat, or chicken meal) and vegetables, such as sweet potato, peas, and carrots. It is also enriched with minerals and vitamins, including A, B12, and E. They are also 100% rawhide-free.
With all of the benefits these chews provide, customers have expressed their delight at the results seen in their beloved pets - "My dog loves these treats and they're good for her! Best of all, they make her skin and coat more beautiful!" Another customer explained that they give their dog, who has hypothyroidism as well as terrible environmental allergies, this chew "daily to my dog who has all the skin issues. He loves them and I love the fact that it's rawhide free. It isn't too hard that he gets bored of chewing, but it isn't too soft either. He usually finishes in about 10 minutes or so."
Despite the fact that there are plenty of customers happy with these chews, there are also several that reference unfortunate experiences after feeding their dog a SmartBones Skin & Coat Care Chicken Chew. "Both my dogs after having this chewy treat, began to vomit became lethargic for over 24 hours and refused to eat for days. The fact that both dogs had this treat makes me certain this is what caused them to become sick. They've never been sick before they had this treat. I do not recommend this and I will not be buying it again", explained one customer.
6. USA Bones & Chews Deer Antler Dog Chew: Best animal-based long-lasting chew
USA Bones & Chews Deer Antler Dog Chew
This all-natural chew provides dogs with a key source of calcium
Supplements: No additional supplements – 100% natural deer antler | Free from: strong odours, artificial colors, flavors, and preservatives | Size: Variable – between four inches and over nine and a half inches in length
Non-allergenic and low odor
A source of beneficial nutrients, including calcium and phosphorus
Shed naturally and renewable
Can splinter and develop sharp edges
This is not a chew that is to be ingested
Size descriptions vary on product delivered
USA Bones & Chews Dog Antler Dog Chew is a 100% all-natural deer antler that provides dogs with a source of calcium and phosphorus. The antler's hard texture helps keep dog's teeth clean, whilst also massaging their gums and exercising their jaws as they chew. It's natural ingredients also support muscle and bone health.
As well as being low odor and non-allergic, these long lasting dog chews also claim never to be treated with bleach, dyes, chemicals, or formaldehyde. Since they are deer antler, they are fat-free and do not contain any artificial flavors, colors, or preservatives.
Due to the nature of this product, it's extremely important that dogs are monitored when they have this chew to prevent injury or potential choking. It is not edible and should not be ingested by your pet. Should the chew start to develop sharp edges or begin spintering, it must be disposed of immediately.
Even though they aren't an edible long lasting chew for your dog to devour, they sure provide a whole host of other benefits. As one happy customer explained, "Our dogs love them, Vet told us antlers help clean dogs teeth and it does. I do recommend these antlers".
However, many of the reviews mention their disappointment in the varying sizes they received, "The antler was 8 inches long as advertised. However, the diameter was less than 1/2 inch for the first 2 inches, 1/2 inch for the next 4 inches and just over 1 inch for the bottom 3 inches."
How to choose the best new dog chew
When picking out a new dog chew for your pet, it's important to take in their age, size, what they currently eat as well as their specific dietary needs. For example, the focus could be on improving and maintaining dental health or skin care, or ensuring that it is free from artificial flavors, colors, or preservatives.
If you're unsure which type of long lasting chew will be best for your dog, your vet will be able to provide you with the best professional medical advice for your particular pet.
Remember, dogs of any age should never be left alone when given a chew or treat to eat or nibble on. Where possible, always remain in the room or within earshot should your beloved pet accidentally start to choke on a part of the dog chew and need your help to clear their airways.
Get the best advice, tips and top tech for your beloved Pets
Thank you for signing up to Petsradar. You will receive a verification email shortly.
There was a problem. Please refresh the page and try again.