Long lasting dog chews 2023 - tasty treats that keep your dog occupied
Find some of the top long lasting dog chews in our 2023 guide where we share expert recommendations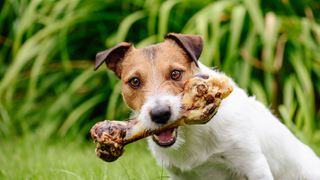 (Image credit: Getty)
Are you looking for some of the very best long lasting dog chews on the market? You've come to the right place.
We know all too well that as the foodie furkid in your life dreams about their next bowl of the best dog food, having a lasting dog chew on hand can be a true lifesaver. These chews act as a great distraction, allowing you to focus on your own meals while your pup stays happily engaged. Not only do these chews add variety to your dog's diet, but they also offer various benefits. Beyond being nutritious and delicious, they provide essential physical and mental stimulation, promoting your canine companion's overall well-being.
Additionally, unlike dog treats that can be devoured within seconds, the longest lasting dog chews can keep your dog's paws and teeth busy for extended periods, ranging from 10 minutes to two or more hours. This makes them ideal for training purposes, such as crate training, where a longer-lasting reward is desired. If you haven't already, be sure to read our guide on how to crate train a dog after perusing the following buying guide.
To assist you in finding the perfect longest lasting dog chews, we have curated a selection of our favorite picks known for their durability and palatability. Furthermore, we've consulted with behaviorist Nick Jones and vet Dr. Joanna Woodnutt to gather their expert recommendations.
Nick Jones MA is an experienced, qualified and full-time dog behaviourist, who specialises in dog behavior problems, dog expert witness work (dog behavior assessments and assisting the courts), and representation within the media for dog-related topics. With more than 2,000 dog behaviour cases behind him, covering all conceivable aspects of dog behaviour, Nick is every bit as passionate today about creating an understanding and rewarding bond between dog and owner as he was when he first started the business nearly 20 years ago.
Dr Joanna Woodnutt qualified as a veterinarian from the University of Nottingham where she then went on to practice companion animal medicine in the Midlands. She really took to the consulting side of things and helping clients with medical problems such as dermatology, behaviour and nutrition - anything that involved helping clients understand their pets better.
PetRadar's pick of the best long lasting dog chews
Why you can trust PetsRadar Our expert reviewers spend hours testing and comparing products and services so you can choose the best for you. Find out more about how we test.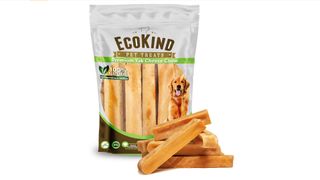 EcoKind Pet Treats Premium Yak Chew
Best overall longest lasting dog chew
Specifications
Benefits:
Gentle on sensitive stomachs
Free from:
Gluten, lactose, and rawhide
Reasons to buy
+
Natural and organic
+
Last for hours
+
Gentle formula
Reasons to avoid
-
Not suitable for dog's with dental issues
What buyers say
Some users pointed out that these Ecokind chews can leave behind a little bit of a mess but a lot of people say collecting any fallen remains and microwaving them is a great way to use it all up. Overall people in the reviews sections agreed these are extremely popular amongst their dogs and very cost-effective. One buyer said their dog is on week two of chewing their first stick. They score a total 4.4 out of five stars on Amazon.
These healthy and delicious long-lasting chews will keep your canine companion content for hours. Made in Nepal from 100% Yak milk, these chews are high in calcium for bone health and free from gluten and lactose.
Easy to digest and perfect for those with delicate digestive systems or allergies, these Yak dog chews contain no artificial ingredients, chemicals, or preservatives. Available in bags ranging from 1-5lbs, the sticks measure 6-8 inches in length and 1-2 inches in width and are designed to last for hours.
Natural and organic, these chews can be given to dogs of all sizes and breeds, and work well for heavy chewers with one reviewer stating "I have aggressive chewers. Most treats get devoured quickly. And toys even faster. These allow them to chew and be occupied for hours!"
It's worth noting that these are not suitable for dogs with dental issues as they have a hard and crunchy texture that can take some work to get through. That being said, If you have a dog whose chompers are in tip-top shape and you're after a healthy, natural, and nutritious dog chew that will go the distance, then we have a feeling you and your dog are going to love these.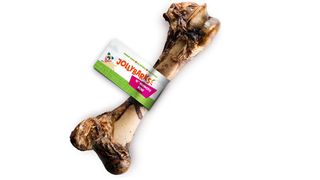 JollyBarks Mammoth Big Dog Bone
Best for aggressive chewers
Specifications
Benefits:
Packed with essential vitamins and minerals, oozing with flavor
Free from:
Additives and contaminates
Reasons to buy
+
Rich in flavor
+
Sourced from grass-fed, free-range cattle
+
Hand picked and checked for quality
+
Filled with lots healthy ingredients
Reasons to avoid
-
Not suitable for small dogs
-
Supervision needed
What buyers say
Scoring an overall score of 4.1 stars out of five, buyers praised this JollyBarks entry for the taste factor and how great a distraction the chews are. "My dogs don't really like playing with actual toys by themselves, so long lasting food related things keep them entertained and busy," said one buyer. A few buyers said the bones weren't as big as expected and didn't last as long as they would have liked.
If you have a large dog, you will want a chew that's capable of withstanding enthusiastic chomping by large jaws and sizable teeth. These 100% natural chews are hard enough to keep a dog occupied for hours, or days depending on your dog's chewing rates and that makes them ideal for aggressive chewers.
Made from additive-free ingredients (each large dog bone contains naturally occurring omega-3 fatty acids, protein, calcium, iron, phosphorus, zinc, selenium, magnesium, and manganese), the chews offer an abundance of health benefits.
You can't give your dog one of these chews and leave them to it, though. It's recommended that you supervise dogs while they're chewing just to ensure they're breaking it down into easily-swallowed pieces - buyers agreed with this in the reviews section. But if they are chewing correctly, then they'll get good jaw exercise and remove some plaque and tartar build-up. As long as you don't give your dog more than two a week, they shouldn't pack on the pounds either.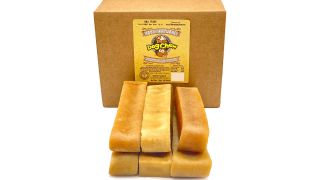 Tibetan Dog Chew X-Large Breed Grain-Free Dog Treats
Best grain-free option
Specifications
Benefits:
Leftovers can be turned into crunchy cheese puffs
Free from:
Grain and gluten
Size:
From small to jumbo
Reasons to buy
+
More than 50% protein
+
May last for days
+
Minimum odor and waste
What buyers say
People who left reviews for this product said they were impressed at these chews lasting days as opposed to hours. Others added additional praise such as, "They don't smell, they don't stain and they seem to do a pretty decent job of cleaning his teeth." However, they did drop a few stars with not everyone finding they lasted longer than a day. They gained 3.4 out of five stars on Chewy.
If you have a large dog, you will want a chew that's capable of withstanding enthusiastic chomping by large jaws and sizable teeth. With these 100% natural chews, you'll have no worries on that score. They're hard enough to keep a dog occupied for days, never mind hours, and that makes them ideal for aggressive chewers.
Made from limited ingredients (yak milk, cow milk, salt and lime juice), the chews offer an abundance of protein and, as well as an extra-large variety, you can opt for an even bigger jumbo (or choose large, medium or small if you have a tinier pooch). In all cases, there are no grains, gluten or preservatives in these sticks. What's more, they also emit the minimum amount of odor.
You can't give your dog one of these chews and leave them to it, though. The manufacturer says you should supervise dogs while they're chewing just to ensure they're breaking it down into easily-swallowed pieces. But if they are chewing correctly, then they'll get good jaw exercise and remove some plaque and tartar build-up. As long as you don't give your dog more than two a week, they shouldn't pack on the pounds either.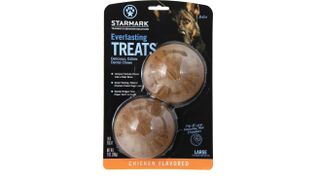 Everlasting Treat For Dogs
Best for use in puzzle toys
Specifications
Benefits:
Helps remove tartar while mentally and physically stimulating the dog
Free from:
Can buy wheat-free flavours
Size:
3.25 x 3.25 x 1 inches
Reasons to buy
+
Created for use in puzzle toys
+
Have ridges for dental health
+
Come in different flavors
What buyers say
This product has a 4.5 out of five star rating on Amazon with buyers reporting that it kept their dogs quiet for ages and it's a great 'boredom breaker'. Happy canine owners were also pleased to find that they fit inside puzzle toys. Some buyers marked this product down in their reviews as they didn't last long enough for their dogs and therefore they don't think it is worth the price.
These dog treats look a little different to most others. While most long lasting dog chews appear similar to sticks, these are large and round yet they've been designed that way for a reason.
As well as proving very long-lasting thanks to their hard texture which the manufacturer compares to a bone, these chews are intended to be used with one of Starmark's Everlasting Treat Toys. They form the heart of a puzzle to mentally and physically stimulate canines. But the benefits go further.
As dogs lick, chew and gnaw on these chews, the ridges act to remove tartar and plaque build-up, leaving teeth relatively clean. They are also tasty treats, coming in different flavors to encourage dogs to chew in the first instance.
Unlike toys, these chews are entirely edible although wheat gluten, gelatin, water and glycerin form the main ingredients. They are certain to give your dogs a good workout, though, and we reckon they'll go down a treat.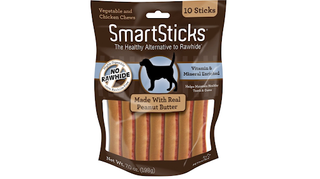 SmartBones SmartSticks Peanut Butter Chews Dog Treats
Best for avoiding choking
Specifications
Benefits:
The sticks won't splinter
Reasons to buy
+
Made from real chicken
+
Includes vegetables
+
Highly digestible
Reasons to avoid
-
Contains artificial flavor
What buyers say
Scoring 4.6 stars out of five on Amazon many buyers say these chews have a strong scent of quality peanut butter and their dogs seem to lap up the taste of these. Owners love that they are made from all-natural ingredients but they do note this can be a pricier option.
Rawhide can cause problems for dogs depending on how they chew. If your pooch is an aggressive, strong chewer, for instance, there's a chance they can break off large pieces and these can become lodged in the throat which can either pose a choking hazard or cause an internal blockage.
With SmartBones' SmartSticks, however, you will have no such worries. They are designed to be an alternative to rawhide and they're packed with goodness too. Made from real, dried chicken breast and fortified with vitamins and minerals, they are highly digestible – more so, the manufacturer claims, than premium dog foods.
Of course, they are also very chewy. Making use of real peanut butter for added taste, each of the 10 sticks will pose enough of a chewing challenge to keep a dog occupied for ages. As pups gnaw on the high-protein chew, they will be able to exercise their jaw while helping to keep their teeth and gums healthy. The chews are also suitable for all breeds and sizes so there are no worries in that department either.
Our only real reservation is that some of the ingredients aren't natural: the recipe includes artificial flavor, for instance, and there are also some sweeteners. The main ingredient is also corn which may put some people off.
Longest lasting dog chews: FAQs
How to choose the best longest lasting dog chew
Dog chews are not meant to be given daily – they are generally for intermittent or supplemental feeding – so the best way to ensure they last longer is to pack them away in a clean, airtight container and only hand them out when you want to distract your dog.
You should also keep any unused chews stored in their packet. Just make sure it remains sealed or, again, is placed in an airtight container to prevent bacterial growth. After all, most food goes off when exposed to the air.
"If you give a dog something hard and appropriate, it can last a very long time," says dog behaviorist Nick Jones. "You can also place a chew in the freezer. A frozen chew will always last longer."
Can puppies have rawhide chews?
Since rawhide can be difficult to digest, you shouldn't give it to puppies aged under six-months-old. Their jaws and teeth are not likely to be strong enough and there are other health-related issues to take into account.
"Rawhide chews are not ideal," says dog behaviorist Nick Jones. "When they are chewed for long enough they become like wet leather and a dog can chew off a section which can present problems in the digestive tract. There are also ethical issues over where some rawhide comes from and how it is treated."
What do vets recommend for dogs to chew?
Woodnut says that you can ask 10 vets this question and you'll get 10 different answers. The truth is, there are lots of opinions about what's best to chew and there's very little data to back it up. In general, most vets agree that many chews are dangerous," explains Woodnutt, "Chews that are too hard risk breaking the teeth, causing a lot of pain and requiring emergency dental surgery. Chews that are not digestible may be a risk for an obstruction if your dog swallows the chew (or parts of it).
However, the risks of chews need to be balanced against the benefits – chewing is an innate behaviour, and providing dogs with things to chew is good for their mental health and dental development.
For every chew there are risks, and it's hard to find one that vets will agree is good. Some of the wooden chews made from roots are good – although splintering and intestinal obstruction are theoretical risks, they don't seem to happen very often. Similarly, yak milk chews are often listed by vets as a good option, but they do have a risk for obstruction and potentially tooth breakage, as they are very hard. Stuffed Kongs are often suggested by vets as a very safe option, but they may not satisfy your dog's instinct or last long enough to let them chew properly. Natural chews made from dried tendons, tripe, or skin are often a good option too – but they can be calorific and don't always last very long, and some have risks due to them being a raw product.
Can I give my dog a chew every day?
According to Woodnutt, "You can give your dog a chew every day if it's not a calorific chew, and the calories have been calculated in their daily allowance. For example, stuffing a Kong with your dog's normal food means it's a healthy option for your dog to have on a daily basis.
"A wooden chew doesn't have any calorie value at all and can be given daily. However, most other chews (dental chews, natural dried chews and yak chews, for example) can be highly calorific. If the chew amounts to more than 10% of your dog's daily calorie allowance you shouldn't feed it daily."
Get the best advice, tips and top tech for your beloved Pets
David Crookes has been a journalist for more than 20 years and he has written for a host of magazines, newspapers, websites and books including World of Animals, BBC Earth, Dogs and Canines, Gadget and The Independent. Born in England, he lives in a household with two cats but he's also keenly interested in the differences between the huge number of dog breeds — in fact, you can read many of his breed guides here on PetsRadar. With a lifelong passion for technology, too, he's always on the lookout for useful devices that will allow people to spend more time with their pets.