Longest lasting dog chews to keep your pup occupied for longer
The longest lasting dog chews will keep your dog distracted and satisfied for longer while you enjoy some downtime — it's a win-win situation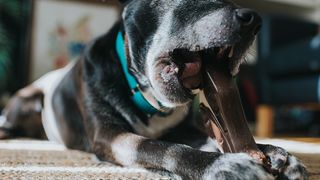 (Image credit: Getty)
The longest lasting dog chews are a helpful tool for keeping your dog occupied plus they save you forking out on countless chews that your dog gnaws through in record-breaking time. The good ones, which we've sourced for this roundup, are often healthy and delicious for your pooch and can come in handy if you're training your dog or if you want to distract an anxious pup.
If you're teaching your dog a new skill or dealing with a mischievous pup, treats can assist in reinforcing positive behavior, especially a long lasting dog chew as you can simply reuse the same treat in one session. The most effective long lasting dog chews will also take attention away from any furniture or household objects that your dog likes to get its teeth on and pups who get easily bored will find themselves lost in the deliciousness challenge of chewing their way through the treat. The chewing activity can also benefit your pooch's teeth, minimizing tartar and plaque and improving the strength and cleanliness of their mouths.
Quality does matter when you're sourcing a long lasting dog chew, the last thing you need is a flimsy dog chew to cause choking or stomach issues. Thankfully, dog chew brands quite often mention the durability of their products via the label, we recommend eyeing this up whenever you go dog chew shopping. You'll also find additional benefits, which we've highlighted below, such as immune-supporting vitamins and no artificial additives. We can also help out if you're looking for something more specific for your dog, like the best diabetic dog treats.
One of the main things to check, and something we've made sure to highlight in our product roundup is that the size of your dog may influence which long lasting chew will be best for them. A good rule of thumb is to pick a chew that is larger than their mouth, this means they have to work at gnawing through it and helps avoid choking. But smaller dogs shouldn't be given anything too outrageously big for them as their jaws will struggle to handle the chew. Things like size, and ingredients alongside other important factors are included in our longest lasting dog chew guide below, so carry on reading to find the perfect chewing treat for your four-legged friend.
PetRadar's pick of the best longest lasting dog chews
Why you can trust PetsRadar Our expert reviewers spend hours testing and comparing products and services so you can choose the best for you. Find out more about how we test.
EcoKind Pet Treats Premium Yak Chew
Best overall longest lasting dog chew
Specifications
Supplements:
High in calcium
Free from:
Gluten, lactose, and rawhide
Reasons to buy
+
Natural and organic
+
Last for hours
+
Gentle formula
Reasons to avoid
-
Not suitable for dog's with dental issues
These healthy and delicious long-lasting chews will keep your canine companion content for hours. Made in Nepal from 100% Yak milk, these chews are high in calcium for bone health and free from gluten and lactose.
Easy to digest and perfect for those with delicate digestive systems or allergies, these Yak dog chews contain no artificial ingredients, chemicals, or preservatives. Available in bags ranging from 1-5lbs, the sticks measure 6-8 inches in length and 1-2 inches in width and are designed to last for hours.
Natural and organic, these chews can be given to dogs of all sizes and breeds, and work well for heavy chewers with one reviewer stating "I have aggressive chewers. Most treats get devoured quickly. And toys even faster. These allow them to chew and be occupied for hours!"
It's worth noting that these are not suitable for dogs with dental issues as they have a hard and crunchy texture that can take some work to get through. That being said, If you have a dog whose chompers are in tip-top shape and you're after a healthy, natural, and nutritious dog chew that will go the distance, then we have a feeling you and your dog are going to love these.
Jack&Pup Pork Femur Dog Bones
Best for aggressive chewers
Specifications
Supplements:
No additional supplements – just pork bones and beef jerky
Free from:
Artificial colors, flavors, and preservatives
Size:
10 inches in length
Reasons to buy
+
All natural ingredients
+
Individually wrapped for freshness
+
Hand picked and checked for quality
+
Good for dog's teeth
Want a mega-sized treat that will keep larger dogs distracted for days? Then these slow roasted 10-inch pork bones wrapped in tough beef jerky are for you.
Pleasingly, there are no other ingredients other than the hand-picked bone and the beef wrap, so you can be confident that there are no fillers or artificial additives. The manufacturers also boast they are sourced from quality pigs and free-range grass-fed cattle untreated by hormones and antibiotics.
What's more, the roasting process eliminates all bacteria and contaminates, making their consumption fully safe. Filled with nutritious marrowbone, protein and natural vitamins, this is one treat you won't be feeling guilty about giving them.
Because these are hard femur bones that they will be chewing on for days, they will also help reduce plaque and tartar build up on their teeth and gums. Be warned though, these bones do have a strong smell - one that will make your dog salivate, but the dead animal odor will likely have less of a pleasing effect on you!
As such, these may be better as an outside treat. Fortunately, they come individually wrapped, so there is no smell issue while they are being stored.
Tibetan Dog Chew X-Large Breed Grain-Free Dog Treats
Best grain-free option
Specifications
Supplements:
Limited-ingredients with no preservatives
Free from:
Grain and gluten
Reasons to buy
+
More than 50% protein
+
May last for days
+
Minimum odor and waste
If you have a large dog, you will want a chew that's capable of withstanding enthusiastic chomping by large jaws and sizable teeth. With these 100% natural chews, you'll have no worries on that score. They're hard enough to keep a dog occupied for days, never mind hours, and that makes them ideal for aggressive chewers.
Made from limited ingredients (yak milk, cow milk, salt and lime juice), the chews offer an abundance of protein and, as well as an extra-large variety, you can opt for an even bigger jumbo (or choose large, medium or small if you have a tinier pooch). In all cases, there are no grains, gluten or preservatives in these sticks. What's more, they also emit the minimum amount of odor.
You can't give your dog one of these chews and leave them to it, though. The manufacturer says you should supervise dogs while they're chewing just to ensure they're breaking it down into easily-swallowed pieces. But if they are chewing correctly, then they'll get good jaw exercise and remove some plaque and tartar build-up. As long as you don't give your dog more than two a week, they shouldn't pack on the pounds either.
Everlasting Treat For Dogs
Best for use in puzzle toys
Specifications
Free from:
Can buy wheat-free flavours
Size:
3.25 x 3.25 x 1 inches
Reasons to buy
+
Created for use in puzzle toys
+
Have ridges for dental health
+
Come in different flavors
These dog treats look a little different to most others. While most long lasting dog chews appear similar to sticks, these are large and round yet they've been designed that way for a reason.
As well as proving very long-lasting thanks to their hard texture which the manufacturer compares to a bone, these chews are intended to be used with one of Starmark's Everlasting Treat Toys. They form the heart of a puzzle to mentally and physically stimulate canines. But the benefits go further.
As dogs lick, chew and gnaw on these chews, the ridges act to remove tartar and plaque build-up, leaving teeth relatively clean. They are also tasty treats, coming in different flavors to encourage dogs to chew in the first instance.
Unlike toys, these chews are entirely edible although wheat gluten, gelatin, water and glycerin form the main ingredients. They are certain to give your dogs a good workout, though, and we reckon they'll go down a treat.
How to choose the best long lasting dog chew
When picking out a new dog chew for your pet, it's important to take in their age, size, what they currently eat as well as their specific dietary needs. For example, the focus could be on improving and maintaining dental health or skin care, or ensuring that it is free from artificial flavors, colors, or preservatives.
If you're unsure which type of long lasting chew will be best for your dog, your vet will be able to provide you with the best professional medical advice for your particular pet.
Remember, dogs of any age should never be left alone when given a chew or treat to eat or nibble on. Where possible, always remain in the room or within earshot should your beloved pet accidentally start to choke on a part of the dog chew and need your help to clear their airways.