Best dog food: Nutritious meals to help your pup thrive
The best dog food will fuel your furkid and leave them looking and feeling in tip-top shape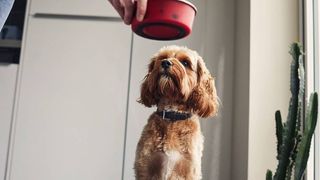 (Image credit: Getty Images)
Looking for the best dog food for you beloved bundle of fur? You've come to the right place! With so many tantalizing options lining the shelves these days, trying to decide on a dish for your canine companion can feel more than a little overwhelming. The good news is, with a little bit of background knowledge, you'll find picking out a wet or dry food for your dog will be a walk in the park.
Just like the best cat food for our feline friends, dog food comes in a range of different types, with the most popular being wet and dry formulas. While there's an ongoing debate as to which of these two reigns supreme on the food front, both offer complete and balanced nutrition, so it really is just down to a matter of preference.
The best dry dog food certainly has its advantages. The crunchy and abrasive shell of kibble does a brilliant job of acting like a toothbrush, sweeping away plaque and tartar while your pup chews and ensuring those teeth stay in tip-top condition. Dry food can also be left out for longer than wet food, doesn't smell, and is a breeze to clean up - so it's ideal if you have a messy eater on your hands.
But, just before you go thinking that kibble is king, the best wet dog food has plenty of perks of its own! Granted, it may be a lot messier than dry food and it certainly goes off quicker, but it comes packed full of moisture, which makes it an excellent choice for keeping your dog's kidneys and urinary tract healthy and ensuring they stay well hydrated.
Regardless of whether you decide to go with wet or dry food, you'll find most dishes are suitable for most dogs, but if your pup has skin issues or suffers from regular digestive disturbances, we recommend taking a look at our guide to the best dog food for allergies, which has plenty of options for food-sensitive fur babies.
With all that in mind, here's our pick of the best dog food you can buy, including a mix of both wet and dry options to suit even the fussiest of furkids!
PetsRadar's pick of the best dog food
Why you can trust PetsRadar Our expert reviewers spend hours testing and comparing products and services so you can choose the best for you. Find out more about how we test.
Hill's Science Plan Adult Dog Food with Lamb and Rice
Best overall dog food
Specifications
Recommended suitable age:
1 to 6 years
Key nutritional inclusions:
Omega-6s, Vitamin E, high in protein
Reasons to buy
+
Made with high quality ingredients
+
Promotes a healthy coat
+
Easily digestible
Reasons to avoid
-
Not suitable for puppies, pregnant or nursing females
-
Not suitable for older adult dogs
When it comes to the best dog food, Hill's Science Plan Adult Dog Food with Lamb and Rice scoops up the gold medal.
While you should consider the age and lifestyle of your dog when deciding their diet, this dog food is ideal for dogs aged one to six-years-old and of medium size. So, if you're the owner of a healthy Basset Hound, Labrador or an Alaskan Malamute – or any other dog of a similar size – this is the dog food you need.
If your dog isn't in the one to six-years-old age bracket, or is pregnant or nursing, this isn't the dog food you need, so take a look at the remainder of the guide for a food that's perfect for your pup.
Hill's Science Plan Adult Dog Food with Lamb and Rice is a dry kibble-style food, designed to support your dog's dietary requirements while they're in the prime of their life. While ensuring they get the energy they need for bounding about, this dog food offers a reliable source of Omega-6s and Vitamin E – ideal for promoting healthy skin and a glossy coat – as well as lamb and rice as central protein-rich ingredients. These high-quality ingredients not only taste great for your dog, but they're also easy to digest, and can help support the development of lean muscles.
As another great bonus, the total ingredients list is delightfully small. The dry feed comprises maize, wheat, lamb meal, soybean meal, animal fat, maize gluten meal, brewers' rice, digest, vegetable oil, flaxseed and minerals. Created with the high-quality ingredients that your dog deserves, there are no hidden nasties here.
It's worth noting that, as with all dog foods, you'll have to weigh out the amount of food served based on the weight of your dog – so it can be worth having a food scale to hand.
Bakers Adult Beef with Country Vegetables
Best dog food on a budget
Specifications
Recommended suitable age:
1 to 6 years
Key nutritional inclusions:
Vitamin D, Vitamin A, Zinc
Flavor:
Beef and vegetable
Reasons to buy
+
Affordable price point
+
Enriched with vitamins and minerals
+
No artificial colours, flavours or preservatives
Reasons to avoid
-
Tender kibble can harden up over time
The best dog food for those on a budget, this dry kibble is a beef and country vegetable flavor, comprising tender meat chunks and vegetables. Said to include all the nutrients your dog needs to consume in one day, this Bakers feed also contains no added artificial colors, flavors or preservatives, and includes probiotics and antioxidants to help promote healthy digestion and support their immune system.
Additionally, the dry kibble contains Vitamin D, Vitamin A, Zinc and other minerals – all things that can help encourage healthy and strong teeth, bones, skin and coat.
However, it is worth noting that, in the ingredients, wholegrain cereals account for 55% of the feed. Grain is often used as a filler in dog food, which can become problematic for dogs that have wheat and other gastric intolerances.
In comparison to another affordable dry kibble, Pedigree Complete Dry with chicken and vegetables, grains (listed as cereals) are still the most prevalent ingredient. There is 5% more 'Meat and Animal Derivatives' listed in the pedigree ingredients, but on average this food comes in at £3-4 more expensive, for 2kg less in the bag than the Bakers option.
Though it is more affordable to buy in larger quantities, the kibble might get a little hard over time – but dog owners recommend sealing the top of the bag as tightly as possible once opened to help retain freshness.
Overall, Bakers Adult beef with country vegetables should be considered a reliable and affordable dry dog food that's suitable for many kinds of adult dogs. While it's not the Michelin Star food of the dog world, it contains everything your dog needs to thrive at a lower price point.
Purina ONE SmartBlend True Instinct Turkey and Venison
Best wet dog food
Specifications
Recommended suitable age:
1+ years
Key nutritional inclusions:
Grain-free, meat meal, bone meal and rendered meat-free
Reasons to buy
+
Made with real meat
+
No fillers
+
Glucosamine for healthy joints
Reasons to avoid
-
Quality ingredients increase the cost
It's widely understood that wet food is generally more appetizing for dogs, and who can blame them with rich and meaty flavors like this turkey and venison offering from the Purina ONE range?
Made from real meat (which is the first ingredient on the list), this delicious dish also comes loaded with vitamins and minerals to ensure your dog has everything they need to stay happy and healthy.
We love the addition of glucosamine, an amino sugar that is great for joint health, and this formula is protein-rich too, so it's ideal for supporting strong muscles. Highly digestible and with no fillers, artificial flavors or preservatives, this complete and balanced dish is one your doggy is sure to love.
Lily's Kitchen Complete Dry Food for Dogs
Best dry dog food
Specifications
Recommended suitable age:
Over 4 months old
Key nutritional inclusions:
Grain, wheat and dairy free
Flavor:
Chicken & Duck; Venison and Duck; Lamb
Reasons to buy
+
Grain-free
+
Only whole-meat formula
+
No artificial additives
Available in three flavors: Chicken and Duck, Venison and Duck and Lamb, there's plenty of choice here for even the fussiest of pooches to enjoy, but for pet owners the key draw lies in the brand's ethos. The company proudly advocates an eco-friendly approach, from its organic ingredients to environmentally friendly packaging.
The idea with this food is to stick to whole meat and no hidden ingredients. One of the primary selling points of the formula is the 0% animal 'meal' content: it offers a high-protein formula without the inclusion of animal meal.
The formula is particularly fantastic for dogs that suffer easily from an upset stomach or who have food intolerance issues. The kibble's small bite-sized pieces are perfect for smaller, aging dogs with weaker jaws. Plus, this grub is likely to leave your pooch feeling fuller for longer and with an increase in energy levels across the board if you're prepared to shelve out the extra cost.
The one knock against it is the price, which is towards the top-end of the market so be prepared to budget for it.
Read more:
Is dry dog food best?
What are the benefits of homemade dog food?
5 dog treats for sensitive stomachs
Blue Buffalo Life Protection Formula Chicken and Brown Rice Recipe
Best natural formula
Specifications
Recommended suitable age:
1+ years
Key nutritional inclusions:
Omega 3 & 6, essential vitamins & minerals, antioxidants
Flavor:
Chicken & Brown Rice
Reasons to buy
+
Natural ingredients
+
Balanced formula
+
Vet approved
If you're after a natural and high-quality kibble for your canine companion, this nutritious formula from Blue Buffalo is hard to beat. Available in a variety of mouth-watering flavors, the chicken and brown rice blend is crammed full of everything your dog needs to stay happy and healthy.
Featuring Blue's exclusive LifeSource Bits, this kibble contains the perfect blend of vitamins, minerals, and antioxidants to help your furkid thrive, including Omega 3 & 6 fatty acids for a shiny coat and healthy skin.
We love that real chicken is the first ingredient on the list, followed by a wholesome blend of whole grains, fruits, and garden vegetables. Carefully designed in collaboration with veterinarians and animal nutritionists, the kibble has a precise balance of fat, carbohydrate, and protein, supporting immune system health and oxidative balance.
Made with the finest natural ingredients, this formula doesn't come cheap but what you get is quality and it's also free from many known allergens, such as corn, wheat, soy, and animal by-products.
Taste of the Wild Dry Dog Food
Best grain-free dog food
Specifications
Recommended suitable age:
Adult
Key nutritional inclusions:
Probiotics, B12, Calcium, vitamin D3, folic acid, vitamin E
Flavor:
Roasted Bison and Venison
Reasons to buy
+
Real meat
+
High protein
+
Great for dogs with allergies
If you have a dog who suffers from allergies or one who has a delicate digestive system, then this grain-free formula from Taste of the Wild is well worth considering. Free from grain, corn, wheat, artificial colors and flavors, this nutritent-rich but gentle formula has everything your pup needs to thrive and none of what they don't.
Packed with 32% highly-digestible protein from pasture-raised bison and venison, this roasted kibble has a rich meaty texture your hound will love. It also contains Taste of the Wild's proprietary K9 Strain Probiotics that have been developed specifically for dogs and added after the cooking process to ensure viability. With 80 million live active cultures per pound of food, this kibble supports the health of the immune and digestive systems.
There are plenty of vitamins and minerals to be found in this formula with calcium for bone health and omega 3 and 6 fatty acids for healthy skin and a shiny coat. And you don't need to worry about your dog being low on energy as the grains present in many other kibbles are replaced here by vegetables such as sweet potatoes that are rich in complex carbohydrates.
N&D Ancestral Grain Canine Chicken and Pomegranate Puppy
Best dog food for puppies
Specifications
Recommended suitable age:
0-1 years
Key nutritional inclusions:
90% meat, Vitamin A, Vitamin E, zinc
Flavor:
Chicken and pomegranate
Reasons to buy
+
Designed for puppy development
+
High-quality natural ingredients
Reasons to avoid
-
Only suitable for puppies
If you're in the market for a reliable puppy feed, this N&D Ancestral Grain Canine Chicken and Pomegranate Puppy dry food could be a good choice for the new addition to the family.
While this recipe does include grain, the emphasis with this brand is on the quality of the ingredients used, all of which have been inspired by nature. Spelt, oats, fresh chicken combine with pumpkin, apples, carrots, spinach and blueberries to create a delicious puppy food.
What's more, the balance of ingredients used means that 90% of the feed is protein-rich chicken, supported with the vegetables, fruits and grains – with no artificial preservatives hidden in there either. The choice of certain ingredients is designed to bring certain vitamins and minerals into play in a natural way.
For instance, the use of pumpkin adds antioxidants, Vitamin A, Vitamin E and zinc into the feed, and the spinach, blueberries, apples and carrots add a generous dose of fiber. All of the natural qualities of the ingredients combine to serve up a puppy food that's able to support the development of the immune system (as well as keeping it well maintained), help with your puppy's skin and coat, and aims to prevent urinary and sensitive stomach issues.
It's fair to say that N&D Ancestral Grain chicken and pomegranate is a little pricier than other puppy feeds, however, the quality of the ingredients is the reason why. A great choice for any new four-legged friend.
Skinner's Field & Trial – Light & Senior
Best dog food for older dogs
Specifications
Recommended suitable age:
Approx 6 years, breed dependant
Key nutritional inclusions:
Vitamin A, Vitamin D3, Vitamin E, iron and zinc, no artificial colours or flavours
Reasons to buy
+
Formulated for older or inactive dogs
+
Designed to avoid weight gain
+
Nutritionally balanced
Reasons to avoid
-
Colour variation can occur in the kibble
As your dog ages, it's important that their feed matches their physical habits. If they begin to slow down a little, and yet still consume the same food as they've always done, this can lead to weight gain. This is where a dedicated dog food for senior dogs becomes vital.
Skinner's Field & Trial – Light & Senior offers dogs a nutritionally balanced food that can help quell any noticeable weight gain in less active dogs. Though it's worth noting that the packaging doesn't give any indication of calorie content per portion, the food is formulated with reduced levels of fat and protein to encourage a 'holistic weight management strategy'.
The kibble itself is shaped into ovals to help encourage a feeling of fullness in your dog and, as it's less-energy dense in its formulation, larger meals can be fed too – your dog doesn't have to feel short-changed at meal times once they hit their twilight years!
The food aims to support joint health too, with the inclusion of glucosamine and chondroitin, and linseed and sunflower oils provide fatty acids. These are great for your dog's skin and coat, and have little impact on how fat-full the feed is.
The feed is also wheat gluten-free, which is great for dogs with wheat allergies or intolerances, but it is worth noting that maize and oats are still at the top of the ingredients list – and these grains are often used as a filler to help bulk the food out.
To counter that, the third-most present ingredient is chicken meal, which can help a dog's digestion, and also has low purine levels. This makes the food an ideal choice for mature or less active dogs that also have sensitive stomachs to consider.
Best for small dogs
Specifications
Recommended suitable age:
10 months to 12 years
Key nutritional inclusions:
Vitamin D3, Vitamin E2, E4 and E5, zinc
Reasons to buy
+
Designed for smaller sized dogs
+
Nutritionally complete wet food
+
Supports healthy weight maintenance
Reasons to avoid
-
Meat products unspecified in ingredients
-
Uses cereal to bulk out the feed
-
High moisture content
As we're sure you know, small dogs have bags of personality. They know what they like – and that's especially true when it comes to their food. Finding a pet food they like that also supports everything they need as a small breed is really important – and an area where Royal Canin Mini Adult can really help.
This is a wet feed, which is widely considered as being tastier for our pups, simply because the moisture allows their senses to engage with the taste and smell of the meal more.
However, be aware that the moisture content can, in some food, mean that water is replacing food substance. Though the moisture content here sits at 80%, the ingredient list gives you reassurance that the feed offers a balanced, nutritious diet.
As a comparison, in a high-end and more expensive puppy feed produced by Lily's Kitchen, the moisture content is still 80% – the price difference is explained by the types of meat products used in the food.
It's important, especially in small dogs, that excess weight doesn't become an issue. Royal Canin Mini Adult offers a moderate energy content for active adult dogs of a small breed, and also contains a whole host of vitamins and minerals to support a healthy digestive system and top-notch coat.
Along with supporting your dog nutritionally, the feed is also made with your dog in mind. The soft chunks themselves are small enough for Yorkshire Terriers, Pomskies and other small breeds to eat comfortably. In turn, the shape of the feed – or the 'kibble technology' – is able to help reduce the build-up of tartar on the dog's teeth. This helps owners prevent oral problems appearing, without having to supplement tartar-avoidance specific food into their pup's diet.
Iams Large Breed Adult Dry Dog Food
Best for large dogs
Specifications
Recommended suitable age:
12 months of age+
Key nutritional inclusions:
Vitamins B1, E, D3, B12, A, B6, L-carnitine, Omega 6
Reasons to buy
+
Reasonable price
+
Good quality ingredients
+
Packed with vitamins and Omega 6
+
Available in various sizes
Packed with plenty of vitamins and essential amino acids, Iams Large Breed Adult Dry Dog Food offers plenty of quality for a great price. Iams focuses on bone and joint health in particular, with a formula focused on good, balanced nutrition especially devised to support large breed dogs. The protein source here is sourced from real chicken which looks to promote strong muscles in active dogs.
The formula also features larger kibble chunks than standard, with the added benefit of helping to slow down fast eaters who gobble up their food almost instantaneously. Some pet owners report that the food has helped with a variety of digestive issues, including dogs with sensitive stomachs.
For us pet owners, the food comes in a variety of sizes to suit different households with a 40lb bag available for those looking to save money in the long-term or those who have multiple large breed dogs in the home.
But, it's not to every hound's taste. If you have a particularly picky eater, you might find your dog turns their nose up or tires of eating limited flavors.
ZIWI Peak Air-Dried Dog Food
Best air-dried dog food
Specifications
Recommended suitable age:
All
Key nutritional inclusions:
High in magnesium, zinc, vitamin E, vitamin D
Reasons to buy
+
High protein and nutrient dense
+
Grain free and low-carb
+
Ethical and sustainable
Okay, so first things first - this one is definitely not for the budget conscious! ZIWI Peak is a NZ-based brand that's known for being expensive, but they've also grown a solid reputation in recent years for producing high-quality dog food with only the best and cleanest ingredients and this air-dried lamb dish is no exception.
High protein and nutrient-dense, it features 96% free-range lamb, organs, bone, organic kelp and NZ green-lipped mussels. It's incredibly rich in a range of vitamins, minerals and antioxidants, including glucosamine and chondroitin for joint health and Omega fatty acids to keep the skin and coat in tip-top condition.
Suitable for all life stages from puppy all the way up to senior level, it can be used as a complete meal or as a topper to kibble or wet food to add a nutrition and flavor boost. Ethical and sustainable, the brand uses only wild-caught seafoods and grass-fed meats that are farmed without hormones, antibiotics or growth promotants.
How to choose the best dog food
Choosing the best dog food for your pup can feel like a daunting task. There are so many factors to consider – from the size of the dog to their age and their breed, it can feel like a bit of a minefield.
There are many products to sift through and select from, but understanding the common elements in dog food and what each ingredient can offer is the key. Most foods offer a balance of vitamins and minerals to help boost your dog's immune system and to help promote healthy skin and coat – but what are the core ingredients?
You should also be aware of the grain and meat content in a food when selecting it. More affordable products will include cereal and less specific meat products, whereas high-end options are likely to include less cereal and high-quality meat content.
But, ultimately, as the owner, you know your dog and the priorities you hold for them better than anyone. Here, you'll find the best dog food we've found for all types of dog – and we're confident you'll make a choice that your dog will truly love.
Get the best advice, tips and top tech for your beloved Pets
Amy is a freelance digital content specialist, with ten years of experience under her belt. Though her young daughter keeps her busy enough, we seem to be the unofficial foster home for many of the neighbourhood cats.