Best dog food: deliver a delicious doggy diet to your pet pooch
By Amy Gerrish
We'll help you find the best dog food to keep your furry friend healthy, happy and active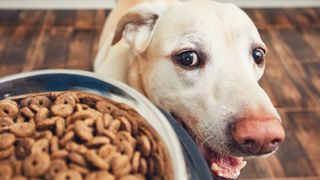 (Image credit: Getty Images)
It's important to provide your much-loved canine with the very best dog food. That way, you can ensure your pooch will benefit from the perfect doggy diet. Trouble is, there's so much choice on offer that it's hard to decide what's suitable. In fact, it can be doubly difficult since many manufacturers decide – legally – not to list the full ingredients. 
You'll often see generic terms such as "meat derivatives" on a label and this refers to a by-product of the human food industry. It includes hooves, bones, beaks and connective tissue – food that doesn't sound particularly appetising even though it is actually fit for human consumption. As such, it's totally safe for pets and you can be sure it's free of transmissible disease. Your dog will certainly get much protein from such food so don't be put off.
With that in mind, you've then got some choices to make. Are you wanting to give your dog kibble – a processed food made by grinding meat, fat, grains, concentrated vitamins and minerals into a powder before making a dough that is cut and dried? Or is a wet dish of raw ingredients cooked as a loaf more suitable? 
Dry food tends to have more calories so you have to be careful about how much a dog eats. You'll also need to ensure your dog has access to plenty of fresh water. The best dry dog food, however, is good for a dog's teeth since its abrasive texture helps remove plaque and tartar. It's less expensive, doesn't make a mess and odours don't end up wafting through your home.
That said, the best wet dog food is easier for dogs to chew than the dry variety and so it's great for older dogs or those who have trouble with their teeth. It also has high levels of protein and fat and the moisture means it's ideal for keeping the kidneys and urinary tract in tip-top condition. Dogs prefer the taste and that has to be a consideration: would you want to eat bland food yourself? Maybe the best solution is to go for a mixture of the two, so long as it works for your dog.
And that's where a vet comes in. If you're unsure (or if your furkid needs a specific diet), then your vet will be more than happy to advise on whether switching to a specific formula will be beneficial. Ultimately, you'll be after the highest quality food that provides a balanced diet with the ideal ratio of nutrients; one that's less hot on grain and mainly meat with vegetables. Here we round up some of the winning products, covering all budgets.
PetsRadar's pick of the best dog food
Hill's Science Plan Adult Dog Food with Lamb and Rice
Recommended suitable age: 1 to 6 years | Key nutritional inclusions: Omega-6s, Vitamin E, high in protein | Flavour: Lamb and rice
Made with high quality ingredients
Promotes a healthy coat
Easily digestible
Not suitable for puppies, pregnant or nursing females
Not suitable for older adult dogs
When it comes to the best overall dog food, Hill's Science Plan Adult Dog Food with Lamb and Rice is as close to a catch-all dry dog food as it's possible to have.
While you should consider the age and lifestyle of your dog when deciding their diet, this dog food is ideal for dogs aged one to six-years-old and of medium size. So, if you're the owner of a healthy Basset Hound, Labrador or an Alaskan Malamute – or any other dog of a similar size – this is the dog food you need.
If your dog isn't in the one to six-years-old age bracket, or is pregnant or nursing, this isn't the dog food you need, so take a look at the remainder of the guide for a food that's perfect for your pup.
Hill's Science Plan Adult Dog Food with Lamb and Rice is a dry kibble-style food, designed to support your dog's dietary requirements while they're in the prime of their life. While ensuring they get the energy they need for bounding about, this dog food offers a reliable source of Omega-6s and Vitamin E – ideal for promoting healthy skin and a glossy coat – as well as lamb and rice as central protein-rich ingredients. These high-quality ingredients not only taste great for your dog, but they're also easy to digest, and can help support the development of lean muscles.
As another great bonus, the total ingredients list is delightfully small. The dry feed comprises maize, wheat, lamb meal, soybean meal, animal fat, maize gluten meal, brewers' rice, digest, vegetable oil, flaxseed and minerals. Created with the high-quality ingredients that your dog deserves, there are no hidden nasties here.
It's worth noting that, as with all dog foods, you'll have to weigh out the amount of food served based on the weight of your dog – so it can be worth having a food scale to hand.
Bakers Adult Beef with Country Vegetables
Best dog food on a budget
Recommended suitable age: 1 to 6 years | Key nutritional inclusions: Vitamin D, Vitamin A, Zinc | Flavour: Beef and vegetable
Affordable price point
Enriched with vitamins and minerals
No artificial colours, flavours or preservatives
Tender kibble can harden up over time
The dry kibble is a beef and country vegetable flavor, comprising tender meat chunks and vegetables. Said to include all the nutrients your dog needs to consume in one day, this Bakers feed also contains no added artificial colors, flavors or preservatives, and includes probiotics and antioxidants to help promote healthy digestion and support their immune system.
Additionally, the dry kibble contains Vitamin D, Vitamin A, Zinc and other minerals – all things that can help encourage healthy and strong teeth, bones, skin and coat.
However, it is worth noting that, in the ingredients, wholegrain cereals account for 55% of the feed. Grain is often used as a filler in dog food, which can become problematic for dogs that have wheat and other gastric intolerances.
In comparison to another affordable dry kibble, Pedigree Complete Dry with chicken and vegetables, grains (listed as cereals) are still the most prevalent ingredient. There is 5% more 'Meat and Animal Derivatives' listed in the pedigree ingredients, but on average this food comes in at £3-4 more expensive, for 2kg less in the bag than the Bakers option.
Though it is more affordable to buy in larger quantities, the kibble might get a little hard over time – but dog owners recommend sealing the top of the bag as tightly as possible once opened to help retain freshness.
Overall, Bakers Adult beef with country vegetables should be considered a reliable and affordable dry dog food that's suitable for many kinds of adult dogs. While it's not the Michelin Star food of the dog world, it contains everything your dog needs to thrive at a lower price point.
Lily's Kitchen Grain Free Multipack
Recommended suitable age: 1+ years | Key nutritional inclusions: Grain-free, meat meal, bone meal and rendered meat-free | Flavour: Assorted
Entirely grain-free recipes
Created with fresh meat and vegetables
Multipack offers four flavour options
Fine ingredients increase cost
No added nutrition as with dry dog food
It's widely understood that wet food is generally more appetizing for dogs, and who can blame them when the flavor options in this multipack are 'Cottage Pie', 'Sunday Lunch', 'Fishy Fish Pie' and 'Wild Campfire Stew'. But, Lily's Kitchen Grain-Free wet food isn't pumped full of water and 'filler' products such as wheat, soya or corn grain. Each tin is made with fresh meat, and organic vegetables and herbs, so you can be entirely sure of what your dog is consuming at their mealtimes.
There has been some debate as to whether the quality of the product has dropped since the company was bought by Nestle in April 2020, but many pet owners still vouch for the food, claiming it has drastically helped if their dog has had suspected wheat allergies or intolerances.
While these benefits and flavors are available in tin multipacks, it's fair to say that it's not the cheapest dog food on the market. It's also worth noting that several of these Lily's Kitchen dog food flavors are also available from Lily's Kitchen in grain-free dry kibble form – which includes added vitamins and other nutritional supplements to help support your dog's healthy diet.
Read more:
Is dry dog food best?
What are the benefits of homemade dog food?
5 dog treats for sensitive stomachs
Blue Buffalo Life Protection Formula Chicken and Brown Rice Recipe
Recommended suitable age: 1+ years | Key nutritional inclusions: Omega 3 & 6, essential vitamins & minerals, antioxidants | Flavour: Chicken & Brown Rice
Natural ingredients
Balanced formula
Vet approved
Expensive
If you're after a natural and high-quality kibble for your canine companion, this nutritious formula from Blue Buffalo is hard to beat. Available in a variety of mouth-watering flavors, the chicken and brown rice blend is crammed full of everything your dog needs to stay happy and healthy.
Featuring Blue's exclusive LifeSource Bits, this kibble contains the perfect blend of vitamins, minerals, and antioxidants to help your furkid thrive, including Omega 3 & 6 fatty acids for a shiny coat and healthy skin.
We love that real chicken is the first ingredient on the list, followed by a wholesome blend of whole grains, fruits, and garden vegetables. Carefully designed in collaboration with veterinarians and animal nutritionists, the kibble has a precise balance of fat, carbohydrate, and protein, supporting immune system health and oxidative balance.
Made with the finest natural ingredients, this formula doesn't come cheap but what you get is quality and it's also free from many known allergens, such as corn, wheat, soy, and animal by-products. 
N&D Ancestral Grain Canine Chicken and Pomegranate Puppy
Best dog food for puppies
Recommended suitable age: 0-1 years | Key nutritional inclusions: 90% meat, Vitamin A, Vitamin E, zinc | Flavour: Chicken and pomegranate
Designed for puppy development
High-quality natural ingredients
Only suitable for puppies
If you're in the market for a reliable puppy feed, this N&D Ancestral Grain Canine Chicken and Pomegranate Puppy dry food could be a good choice for the new addition to the family.
While this recipe does include grain, the emphasis with this brand is on the quality of the ingredients used, all of which have been inspired by nature. Spelt, oats, fresh chicken combine with pumpkin, apples, carrots, spinach and blueberries to create a delicious puppy food.
What's more, the balance of ingredients used means that 90% of the feed is protein-rich chicken, supported with the vegetables, fruits and grains – with no artificial preservatives hidden in there either. The choice of certain ingredients is designed to bring certain vitamins and minerals into play in a natural way.
For instance, the use of pumpkin adds antioxidants, Vitamin A, Vitamin E and zinc into the feed, and the spinach, blueberries, apples and carrots add a generous dose of fiber. All of the natural qualities of the ingredients combine to serve up a puppy food that's able to support the development of the immune system (as well as keeping it well maintained), help with your puppy's skin and coat, and aims to prevent urinary and sensitive stomach issues.
It's fair to say that N&D Ancestral Grain chicken and pomegranate is a little pricier than other puppy feeds, however, the quality of the ingredients is the reason why. A great choice for any new four-legged friend.
Skinner's Field & Trial – Light & Senior
Best dog food for older dogs
Recommended suitable age: Approx 6 years, breed dependant | Key nutritional inclusions: Vitamin A, Vitamin D3, Vitamin E, iron and zinc, no artificial colours or flavours | Flavour: Chicken and rice
Formulated for older or inactive dogs
Designed to avoid weight gain
Nutritionally balanced
Colour variation can occur in the kibble
As your dog ages, it's important that their feed matches their physical habits. If they begin to slow down a little, and yet still consume the same food as they've always done, this can lead to weight gain. This is where a dedicated dog food for senior dogs becomes vital.
Skinner's Field & Trial – Light & Senior offers dogs a nutritionally balanced food that can help quell any noticeable weight gain in less active dogs. Though it's worth noting that the packaging doesn't give any indication of calorie content per portion, the food is formulated with reduced levels of fat and protein to encourage a 'holistic weight management strategy'.
The kibble itself is shaped into ovals to help encourage a feeling of fullness in your dog and, as it's less-energy dense in its formulation, larger meals can be fed too – your dog doesn't have to feel short-changed at meal times once they hit their twilight years!
The food aims to support joint health too, with the inclusion of glucosamine and chondroitin, and linseed and sunflower oils provide fatty acids. These are great for your dog's skin and coat, and have little impact on how fat-full the feed is.
The feed is also wheat gluten-free, which is great for dogs with wheat allergies or intolerances, but it is worth noting that maize and oats are still at the top of the ingredients list – and these grains are often used as a filler to help bulk the food out.
To counter that, the third-most present ingredient is chicken meal, which can help a dog's digestion, and also has low purine levels. This makes the food an ideal choice for mature or less active dogs that also have sensitive stomachs to consider.
Royal Canin Mini Adult
Best dog food for small dogs
Recommended suitable age: 10 months to 12 years | Key nutritional inclusions: Vitamin D3, Vitamin E2, E4 and E5, zinc | Flavour: Meat and gravy
Designed for smaller sized dogs
Nutritionally complete wet food
Supports healthy weight maintenance
Meat products unspecified in ingredients
Uses cereal to bulk out the feed
High moisture content
As we're sure you know, small dogs have bags of personality. They know what they like – and that's especially true when it comes to their food. Finding a pet food they like that also supports everything they need as a small breed is really important – and an area where Royal Canin Mini Adult can really help.
This is a wet feed, which is widely considered as being tastier for our pups, simply because the moisture allows their senses to engage with the taste and smell of the meal more.
However, be aware that the moisture content can, in some food, mean that water is replacing food substance. Though the moisture content here sits at 80%, the ingredient list gives you reassurance that the feed offers a balanced, nutritious diet. 
As a comparison, in a high-end and more expensive puppy feed produced by Lily's Kitchen, the moisture content is still 80% – the price difference is explained by the types of meat products used in the food.
It's important, especially in small dogs, that excess weight doesn't become an issue. Royal Canin Mini Adult offers a moderate energy content for active adult dogs of a small breed, and also contains a whole host of vitamins and minerals to support a healthy digestive system and top-notch coat.
Along with supporting your dog nutritionally, the feed is also made with your dog in mind. The soft chunks themselves are small enough for Yorkshire Terriers, Pomskies and other small breeds to eat comfortably. In turn, the shape of the feed – or the 'kibble technology' – is able to help reduce the build-up of tartar on the dog's teeth. This helps owners prevent oral problems appearing, without having to supplement tartar-avoidance specific food into their pup's diet.
How to choose the best dog food
Choosing the best dog food for your pup can feel like a daunting task. There are so many factors to consider – from the size of the dog to their age and their breed, it can feel like a bit of a minefield.
There are many products to sift through and select from, but understanding the common elements in dog food and what each ingredient can offer is the key. Most foods offer a balance of vitamins and minerals to help boost your dog's immune system and to help promote healthy skin and coat – but what are the core ingredients?
You should also be aware of the grain and meat content in a food when selecting it. More affordable products will include cereal and less-specific meat products, whereas high-end options are likely to include less cereal and a high-quality meat content.
But, ultimately, as the owner, you know your dog and the priorities you hold for them better than anyone. Here, you'll find the best dog foods we've found for all types of dog – and we're confident you'll make a choice that your dog will truly love.
Get the best advice, tips and top tech for your beloved Pets
Thank you for signing up to Petsradar. You will receive a verification email shortly.
There was a problem. Please refresh the page and try again.