Best diabetic dog food: Take control of your dog's diet
We pick the best diabetic dog food to help keep your hound trim, happy and healthy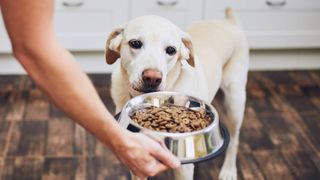 (Image credit: Getty Images)
If your dog has been diagnosed with diabetes, don't panic. The best diabetic dog food will help make sure that you can keep your pet pooch's condition under control and help them live a full and happy life.
One of the key components in the battle against diabetes is making sure that your pet pooch is at its optimum weight. Typically, diabetic dogs are overweight, so you might have to cut out the snacks for a while, even if you've been careful to feed your pup the best diabetic dog treats. Thankfully, with the right diabetic dog food along with plenty of exercise you'll be able to keep your dog's blood sugar levels in check.
But it's not just a matter of cutting down on your canine's calorie intake, you need to make sure their food has the right ingredients and that they're on a timed, rather than free-feeding plan. Hypoglycemia in dogs, where there are low levels of glucose in the blood, is common amongst pups with diabetes, and monitoring their food and eating schedule can help prevent it from occurring.
Good diabetic dog food will have a recipe that contains a lot of foods with a low glycemic index, such as meat, fish, vegetables, and grains. You want to avoid foods with a high glycemic index, such as corn syrup. And, if your dog is sensitive to grain, you will need to look for a diabetic dog food that is grain-free.

Here, we have put together a selection of veterinarian-recommended dog food, dry high fiber, low sugar dog foods, and specially formulated wet food that will work well with a diabetic dog.
PetsRadar's pick of the best diabetic dog food
Why you can trust PetsRadar Our expert reviewers spend hours testing and comparing products and services so you can choose the best for you. Find out more about how we test.
Royal Canin Veterinary Diet Adult Glycobalance Dry Dog Food
Best overall diabetic dog food
Size: 7.7, 17.6lbs | Flavor: Chicken | Grain free: No | Type: Dry food
Veterinarian recommended
High in protein
Low sodium
Low carbohydrate content
Contains grain
Will need a prescription to buy
Got a diabetic dog? Not sure what food you should be trying? Then this veterinary-exclusive dry dog food from Royal Canin has all the right ingredients to keep your dogs diabetes under control. It's not as simple as pressing the purchase button and waiting for the food to turn up – you will need a prescription from your veterinarian before you can buy it. So what makes this offering so tempting, tasty, and healthy?
The food is specially formulated to support healthy blood glucose levels and help retain muscle mass so your pet pooch stays fit and healthy and able to enjoy an active lifestyle, which in turn helps control your dog's diabetes. It also contains a host of ingredients to give your dog energy and vitality and, if fed as instructed, will help control calorie intake and keep your dog at an optimum weight.
Looking at the ingredients list, its main component is chicken by-product meal. While it may sound unappetizing, it contains nearly three times more protein than fresh chicken. Other ingredients high on the list are corn, barley, and wheat so it might not be the best choice for dogs with grain intolerances. But there are a whole host of vitamins and minerals to support your dog's overall health.
Available in 7.7 or 17.6lb bags, this isn't cheap, but the dry formula is good for at least a month and twice as long if kept in an airtight container. But don't worry, it will be finished off before it gets past its sell-by date.
Rachael Ray Nutrish Dry Dog Food
Best budget diabetic dog food
Size: 6, 14, 28, 40lbs | Flavor: Chicken and Veggie | Grain free: No | Type: Dry
Comparatively inexpensive
Real chicken
Natural ingredients
Not grain-free
Not formulated for diabetic dogs
Looking for a no-nonsense dog food that suits most dogs with diabetes and won't break the bank? This offering from the Rachael Ray Nutrish range is definitely one to consider. It is not specifically formulated, nor tailored for diabetic dogs, but it is a premium dry dog food that is made with high-quality natural ingredients that work well for dogs with diabetic issues.
As always, if you are unsure you should consult with your veterinarian, who can give you professional advice. But, if this dry food is suited to your dog's needs, not only will they be getting a tasty treat with real chicken, you will save yourself some dollars.
Real chicken is the number one ingredient and provides a good source of protein, which helps with healthy organs and lean muscle mass. It also has peas and brown rice, a highly digestible carbohydrate that's low in fat but high in fiber.
Elsewhere, the recipe contains chicken fat, a naturally rich source of omega-6 and omega-3 fatty acids that help give your pet pooch healthy skin and a healthy coat. So, not only will they be staying healthy, they will be looking good as well.
In keeping with the natural ingredients, you won't find any artificial flavors or preservatives and no fillers, just essential added vitamins, nutrients, and Taurine to help ensure a healthy and happy hound.
Hill's Science Diet Wet Dog Food
Best wet diabetic dog food
Size: 12.5oz cans x 12 | Flavor: Chicken & vegetable | Grain free: No | Type: Wet
Veterinarian recommended
Relatively inexpensive
Natural ingredients
Helps lose weight
Not recommended for puppies and pregnant dogs
Not grain-free
Do you want dog food that's tasty and helps take control of your dog's diet? Of course you do. Maintaining a healthy weight is a critical factor in keeping your dog's diabetes under control and this veterinarian-recommended wet dog food is specially formulated to help make that happen.
The main ingredients in Hills Hearty Vegetable & Chicken Stew are chicken broth, pork liver, carrots, peas, and chicken, all healthy ingredients with a low glycemic index. With the main ingredients, there are a host of vitamins and nutrients to make sure your hound is getting all the right things to keep them healthy. With rice in the ingredients, the recipe is not completely grain-free, though it doesn't state whether it is white or brown rice. However, it's only a small part of the overall ingredients.
The key to this wet food, apart from the taste, is that it will help your dog lose weight with the manufacturer stating that over 70 percent of dogs lose weight in 10 weeks. To help with weight control, there is a dry food companion that uses all-natural ingredients but has a higher grain ratio.
Once at their optimum weight, there is plenty of high-quality protein to support lean muscle in your dog and help your pooch stay healthy and fit. It is worth noting that it is not recommended for puppies or pregnant dogs.
Ketona Chicken Recipe Adult Dry Dog Food
Best low carb diabetic dog food
Size: 4.2, 24.2lbs | Flavor: Chicken | Grain free: No | Type: Dry food
Extra-low carbohydrate content
High in protein
Grain-free
Not cheap
A low-carb diet is all part of controlling a dog's diabetes and this dry food from Ketona is about as low as you can get. Anything with less than 30 percent carbohydrate content is acceptable for a diabetic dog, but this offering manages less than ten percent.
Why is this important? Dogs need carbohydrates in their diet, but some dog foods (especially cheaper options) have a higher percentage of carbs, which usually means the ingredients include corn, wheat, and rice that can have a higher glycemic index. Many dogs are sensitive to grain in their diet, so alongside a low-carb diet, they also need a grain-free diet.
The ingredients list shows that chicken, pea protein, green peas, and chicken fat make up the bulk of this dry food. There is no wheat, rice, corn, barley, sweet potato, or soy. Some of the benefits of dry food are that it provides plenty of protein, which helps build strong muscles, reduce itching and inflammation, and reduces blood sugar levels.
Typically, you would need to slowly add any new food in varying proportions so as not to upset your dog's stomach, but this recipe has been formulated so that it is easy to switch over. While there is no doubt this dry food has a lot to offer your diabetic dog, it doesn't come cheap.
Hill's Prescription Diet Multi-Benefit Dry Dog Food

Best multi-benefit diabetic dog food
Size: 8.5, 17.6, 27.5lbs | Flavor: Chicken | Grain free: No | Type: Dry food
Multiple health benefits
Helps minimize the fluctuation of blood glucose levels
Manages weight
Reduces risk of kidney stones

Not grain free
If you want a dog food that tackles all the key components of diabetes, this multi-benefit outing from Hill's could be just what you are looking for.
As you might have guessed from the name this dry food is specially formulated to help your pooch. Weight gain is one of the symptoms of diabetes in a dog and this dry food provides complete and balanced nutrition to help manage the issue. The recipe helps metabolize fat, which in turn maintains lean muscle and keeps your pet pooch at a healthy weight. In addition, added antioxidants promote a healthy immune system.
Another ingredient that helps control diabetes is fiber and there are high levels of that in this food to help fill your dog up. The formula also helps stabilize and minimize the fluctuation of blood glucose levels in diabetic dogs, meaning that your pet pooch gets to live as normal a life as possible. It also meets specific nutrient standards shown to promote a urinary environment to reduce the risk of struvite and calcium oxalate crystals, better known as kidney stones.
However, if your pooch has issues with grain, you might want to look elsewhere. The recipe includes wheat, corn, and barley alongside chicken, liver, chicken fat, and flaxseed. You will need authorization from a veterinarian to purchase this product, so make sure to ask any questions you might have and get professional advice on whether this is the best choice for your pet pooch.
Wellness Core RawRev Grain Free Dry Dog Food
Best grain free diabetic dog food
Size: 4, 10, 20lbs | Flavor: Turkey & Chicken | Grain free: Yes | Type: Dry food
Competitively priced
Grain free
Low glycemic index ingredients
Not specifically tailored for diabetic dogs
The Core RawRev range comes in a host of guises, all specially formulated for different dietary needs and conditions including the grain-free option we have chosen for this diabetic dog food guide.
It includes a host of ingredients to help keep your pet pooch fit and healthy but also tackles diabetic issues. The packaging says it's grain-free and a look at the ingredient list shows that there are no traces of grain. This helps ease symptoms of arthritis, lower blood pressure, improve kidney function, and maintain healthy skin and coat in your dog. The main ingredients are turkey, chicken, and peas with a bit of lentil, salmon oil, and other vegetables in the mix, to help with your pet pooch's general health the recipe is fortified with a selection of vitamins and nutrients.
All the ingredients have a relatively low glycemic index, which is a good indicator that this food will work well with diabetic dogs. As always, consult your veterinarian to ensure that this dry food is a good fit for your dog.
How to choose the best diabetic dog food
There are a few essential elements you should look for when choosing diabetic dog food for your pet pooch. Here, we list the ones not to miss:
Check the ingredients list
Not all foods suitable for a diabetic dog are marked with the word 'diabetic' – it would be much easier to choose if they were. But there are still plenty of well made, well prepared dog foods that are suitable for your diabetic dog.
However, while there are certain ingredients that diabetic dogs should avoid, not all dogs are the same. Your pet pooch might not be a fan of a certain flavor or intolerant to another ingredient. So it is always a good idea to check the ingredients list on any diabetic dog food that you are looking to buy.
What type of ingredients should I avoid?
Diabetic dogs need to avoid a few ingredients found in other dog foods. Sugars, such as corn syrup are one ingredient that will raise your dog's blood sugar level. While this isn't found in good diabetic dog food, it may be found in treats. So make sure that any treats you give are suitable for diabetic dogs.
Don't feed your diabetic pooch leftover food from your dinner, especially processed foods. Other things to avoid include bread, white rice, artificial additives, and preservatives as this may have an effect on your dog's general health and dietary balance.
Is prescription dog food better than non-prescription dog food?
It isn't essential that your pet pooch has prescription dog food for their diabetes, as there is a good range of non-prescriptive dog foods that work well. Prescription dog food is often more expensive than standard high-fiber, low-carb, low-sugar foods, so it's worth consulting with your vet before deciding whether or not a prescription diet is the best choice.
Get the best advice, tips and top tech for your beloved Pets
Steve Jenkins is a freelance content creator and long-time journalist with more than 20 years in the industry. He has written for numerous titles covering tech to pets, with his latest faithful hound always by his side. When not walking his dog, or discussing who's best - cats or dogs? Loud guitars, AFC Bournemouth, Photoshop, and trying to save the world take up the rest of this time.