Best diabetic dog treats: Six snacks to keep your dog happy
Help keep your pooch fighting fit with the best diabetic dog treats on the market
Included in this guide:
1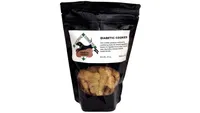 All
Natural Diabetic Treats
2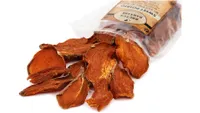 Sweet
Potato Dog Treats
3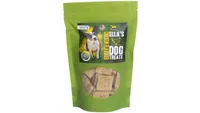 Ella's
Diabetic Dog Treats
4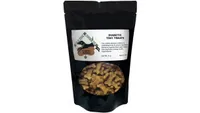 Diabetic
TINY Dog Treats All Natural
5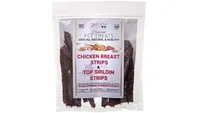 All
Natural Dog Jerky Treats
6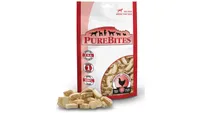 PureBites
RAW Freeze Chicken Breast Dog Treats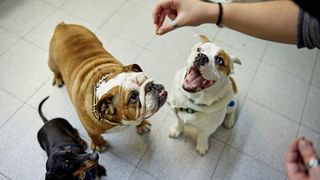 (Image credit: Getty Images)
If your pet pooch has been diagnosed with diabetes, it's essential that you choose the best diabetic dog treats to not only keep them happy but healthy as well. Dogs love a tasty treat and they don't need to miss out on the best dog treats because of their condition. You simply need to manage their diet and make sure that they are getting the right diabetes-friendly snack.
Just like humans with diabetes, dogs with diabetes are deficient in insulin. This is the key hormone that helps regulate blood sugar levels. So even the best dog food – or dog chews – with a high level of sugar are a definite no-no for any dog suffering from diabetes. Specially formulated diabetic treats are typically low in sugar, and contain complex carbohydrates. These are absorbed into the bloodstream, and help suppress sugar spikes.
So when you're on the lookout for a tasty diabetes-friendly snack, the simple solution is to look for a product that tells you exactly that. But still, check the ingredients list if you are unsure. If it says low glycemic on the label – that's a big plus point – and look for treats that are free of additives, preservatives, and other unnatural ingredients.
To help you choose the best diabetic dog treats for your happy hound, check out our six of the best snacks...
Our pick of the best diabetic dog treats
All Natural Diabetic Treats
Best overall diabetic dog treats
Size: 10 ounces | Grain free: No | Flavor: generic | Age range: All life Stages
All-natural ingredients
Includes organics ingredients
No additives
Generic flavor
Not grain-free
To keep your diabetic dog healthy, they need to be fed the right diet, but this doesn't mean they have to miss out on a tasty treat. Specially formulated for diabetic dogs, these all-natural diabetic cookies from the Old Dog Cookie Co are ideal for helping you manage the insulin requirement of your pet pooch.
They contain a long list of natural ingredients that provide a healthy snack any time your fur friend deserves a little extra treat, and are known to help reduce blood sugar levels. Also, you won't find any additives, chemicals, dyes, or any other by-products lurking in these tasty treats.
Included in the ingredients line up are fiber and herbs, which are there to help slow your dog's food metabolism rate, which in turn helps better manage your dog's diabetes. There is natural pectin gleaned from the ingredients, which boost your fur friends' immune system, and are great for their all-round health, contributing to controlling sugar in the blood. As an added bonus, it also brings vitamin C to the party. This is an important antioxidant that doesn't affect your dog's diabetes, but does help reduce inflammation and cognitive aging.
Elsewhere, there is squash that provides a source of vitamin A, an essential component for healthy skin, coat, muscles, and nerves. And to help with thyroid function – again helping skin and coat – is kelp. Every ingredient has been specially selected to help improve your dog's general health and ensure you can keep their diabetes under control.
Sweet Potato Dog Treats
Best budget diabetic dog treats
Size: 8 ounces | Grain free: Yes | Flavor: Sweet potato | Age range: Senior
Single ingredient
No preservatives
Good source of fiber
Gluten-free
Grain-free
Inexpensive
Meat-free
If you are looking for a meat-free, low-odor treat that will keep pet pooch occupied for a little longer than the average treat, these dehydrated thick-cut sweet potato slices could be just what you are looking for. Their size alone will mean that your happy hound won't be able to wolf them done with one quick chew. They deliver a more rounded treat experience, and at the same time provide a great source of natural fiber, vitamins, and minerals. Plus they are packed with nutrients. This means your dog can get all their nutritional needs without having to resort to supplements to boost its diet.
You can go guilt-free every time you give your dog the treat. They have zero fat, no added sugar, and the fiber in them helps balance blood sugar levels, making them ideal for diabetic dogs. And they are gluten and grain-free, making them easier to digest, and ideal for dogs with sensitive stomachs.
Any dog can get their paws on these tasty treats, but they are meant for small to large dogs. Extra small and toy breeds might struggle to get to grips with them due to their size. But you can simply break or tear them up before you give them to your little fur friend. Alternatively, you can try Sweet Potato Sticks or Sweet Potato Fries from the same manufacturer. These provide the same nutritional qualities, but are cut into easier-to-digest strips for smaller mouths.
The Sweet Potato Sticks offer two hard-to-resist flavors – Apple & Cinnamon and Pumpkin & Cinnamon – while the fries are great for older dogs with dental issues or as a tasty topper for regular kibble.
Ella's Diabetic Dog Treats
Best organic diabetic dog treats
Size: 8 ounces | Grain free: No | Flavor: Chicken | Age range: All
Organic
All-natural ingredients
Free from additives and preservatives
Not grain-free
Dogs might not seem like fussy creatures when it comes to treats – they are happy to take them when the opportunity comes. But sometimes they say no, so it's important that you choose the best one for your dog. If your dog is diabetic, it's even more important that you make the right choice.
Specifically developed for dogs with canine diabetes, these chicken-flavored treats are a great choice for your pet pooch. They are made from all organic, all-natural, low-glycemic index ingredients. The glycemic index is a scale – that goes from 1-100 – that helps determine which foods are less likely to impact blood sugar levels significantly, so dog treats with low-glycemic ingredients are much more likely to stop your dog from falling ill.
To help promote your happy hounds general health, these tasty treats are free from additives and preservatives, as well as being sugar-free, potato-free, corn-free, flour-free, dairy-free, and gluten-free, so they are also ideal for dogs that have other conditions or issues such as allergies and sensitive stomachs.
Chicken not your dog's favorite flavor? Then you are in luck, as Ella's Diabetic Dog Treats do come in a couple of different flavors. Completing the current collection is Sweet Potato and Pumpkin. If you find that your dog loves any of these flavors, you can invest in combo packs, or sign up for a 6 or 12-month subscription to save yourself a few dollars and get them delivered to your door.
Diabetic TINY Dog Treats All Natural
Best small diabetic dog treats
Size: 10 ounces | Grain free: No | Flavor: generic | Age range: All life Stages
Small size
All-natural ingredients
No additives
Not ideal for larger breeds
Dogs come in all sizes from the very small to the very large, which means that different dogs have different needs. Toy and small breed dogs will struggle to chew and digest treats that have been made for larger breeds. Their small mouths simply won't be able to cope. Imagine a Chihuahua chewing on a treat made for a Great Dane. They might like the challenge but they will struggle to enjoy the treat.
These all-natural snacks are specifically designed for smaller breeds with diabetes and are the ideal choice to help keep your little fur friend healthy and happy.
From the same manufacturer as the All Natural Diabetic Treats - the best overall diabetic dog treats in this guide - these bite-size versions contain all the same diabetes-friendly ingredients. Like the big bite option, there are no additives, chemicals, dyes, or any other by-products that can affect your dog's wellbeing. Just all the healthy ingredients such as fiber and herbs, natural pectin, Vitamin C, Vitamin A, squash, and kelp, which all contribute to controlling blood sugar levels and keeping your pet pooch healthy in general.
The treats are much smaller than their larger counterparts, measuring an easy-to-pick-up-and-chew one inch by half an inch. This means that your fur friend may want a few more of them to keep them happy, but at only two calories for each treat, you don't need to worry about your dog putting on weight. And with over 225 treats per bag, they should last for a while.
All Natural Dog Jerky Treats
Best two flavor diabetic dog treats
Size: 8 ounces | Grain free: Yes | Flavor: Chicken, Beef | Age range: All
Two flavors
Grain-free
All-natural ingredients
Expensive
Giving your dog a treat is a great way to reward them for good behavior, but giving them two types of treats will make them feel even more special, and it gives you the option to choose which treat you think they will want on any given day. Mix it up and keep them guessing. But there's no doubt whichever flavor you give them, they will love it.
This pack of diabetes-friendly snacks brings together the ever-popular everyday flavor choice of natural roasted chicken and the more exotic hickory-smoked chicken and beef sirloin. Made from 100% all-natural ingredients, these treats are packed with wholesome nutrition, proteins, and vitamins that are not only tasty, but free of fillers, sugars, preservatives, hormones, and gluten. It's an ideal combination for keeping your dogs diabetes under control and giving their general health a welcome boost.
Alongside the top sirloin beef strips and chicken breast strips, the ingredients list includes a couple of veterinary recommended vegetables in carrots and sweets potatoes. These make up 50% of the jerky treats. The carrots provide beta carotene, which improves the health of your dog's eyes, and will go some way to giving your pet pooch a healthier and shinier coat that other owners can admire. The inclusion of sweet potatoes provides much needed fiber and a wealth of antioxidants that help to keep muscles healthy and manage your dog's diabetes in old age.
PureBites RAW Freeze Chicken Breast Dog Treats
Best chicken diabetic dog treats
Size: from 1.4 ounces | Grain free: Yes | Flavor: Chicken | Age range: All
Just chicken
Freeze-dried to keep freshness
High-quality ingredient
Not cheap
These treats are made from one simple ingredient: chicken. No added grain, no added sugars, no added preservatives; just chicken. This makes them a perfect snack for any fur friend that has diabetes, and an ideal treat for any dog. If you have more than one dog, you can still happily feed these treats to your diabetic dog and their fur friend.
Pure Bites uses raw human-grade chicken breast, which ensures that your dog is getting a high-quality treat. Just in case you are not sure, turn over the packet and check the ingredients list. It's short, concise, and simple, as it only has one ingredient on the list. Yes, you have guessed it - chicken.
To keep the chicken breast fresh-tasting, it is cut into bite-size chunks and put into a freeze-drying chamber. Here, any water is gently drawn out of the chicken. This leaves delicious pieces of pure freeze-dried meat that still contain all the natural nutrients and vitamins, along with the texture and aroma that dogs love.
The one-ingredient simplicity of these chicken treats means that they are good for more than just diabetes. If your pet pooch has other health conditions, such as a gastrointestinal disorder or allergies, then these chicken bites are ideal for managing these issues.
At around three calories a treat, they help contain any weight issues your happy hound might be suffering from. If you want to make sure that you don't feed them too many, you can invest in a small entry-size 1.4-ounce bag. But if your dog loves them, you can invest in a much bigger 18.5-ounce bag to keep them happy.
How to choose the best diabetic dog treats
If your pet pooch is diabetic then it is paramount that you feed it the right snacks. If you choose the wrong type of snack - typically those with added sugars - you can raise the sugar levels in your dog's bloodstream and make them ill; something no owner wants to do. So the ingredients in a treat are the most important component to consider.
Treats that market themselves as diabetes-friendly are the best snacks to look out for. These will have no added sugars, and contain a selection of ingredients that help manage your dog's condition.
To be on the safe side, avoid any dog treats that have added corn syrup, molasses, fructose, dextrose, or maltose. None of these are ideal for dogs with diabetes.
A couple of secondary considerations are flavor and size. If you know your dog is not keen on a specific flavor then it is best avoided. If you're not sure then let your fur friend try a treat. You never know; they might love sweet potatoes. Finally, consider the size. If you have a toy or small breed dog then they will have a smaller mouth than larger dogs, so will need a smaller treat to truly be able to enjoy it.
Get the best advice, tips and top tech for your beloved Pets
Thank you for signing up to Petsradar. You will receive a verification email shortly.
There was a problem. Please refresh the page and try again.