Best diabetic dog treats 2023 for healthier rewards
Feed your pup the best diabetic dog treats and you'll be rewarding them with a tasty snack while ensuring they stay healthy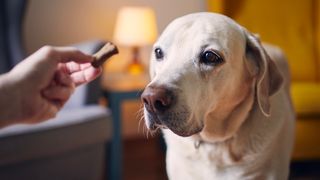 (Image credit: Getty)
As pet owners, we all want to reward our dogs with treats - it's an important part of training as well as a way of bonding with your furry friend. However, diabetes in dogs is a fairly common condition and diabetic dogs must follow a consistent feeding regime, with occasional treats being allowed to be given if done safely.
Just like the best diabetic dog food, treats that are suitable for diabetic dogs are low in simple carbohydrates (sugars), which helps to prevent a spike in blood sugar. Complex carbohydrates, such as fiber, are less easily absorbed and are preferred in diabetic dog foods. As a vet experienced in canine medicine cases, this is the basis on which I form my recommendations.
Treats suitable for diabetic dogs give you all the benefits of being able to reward your pet, whilst minimizing any adverse effects on their diabetes management.
With the help of Dr Diana Hasler, we've put together a list of what we consider to be the best diabetic dog treats, which you might want to discuss with your vet. As each diabetic dog is different, always check with them first before making any changes to your pet's diet.
Dr. Rebecca MacMillan is a companion animal vet with over 13 years of experience treating and looking after pets. She graduated from the UK Royal Veterinary college in 2009, and has worked in several practices over the years. Rebecca is also an experienced writer, using her veterinary background to offer expert opinion and advice.
Expert opinion in this guide is provided by:
Expert opinion in this guide is provided by:
Dr. Diana Hasler BVM&S MRCVS
Dr. Diana Hasler graduated with distinction from the University of Edinburgh Royal (Dick) School of Veterinary Studies in 2018. She has experience working as a small animal veterinarian in general practice, where she has treated many dogs, cats, rabbits, and rodents. Here, Dr Hasler gives her opinion on each of the products in our guide.
Isuru graduated from the University of Sydney in 1998. After spending two years in mixed practice in rural Australia, he moved to the United Kingdom to work as a small animal vet locum and also traveled around Europe. He then joined Willows' general practice clinic in 2002. During the following three years in this post, Isuru developed an interest in medicine and successfully completed the RCVS Certificate in Small Animal Medicine. In 2005, he moved to the Royal Veterinary College to undertake a one-year rotating Internship, followed by a combined Residency in small animal internal medicine and clinical nutrition. Isuru was the first resident to undertake a clinical nutrition training program in the UK. Following the end of his residency, Isuru successfully achieved specialist status from the American College of Veterinary Internal Medicine in 2010. He became a diplomate of the American College of Veterinary Nutrition in 2016.
PetsRadar's pick of the best diabetic dog treats
Why you can trust PetsRadar Our expert reviewers spend hours testing and comparing products and services so you can choose the best for you. Find out more about how we test.
Old Dog Cookie Co. Diabetic Cookies
Best overall diabetic dog treats
Reasons to buy
+
All-natural ingredients
+
Includes organics ingredients
+
No additives
Reasons to avoid
-
Generic flavor
-
Not grain-free
WHAT DOG OWNERS SAY
Awarded an average rating of 4.5 stars on Amazon, pet parents rave about how much their dogs love these treats and how safe they are for them to consume without spiking their blood sugar levels. The only downside seems to be the texture, with some reviewers noting that they are quite hard.
To keep your diabetic dog healthy, they need to be fed the right diet, but this doesn't mean they have to miss out on a tasty treat. Specially formulated for diabetic dogs, these all-natural diabetic cookies from the Old Dog Cookie Co are ideal for helping you manage the insulin requirement of your pet pooch.
They contain a long list of natural ingredients that provide a healthy snack any time your fur friend deserves a little extra treat, and are known to help reduce blood sugar levels. Also, you won't find any additives, chemicals, dyes, or any other by-products lurking in these tasty treats.
Included in the ingredients line up are fiber and herbs, which are there to help slow your dog's food metabolism rate, which in turn helps better manage your dog's diabetes. There is natural pectin gleaned from the ingredients, which boost your fur friends' immune system, and are great for their all-round health, contributing to controlling sugar in the blood. As an added bonus, it also brings vitamin C to the party. This is an important antioxidant that doesn't affect your dog's diabetes, but does help reduce inflammation and cognitive aging.
Elsewhere, there is squash that provides a source of vitamin A, an essential component for healthy skin, coat, muscles, and nerves. And to help with thyroid function – again helping skin and coat – is kelp. Every ingredient has been specially selected to help improve your dog's general health and ensure you can keep their diabetes under control.
Hill's Prescription Diet Metabolic Dog Treats
Best budget diabetic dog treats
Reasons to buy
+
Crunchy texture
+
Low in sodium
+
Easy to digest
Reasons to avoid
-
Hard texture that may be difficult for tiny teeth
WHAT DOG OWNERS SAY
Another popular choice amongst those with a canine companion, many people say that these are the only diabetic-friendly treats their pup will eat and love how gentle and safe they are for the digestive system. However, once again, the hard texture is the main drawback.
Tasty, nutritious and designed to help support healthy weight loss and maintenance, these crunchy, bone-shaped biscuit treats pack a flavor punch and are crammed full of goodness. And best of all? They're vet-approved.
Created with wholesome ingredients with moderate fat & increased fiber to help support a healthy weight, these chicken and rosemary treats are moderate in calories, protein and phosphorus, low in sodium and have increased fiber to support digestion.
Ideal for sensitive stomachs, they're the only treats specifically formulated to compliment the nutrition of Hill's Prescription Diet and are made with quality ingredients that will support the health and wellbeing of your canine companion.
Brutus & Barnaby Sweet Potato Dog Treats
Best premium diabetic dog treats
Reasons to buy
+
Single ingredient
+
No preservatives
+
Good source of fiber
WHAT DOG OWNERS SAY
With 4.3 stars on Amazon, this popular treat gets the tick of approval from pet parents who say their dogs can't devour them quick enough. People like that the chewy texture gives their dogs something to sink their teeth in and that they're highly nutritious, although reviewers do note that the bags are small and quite pricey.
If you are looking for a meat-free, low-odor treat that will keep pet pooch occupied for a little longer than the average treat, these dehydrated thick-cut sweet potato slices could be just what you are looking for. Their size alone will mean that your happy hound won't be able to wolf them down with one quick chew. They deliver a more rounded treat experience, and at the same time provide a great source of natural fiber, vitamins, and minerals. Plus they are packed with nutrients. This means your dog can get all their nutritional needs without having to resort to supplements to boost its diet.
You can go guilt-free every time you give your dog the treat. They have zero fat, no added sugar, and the fiber in them helps balance blood sugar levels, making them ideal for diabetic dogs. And they are gluten and grain-free, making them easier to digest, and ideal for dogs with sensitive stomachs.
Any dog can get their paws on these tasty treats, but they are meant for small to large dogs. Extra small and toy breeds might struggle to get to grips with them due to their size. But you can simply break or tear them up before you give them to your little fur friend. Alternatively, you can try Sweet Potato Sticks or Sweet Potato Fries from the same manufacturer. These provide the same nutritional qualities, but are cut into easier-to-digest strips for smaller mouths.
The Sweet Potato Sticks offer two hard-to-resist flavors – Apple & Cinnamon and Pumpkin & Cinnamon – while the fries are great for older dogs with dental issues or as a tasty topper for regular kibble.
Ella's Diabetic Dog Treats
Best organic diabetic dog treats
Reasons to buy
+
Organic
+
All-natural ingredients
+
Free from additives and preservatives
WHAT DOG OWNERS SAY
People are raving about how fresh and healthy these treats are, with many saying that their dogs gobble them down within seconds. While they're brilliant at keeping blood sugar levels on an even keel and boosting energy, some owners note they're not great for small dogs who may struggle with both the size and firmness of these treats.
Dogs might not seem like fussy creatures when it comes to treats – they are happy to take them when the opportunity comes. But sometimes they say no, so it's important that you choose the best one for your dog. If your dog is diabetic, it's even more important that you make the right choice.
Specifically developed for dogs with canine diabetes, these chicken-flavored treats are a great choice for your pet pooch. They are made from all organic, all-natural, low-glycemic index ingredients. The glycemic index is a scale – that goes from 1-100 – that helps determine which foods are less likely to impact blood sugar levels significantly, so dog treats with low-glycemic ingredients are much more likely to stop your dog from falling ill.
To help promote your happy hound's general health, these tasty treats are free from additives and preservatives, as well as being sugar-free, potato-free, corn-free, flour-free, dairy-free, and gluten-free, so they are also ideal for dogs that have other conditions or issues such as allergies and sensitive stomachs.
Chicken not your dog's favorite flavor? Then you are in luck, as Ella's Diabetic Dog Treats do come in a couple of different flavors. Completing the current collection is Sweet Potato and Pumpkin. If you find that your dog loves any of these flavors, you can invest in combo packs, or sign up for a 6 or 12-month subscription to save yourself a few dollars and get them delivered to your door.
PureBites RAW Freeze Chicken Breast Dog Treats
Best chicken diabetic dog treats
Reasons to buy
+
Just chicken
+
Freeze-dried to keep freshness
+
High-quality ingredient
WHAT DOG OWNERS SAY
Awarded 4.3 stars on Amazon, people describe these treats as a great product that their dogs go crazy for and love that they're 100% chicken, meaning they don't affect blood sugar levels. The biggest complaint is around the shipping of this product, with many reviewers reporting that the bag arrived containing more crumbs than chunks.
These treats are made from one simple ingredient: chicken. No added grain, no added sugars, no added preservatives; just chicken. This makes them a perfect snack for any fur friend that has diabetes, and an ideal treat for any dog. If you have more than one dog, you can still happily feed these treats to your diabetic dog and their fur friend.
Pure Bites uses raw human-grade chicken breast, which ensures that your dog is getting a high-quality treat. Just in case you are not sure, turn over the packet and check the ingredients list. It's short, concise, and simple, as it only has one ingredient on the list. Yes, you have guessed it - chicken.
To keep the chicken breast fresh-tasting, it is cut into bite-size chunks and put into a freeze-drying chamber. Here, any water is gently drawn out of the chicken. This leaves delicious pieces of pure freeze-dried meat that still contain all the natural nutrients and vitamins, along with the texture and aroma that dogs love.
The one-ingredient simplicity of these chicken treats means that they are good for more than just diabetes. If your pet pooch has other health conditions, such as a gastrointestinal disorder or allergies, then these chicken bites are ideal for managing these issues.
At around three calories a treat, they help contain any weight issues your happy hound might be suffering from. If you want to make sure that you don't feed them too many, you can invest in a small entry-size 1.4-ounce bag. But if your dog loves them, you can invest in a much bigger 18.5-ounce bag to keep them happy.
Darford Zero/G Minis Grain-Free Roasted Lamb Dog Treats
Best oven-dried diabetic dog treats
Reasons to buy
+
Made from real meat
+
Free of grain too
+
Full of goodness
WHAT DOG OWNERS SAY
With an impressive 4.6 stars on Amazon, dog owners say that not only are the ingredients in these treats high quality but the price offers great value for money. While most dogs absolutely love these treats, the odd pup refuses them, although this likely says more about personal taste preferences than the product itself.
If you want a treat that packs protein and doesn't pile in unnecessary extras, then the Zero/G Minis by Darford should definitely be on your list. Crucially, for dogs who are diabetic, these treats are low glycemic so they won't pose a problem. They are also free from grain, gluten and GMO and should be very tasty indeed given that lamb is the primary ingredient.
Each treat is shaped like a heart and, as one pet parent points out, these can be easily snapped in half if you want to control the portions you give to your dog. You may actually want to do this because, in reality, the treats are not as mini as the packet makes out. But at just 16 calories per biscuit, and with no added salt or chemicals, they're not going to pack on the pounds.
One thing which caught out eye is that each one is made using real meat. The manufacturer says no meals or by-products go into the treats. The ingredients also include blueberries, chia seed, dried kept and whole quinoa and they offer vitamins A and C, calcium, iron and niacin. No wonder the company claims to be offering a "power-packed superfood". They actually sound good enough for us to eat as well (not that we would!).
ACANA Singles Duck & Pear Formula Grain-Free Freeze-Dried Dog Treats
Best duck-based diabetic dog treats
Reasons to buy
+
Contains natural raw ingredients
+
Each treat is just five calories
+
Freeze-dried to lock in nutrients
Reasons to avoid
-
Be good to have more in a pack
WHAT DOG OWNERS SAY
A much-loved treat that gets 4.6 stars on Amazon, people love that these are packed with protein but low in calories and also state that they're great for dogs with sensitive stomachs. While dogs love them, pet parents do note that the higher price tag often prevents them from buying these treats as often as they'd like.
These treats will be perfect for any dog, let alone a pooch with diabetes. Its 100 per cent natural, raw duck ingredients (duck and duck liver) make up more than 70 percent of each treat, with only pears and a preservative added. This means you can be sure that the treats are extremely low in sugar and lacking in carbs. In fact, their mainly protein, fat and fiber.
What's more, you can be sure that you're not going to activate any doggie allergies, not least because they don't contain grain. It's also going to be very difficult for your pooch to pack on the pounds with these treats given that each one contains just five calories. And since they are freeze-dried, you can be sure that the nutrients have been locked away. The only downside is that there's not more of them in a pack!
On top of all that, is the animal welfare issue. Acana raises its animals naturally and the ingredients are delivered fresh to the kitchen. The company only makes food under its own brand too, and you can see that as a badge of quality in many respects. It's all very impressive, giving confidence that your pet will be healthy and happy.
Best diabetic dog treats FAQs
How to choose the best diabetic-friendly dog treats
It can be confusing to know what is and isn't safe for your diabetic dog to eat. However, when choosing treats you should follow the same rule as you do for their daily diet, sticking to products that are low in simple carbohydrates.
Simple carbohydrates (sugars) are easier to digest and more readily absorbed into the bloodstream than complex carbohydrates. Dogs with diabetes are unable to produce enough insulin to deal with this, leading to spikes in blood sugar. Glucose, sucrose, lactose, and maltose are all simple carbohydrates and can be found in ingredients like corn syrup, some vegetables, fruits, and molasses. While these are fine for normal dogs to eat in moderation, picking alternative treats that are high in complex carbohydrates (fiber) and lower in calories is crucial for diabetics.
Treats that are high in protein, and low in fat, are also ideal. Fish or lean meats like chicken or turkey, are also less likely to raise your dog's blood sugar than treats that rely heavily on simple carbohydrates.
Can you give a diabetic dog treats between meals?
Yes. Dr Isuru Gajanayake, head of clinical nutrition at Linnaeus-owned Willows Veterinary Centre and Referral Service, in Solihull, England, says it is fine to give a diabetic dog treats between meals "provided these are consistent in terms of the type, amount, and time given." In other words, keep a close eye on how many treats you are giving to a dog and try not to load a dog up on them close to meal times either.
Is peanut butter good for dogs with diabetes?
Dr Isuru Gajanayake said you need to be cautious about giving peanut butter to dogs with diabetes.
"Peanut butter is generally considered safe in people with diabetes as it mainly contains fat rather than carbohydrate," he says. "Although a small amount of peanut butter will be fine as a treat for diabetic dogs, I usually avoid such human foods in my patients."
What should you not feed a diabetic dog?
Having a dog living with diabetes means your pet must follow a more restrictive diet. "The most important aspect of a good diet for a diabetic dog is that it is balanced, so a commercial canned/dry diet or a home-cooked diet which has been formulated by a veterinary nutritionist," says Dr Isuru Gajanayake.
"Secondly, a diet which has more of the calories provided from fat and protein (compared to carbohydrate) may help with diabetes. Thirdly avoiding carbohydrates that are rapidly digested and absorbed into the bloodstream can help reduce the blood sugar peaks after eating. Complex carbohydrates and fibre can help reduce the blood sugar peak after eating."
How do diabetic dog treats differ from regular treats?
Diabetic dog treats differ from normal treats as their ingredients are carefully selected to follow the principles detailed above. This includes being low in sugar and calories, and higher in fiber and protein, reducing any negative impact on the management of your dog's condition.
One of the most important things to remember though, is that you must still only give these treats occasionally and under the direction of your vet. Too many treats of any kind could cause an imbalance in their diet affecting how well their condition is controlled. Always speak to your vet if you are unsure about what your dog can safely have.
Can non-diabetic dogs eat these treats?
The good news is that your other dogs can enjoy diabetic treats too, and they may even be better on their waistline than the regular alternatives! This may help to keep things simple as all of your dogs can receive the same type of snack, with no one feeling left out.
Get the best advice, tips and top tech for your beloved Pets
Rebecca is a veterinary surgeon who graduated in 2009 from the Royal Veterinary College in London. She has a wealth of experience in first opinion small animal practice, having done a mixture of day-to-day routine work, on-call emergency duties and managerial roles over the years. She enjoys medicine in particular and she is proud to have recently achieved a BSAVA postgraduate certificate in small animal medicine (with commendation). She writes on various feline and canine topics, including behavior, nutrition, and health. Outside of work and writing she enjoys walking her own dog, spending time with her young family and baking!