Best wet dog food: Six kinds to suit your four-legged friend's nutritional and dietary requirements
By Steve Wright
Looking for the best wet dog food? These are the ones you should seek out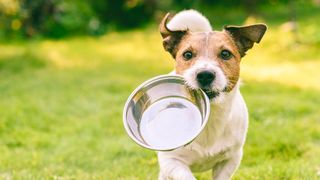 (Image credit: Getty)
When on the hunt for the best wet dog food, chances are a quick Google search will leave you inundated with options. Which do you choose for your very good boy/girl?
There are a number of factors that must be considered. Perhaps your dog will have certain dietary and nutritional requirements, or you'll be working towards a budget.
The chief conundrum is whether to choose wet dog food over the best dry dog food at all. Sure, dry dog food is generally cheaper, but wet food is closer to what dogs would eat in the wild, contains more moisture (so helps satisfy their hydration needs simultaneously), and simply tastes better.
So is wet food the way forward or is dry dog food best? Dry food is easier to clean up, and less is needed per meal, although this can be a problem for dogs who overeat. Thus, while also having less artificial preservatives, wet dog food is higher in protein and lower in carbohydrates. Moreover, wet dog food is easier to tailor to dogs' specific dietary needs, with greater license for customization in the form of flavors, vitamin additions, etc.
With this in mind, we've rounded up six wet dog food brands to keep your canine chummy. Combining a mixture of trusted brands with well-reviewed lesser known options, there should be plenty of (dog) food for thought here…
1. Hill's Science Diet Wet Dog Food: Best overall wet dog food
Hill's Science Diet Wet Dog Food
A healthy, tasty, and versatile food option for your pampered pet
Recommended age range: 1-6 years | % Protein: 4 | % Fat: 2 | Calories per can: 305
Packed full of vitamins and natural ingredients
Highly recommended by vets
Numerous products targeted at certain health ailments
Some negative Amazon reviews point towards poor packaging
Hill's seems at pains to emphasize its credentials, what with the inclusion of the words 'Science Diet' in the product title. Indeed, with it also being #1 Veterinarian Recommended (based on a 2019 survey), this could be described as the thinking person's wet dog food of choice.
But there's a lot more to it than that. Combining high-quality natural ingredients (in this case, chicken, brown rice, and a mix of vegetables smothered with gravy) with an infusion of protein and Vitamin E for keeping their skin and coat healthy, you can be guaranteed that your dog will enjoy the great taste that accompanies their good health. Moreover, the moderate levels of sodium and phosphorus present ensures kidney and heart health.
Moreover, it allows for versatility with your feeding methods. If you so choose, this can be served alongside dry food, allowing for some variety with your pet feeds. At only 305 calories per can, you can be rest assured that your dog is unlikely to get more than his or her fair share, and is less likely to suffer from obesity as a result.
Scouring the Amazon reviews, there was little negative to note about the product itself, and the validation of vets can only have a positive impact on buyer confidence. Some complaints were received about the poor condition some products arrived in, but thankfully these generally seemed to be exceptions. When it comes to the reaction of people's pets, their seal of approval was gratefully received.
So in short, we can see few downsides to trying this out. With numerous flavors to choose from, you can rest assured that this will supply your dog with everything they need from a nutritional standpoint.
2. Pedigree Choice Cuts in Gravy Adult Wet Dog Food Variety Packs: Best budget option
Pedigree Choice Cuts in Gravy Adult Wet Dog Food Variety Packs
Keep your dog (and your wallet) happy
Recommended age range: 1-7 years | % Protein: 8 | % Fat: 3 | Calories per pouch: 340
Complete balanced diet
Can be combined with dry food
Multipack provides plenty of flavor options
Individual pouches don't provide massive helpings
If you're looking for a more budget-friendly approach towards feeding your dog then Pedigree could be the way to go. At $15.99 for a multi-pack of 30 pouches, this should definitely be worthy of your consideration on the value front alone.
But being cheap shouldn't be the sole factor when it comes to feeding your pet – after all, at what price should their health and happiness come?
Thankfully, you don't need to worry about this when it comes to Pedigree. Filled with great meaty flavors (this multipack includes hickory smoked chicken, filet mignon in gravy, and beef, noodles & vegetables in sauce), and a decent proportion of protein combined with a low rate of fat, all your dog's dietary needs will be fulfilled.
The real beef and chicken ingredients will appeal to every dog, providing them with the substance they need, with the oils and minerals present allowing for healthy skin and coat.
Our one real quibble is the portion sizes. The feeding guide suggests that you should offer three portions daily for every 10lb of dog, meaning this might be more ideal for smaller breeds, otherwise you'll find yourself working through it pretty quickly.
Also, the packaging will divide some people. Personally this writer is fine with the idea of pouches, as they're easier to store than tins and take up less room, but they won't be to everyone's liking.
So for those of you with smaller breeds, the Pedigree pouches could represent a great value option, saving you having to gradually work your way through tins, and making it easier to keep track of feeds.
3. Lily's Kitchen Organic Lamb & Spelt: Best for natural ingredients
Lily's Kitchen Organic Lamb & Spelt
Consider the eco-friendly option
Recommended age range: 1-6 years | % Protein: 9.5 | % Oil & fat: 6 | Calories per kg: 910
Made only from organic ingredients
Formulated with the help of vets and nutritionists
High in protein
High price tag
The mission statement of Lily's Kitchen is a positive one; aimed at moving towards the increased inclusion of organic ingredients, and away from processed products.
Simultaneously, Lily's Kitchen also strives to remain eco friendly when it comes to both its food and packaging – it was even granted a Royal Warrant by the Prince of Wales in 2019, so you can rest assured that they walk the walk as well as talking it.
Anyway, back to the dog food itself. Lily's Kitchen Organic Lamb & Spelt contains only organic ingredients – in this case, lamb, beef, pork, and chicken, mixed with carrots and peas. Combined with their own blend of vitamins and minerals, and you have something that you know your dog will both enjoy, and benefit from.
However, this level of care towards ensuring the highest quality of ingredients comes at a price. The current price on Amazon can charitably be described as eye-watering, and not everyone will be able to afford it. If you can though, then your dog may well be in for a treat.
Also, in case you have your suspicions, this isn't just a trendy option for dog-food hipsters. The recipes for this have been formulated with the aid of vets and nutritionists, so its green and organic credentials aren't just for show.
So despite the cost, we rate this highly among the various wet dog food products we've seen out there. Being health conscious and eco friendly comes at a price, but if it's one you're willing to pay then by all means go for it.
4. Royal Canin Veterinary Diet Gastrointestinal Low Fat Canned Dog Food: Best low-fat option
Royal Canin Veterinary Diet Gastrointestinal Low Fat Canned Dog Food
Keep your dog healthy with this option
Recommended age range: 1-6 years | % Protein: 6 | % Fat: 1.43-3.75 | Calories per kg: 910
Low fat percentage
Ideal for dogs with some health conditions
Lot of confidence in brand
Not advised for dogs with no conditions
It's an unfortunate fact of life that at some point in their life, your dog might suffer from some health problems. As a result of this, your standard everyday dog food might not be what they need.
Luckily, Royal Canin are about. Famous for a number of products that are geared towards pets with digestive disorders, here they have formulated a type of wet dog food that should assist your dog with any such problems they might have.
Since it's aimed primarily at dogs whose issues mean they have a hard time digesting fat, the fat content of this product is accordingly low. To make up for the reduced fat, fiber and moisture levels are adjusted in line with this, so your dog will always get the nutrition they need.
Additionally, the presence of highly digestible proteins and prebiotics help support digestive health and good gut bacteria, while antioxidants that are present ensure a healthy immune system. In this process, this food also prevents the formation of crystals in the bladder, making passing urine easier.
Since this is the kind of food that is usually recommended by a vet in response to a digestive disorder, it's not the kind of thing we'd recommend giving to a dog with no known health conditions, since they might not get everything they need from it. Still, it's nice to know that it's there if you need it.
All in all, this is a great product for dogs who suffer from issues like diarrhea, vomiting, and loss of appetite. Talk to your vet before buying, but after that you can do so in confidence.
5. Purina ONE SmartBlend True Instinct Adult Canned Wet Dog Food: Best for getting their fair share of nutrients
Purina ONE SmartBlend True Instinct Adult Canned Wet Dog Food
Guaranteed to keep your dog from going hungry
Real meat?: Yes | % Protein: 8 | % Fat: 8 | Calories per kg: 1,251
100% complete and balanced nutrition
High level of protein
Good for digestive health
Relatively high calorie count
Purina has long promoted itself for producing foods that are sources of real meat. This might not be such a talking point now considering that many other brands are in on the act, but their reputation still provides a high level of confidence when it comes to picking food that you know won't be too high in heavily processed ingredients.
This particular brand is made from real chicken and venison (along with turkey, turkey broth, pork lungs, and liver), in addition to four types of antioxidants aimed at supporting the immune system, with no artificial colours or preservatives included.
It may seem like a lot has been packed in, but dogs won't have any problems stomaching it. With such a high concentration of meat products, the level of moisture is correspondingly high as a result, polling in at 78 per cent of it.
Customer reviews have generally been positive, with as well as satisfied and happy pets, owners also reporting that their coats were visibly glossier. When it's as swimming in nutrients, minerals, and vitamins as this is, there's no surprise that there are visible benefits.
Our only real concern with this is the relatively high calorie count – at 1,251 per kg, it's a fair amount higher than the other products reviewed here. All this means is that servings at meal time might need to be smaller as a result, but that's a minor issue in the grand scheme of things.
So if you want to ensure that both you and your dog get your money's worth, Purina might be the brand to go for.
6. Cesar Soft Wet Dog Food Classic Loaf in Sauce Filet Mignon Flavor Multipack: Best for picky dogs
Cesar Soft Wet Dog Food Classic Loaf in Sauce Filet Mignon Flavor Multipack
Offer your dog the gourmet option
Real meat?: Yes | % Protein: 8.5 | % Fat: 4 | Calories per kg: 951
Ideal solo, or for topping up dry food
Offers a balanced and complete diet
Made from high-quality ingredients
Not ideal for larger dogs
One of the more popular brands for small dogs, Cesar has endured through the rise and fall of other brands thanks to combining its 'gourmet' brand with a relatively low price tag. Dogs owners can rest assured that they're buying a reliable and high-quality product without breaking the bank.
This multipack, containing recipes for duck, turkey, grilled chicken and oven roasted chicken, plays to Cesar's strengths. Present, as per usual, are real meats, combined with a variety of minerals and vitamins. The different flavors keep dogs interested and on their toes, while the peel-away trays ensure that they retain their freshness before being eaten.
This multipack is just one of the buying options available – whatever Cesar product you choose, you can be sure that your pooch will be the grateful recipient of a balanced and highly nutritious meal.
Due to the portion sizes, this probably isn't the best option for medium-sized or larger dogs, and some of the recipes might not necessarily represent the best source of protein (we're thinking specifically of the pork-flavored options here). Then again, considering the image of the dog on the packaging, we doubt it's the kind of thing you'd go for if you've got a doberman or a labrador anyway.
Even so, when it comes to smaller dogs, there aren't all that many products that can claim to be superior to what Cesar comes out with. Healthy, tasty, and unlikely to break the bank, you are unlikely to go far wrong should you choose to make this your dog's primary source of sustenance.
How to choose the best wet dog food
By now, there are a number of factors that you will likely be considering when it comes to choosing what wet dog food to give to your dog. To summarize, we would say the main things you need to bear in mind before buying are:
Should you even buy wet dog food? Dry food might be more ideal from a practical standpoint, but it's not all about you.
What can you afford? We'd all like the best from our pet, but don't bankrupt yourself in the process.
What size is your dog? Certain types of food are geared towards dogs of a particular size, so choose accordingly.
Is the food healthy? Make you choose something that balances all of your dog's nutritional needs.
Does your dog have any health issues? If they do, then you might need to choose a particular kind of food that helps with their ailments. Always consult a vet before making a concrete decision on this.
More importantly, do they like it? Some pets are picky. If they turn their noses up at it, or display odd behavior after eating, then it may be worth choosing something else. Maybe take a look at our round up of the best dry dog food instead?
Get the best advice, tips and top tech for your beloved Pets
Thank you for signing up to Petsradar. You will receive a verification email shortly.
There was a problem. Please refresh the page and try again.