Best pet water fountains 2023 for optimal hydration
Looking for the best pet water fountains? We'll tell you what features to look out for when buying one for your fur friend and point out the most reliable brands on the market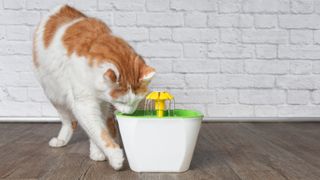 (Image credit: Getty)
Concerned about your furry friend's hydration? The best pet water fountains are designed to entice pets to drink while ensuring fresh and clean water. With larger capacities, they reduce the frequency of water changes compared to traditional bowls.
Hydration plays a vital role in keeping pets fit and healthy, especially those primarily fed on dry cat food or dry dog food which typically lack any extra sources of moisture. According to Dr Turner, an experienced Doctor of Veterinary Medicine, "Water is very beneficial, especially for pets with urinary tract or kidney issues."
But why not just get a bog standard water bowl for your pet? Dr. Turner tell us, "The water stays cooler in a fountain as compared to a bowl and the water is generally fresher since it's constantly moving. Impurities such as dirt, litter, hair, food and water contaminants are removed since most fountains contain filters – it can improve the taste of the water, too." Plus pet water fountains are less likely to tip over or be knocked over by a naughty pet (read our guide on how to stop a cat from spilling their water bowl if this is a recurring behavior with your kitty), which prevents water from being wasted and unavailable to pets.
Explore our selection of the best pet water fountains available in various styles, suitable for every home. By choosing the right fountain, you provide a reliable source of hydration, promoting your pet's well-being and helping them avoid complications and disease.
Veterinarian Dr Beth Turner has more than 20 years of experience. After graduating from North Carolina State College of Veterinary Medicine, she became an associate veterinarian and worked closely with the local shelter.She designed and built her own clinic in 2007 and she also became her county's shelter veterinarian. She sold the practice in 2019 and moved across the country to Colarado where she's enjoying all that it has to offer with her family and rescue pup.
PetsRadar's pick of the best pet water fountains
Why you can trust PetsRadar Our expert reviewers spend hours testing and comparing products and services so you can choose the best for you. Find out more about how we test.
Pioneer Pet Raindrop Plastic Pet Fountain
Best affordable pet water fountain
Specifications
Capacity:
1.8L / 60 fl oz
Designed for:
Small and medium-size dogs
Reasons to buy
+
A low profile means it won't block cupboard doors or drawers
+
A wide, gentle water spout means less mess
Reasons to avoid
-
The pump can become noisy if the water isn't topped up regularly
-
The angle of the water flow might make access tricky for smaller animals
WHAT PET OWNERS SAY
Averaging 3.9 stars out of five on Amazon, hundreds of happy buyers say this pet fountain is a good buy. Easy to take apart and put together again, many users say it's simple to clean. And while some buyers complain about the noise it makes, others say it's actually quiet when set up properly. The good news is that most cats seem to love it and take to it well.
Bring some harmony to your household with this pretty dog fountain, which has a yin and yang-inspired shape. The water spout is less like a fountain and more like a gentle trickle – instead of being ejected into the air, the water flows down a narrow channel into a generously-sized bowl.
The downside is that the spout isn't the most accessible one we've seen, especially for smaller dogs and cats. On the plus side, Pioneer Pet gets a gold star for the ease with which this can be assembled, as well as the super strong suction cups – nothing's worse than a full-to-the-brim pet fountain sloshing its way across a kitchen floor.
Catit LED Flower Fountain
Best for picky cats
Specifications
Filter:
Cotton mesh, active carbon and ion exchange resin
Reasons to buy
+
Three water flow settings
+
Built-in water pockets
+
LED nightlight
Reasons to avoid
-
Only one filter included
WHAT PET OWNERS SAY
Many thousands of people have reviewed this pet fountain on Amazon and it averages 4.4 out of five. The vast majority give it four stars or more and, aside from praising its looks, they say it operates quietly and seems to encourage cats to drink. Some users say it may need to be weighted while light appears to cause algae to grow.
Catit's water fountains are inexpensive and do the job perfectly well, and the petal top on its popular Flower Fountain is about as iconic as you can get in the world of pet water fountains, as the image at the top of this guide amply demonstrates.
The LED Flower Fountain is a small but significant upgrade to the basic fountain, with some great new features. You still get Catit's triple action filter for keeping kitty's water clean and fresh, as well as that distinctive petal top, but this model also comes with a useful water level indicator that makes it much easier to tell when it's time for a refill, as well as a blue LED nightlight to make it easier for your cat to find its water in the dark (and to stop you kicking it over if you're wandering around the house in the night).
Catit has also added six water pockets to the top of the fountain, so even if it's turned off your cat will still be able to drink from it. And if you have a particularly fussy cat who's never been particularly keen on drinking from a fountain, this model has three water flow settings – gentle flow, bubbling top and calm streams – so that you can find the mode that kitty gets on with best; you can also twist and lift the flower top to increase the length of the water streams.
We've found with previous Catit fountains that the water pump can make a bit of noise, which can put some more nervous cats off at first. However if you keep the water level nice and high, this minimizes noise and makes the fountain much more agreeable to have around the house.
PetSafe Drinkwell Butterfly Pet Fountain
Best for appearance
Specifications
Capacity:
1.5L / 50 fl oz
Designed for:
Cats and small dogs
Reasons to buy
+
Attractive to look at
+
Easy to clean
Reasons to avoid
-
Not suitable for larger dogs
-
Lightweight design makes it easy for animals to move accidentally
WHAT PET OWNERS SAY
Averaging 3.9 stars out of five, initial impressions haven't always been favourable: one user says it smelled like plastic when getting it out of the box. But buyers have been reporting that the product is long-lasting, great value and well made. So long as you put a plate underneath, buyers say you shouldn't need to worry about splashing. It's largely silent when full.
A brilliant option for small dogs and cats, this day-glo water fountain is ideal for the style-savvy pet owner. To start with, its spout is topped with a model of a butterfly, and the retina-burning shade of turquoise offers a welcome alternative to the varying shades of grey used for many pet fountains.
Four-legged friends won't need to form an orderly queue, either – four water spouts make it easy for multiple animals to rehydrate simultaneously, although you can also pop off the butterfly topper to create a single water spout. Cleaning this fountain is also incredibly easy – simply take it apart and place the plastic pieces in the dishwasher. The pump needs a quick manual clean twice a month.
PETKIT CYBERTAIL Pure Drink Water Fountain
Best quiet pet water fountain
Specifications
Capacity:
1.85L / 60 fl oz
Designed for:
Cats and small dogs
Filtration:
Triple filtration system
Reasons to buy
+
Affordable
+
Triple filtration system
+
Ultra-quiet
WHAT PET OWNERS SAY
Averaging 4.2 stars out of five on Amazon, this pet fountain is highly praised. Filters can last as long as a month and they are said to be reasonably priced. The fountain is also easy to clean and people like that it comes in different colors. It also comes in for praise for being super quiet and because the water is not at the edge, there is less chance of the floor becoming wet with splashes.
Say hello to the classy and quiet Pure Drink pet fountain from PETKIT. With an almost silent pump that stays below 30db and low energy consumption, it's the best fountain for 24/7 use.
With a circulation system that provides maximum oxygenation for fresher, tastier water and triple filtration to ensure the water is always clean and drinkable, this simplistic and stylish water fountain will be a hit with both your furkids and you.
The LED indicator light gives you a visual reminder of the fountain's working status and there's a choice of smart or normal modes. Available in three colors and powered with a USB cable, this model offers outstanding value for money.
Petkit Smart Drinking Fountain
Best for keeping water clean
Specifications
Designed for:
Medium and large dogs
Filter:
Cotton mesh, active carbon and ion exchange resin
Reasons to buy
+
Timer function
+
De-ionizing feature
Reasons to avoid
-
Bulky profile
-
Unforgiving color scheme
WHAT PET OWNERS SAY
Averaging 4.2 stars out of five on Amazon, this pet fountain is praised for being quiet, easy to clean and able to hold a good amount of water. It also has an energy saving mode which is great for saving money (and aiding the environment!). Many buyers love its looks too and say their cats are attracted to the flowing water.
A brilliant option for discerning doggies and cosseted cats, this hi-tech water fountain does it all – there are multiple settings (the one you're most likely to settle on is smart mode, which works on a five-minute cycle, welling up every three minutes before a two-minute rest), a noise-minimizing pump (it produces less than 40db per 50cm radius) and what's known as an ion-exchange resin, which helps to de-ionize the water.
Whether your pet will notice this particular benefit remains to be seen, but two features which definitely earn this fountain some brownie points are the alerts – the light which appears when the filter needs changing, and the alarm which sounds when the water needs topping up.
Best stainless steel pet water fountain
Specifications
Capacity:
3.2L / 100 fl oz
Designed for:
Dogs and cats
Reasons to buy
+
Generous capacity
+
Double filtration system
+
Ultra-quiet
WHAT PET OWNERS SAY
With an average of 4.5 out of five on Amazon, there is clearly a lot of love for this pet fountain. It's simple to set up, quiet (some say you can only hear the trickle of water) and one went as far as saying it's the easiest water fountain to clean ever! They just say you need to remember to keep it clean to prevent build up.
If you're the proud pet parent to both dogs and cats, then this stainless steel water fountain is well worth considering. With a generous 3.2 L capacity, you can rest assured that your fur friends will always have access to fresh water whenever they need it.
Equipped with an activated carbon filter and pre-filter sponge, the double filtration system does a great job of keeping the water clean and fresh, and they dynamic design comes with faucet and spring surge modes which match the drinking habits your pet would have had if they were living in the wild.
The 1.5W pump is super silent when running, coming in at under 20db, so you're guaranteed to get a good night's sleep even if you leave it running 24/7. It's also easy to clean, either by hand or in the dishwasher.
PetSafe Current Pet Fountain Small
Best for multiple pets
Specifications
Capacity:
1.2L / 40 fl oz
Reasons to buy
+
An ultra-quiet pump
+
Easily accessible
Reasons to avoid
-
Not the prettiest of pet fountains
-
Water pump positioning could be better
WHAT PET OWNERS SAY
With an average of just 3 out of five on Amazon, this pet fountain seems to split opinion. On the one hand, it's a good size but, on the other, it's reportedly a little too noisy for a lot of people's ears. There's a consistent hum, they say. The water doesn't always flow strongly either.
A great fountain for pets who need a little encouragement to drink enough water, but who might be unnerved by hi-tech fountains which flash, beep and vibrate, this minimalist model might not nab first place in the looks department, but it does what it says on the tin – ensuring your pet has an easily accessible, constant flow of filtered water.
Its low profile and dog bowl-inspired shape are less likely to unsettle dogs and cats, although our one gripe is the positioning of the pump – despite the deepness of this fountain's bowl, the hardware has been placed near the rim, which means you'll need to keep a close eye on water levels to ensure it doesn't run dry.
Zeus Dog Drinking Fountain
Best for dogs with mobility issues
Reasons to buy
+
Minimalistic styling
+
Provides an incredibly easily accessible water source
Reasons to avoid
-
Needs to be perfectly flat
-
Hard to keep track of water level
WHAT PET OWNERS SAY
Buyers on Amazon have given this an average of 4.1 out of five, with most of the hundreds of reviewers giving it four or more. It's praised for being a high quality product that is easy to clean and keeps plenty of water fresh and cool. It's non-slip and heavy enough not to tip over too. It is higher than a normal bowl as well which can put less strain on a larger dog's neck.
This bucket-style fountain is great for larger dogs, especially ones with mobility issues. This is because the water isn't emitted in the form of a vertical jet, but a gentle stream which swirls around the fountain's raised platform, before draining away down the sides.
In other words, there's a constant, gently-swirling pool of water for pets to sip from, and with a six-liter capacity, you won't need to refill it regularly.
Which is especially handy with this model, because the one major downside is the inability to monitor water levels – unlike most water fountains, there's no open bowl area, so you'll only know when it's time to refill once the water runs out.
Best clear pet water fountain
Specifications
Capacity:
1.5L / 50 fl oz
Designed for:
Cats and small dogs
Filter:
Sponge, ion exchange resin layer, carbon
Reasons to buy
+
Transparent design to encourage pets to drink
+
3 layer filter
+
Large capacity
Reasons to avoid
-
Can be difficult to separate the top from the bottom for cleaning
WHAT PET OWNERS SAY
With an average rating of 4.4 out of five – staggering given there are more than 11,000 ratings! – this is a much-loved pet fountain. Despite being cordless, this doesn't appear to lose many fans. In fact, buyers like that it can be effortlessly moved around the home. With a clear indication of how much water is left and multiple spout options, some have reservations about it being out of plastic.
Stylish and affordable? It doesn't get much better than that and the NPET water fountain definitely delivers on both. With a classy and modern clear design that will encourage your feline friend or small canine companion to drink up and alert you to when the fountain needs filling again, plus a generous 1.5 L capacity, this model ticks all the boxes.
The faucet is adjustable, so you have the option of going taller or shorter depending on the size of your pet by simply adding or removing the middle component, and given that it doesn't come with a wall plug and instead operates off of an adapter or power bank, it can be easily placed in any part of the room.
Featuring a triple layer filtration system, the sponge catches hair and debris, the ion exchange resin layer softens the tap water and the activated carbon layer removes bad taste and odor to ensure your pet has only the freshest and cleanest water at their disposal.
How to choose the best pet water fountain
With so many pet water fountains on the market, it's difficult to choose the perfect one for you. But there are certain key features which you need to look out for. These will not only ensure that you're buying a pet water fountain that will encourage your cats and dogs to drink but go a long way to making your life easier too.
Easy to clean
Over time, a pet water fountain – just like a bowl – is going to get a little grubby. Pet saliva, dander and fur will begin to clog the filter and you may find you get some build-up over time. So look for a pet water fountain that is easy to dismantle and clean.
Good stability
One of the issues with standard bowls is that there is a danger they could tip, sending water across your floor. When you're using a pet water fountain, you're dealing with even more water so you'll want to keep spillage to a minimum. Opt for a stable fountain. If it's a light model, then see if it has grip patches on the base. Suction cups are fine on a heavier fountain.
Time-saving features
Yes, a pet water fountain's main purpose is to ensure your dog or cat is getting sufficient amounts of water, fresh and clean on demand but consider the practicalities too. A large capacity fountain means you have to refill it less frequently. Dishwater-proof pieces make cleaning easy. You could also look for a pet water fountain with an alarm or light to indicate when water levels need topping up or a filter needs to be replaced.
Do dogs and cats like pet water fountains?
Still water has the potential to become stagnant and this can cause bacteria to form, leading to potential illness. It's perhaps why animals have long preferred free-flowing rivers and streams. "Most dogs and cats prefer fountains to bowls," says Dr Beth Turner, DVM, of Preventive Vet. "Besides the fact they often like running, cool water, most fountains are wide and therefore don't rub on whiskers."
How do you clean a pet water fountain?
So, you've read that people find some pet water fountains easier to clean than others but you're unsure exactly what that entails? "Water fountains can easily be taken apart and cleaned with warm water and soap," says Dr Beth Turner, DVM, of Preventive Vet. "Some fountains have parts that are dishwasher-safe on the top rack. To help keep it clean, filters must be changed regularly."
Should you turn off a pet water fountain at night?
Given the environmental impact of running electrical goods (not to mention the cost), it's natural to be concerned about having a pet water fountain running day and night. But remember this: just because you're asleep at night doesn't mean your fur friend is. Does that mean you keep it on, though?
"Pet fountains can be left running continuously as long as they are properly maintained (water level is monitored, the unit is cleaned, and filters are regularly changed)," says Dr Beth Turner, DVM, of Preventive Vet. "There is no need to turn them off except to clean them. Note, if the water gets below a certain level or runs out, it will damage the motor."
Get the best advice, tips and top tech for your beloved Pets
David Crookes has been a journalist for more than 20 years and he has written for a host of magazines, newspapers, websites and books including World of Animals, BBC Earth, Dogs and Canines, Gadget and The Independent. Born in England, he lives in a household with two cats but he's also keenly interested in the differences between the huge number of dog breeds — in fact, you can read many of his breed guides here on PetsRadar. With a lifelong passion for technology, too, he's always on the lookout for useful devices that will allow people to spend more time with their pets.