Best cat litter: Which is the top pick for your cat?
Picking out the best cat litter is an important decision, and one you need to carefully research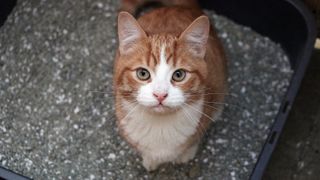 (Image credit: Getty Images)
The type of cat litter you choose is another decision that goes hand-in-hand with cat ownership, especially if you have an indoor cat. The importance of choosing the best cat litter available can't be understated; your cat will be using it a lot, it's in your home, and you'll want to make sure your cat is clean and comfortable.
There are a number of key considerations that you have to make first, though. For a start, you will want cat litter that has good odor control – you don't want a smelly home once you've litter trained your new kitten. Also, you'll want to know how absorbent it is.
Another factor is how much dust it produces. Both cats and humans have allergies, so dust-free or low-dust options may have benefits. You should also look out for hypoallergenic cat litter formulas that use corn or paper. These are both environmentally friendly options, since you can simply flush it away or put it in your compost can.
One word you will encounter time and again is "clumping". This refers to litter containing bentonite clay that clumps urine and feces together, making it easier to scoop out of the litter box. Clumping litter tends to be more expensive, but it does have the welcome side effect of meaning that you don't have to clean or completely change the litter as often.
However, if you choose non-clumping litter, you are going to have to spend more time cleaning. Even so, it can be less smelly, because urine is absorbed in large quantities, and additives are included that can mask the odor. Some cats will prefer non-clumping litter and, given the aim is to encourage them to use it, you can't dismiss this.
You may also have see mention of the best crystal cat litter below. This is far less likely to stick to your cat's paws, and it also has the benefit of being low-dust, low-odor, and easy to clean.
You may also want to look at the best cat litter subscriptions, in case you find buying litter a pain, and want the convenience of it being regularly delivered instead. Here are the best types available...
PetsRadar's pick of the best cat litter
Why you can trust PetsRadar Our expert reviewers spend hours testing and comparing products and services so you can choose the best for you. Find out more about how we test.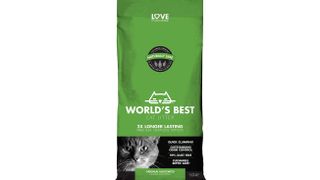 World's Best Cat Litter Clumping Formula
Best overall cat litter
Reasons to buy
+
Excellent odor control
+
Environmentally-friendly
+
Easy clean-up and disposal
Reasons to avoid
-
Clumps may dry out and crumble over time
Let's face it, branding yourself as the World's Best Cat Litter pretty much made the gold medal win a fait accompli for this powerhouse of a product. And while the name may seem like the brand was being a teeny-tiny bit over confident, thousands of reviewers agree that cat litter doesn't come any better than this.
The biodegradable formula made from all-natural, renewable corn granules works by turning waste into small clumps that can be easily scooped out without sticking to the sides or bottom of your cat's litter tray.
It also contains natural odor absorbing additives, which is great if you have an indoor cat and are worried about filling your home with your least favorite eau de parfum scent.
We love that this product is lightweight, so no more back-breaking trips lugging litter from the trunk of your car into the house, dust-free and water-soluble, which is great if you're wanting to kiss plastic bags goodbye and go for a more environmentally friendly method of disposal.
It's also a fantastic option if you have a curious cat or kitten on your hands who likes to taste-test anything they can get their paws on, the chemical and perfume-free formula is non-toxic and completely harmless if swallowed. Plus, it's super-soft, so we don't think you'll have any issues getting your feline fur baby to use it.
We struggled to find any drawbacks with this amazing product, although it's worth pointing out that the clumps can dry out over time so to make sure you don't end up with a crumbly mess on your hands, remove them every few days. But, with that being the only thing you need to worry about, this cat litter is a no-brainer addition to your shopping cart.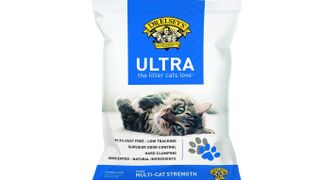 Dr Elsey's Precious Cat Ultra Clumping Clay Cat Litter
Best budget cat litter
Reasons to buy
+
Unscented, dust-free, hypoallergenic formula
+
Hard-clumping formula traps liquids and odor
+
Great for multi-cat families
Reasons to avoid
-
Only available in heavy and cumbersome 18 and 40 pound bags
There's a reason why this is one of the top-rated cat litters on Amazon. Not only is it super-affordable, but its fragrance-free and low-dust profile coupled with its solid odor control and easy to scoop heavy granules, makes this product a hit with both cats and pet parents.
Made from clay, the litter quickly clumps when wet and the hypoallergenic formula with no added dyes, chemicals or scents, is great for sensitive cats and multi-cat households.
While the lack of perfumes and deodorants may feel like a cause for concern, for a natural product we feel this formula's anti-clumping mechanism does a fantastic job of trapping and locking in odors.
We have to admit that this product's popularity can make it hard to find at times and when you do, the heavy 18 and 40 pound bags can be a bit of a turn-off for those of us who don't have arms built like Arnold Schwarzenegger.
But, if you're the kind of person who doesn't mind a bit of a treasure hunt now and again and you see the weight of the bags as a great opportunity to cancel your gym membership and get in some free upper-body strength training, then this crowd-pleasing product is a sure-fire winner.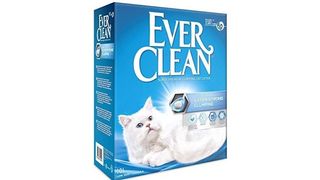 Ever Clean Extra Strong Unscented Cat Litter
Best cat litter for odor-control
Reasons to buy
+
Plant extracts, activated carbon and ammonia shield eliminate odors immediately
+
10-day long-lasting freshness
+
Great for cats with asthma or allergies
Eliminating odors used to mean filling your cat's litter tray with strongly-scented products containing pricey additives, but thanks to this offering from Ever Clean you can now attack odors with a product that's kind on your cat and your wallet.
The three-step formula contains activated carbon, which grabs odor from liquid and solid waste, an antimicrobial agent to inhibit the growth of bacteria, and an ammonia shield, which eliminates airborne odors.
Add in a quick-clumping formula that ensures urine never gets a chance to pool at the bottom of the tray and you've got yourself an odor-control product that's hard to beat.
We love that this product is made with a premium blend of pure, natural minerals and clays and the low-dust formula makes keeping the surfaces in your home clean just that little bit easier. It also makes it a great choice if you have a cat with asthma or allergies.
While Ever Clean has come up with a litter that's close to perfect when it comes to odor-control, the price may be a sticking point for some.
It's definitely not as cheap as similar products on the market and it won't be winning any awards for being eco-friendly any time soon, but if keeping your home smelling fresh and clean is your top priority, then this formula is pretty hard to beat.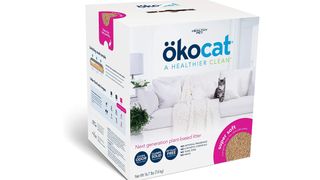 ökocat Natural Wood Clumping Cat Litter
Best flushable cat litter
Reasons to buy
+
Made from all-natural, sustainable, and biodegradable materials
+
Chemical-free
+
Highly efficient absorption
Okay, so we understand you might not want to be flushing cat litter down the family toilet, but it's great to know that if you don't fancy fertilizing your flower beds or adding to landfill, that there's another option when it comes to disposing of the contents of your cat's litter box.
We love this eco-friendly product that's made from 100% natural and sustainable wood fibres, making it lightweight and highly absorbent. Free from chemicals, fragrances, and dyes, it hits odors hard while being gentle on your kitty.
While you might expect a product that contains sawdust to produce a lot of dust, this formula is 99% dust-free and being plant-based, it's a cleaner and healthier option for your cat, your family and your home.
The clumping action isn't always the best, but it's good enough that you can clean it up without it breaking apart and as it's designed to be able to break down easily when flushed, the lack of hard-clumping is understandable.
While many flushable litters are only suitable for septic systems, this one is also completely safe for sewerage systems too, which is a real plus.
With this being a wood-based product, you may find your cat takes a bit more of this litter with them when they leave their tray as opposed to other products, but if you're an eco-conscious pet parent who's looking for a top-class litter made from reclaimed wood that's been responsibly rescued then you won't want to overlook ökocat.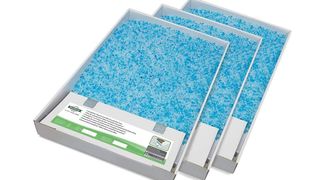 PetSafe ScoopFree Self-Cleaning Cat Litter Box Tray Refills
Best crystal cat litter
Reasons to buy
+
Easy and convenient cleanup
+
Low tracking
+
Lasts for up to 30 days
Reasons to avoid
-
May stick to the fur of long-haired cats once wet
If you're after convenience that doesn't compromise on quality, then this is the product for you. While these trays are designed for the PetSafe litter box, you don't need to purchase this as these work just as beautifully without it. You can also buy the crystal's on their own if you already have a litter box and don't need the trays.
The silica crystal's work by dehydrating solid waste and absorbing liquids and because the trays are plastic there's zero leakage.
It's low-tracking, so you don't need to worry about your cat dropping crystals all round the house and have them lay there in waiting to attack your bare feet, and the dust-free formula will save on cleaning too.
And if you and your little feline fur baby often holiday together then these tray's are well worth considering. Easy to pack and transport, you can take your cat and their routine with you wherever you go.
This is a great hands-off product for any pet parent who doesn't like having to see, touch or smell messy waste. After three to four weeks of use simply toss the whole tray in the bin and replace it with a new one.
There's a whole lot to love about this kitty litter but the cost may be off putting for some cat owners.
It's definitely a more expensive form of litter so if price is an issue then you may want to consider another brand or buying the crystals without the trays, which makes it much more affordable.
But if the thought of never having to clean up after your cat ever again is more than a little appealing, then we reckon this is worth every penny.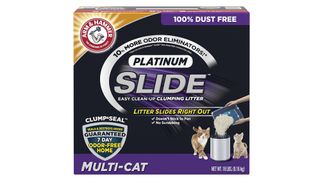 Arm & Hammer Platinum Slide
Best cat litter for multi-cat households
Reasons to buy
+
Powerful odor eliminator
+
Slides out of the pan for easy cleaning
+
100% dust-free
Platinum Slide is Arm & Hammer's most advanced kitty litter to date and features patented EZ clean technology that allows the litter to slide right out of the pan without sticking, saving you lots of unnecessary scraping and scrubbing!
This litter is particularly great if you have multiple cats as it's 100% dust-free making it ideal of kitties that have allergies and the clump and seal technology forms an door-controlling seal around urine and feces, so smells are caught and contained within the litter box.
While all of Arm & Hammer's litters do a standout job on the odor front, the Platinum Slide is particularly impressive as it combines their usual powerful baking soda formula with additional odor eliminators to ensure your home stays clean and fresh.
Available in 18lb or 37lb boxes, this low-tracking clay litter performs exceptionally well, but it's worth pointing out that it is quite strongly fragranced, so if your kitty has a super-sensitive nose, you might want to choose one of their unscented litters.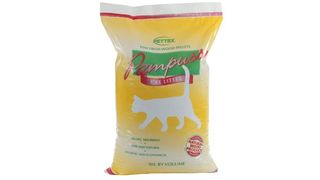 Pettex Pampuss Woodbase Cat Litter
Best environmentally-friendly cat litter
Reasons to buy
+
All 100 percent natural
+
Has a pine fresh odor
+
Easy to dispose of
Made entirely of biodegradable wood, this offering from Pettex is kind on the environment while making no sacrifices in terms of its usability. Not only is this 100 percent natural material free of additives and glues, it is dust-free and highly absorbent, so you can sure that it's great for cats with allergies and perfect for anyone who doesn't relish completely cleaning the litter tray all that often (that's most of us, we reckon!).
A natural pine scent helps to control what would otherwise be a pungent urine odor, making the area around the litter tray feel far fresher as a result. Since it's non-clumping, it's going to be less effective in hiding the smell of feces but scooping away the poo should keep on top of that. Indeed, the manufacturer recommends removing solid waste daily, then replenishing it with extra pellets. The waste can be composted.
Thankfully, you get a great number of pine fresh pellets in each bag: a whopping 30 liters worth for a low price – more than enough to last a couple of months. It's also reassuring to see that Pettex has been in business for close to 60 years building up a strong reputation in the meantime. Indeed, judging by the mainly positive reviews from other users, it's a product that cats appear to take well to and owners turn to time and again.
How to choose the best cat litter
Let's be honest, mulling over the pros and cons of various cat litter products probably isn't at the top of your priority list, after all, it's just a bag of dirt right?
As pet parents it can be easy to focus our attention on the choices we feel are most important, things like food, beds and toys, but there's a lot more to cat litter than meets the eye and finding the best fit for your kitty is key.
With that in mind, here's a few features you'll want to be looking out for when selecting the best cat litter…
If you want your home to smell more citrus fresh and less cat mess, then an odor eliminating litter is likely to be top of your list. You can choose from scented or unscented options, but keep in mind that many cats are sensitive to strong scents. In terms of ingredients, look for things like carbon, silica or naturally derived plant-extracts which do a great job of absorbing and neutralizing odors.
Consider whether you want a clumping or non-clumping formula. Clumping litter tends to be the most popular because it forms lumps when wet making it easy to scoop out your cat's waste. If you're environmentally conscious, though, and want a flushable or compostable litter then non-clumping litters are a better choice.
Experiment with different types and textures to see what your cat prefers. Clay-based litters are great for scooping and generally the most affordable, but they can produce a lot of dust, which isn't great for cats with respiratory problems.
Litters that are biodegradable and made from things such as corn or wood are great for the environment, but they usually don't clump, so cleaning your cats box or tray can be a messier job. Finally, crystals do a fantastic job when it comes to absorption and can last up to a month before they need changing but they can be more expensive than other options.
Rest assured that whatever you decide, there's an option out there that will suit you, your cat and your lifestyle.
Get the best advice, tips and top tech for your beloved Pets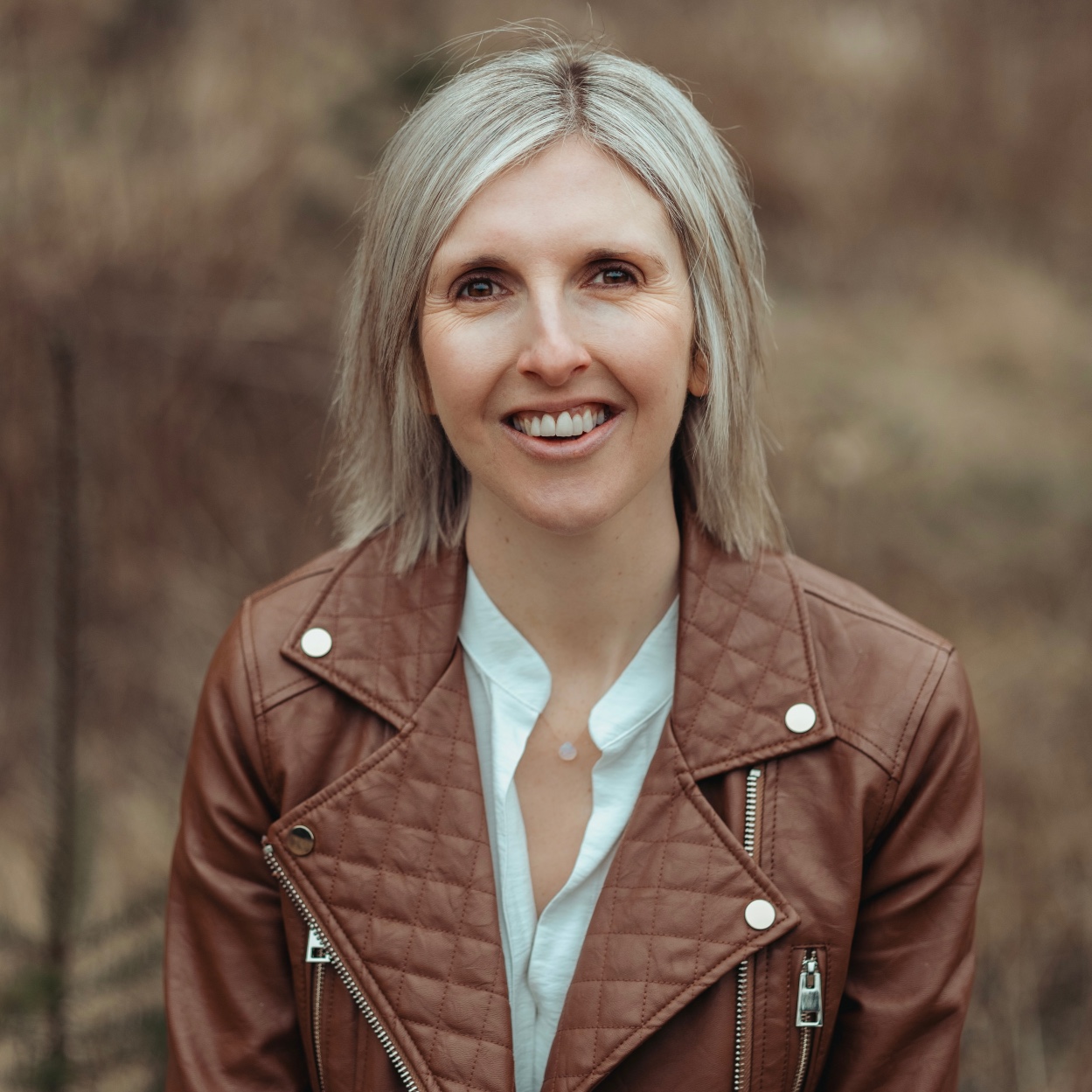 Kathryn is a freelance writer who has been a member of the PetsRadar family since it launched in 2020. Highly experienced in her field, she's driven by a desire to provide pet parents with accurate, timely, and informative content that enables them to provide their fur friends with everything they need to thrive. Kathryn works closely with vets and trainers to ensure all articles offer the most up-to-date information across a range of pet-related fields, from insights into health and behavior issues to tips on products and training. When she's not busy crafting the perfect sentence for her features, buying guides and news pieces, she can be found hanging out with her family (which includes one super sassy cat), drinking copious amounts of Jasmine tea and reading all the books.