Best cat scratching posts: Keep kitty claws off your furniture
From wall-mounted to cat-nip laced, find the best cat scratching posts for your feline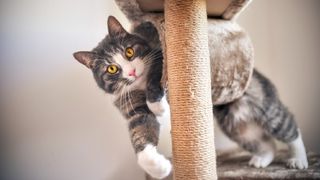 (Image credit: Getty Images)
Our pick of the best cat scratching posts are specifically chosen to prevent the onset of kitty destructive behavior from breaking out in your home. 
Put simply, a cat scratching post is one of the best ways to keep cats from scratching furniture but it has further benefits too including keeping their claws sharp and healthy, allowing them to stretch their muscles, and as a way of marking their territory. 
You may be thinking what with all the cat beds and the best cat toys already littering your home if it's really worth getting another cat accessory for your furry friends. The answer is most definitely: cat scratching posts are an essential purchase for any feline owner to allow cats to indulge their natural instincts. 
Cats look for sturdy and strong places to scratch, so all of our options fulfil those criteria, but beyond that they come in all shapes and sizes. As well as horizontal and vertical cat scratchers, you can also choose from wall-mounted options, ones that double up as beds, scratchers designed to cover over and protect furniture, scratchers that include toys, and multi-level scratchers that let them practice their climbing skills too.
To help you sort out which one will be up to scratch for your kitties, we've scoured the web to find the best cat scratching posts available out there, so you don't have to. All you have to do now is choose your favorite. Ready? Let's go save that sofa…
PetsRadar's pick of the best cat scratching posts
Best overall cat scratching post: SmartCat Pioneer Pet Ultimate Scratching Post
Best budget cat scratching post: Catit Bench Scratcher with Catnip
Best wall-mounted cat scratching post: 4CLAWS Wall Mounted Sisal Scratching Post
Best for furniture: Sofa-Scratcher Cat Scratching Post
Best for kittens: Frisco Scratch & Roll Scratcher Cat Toy with Catnip
Best cat scratching post with toys: PEEKAB Cat Scratching Post with Cat Tracks Toy
Best eco-friendly cat scratching post: PetFusion Ultimate Cat Scratcher Lounge
Best interactive cat scratching post: MQ Multi-Level Cat Tree
Best for unique style: PetnPurr 32.5" Tall Alpaca Cat Scratching Post
SmartCat Pioneer Pet Ultimate Scratching Post
Best overall cat scratching post
Dimensions: 16" x 16" x 32" | Material: Wood & Sisal | Weight: 16lbs
Allows cat to stretch
Sturdy and durable
Easy to assemble
Expensive
When is a cat scratching post not just another cat scratching post? When it's a SmartCat scratching post. With nearly 11,000 five-star reviews on Amazon, pet parents are in love with this product and it's not hard to see why.
This 32-inch post is tall enough to allow for even big cats such as Maine Coons to fully extend their bodies and stretch their muscles while scratching. It also has a sturdy 16 x 16in base that stops the post from tipping over.
Made from woven sisal, this fibrous and durable material encourages scratching and files nails without snagging them. Sisal is a great choice when selecting a scratcher because it is strong and tough and gives a similar scratching experience to tree bark, which cats love. It also shreds cleanly and won't get sharp and prickly as it wears.
Not only is this an attractive post for your cat, but the natural beige color will blend seamlessly into most homes. You'll also love how quick and easy it is to assemble because if you're anything like us, the last thing you want on your precious weekend is a DIY-induced headache. Simply attach the post to the base using the two provided screws and you're good to go.
While it may be at the more expensive end of the price spectrum, it's one of the most durable scratching posts around with many reviewers claiming that theirs is still going strong after five years. So, while there's a bit more of an initial outlay, the quality and durability of this product make it a clear winner for us and we're pretty sure your kitty will love it too.
Catit Bench Scratcher with Catnip
Best budget cat scratching post
Dimensions: 27.7" x 38.18" x 11" | Material: Recycled Material | Weight: 1.4lbs
Catnip encourages use
Inexpensive
Doubles as a lounger and scratcher
Some cats won't like it
We love this super cute bench scratcher from Catit – it comes complete with catnip to encourage your cat to scratch their own lounge furniture instead of yours. While it may be our pick for the top budget buy, this inexpensive cat scratcher doesn't compromise on durability and can take a fair amount of abuse from your kitty's claws before it needs replacing.
The contemporary shape and eye-catching design provide a refreshing twist on the typical cat scratching post and the elevated style will encourage plenty of pounce and play in your moggy. Catit also makes the scratcher in four different styles and colors so you're bound to find the perfect fit for your kitty and your home.
Made from 57 layers of 4mm-thick corrugated cardboard, this lounger provides the perfect scratching surface for your cat to sink their claws into. It provides a satisfying way for them to sharpen and remove the dead outer layers of their claws. For something that's made of cardboard, it's surprisingly strong – some reviewers said it easily lasted a year in their single-cat households. Not bad at all for a scratcher in this price range.
It's more sturdy than it looks with stubby feet that will comfortably support your cat's weight while holding up to all that rough and tumble that's bound to take place when your catnip-crazed kitty starts tearing into it.
There are a few drawbacks to this scratcher, namely that being made of cardboard there will be some mess to sweep up as it shreds, and some cats prefer a vertical scratching post as opposed to a horizontal one. Those things aside, we think this is a standout scratcher that your bank balance will thank you for.
4CLAWS Wall Mounted Sisal Scratching Post
Best wall-mounted cat scratching post
Dimensions: 17.8" x 2.8" x 3.6" | Material: Sisal & Aluminum | Weight: 1.7lbs
Space-saving design
Adjustable height to suit your cat
Easy to install
Some reviewers noted a chemical smell
If your cat seems to have more belongings than you do and you're tired of having them cluttering up your living spaces, then 4CLAWS will come to the rescue with this awesome wall-mounted scratching post.
We love anything that saves on space and this modern and minimal design does just that. The aluminum frame mounts directly onto your wall and holds a cylinder wrapped in sisal rope that is easily replaceable when it starts looking tired and shabby. It can also be rotated and flipped so that it wears evenly.
The white frame is unobtrusive and blends well into most homes and, unlike freestanding cat scratching posts, you don't need to worry about this one tipping over. You can mount it at whatever height best suits your cat and the 18in length allows for a good stretch. If your cat isn't used to sisal material or a wall-mounted scratcher, simply sprinkle a bit of catnip on it to encourage initial use.
This is one of the most durable and stable cat scratchers on the market, and it's a great way of protecting your walls, furniture and carpets from your kitty's claws. It's also high quality, so you're getting great value for money. Some reviewers noted a chemical smell when unpacking the scratcher, but airing it outside for a while after opening should get rid of this.
Frisco Scratch & Roll Scratcher Cat Toy with Catnip
Dimensions: 15" x 2" | Material: Plastic and cardboard
Doesn't take up much space
Built-in toy
Comes with catnip
Can buy replacement scratching pads
Doesn't allow for vertical stretching
Ball can come out of track
Younger cats are often the most destructive, but are also the most easily distracted. This means you need a cat scratching post which can occupy all their interest, so that those tantalizing expensive curtains aren't their next port of call. This ground-based cat scratching pad comes with a ball toy that runs around a circular track around the outside to keep them coming back. Not only that, but it includes a sachet of catnip to sprinkle over it to ensure they are excited to use it.
The scratching pad itself is made of corrugated cardboard, so it's reasonable ecologically friendly.  And if you're worried your little furry friend will make short work of the carboard center, don't worry. As well as being sturdy, you can also buy refills to ensure it's not a one-hit wonder.
Be warned though, the ball can be popped out of the track with effort – in fact, it is designed to do so - so you may have to spend some time finding it and retrieving it. However, it is easy to find a replacement ball that will fit back in it, and most users report that their cats are happy just to bat and pounce the ball as it goes around the track.
For such a fun and stimulating cat scratching pad it doesn't take up a lot of space, so it's perfect for more compact homes, or for being able to put into smaller spaces which your kitty has already deemed that is where they want to hone their scratching instincts. Offering up rolling action and scratching satisfaction, this is one relatively inexpensive scratching pad that's perfect to keep your kitty entertained for hours.
Sofa-Scratcher Cat Scratching Post
Dimensions: 24" H x 10" W | Material: Sisal | Weight: 7lbs
Choice of six colors
Encourages healthy scratching
Easy to attach
Can tip over
If your moggy's daily mission seems to be to tear your sofa to shreds then this cat scratching post from Sofa-Scratcher could be the perfect solution. Contoured and covered in sisal, the panel design will fit the corners of most sofas and keep them protected from your cat's claws.
Cats have a tendency to attack sofa corners, so this is a great way to encourage healthy and positive scratching behavior in a location they're already familiar with. You'll love how quick and easy the installation process is too. Simply screw the panel into the base and slide under the sofa leg to anchor the scratcher in place.
Attractive and modern looking, the Sofa-Scratcher comes in a choice of six colors for seamless blending and the felt backing will protect your furniture. Durability is good, with the heavy-duty half-inch thick fiber core holding up well under heavy scratching. It's also a great space-saver and means you don't have to clutter up your living area with bulky scratching posts.
The one thing to be mindful of is the stability of this product. It must be placed under the sofa leg to avoid it tipping over as simply sliding it under the sofa between the legs won't hold it in place. That small issue aside, though, this is a great investment that will save the sides of your sofa.
PEEKAB Cat Scratching Post with Cat Tracks Toy
Best cat scratching post with toys
Dimensions: 16 x 12 x 25 inches | Material: Sisal | Weight: 7.19 pounds
Great value for money
Hours of amusement
Easy to assemble
Balls may come loose from their track
Fancy getting a little more bang for your buck? Then this cat scratching post with cat tracks toy has got you and your kitty covered. This affordable scratcher tree features a 25-inch scratching post made with thick cardboard tubing and wrapped in natural sisal for an effective and satisfying scratch.
At the top of the post is a ball toy attached with a rotating arm so your cat can bat the ball back and forth around the post. At the bottom is a trackball toy that will provide hours of physical and mental enrichment, great for days when you're not able to be at home with your furkid.
The unit comes in plush eco-friendly material and has a quick and simple screw-together design that makes assembly a breeze. Suitable for cats up to 12 pounds, this cat scratching post with cat toys and perch ticks all the boxes. 
PetFusion Ultimate Cat Scratcher Lounge
Best eco-friendly cat scratching post
Dimensions: 34" x 10.5" x 10.5" | Material: Cardboard | Weight: 7.5lbs
Dual function
Reversible for twice the use
Six-month warranty
Not ideal for small spaces
Scratching posts don't come more luxurious than this sleek and modern sculpture-like offering from PetFusion. It's so stylish it could almost pass for a coffee table if it weren't for the fact that your cat will likely spend most of the day lounging on it.  And while it may look like a delicate piece of artwork, don't be fooled. This scratcher can withstand even the most vigorous of claw attacks.
Available in cloud white, slate gray, and walnut brown, the scratcher is made from premium recycled cardboard that offers outstanding durability and can be flipped over when one side gets worn, providing excellent value for money. The natural curves are perfect for scratching and sleeping on, and the large surface area makes this a great choice for cats of all sizes.
You'll love that this dual function scratcher and lounge comes with a six-month warranty, so if there are any manufacturing issues or you're simply not happy with it, you can claim a refund. It's also the proud winner of the 2015 Eco-Excellence award thanks to PetFusion's commitment to using non-toxic and recyclable materials.
Admittedly, this scratcher isn't ideal for small spaces, so if you live in an apartment you might want to look at other options and cardboard can require more cleaning up than a scratcher that uses sisal. But, overall, we think the benefits outweigh the drawbacks with this being a great scratching post for exercise, stress-relief, and keeping your kitty's claws healthy.
MQ Multi-Level Cat Tree
Best interactive cat scratching post
Dimensions: 24" x 20" x 67" | Material: Particle Board, Sisal Rope, Plush, Paper Tube | Weight: 48.5lbs
Great for multi-cat households
Sturdy
Plenty of space to scratch
Perches too small for bigger cats
Whoever said bigger doesn't always mean better clearly hadn't laid eyes on this colossal multi-level cat scratching tree from MQ. When it comes to kitty's claws, you can never have too many places to sharpen them.
This design from MQ is getting the big thumbs and paws up from pet parents and their cats who love the three-cushioned viewing platforms, two caves, removable hammock, furry hanging toys, and more scratching space than your kitty will know what to do with.
Though it looks like it takes up a lot of room, once in place it's fairly compact. There is the option of securing it to a wall with the provided wall strips if you want to keep it tucked away. It provides plenty of space to jump, play, and scratch, and the reinforced wood base keeps it sturdy enough to prevent it from falling over.
It's a great option for multi-cat households and the use of various materials in the design provides different scratching experiences. It comes with a manual with detailed installation instructions and is easy to assemble.
This isn't the cheapest cat tree on the market, so if budget is an issue then you may want to look elsewhere. Also, the platforms aren't as generously sized as we'd like, so it wouldn't be the best choice for larger cats. Those things aside though, this is the fun-filled amusement park of the cat-scratching post world that will keep your cats amused and away from your furniture for hours at a time.
PetnPurr 32.5" Tall Alpaca Cat Scratching Post
Dimensions: 32.5 x 5.5 inches | Material: Sisal rope | Weight: 15.07 pounds
Heavy-duty
Great for multiple cats
Ideal for large cats
Attractive for owner and cat
Pricey
Fur can shed
There's certainly many stylish cat scratching posts out there but if you really want yours to stand out from the pack, it's got to be the PetnPurr 32.5" Tall Alpaca Cat Scratching Post.
Don't be fooled by the cute design: this Alpaca can take more than its fair share of kitty claws. Measuring up at a fairly meaty 32.5 x 5.5 inches, one of the key strengths of this unique scratching posts is that it won't be ending up on the floor anytime soon. It features a wide bottom section that prevents it from being tipped over even under the paws of multiple large kitties, plus it's tall too to allow them a good stretch out.
You've got to love the addition of the furry ball that even the fussiest of felines will be powerless to resist, turning it into a fun toy over attacking your furniture.
In short, there's no novelty value here. In fact, you may be surprised by how durable and long-lasting this post really is which might help justify the higher price tag. 
Main drawback here is that if you're already looking to keep your cat's fur off your carpet, the furry design can shed a little.
How to choose the best cat scratching post
We've all been there. You invest in a top-of-the-range cat scratching post and what do you get for your troubles but a haughty flick of the tail as your fussy feline marches off to the side of your sofa. We feel your pain, so we've pulled together some tips that will help you make sure you pick a winner.
The first thing you'll want to consider is what the scratching post is made from. There's a dizzying array of materials available but what might appeal to you might not appeal to your cat. Sisal fabric is a great option because it's heavy-duty and shreds under your kitty's claws in the same way the bark of a tree would. Try and avoid carpet-covered scratching posts, as you're trying to encourage your cat to go for the scratching post and not your floors, so a different material is best.
Select a scratching post that's sturdy and doesn't wobble or move about. The reason cats like sofas and trees are that they stay stable when scratched which allows them to safely sharpen their claws. Look for posts that have solid bases so they won't topple over.
Height and layout are important considerations too. Cats tend to favor vertical scratching posts because they allow them to stretch out, but if you've ever seen pulls in your carpet then you know they're not averse to scratching horizontally from time to time either. Providing a tall and flat scratcher can be a great way of covering your bases.
Finally, a cat scratcher with features can be a great investment that keeps your kitty amused for hours. Think multi-level cat trees that offer platforms, fluffy or sisal hanging toys, hammocks, ramps, and poles. Let your cat's personality guide you as to whether a maxed-out model is the way to go.
Kathryn is a freelance writer with a passion for creating health and wellness, travel and wildlife content. Originally from New Zealand, her nomadic lifestyle has her currently fur baby-less. She scratches her pet parent itch by stealing frequent cuddles with any neighbourhood cat kind enough to indulge her.
Get the best advice, tips and top tech for your beloved Pets
Thank you for signing up to Petsradar. You will receive a verification email shortly.
There was a problem. Please refresh the page and try again.