Best flea collars for cats: Prevent pesky parasites invading your feline
We give you the rundown on the best flea collars for cats, with a range of fast and effective options to keep your kitty happy and healthy
Included in this guide:
1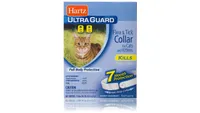 Hartz
UltraGuard Flea and Tick Collar
2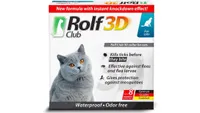 Rolf
Club 3D Flea and Worm Collar
3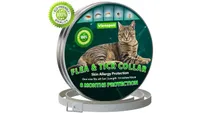 Lordddon/Vienapoli
Flea and Tick Collar
4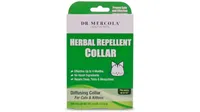 Dr
Mercola Herbal Repellent
5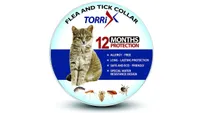 Torrix
Flea and Tick Collar
6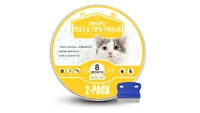 MONIPGU
Flea and Tick Collar
7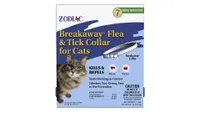 Zodiac
Breakaway Flea and Tick Collar for Cats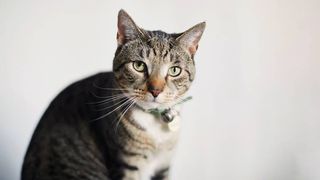 (Image credit: Getty Images)
The best flea collars for cats are one of our favorite methods for keeping pesky parasites at bay, ensuring your feline fur baby stays happy, healthy and comfortable. But with so many different flea prevention and treatment options on the market, how do you know if a collar is the right choice? And more importantly, which flea collar is best? Well, you can sit back and relax because you'll find everything you need to know right here.
While fleas may look small, the damage they can do is anything but, causing a range of issues from mild discomfort to major skin issues and even anaemia. Plus, if your cat happens to lick them off their fur and swallow them, these cunning critters can infect your kitty with tapeworm. Thankfully, a good flea collar can prevent all of this.
Just like the best flea collars for dogs, cat flea collars come in two different varieties. The first are your traditional flea collars which release chemicals over a period of months that get distributed over your cat's skin and coat and work to kill fleas on contact. If you're looking for a gentler option, you may like to consider a natural collar that uses a blend of essential oils. It's worth noting, however, that while these repel fleas in a non-toxic way, they won't kill them.
Although topical flea treatments for cats tend to be the most popular flea prevention option amongst pet parents, flea collars do have some distinct advantages. Unlike topicals, which tend to only be good for 30 days before they need to be reapplied, most flea collars will offer anywhere from four months up to a staggering 12 months of protection, making them incredibly convenient. Flea collars are also a cheaper option and they're ideal for cats who don't like that feeling of a cold blob of topical being applied to the back of their necks.
If your kitty already has a bad flea infestation, we recommend speaking with your vet about other flea treatments for cats (such as tablets) that can initially be used in conjunction with your fur baby's collar until the infestation has cleared up. But for now, let's take a look at some of our favorite flea collars for cats, including waterproof and fast-acting options.
PetsRadar's pick of the best flea collars for cats
Best overall flea collar for cats: Hartz UltraGuard Flea and Tick Collar
Best fast-acting formula: Rolf Club 3D Flea and Worm Collar
Best waterproof option: Lordddon/Vienapoli Flea and Tick Collar
Best natural alternative: Dr Mercola Herbal Repellent
Best long-lasting flea collar: Torrix Flea and Tick Collar
Best flea collar for cats with allergies: MONIPGU Flea and Tick Collar
Best breakaway flea collar: Zodiac Breakaway Flea and Tick Collar for Cats
Hartz UltraGuard Flea and Tick Collar
Best overall flea collar for cats
Available online: Yes | Amazon star rating: 4 | Protection time: 7 months
Fresh scent
Reflective strip
Water-resistant
Uses TCVP, a more toxic active ingredient
If the thought of spending more money on what adorns your cat's neck than you spend on your own makes you and your wallet feel a little queasy, then it's Hartz UltraGuard to the rescue with this effective flea collar that doesn't cost the Earth.
Containing Etofenprox as an active ingredient, it's very similar in composition to the Flumethrin found in big brand Seresto's collar, which kills fleas and ticks fast. It offers long-lasting protection of up to seven months for cats over the age of 12 weeks, it's water-resistant, and the fresh scent is light enough not to irritate your kitty.
If your feline fur baby is prone to prowling the neighborhood in the evening in search of extra snacks, then you'll be delighted to know that the reflective strip on this collar means your little cat burglar's inability to go incognito is likely to have them returned to sender pretty smartly – great news if you like to make sure those precious four paws are tucked up in bed at night rather than roaming the streets.
This collar will do a great job of killing fleas for at least the first half of its life, but as it gets older and the ingredients weaken it acts more as a flea-repellant than flea-exterminator. We love the breakaway feature on this collar, which works a treat if your kitty gets in a jam, and the collar will fit all cats – simply cut away any excess.
While this collar is very kind on the purse strings, it's worth mentioning that Etofenprox, the main active ingredient, isn't as kind to all cats so we would recommend you monitor your fur baby closely for the first few days to make sure they don't suffer from any skin irritation. If they don't have any adverse reaction to the Etofenprox then this is a great affordable alternative to Seresto.
Rolf Club 3D Flea and Worm Collar
Available online: Yes | Amazon star rating: 3.7 | Protection time: 8 months
Effective against 11 types of parasite
Begins killing fleas within 24 hours
Ideal for cats of all sizes
Becomes less effective after a few months
Straight out of a country that's known for producing top-quality goods, if you're looking for the Volkswagen of flea collars then you're not going to want to overlook this German-designed one. And while it has the quality and reliability of a VW, it's got the speed and power of a Bugatti, a very nice combination indeed!
The Rolf Club 3D collar is produced by Ekoprom, an award-winning veterinary company with a mission to make only reliable and responsible products, and they certainly stick to that mission with this collar. We love that this is a toxin-free formula; not only is it great for your cat, it's also fantastic if you have a house with small children who spend lots of time cuddling and petting the family feline as it won't irritate the hands or skin.
The fast-acting ingredients start killing fleas, ticks, lice, and larvae within 24 hours and also mosquitoes, which makes this a unique product compared to others on the market.
The odorless collar is easy to wear and adjust, and will fit any size cat. It's waterproof, which is great if your cat likes adventuring outdoors, although we recommend removing it if bathing your kitty to ensure it remains at its maximum potency for as long as possible.
We love that this company frequently communicates with pet parents and uses their feedback to make their collars better with each iteration. There are very few drawbacks to be found with this product, although we would say that while it is labelled as being effective for eight months, we feel it does it's best work in the first four, so we advise you to budget to replace this collar on a quarterly rather than twice-yearly basis.
Overall though, this is a great collar if you're looking for a fast-acting treatment from a reputable brand.
Lordddon/Vienapoli Flea and Tick Collar
Available online: Yes | Amazon star rating: 3.9 | Protection time: 8 months | Veterinarian recommended: Yes
All-natural, non-allergenic formula
Safe for animals and humans
Waterproof and adjustable
Strong smell
Produced by the same manufacturer with identical packaging but branded under different names, you'll be wanting to look for Lordddon if you're in the US and Vienapoli if you're in the UK when searching for these well-reviewed flea collars.
Made with eucalyptus, clove, lemon, peppermint, and citronella oils, this safe and non-toxic collar works to repel and kill fleas, ticks and other insects on contact, and prevents them from returning for up to eight months. The effective and clever design ensures that the active ingredients are released slowly over the life of the collar, meaning you definitely get your money's worth where this product is concerned.
It's natural, eco-friendly and unlike many other flea collars on the market, it's fully submersible, so you can bathe your cat without having to take it off. We love the adjustable design and gripping teeth, which is great for cats who are always trying to give their collar the slip. And given that our feline fur babies come in all shapes and sizes, you'll be happy to know that this will fit your cat, regardless of whether there's a little or a lot of them to love – simply trim off any excess.
This collar is a popular choice among pet parents, but we'd be remiss to not mention that all those essential oils can make for one fairly strong-smelling cat, especially in the first few months. It's not in any way unpleasant, just something to be mindful of if you or your cat is sensitive to fragrances.
Other than that, though, this is a great non-hazardous and anti-allergenic collar that's gentle on your cat and tough on fleas.
Dr Mercola Herbal Repellent
Available online: Yes | Protection time: 4 months | Toxin-free: Yes
100% natural and non-toxic flea protection
Active ingredients are diffused from the collar over 4 months
Repels fleas, ticks, lice and pests
Does not kill fleas so needs to be used in conjunction with a topical treatment
If keeping your cat safe and purchasing from organisations that take their social responsibilities seriously is important to you, then this is a flea collar you'll feel good about putting in your shopping basket.
Unlike chemical-based repellents, this collar from Dr Mercola is made using only top-quality, effective herbal ingredients. Essential oil from the geranium flower repels mosquitoes while the wintergreen and evergreen plant oils act as an insect repellant and if sensitive skin is an issue for your kitty the addition of almond oil is very soothing.
Not only do we love the fact that there's no harsh chemicals or hidden toxins in this product, but a portion of the proceeds of every collar sold goes directly to a variety of animal charities. It's not often that you get to buy a product that's not only kind to your own pet but is invested in the wellbeing of animals around the world.
Dr Mecola's belief that all pets deserve the best-quality products shines through in every aspect of this collar, which is also hypoallergenic, meaning it's safe for cats with allergies, those who have reached senior citizen status, and the new kittens on the block.
If you're looking for a hard-hitting product that kills fleas fast then this product will disappoint. It's focus is purely on repelling and preventing fleas, lice and ticks, rather than killing them. Still, if you're looking for a gentle and safe option that is effective for up to four months then we really recommend giving Dr Mercola a try.
Torrix Flea and Tick Collar
Best long-lasting flea collar
Available online: Yes | Eco-friendly: Yes | Waterproof: Yes | Protection time: 12 months
Long-lasting protection
Money-back guarantee
One size fits all
Contains lavender oil that may cause a reaction in some cats
You've got to love a collar that's both affordable and long-lasting, which is exactly what you'll get with this offering from Torrix. And if that's not enough to sweeten the deal, Torrix offers a 60-day money-back guarantee, so if you're not satisfied you can return it for a full refund.
Suitable for kittens over the age of 10 weeks and adult cats, this collar utilizes natural ingredients like essential oils to prevent fleas and ticks. It's easy to use and adjustable, so simply pop it around your cat's neck, adjust it to fit, and buckle it into place.
The collar is waterproof, free of toxic chemicals, and safe for both cats and humans, and the use of essential oils means it's gentle on the skin, making it a great choice for fur babies with allergies or sensitivities.
Some pet parents find the smell of this collar to be quite strong, but leaving it to air for a few hours before fitting it to your cat reduces the scent significantly. While the collar claims to protect against fleas for 12 months, continued exposure to water may lessen its effectiveness, so if you have an outdoorsy cat we recommend checking them every few weeks in the latter stages of the collar's lifespan to ensure that no fleas are present.
Those drawbacks aside, this is a safe and reasonably priced flea collar that's well worth a try, and with a money-back guarantee you and your wallet have nothing to lose.
MONIPGU Flea and Tick Collar
Best flea collar for cats with allergies
Available online: Yes | Waterproof: Yes | Protection time: 8 months
Smells great
Inexpensive
Great for sensitive felines
Can be difficult to adjust
Made from pure essential oils, MONIPGU Flea and Tick Collar is a great choice for moggies who suffer from skin allergies, but is suitable for all cats.
The oils are stored in the collar, and are released in low concentrations over your cat's hair and skin surface for 8 months.
If you find that your feline is particularly sensitive to other flea collars, MONIPGU could be worth considering as an affordable alternative. Some pet owners have reported an improvement in their cat's flea allergy.
There's also some really nice additional features here, including water resistance, a not too shabby 8 months protection and the scent is rather lovely. The inclusion of a flea comb too is a nice touch.
Some may find the collar difficult to adjust, while the provided instructions to loosen the product could prove its downfall for feisty felines who dislike wearing a collar.
Zodiac Breakaway Flea and Tick Collar for Cats
Best breakaway flea collar
Available online: Yes | Waterproof: Yes | Protection time: 7 months
Safety release buckle
Inexpensive
Mild smell
Not always 100% effective
Not odorless
Typically described as an affordable option that gets the job done, the Zodiac Breakaway Flea and Tick Collar for Cats provides up to 7 months of flea and tick protection.
Its key selling point is the breakaway feature. This includes a safety release buckle that breaks the collar apart in the event of an accident, such your cat being caught in a branch or fence. You can simply fix the collar back together again which is a handy feature, but some pet owners find it difficult to put the collar on in the first place owing to this functionality.
The Zodiac Breakaway Flea and Tick Collar for Cats describes itself as "odorless", however feline owners are likely to encounter more of a scent than they may expect, albeit it's a milder smell than some other flea collars on the market.
For many pet owners it's an affordable and effective collar, but, as its typically paired together with other products, it can be difficult to judge whether the product performs well on its own. While some pet owners find it highly effective, others have found a few ticks in places.
How to choose the best flea collar
Trying to decide on the best flea collar for your cat is a bit like trying to decide between that VW and Bugatti we mentioned earlier, so it pays to consider what features are most important to you and your cat first.
When it comes to eradicating parasites, there are two types of collar. Repellent collars are designed to repel fleas, ticks and lice when they come into contact with your cat. These are usually made from non-toxic ingredients and are a good option if your cat doesn't have a current flea infestation or if they have allergies, but they won't kill parasites. Treatment collars are much stronger and designed to kill both existing parasites that are hitching a ride on your cat's coat and any newcomers that decide they want to join the party. They are a great option if you need to get rid of fleas fast, but their active ingredients are much stronger and more toxic than repellants.
If your cat is the Rambo of the feline world and prefers stalking prey in long grass than snoozing on the couch then you'll want to consider a collar with a good breakaway safety mechanism to ensure that they can give their collar the slip if they get themselves in a pickle. A waterproof collar is also worth the investment if you have a nature lover on your hands or if you have one of those rare kitties who enjoys the luxury of an at-home spa experience complete with a five-star flea shampoo, rinse and blow-dry treatment.
When it comes to outdoor cats, you'll be wanting to think about a collar that repels or treats against a wide range of parasites, including fleas, ticks, lice, and mosquitoes, whereas flea protection may be all that's needed for indoor cats. The length of a collar's effectiveness is also worth weighing up, especially against your budget. Some collars may cost more initially but offer longer-term protection, while cheaper options may become less effective as the life of the collar goes on. Finally, to save you having to measure up, look for a collar that is adjustable and will fit all cats.
As always, if you're unsure on what collar best suits your cat's specific needs and lifestyle, speak to your veterinarian, who will be able to advise you on the best options. And with any new collar, we recommend that you monitor your cat for the first few days to make sure they don't have any adverse reactions to the ingredients.
How do flea collars work for cats?
Flea collars are generally a safe and affordable way to prevent pesky parasites from invading your feline's fur but how do they work and what's the alternative?
Flea collars either emit a toxic gas or release a substance that spreads throughout the layers of the animal's skin. Some cheaper options only kill fleas that are close in proximity to the collar, while some flea collars for cats can offer whole body protection.
Alternatives include oral flea treatments, topical flea treatments, natural insect control treatments, such as a spray, or setting up a regular hygiene routine to target and kill fleas, including frequently washing your cat bed and vacuuming.
Some pet owners choose to create their own DIY flea treatments or regularly comb or bathe their cat - typically an unpopular choice for cat who hate baths!
Why cats and dogs need a different flea treatment
If you have multiple pets in your household it may be tempting to use the same flea product on your cat as you do your dog, particularly when looking to save money.
However, you may be putting your pets at risk if you do so. If all pets in your household have fleas it's important to seek individual treatment as using a dog flea treatment on your cat can cause side effects such as drooling, difficulty breathing and diarrhea.
This is because there's different chemicals in each flea treatment. A dog's flea treatment often includes a chemical called permethrin, safe for dogs but harmful to cats.
When treating your dog, look to keep an eye on cats to ensure they don't lick or rub against the treated area. If your feline does come in contact with a dog's flea treatment, contact your veterinarian immediately.
If you're in any doubt about your pet's flea treatment, particularly following the Seresto flea collar allegations, the U.S EPA, Environmental Protection Agency, has issued this guidance:
"The agency's immediate advice to pet owners is to talk with their veterinarian before using any pet insecticide to find out what the vet recommends, read the label, and follow instructions on safe use of the product, be alert for any unexpected reaction, and report adverse reactions with as much detail as possible."
Kathryn is a freelance writer with a passion for creating health and wellness, travel and wildlife content. Originally from New Zealand, her nomadic lifestyle has her currently fur baby-less. She scratches her pet parent itch by stealing frequent cuddles with any neighbourhood cat kind enough to indulge her.
Get the best advice, tips and top tech for your beloved Pets
Thank you for signing up to Petsradar. You will receive a verification email shortly.
There was a problem. Please refresh the page and try again.