Best flea treatments for cats: Rid your kitty of pesky parasites
From topicals to collars and everything in between, the best flea treatments for cats will keep your kitty critter-free and comfortable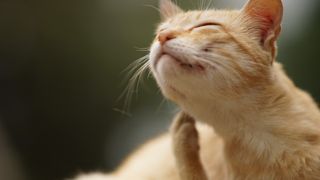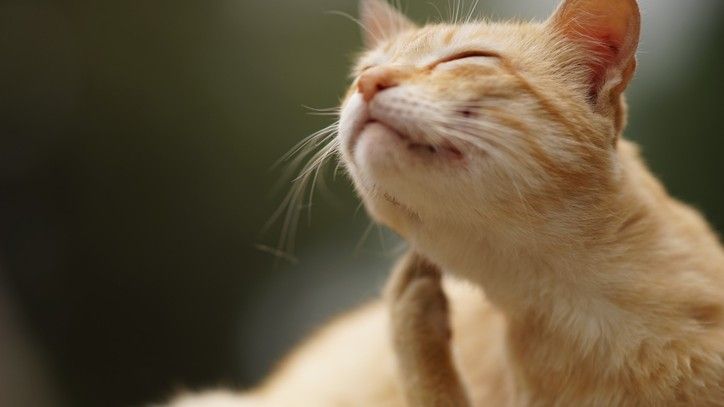 (Image credit: Getty)
The best flea treatments are worth their weight in gold. After all, nobody wants to see pesky parasites posing a health risk for our feline friends. Trouble is, it is so easy for cats to pick up fleas and yet there are so many treatments to choose from. When you want to act fast, you need to know which options are going to be most effective.
There are certain tell-tale signs that your cat has fleas. Aside from general irritability, your cat may be scratching much more than usual. You might also spot mite bites or dirt on the skin or find your cat is tending to over-groom. Hair loss is another indication that you need to take swift action. If left, there is chance damage will be caused to the skin and a risk of anemia due to blood loss. Saliva could also enter any sores.
With that in mind, you need to consider two things: how to prevent fleas and how to treat any that find their way on to your kitty. As with the best flea treatment for dogs it's a good idea to try a preventative method as the first line in the battle. For this, you will find flea collars and topical treatments work best but there are advantages and disadvantages to both.
The best flea collars for cats are the least expensive option so long as your cat doesn't mind having something around their neck. Some will ooze out natural essential oils while others – the most effective – will use chemicals. They're ideal if your cat has a big issue with topical flea treatments because they don't involve placing a cold blob of liquid on the back of their neck. Collars won't treat a current infestation, though. For that, you'll need a fast acting oral flea medication.
The best topical flea treatments are very effective, though. They will protect your cat for up to 30 days and you just need to remember to apply it – perhaps set a reminder in your phone. It involves squeezing the formula out of the pipette on to the back of your cat's neck where it then finds its way into the fatty layer of the skin and spreads across the coat. These treatments are waterproof but they do cost more.
Here we look at all the possible options, from topicals to collars to medications. You will certainly be able to find something that suits your cat's current situation.
PetsRadar's pick of the best flea treatments for cats
Best overall flea treatments for cats: Frontline Plus
Best budget flea treatment: Advecta Plus
Best flea collar: Seresto Flea and Tick Prevention
Best waterless flea shampoo: Vet's Best Waterless Cat Bath
Best fast-acting flea treatment: Capstar Flea Tablets
Best for indoor cats: Advantage 40 Spot On
Best spray treatment: Vet's Best Flea and Tick Gentle-Mist Spray for Cats
Best flea treatment comb: Safari Flea Comb
Best water-based flea shampoo: Adams Plus Flea & Tick Shampoo with Precor
Best flea treatment for your home: Vet's Best Flea and Tick Home Spray for Cats
Frontline Plus
Best overall flea treatments for cats
Available online: Yes | Amazon rating: 4.5 | Treatment type: Topical
Kills fleas, ticks and lice
Easy application
Kills 98-100% of fleas within 24 hours
The triple-action formula makes for a long list of insecticides
If you're wanting the best all-round protection for your cat, then industry leader Frontline is pretty hard to beat.
What makes it stand out from other flea treatments on the market is its unique triple-action formula that not only targets fleas but also ticks and lice, a must if your cat is a lover of the great outdoors.
Frontline Plus is an easy-to-apply, waterproof formula that offers long-lasting protection. The two key active ingredients, Fipronil and (S)-Methoprene, work together to attack and kill adult fleas and their eggs and larvae.
We love that this treatment comes in ready-prepared individual applicators, meaning there's no messy blending or measuring required. All you need to do is pop two dots a few centimeters apart on your kitty's neck, and they're good to go for the next 30 days, plus the six-dose pack means that if you purchase two packs, you don't need to worry about fleas for an entire year.
And while this super-strong formula is tough on fleas, ticks and lice, it's not absorbed into your cat's bloodstream, which offers great peace of mind to you as a pet parent and makes it safe to use on kittens aged eight weeks and over.
This isn't the fastest-acting formula on the market, so if your cat has a major infestation you'll initially want to treat it with something that provides more immediate relief. Also, it uses more insecticides than other single-action products due to it providing broad-spectrum coverage so these are things to consider before purchasing.
That being said, given that Frontline Plus used to only be available for use by veterinarians, this is a product that has far more pros than cons, making it a must-have addition to your flea-treatment arsenal.
Advecta Plus
Best budget flea treatment for cats
Available online: Yes | Type: Topical | Supply: Four months
Great value for money
Contains the same active ingredients as Advantage II
Convenient and easy to use
Not suitable for cats over 9lbs
Want a powerful flea prevention treatment but can't stretch your budget to some of the bigger named brands? Then this affordable option from Advecta might just be the solution.
Utilizing the same active ingredients found in Advantage II (Pyriproxyfen & Imidacloprid) this topical treatment effectively breaks the flea life-cycle, killing adults, eggs and their larvae within 12 hours of it being applied.
Containing a four month supply, each application provides 30 days of protection and it's waterproof, so you don't have to worry about it coming off if your pet gets wet. We love that it's fragrance free too, great for kitties that aren't fond of strong smells.
Suitable for cats weighing up to 9lbs, it can also be used on kittens over the age of eight weeks as long as they weigh more than 5lbs. If you're looking for a budget topical that will get the job done, Advecta is well worth considering.
Seresto Flea and Tick Cat Collar
Available online: Yes | Amazon rating: 4.2 | Chewy rating: 90% | Sustained release: Yes | Veterinarian recommended: Yes
Eight months' protection against fleas, flea larvae and ticks
Lightweight
Non-greasy and odourless
Expensive
If you're looking for the cat equivalent of diamonds then your search is over thanks to this standout offering from the crew at Seresto.
No more worrying about having to chase your cat around the house and tackle them to the ground just to try and get a tablet down their throat because this sustained release formula will keep your cat flea-free for up to eight months.
It's super easy to attach, lightweight, adjustable, non-greasy and odorless and comes equipped with two safety features for peace of mind: a ratchet-release mechanism and a predetermined breaking point that means the collar will give way in an emergency.
The Seresto flea collar contains two active ingredients, Flumethrin and Imidacloprid, which are slowly released in low doses onto your cat's coat and into the fatty layer of their skin, killing fleas and ticks before they even have a chance to bite.
We love that, unlike topical flea treatments, the ingredients being stored in the collar and released into the skin means there's no need to worry about your cat trying to lick it off or having it wash off if your cat suddenly decides to ignore its instincts and dive into your garden's birdbath in hot pursuit of feathered prey.
While it's one of the more expensive flea collars on the market, we've also found it to be one of the most effective and, considering it only needs changing every eight months, the initial investment is cost-effective in the long run.
Vet's Best Waterless Cat Bath
Available online: Yes | Amazon rating: 4.2 | Chewy rating: 96% | Natural formula: Yes
Natural-ingredient formula
Leave-in, no-rinse foam
Safe and effective
Not suitable for long-term protection
One whiff of this shampoo and your feline fur baby will think they've died and gone to cat-spa heaven. With aloe vera to keep your cat's coat healthy, oatmeal and chamomile to soothe and calm dry, itchy skin, and Vitamin E to help combat free-radical damage from environmental pollutants, flea treatments don't get more luxurious than this.
The innovative waterless, leave-in formula means your cat can breathe a sigh of relief knowing this hair treatment won't have them going anywhere near a bath. Apply the foam to your cat's coat, comb through and then let the product take care of the rest.
This fast-drying shampoo kills fleas and ticks on contact, as well as their eggs and larvae and we love that it's all done naturally without the long list of harsh ingredients many flea treatments contain, making it a great choice for cats with sensitive skin and pet parents who don't want toxic chemicals on their pet.
While we love this natural formula, there are some drawbacks. This isn't a long-lasting treatment, so if you're after year-round flea protection for your cat, you'll have to apply this every few weeks. Some cats may not like the addition of essential oils such as peppermint and cloves, so we'd recommend monitoring your cat after the first application to see how they react.
If you're looking for a flea treatment that's quick, easy to use, effective, with natural ingredients and no need to bathe or use water, then this shampoo is worth a go.
Capstar Flea Tablets
Best fast-acting flea treatment
Available online: Yes | Amazon rating: 4.3 | Chewy rating: 89%
Proven to start killing fleas within 30 mins
Effective relief in one dose
Safe for pregnant and nursing cats and kittens over 2lb in weight
No long-term protection so best used in conjunction with other flea-control products
If your precious fur baby is scratching like crazy and looking more than a little forlorn, relief is just 30 minutes away thanks to this fast-acting formula from Capstar.
We love that this product gets to work immediately and kills up to 90% of adult fleas in just six hours. It's safe to administer one dose every 24 hours, which is fantastic if your cat has a major infestation and its suitability for all cats over the age of four weeks from 2lbs to 24lbs in weight, makes it a great product to have on standby for treating all the feline members of your family.
This oral formula is a great alternative to topical treatments and collars, which can cause skin reactions in some cats, and if trying to pry your fur baby's mouth open requires a herculean amount of strength on your part, then don't worry; this is a great product to crush up and add to your cat's food, making life a whole lot easier for both of you.
One of the huge pluses with this formula is that it works its way out of your cat's system much faster than topical treatments, meaning your much-loved companion is exposed to pesticides for a much shorter window of time. Capstar also chooses to use Nitenpyram as its active ingredient, an insecticide that has been proven to be lower in toxicity for animals than other commonly used insecticides.
While this product isn't a replacement for a long-acting treatment, it's great if you're after something short-term to provide your cat with immediate relief. As Capstar only kills adult fleas and not their eggs or larvae, once you've given the first dose, try pairing Capstar with a product such as Frontline or Advantage, so you're not only getting rid of the current outbreak but also preventing future ones.
Advantage 40 Spot On
Available online: Yes | Amazon rating: 4.4 | Chewy rating: 92% | Treatment type: Topical
Kills fleas in all life stages
Waterproof
Provides 30 days of protection
Not recommended for pregnant or nursing cats
If your pint-sized pal is more introverted housecat than cat about town, Advantage is a great option. Unlike Frontline, which provides added protection against lice and ticks, and Capstar, which is fast-acting but not long-lasting, Advantage offers a more targeted approach by focusing solely on fleas, killing them within 12 hours and keeping them gone for up to 30 days. It's a great option for cats who prefer the creature comforts of home to the great outdoors.
This easy to apply formula starts working immediately and the fact it's completely waterproof means you don't have to worry about it becoming less effective if your cat gets wet. We love that Advantage kills fleas on contact before they have a chance to bite, which is great if your feline fur baby has sensitive skin that tends to react to bites with rashes, blisters or swelling. The fragrance-free formula is also a real bonus for cats who have an aversion to strong scents.
As well as killing 98 to 100% of fleas in 12 hours, it also kills 99% of flea larvae within the first 20 minutes of application, and any new fleas that land on your cat in the 30 days between applications will be killed within two hours.
This product is available in a variety of doses, so make sure you weigh your cat first to ensure you're purchasing the correct one. If your cat enjoys time indoors and out then Advantage, which doesn't offer the same broad-spectrum protection as other brands on the market, may not be the best choice. But, if your furry four-pawed feline rarely leaves your side, Advantage is an affordable option from a reputable brand.
If you're after a gentle, non-toxic spray that is safe for the home, the Vet's Best Cat Flea & Tick Gentle-Mist Spray is ideal. Specially formulated with natural plant-based ingredients, this spray contains peppermint oil and eugenol from clove plants to kill flea eggs and ticks on contact.
It's easy to use with just one continuous press to spray directly onto any infested feline. You can control the spray option from steam to mist, and it can even be used upside down which is handy for those hidden places. Once sprayed, simply massage it into your cat's coat so that it penetrates the skin and will work more effectively. Moreso, it's water-based and non-staining so you can use it on surfaces that your cat sits on, without making a mess.
This is particularly safe to use on cats 12 weeks or older, and you can use indoors around the home and family. It might be worthwhile to do a test spray one hour before giving your kitty the full treatment, just in case of any sensitivities. Of course, if your cat does have an adverse reaction to the spray (even to natural ingredients!), seek medical advice immediately.
The fact that it is non-toxic and doesn't contain any harmful chemicals or perfume is a bonus. Although, if you're not a huge fan of lavender, you may not appreciate the strong aroma. In any case, at least you should have a fresh-smelling (and calm) cat!
Overall, the Vet's Best Flea and Tick Gentle-Mist Spray for Cats is an effective, non-toxic, flea treatment that's easy to use and will tackle the problem quickly. It's also great value for money, so won't break the bank.
Vet's Best Flea and Tick Gentle-Mist Spray for Cats
Best flea spray treatment
Available online: Yes | Amazon rating: 4.1 | Chewy rating: 93%
100% certified plant-based formula
Safe to use indoors and outdoors
Easy direct spray application
Good price
Sensitivity may occur after use
Safari Flea Comb
Best budget flea treatment
Available online: Yes | Amazon star rating: 4.8 | Chewy rating: 97% | Veterinarian recommended: Yes
Tightly packed teeth
Suitable for all coat types
Contoured handle to match your grip
Not suitable for tangle removal
So spending your Sunday afternoon combing your cat's coat to remove fleas might not exactly be what you have in mind when you think about living your best life, but if you're looking for an affordable option, it's the clear winner.
While adding a high-quality cat flea comb to your flea-treatment arsenal might not feel like a workable solution at first glance, it's a great way to prevent flea infestations before they have a chance to take hold.
We love this superstar of a comb from Safari for its durability and ease of grip, and the sturdy stainless steel teeth work beautifully on both short and long-haired cats. It's great for cats of all ages, which is perfect if you have a kitten who's still too young for topical treatments, and the tightly packed teeth help you to trap and spot fleas and their eggs with ease.
Available in two variations, we recommend the single row of teeth for short-haired cats and the double row for cats with long hair where a little extra help getting through the coat is required.
Unlike chemical flea treatments, using a flea comb does require a daily commitment so you might want to consider using the comb in conjunction with other methods. If your cat is prone to tangles you'll also want to remove these with an appropriate brush first before using the comb so that your fur baby isn't in any discomfort.
If you're happy spending time each day helping your cat groom their way to gorgeousness while getting rid of those unwelcome hitchhikers, then this is a cost-effect way to prevent fleas that will have your cat rolling over and purring with contentment.
Adams Plus Flea & Tick Shampoo with Precor
Best water-based flea shampoo
Available online: Yes | Scent: Coconut | Size: 12 ounces
Affordable
Great for sensitive skin
Proven effective
Some people find the scent overwhelming
Another great option if you're after a shampoo is this formula from Adams which contains an insect growth regulator that has been proven to kill and prevent flea development for up to 28 days.
Effective against fleas, ticks, eggs, larvae, and lice, this rich and creamy sensitive skin shampoo contains soothing aloe, lanolin and oatmeal, and is safe for use on cats and kittens over the age of 12 weeks.
To use, simply wet your kitty with a few tablespoons of warm water and then lather the shampoo before letting it sit on your feline for five minutes to work its magic. It's safe and gentle enough to be used every 7-10 days.
Vet's Best Flea and Tick Home Spray for Cats
Best flea treatment for your home
Available online: Yes | Amazon star rating: 4.5 | Treatment type: Spray
Very effective against fleas
Made from plant extracts
Can even be applied to cats
You'll need to let it dry
When treating your cat for fleas, it's also important that your home is also clear of such critters. That way, you can ensure the pesky parasites are not hanging around, ready to leap on to your feline companion, as soon as the treatment looks like it's wearing off. It also means you can also stop the fleas from causing you to itch too!
One of the best ways of keeping fleas under control in your home is to whip out the vacuum cleaner and that should always be the first line of defence while your cat is being treated. But for longer-lasting protection, this spray is sure to come in handy too. It'll kill fleas as well as their larvae and eggs and it will do so using certified natural oils extracted via steam distillation.
Unlike some other sprays, you don't need to worry that your cat's health will be adversely affected; in fact, it's so gentle you can even spray this solution direct on to any kitties over 12-weeks-old. That said, you should ensure the room is well aired before spraying but the good news is that it's designed to be non-staining so you don't need to word about your upholstery and carpets. It's also relatively inexpensive, making it a perfect purchase for ongoing protection.
How to choose the best flea treatment for cats
When it comes to flea control there's no better medicine than prevention, but with not all flea treatment products being of equal quality you'll want to make sure you're choosing the safest option available.
There are several factors to consider to help you make the best choice for your cat, including lifestyle, age and breed. Outdoor cats are more likely to pick up fleas, ticks and lice than indoor cats, so a product that addresses all of these possibilities is worth the investment.
Some products have restrictions on them so when selecting a product, ensure it's age-appropriate for your fur baby and also check the weight range to make sure you're administering the right dosage.
The length of your cat's coat can also influence the type of treatment you use and which products will be most beneficial. If you have multiple cats, then products that offer affordability may well be the way to go.
Another factor to consider is the type of treatment you'd most prefer to use. There are a range of options from topical preventives, flea collars and oral treatments to flea shampoos, sprays and combs. We recommend combining a fast-acting, but short-term treatment, with a longer-lasting one and products such as combs with flea collars or topical preventives to ensure your cat is adequately protected.
Finally, the best flea treatments for cats are formulated differently to dog flea treatments and these are not interchangeable so always choose a product labeled specifically for cats and if unsure about what to purchase, speak to your veterinarian who can advise you on the best flea treatment for your kitty.
Kathryn is a freelance writer with a passion for creating health and wellness, travel and wildlife content. Originally from New Zealand, her nomadic lifestyle has her currently fur baby-less. She scratches her pet parent itch by stealing frequent cuddles with any neighbourhood cat kind enough to indulge her.
Get the best advice, tips and top tech for your beloved Pets
Thank you for signing up to Petsradar. You will receive a verification email shortly.
There was a problem. Please refresh the page and try again.