Best flea treatment for dogs: Protect your pooch from parasites
By Susan Arendt published
The best flea treatment for dogs will keep your canine companion happy, healthy, and free of pesky parasites
Included in this guide:
1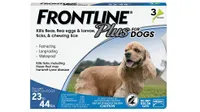 Frontline
Plus
2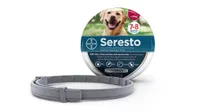 Seresto
Flea and Tick Collar
3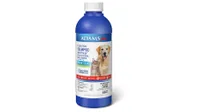 Adams
Plus Flea and Tick Shampoo
4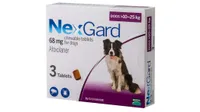 NexGard
5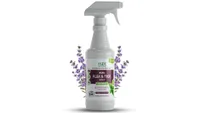 Zuba
Flea and Tick Spray
6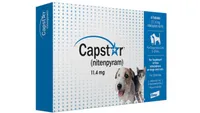 Capstar
Flea Oral Treatment for Dogs
7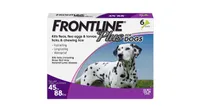 Frontline
Plus Flea & Tick Spot Treatment for Large Dogs
8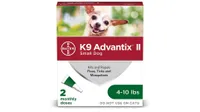 K9
Advantix II Flea and Tick Prevention for Small Dogs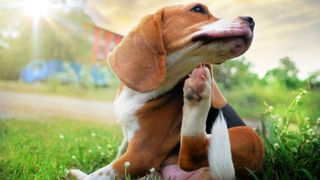 (Image credit: Getty)
When it comes to the best flea treatment for dogs, you're spoilt for choice with a great selection of effective options. From flea collars and topical treatments, to tablets and shampoos, there's a method to suit every hound and home. But with so much choice, how do you know which one is right for your fur baby?
Well, the good news is, that's what we're here to help with! There's plenty of debate among pet parents and professionals as to whether the best flea collar for dogs is preferable to a topical treatment and whether sprays and shampoos are adequate on their own, so let's dive into those issues and take a closer look.
Just like the dilemma facing feline pet parents when trying to choose between the best flea treatments for cats, dog owners often find themselves trying to decide which flea treatment is better: a flea collar or a topical. You'll be relieved to know that there really is no right or wrong answer here as both come with their own advantages and disadvantages.
The biggest reason for choosing a topical is that they both prevent fleas and treat current infestations, whereas a flea collar can only prevent parasites. Topicals are also easy to apply, but they only last for 30 days and they can be very expensive.
On the other hand, flea collars are relatively inexpensive, and can offer a whopping eight months of protection. But they're only a good option if your pup is already flea-free. If they currently have an outbreak of unwelcome hitchhikers taking up residency in their fur, you'll want to pair the collar with a flea medication for dogs. Once the infestation has cleared, you can use the flea collar on its own.
Both topicals treatments and flea collars are an excellent choice, so it really is a matter of preference. However, when it comes to sprays and shampoos, we don't recommend you rely on either of these as your single weapon in the fight against fleas. While both are cheap and convenient, they're nowhere near as effective as topicals and collars, so if you're going to use them, it's best to pair them with a harder-hitting treatment.
If you're unsure about which flea treatment is right for your forever friend, speak to your vet who will be able to offer advice and guidance on the appropriate course of action. To help you get started, we've rounded up our favorite flea treatment for dogs, with a variety of options to suit every budget.
PetsRadar's pick of the best flea treatment for dogs
Best overall flea treatment for dogs
Specifications
Usage:
both fleas and ticks
Reasons to buy
+
Easy to use
+
Waterproof
+
Recommended by vets
+
Kills ticks
Reasons to avoid
-
Can be expensive
-
Contains chemical pesticides
Topical flea treatments are typically applied once a month to a dog's back or neck, and can provide weeks of protection against flea infestations. Usually effective against both fleas and ticks, their efficacy and how well they are tolerated by dogs depends on the active ingredients.
Frontline Plus is our pick for best flea treatment for dogs because it is easy to use, safe for dogs of almost all sizes, effective at killing both fleas and ticks at all stages of life, and waterproof (after 24 hours).
While some flea treatments are either effective or easy to use, Frontline Plus has been a veterinarian-recommended flea and tick treatment for years for its combination of effectiveness, ease of use and being well-tolerated by dogs.
Frontline Plus is a monthly, topical liquid that's one-and-done for up to 30 days of protection against both flea and tick infestations. Frontline Plus contains two separate active ingredients that, combined, kill fleas and ticks and their eggs and larvae for up to 30 days with one application. If your dog doesn't like to be fussed with, the once-a-month dosage is a boon.
Frontline Plus begins killing fleas after four hours, and within 12 hours kills 100% of fleas on contact, so a flea doesn't have to bite your dog to be affected. However, the chemicals are hazardous to humans, so it's important to avoid touching freshly-applied Frontline. Application on dogs with long-hair coats is more difficult than on smooth coat pups, as it's important to get the solution close to the dog's skin.
Advantix kills more insects than Frontline, proving lethal to mosquitos and lice in addition to fleas and ticks, but it's more expensive – up to 30% more than Frontline Plus. Whether that extra coverage is worth it to you will depend largely on your environment and the likelihood that your dog will encounter mosquitos or lice often enough to warrant the prevention.
Seresto Flea and Tick Collar
Best budget flea treatment for dogs
Specifications
Usage:
both fleas and ticks
Reasons to buy
+
Easy to use
+
Waterproof
+
Lasts 8 months
Reasons to avoid
-
Contains chemical pesticides
-
Should not be combined with other flea treatments
Flea collars offer a more budget-friendly way to protect your pup against flea infestations. As their name implies, they're worn around a dog's neck, though they're not intended to act as a replacement for a tag-displaying collar.
Our pick for best flea collar, the Seresto Flea and Tick Collar by Bayer, offers eight months of protection with one application. And at a cost close to that of six months of topical treatments, Seresto can save you money. Applying it is as easy as putting the collar on your dog and leaving it there.
Seresto differs from most flea collars in its design. Made from a unique polymer matrix, it releases low levels of its active ingredients over long periods of time, maintaining its effectiveness for up to eight months. It starts killing fleas within 24 hours and controls them at all stages of its lifecycle.
Seresto is odorless, non-greasy, and kills fleas on contact, so they don't have to bite your dog for it to work. Seresto is water-resistant, so it can be worn during baths or for swimming, although frequent exposure to water can reduce its length of effectiveness. Dog owners worried that a collar might catch or choke their pup will be pleased to know that Seresto features a two-way release safety feature. It also features visibility reflectors to help keep your dog safe at night.
If your dog has a thick, fluffy coat, a flea collar needs to be adjusted to get close enough to your dog's skin so it can be most effective. One other caveat is while other treatments provide a monthly reminder to maintain your pup's medication, it's easy to lose track of how long your pup has been sporting its current collar. With a little extra vigilance (or at least a note on your calendar), a flea collar is an excellent, budget-friendly way to keep your dog flea-free.
Adams Plus Flea and Tick Shampoo
Best shampoo flea treatment for dogs
Specifications
Usage:
Both fleas and ticks
Reasons to buy
+
Contains soothing ingredients
+
Kills fleas and ticks in all life stages
+
Lasts for up to 28 days
Reasons to avoid
-
Not safe for puppies under 12 weeks of age
If you're looking for a shampoo that will kill fleas, ticks, lice, and their eggs on contact but still be gentle on your furkid's skin and coat, then this formula from Adams is a great choice.
Designed for sensitive skin but suitable for all skin types, it has a rich and creamy texture for the perfect lather and it comes packed full of aloe vera, lanolin, and oatmeal to soothe the skin.
Containing an insect growth regulator that kills and prevents flea development for up to 28 days and it's infused with coconut oil for a clean and fresh scent. We love that this shampoo is safe for use on both dogs and cats (great if you have a multi-pet household!) and is suitable for ages 12 weeks and up.
As well as killing parasites, this deeply conditioning shampoo is also ideal for removing dandruff, dirt, and scales, and depending on the size of your pet, you'll only need to use 1-2 tbsps per wash, so the bottle should last you a good while.
Best easy to use flea treatment for dogs
Specifications
Usage:
both fleas and ticks
Reasons to buy
+
Easy to use
+
Lasts 30 days
+
No mess
Reasons to avoid
-
Contains chemical pesticides
-
Expensive
-
Not suitable for dogs under 4lbs or puppies under eight weeks
It always feels like you're getting away with something when you trick your dog into thinking their medicine is a treat, but we can live with the guilt. Chewable flea treatments for dogs provide a mess-free option that your dog will genuinely enjoy and can last as long as (or longer than) other treatments. The downside is they can be expensive and can have more frequent side effects than other types of flea medications.
Our pick for the best chewable flea treatment is NexGard. NexGard is effective at killing adult fleas before they can lay eggs and it comes in a beef flavor that most dogs seem to like, making it one of the easiest flea treatments to apply.
The trade-off for that ease of use is a laundry list of possible side-effects. Because your dog is digesting the treatment, side-effects include vomiting, diarrhea, lethargy, and loss of appetite.
The only real way to know how your dog will react to NexGard is to give it to them and observe their behavior over the next 24-48 hours. Any negative reaction is usually temporary, but talk to your vet about it should you see any symptoms. NexGard is veterinarian-recommended and FDA-approved.
Best for your house
Specifications
Usage:
both fleas and ticks
Reasons to buy
+
All-natural ingredients
+
Pleasant smell
+
Acts fast
Reasons to avoid
-
Requires massaging into fur
-
Not long lasting
-
Odor can be strong
Once your dog has passengers, so does your house. Fleas can spread to your dog's bedding, the carpet and even your clothes. Flea sprays let you target specific areas around the house, as well as your actual pooch. Sprays can be an effective way to rid dogs of fleas and ticks immediately.
Our pick, Zuba Flea and Tick Spray, contains no pesticides, only all-natural essential oils, making it an extremely safe option for dogs of all sizes. Zuba is applied by spraying onto your dog, then massaging against the grain to ensure the product reaches the skin. It can effectively repel fleas, ticks, and mosquitos before they bite, without exposing your dog to harsh chemicals or pesticides.
The downside is that it's not nearly as effective as other treatments so, much like flea shampoo, this isn't the best choice for ongoing flea prevention. However, if you don't want to replace your dog's bedding or favorite blankie after every infestation, flea spray is a solid fix.
Capstar Flea Oral Treatment for Dogs
Best oral flea treatment for dogs
Reasons to buy
+
Starts to work within 30 minutes
+
Safe for puppies
+
Kills adult fleas within 4 hours
+
Tiny and easy to swallow
Reasons to avoid
-
Only 6 tablets
-
Slightly pricey
If you're after a flea treatment for dogs that is fast-acting and will provide instant relief to your pooch, these Capstar Flea Tablets for Dogs are ideal. Formulated with the active ingredient of Nitenpyram, this makes them highly effective in getting rid of fleas in dogs. These fast-acting tablets start to work in just 30 minutes, and have a 90% success rate in killing adult fleas in four hours.
The tablets are small and easy-to-swallow which makes them suitable to give to puppies four weeks and older. And while they may be tiny tablets, a single dose is strong enough to get rid of any parasite infestation in minutes. This should relieve the unpleasant scratching and discomfort your canine companion is experiencing. But they are also safe to give daily should your pooch get infested again.
The Capstar Flea Tablets for Dogs are slightly more expensive than other treatments on the market, and you only get six in a pack. However, these tiny tablets are fast-acting and provide long-lasting protection, making it a worthwhile purchase.
Frontline Plus Flea & Tick Spot Treatment for Large Dogs
Best flea treatment for large dogs
Specifications
Usage:
Both fleas and lice
Reasons to buy
+
Fast-acting and long-lasting
+
Specifically formulated to help disrupt the life cycle of fleas
+
Waterproof
+
Simple application
Reasons to avoid
-
Can leave greasy residue on fur
-
Expensive
If your canine companion is on the larger size, then the Frontline Plus Flea & Tick Spot Treatment for Large Dogs is ideal. Specially formulated for dogs weighing 45 to 88 pounds, this fast-acting treatment will kill adult fleas, flea eggs, flea larvae, chewing lice and ticks.
The long-lasting effects are due to its two active ingredients, fipronil and (S)-methoprene, that effectively disrupts the life cycle of fleas and prevents future infestations.
It's simple to use with one application directly onto your canine companion. Part your dog's hair between the shoulder blades, place the tip of the applicator above the skin and squeeze the contents of the applicator in a single spot. It's advisable not to apply on top of the haircoat, and to avoid contact until dry. Another bonus is it's waterproof, so you don't have to worry about reapplying if your pooch gets wet.
Although the treatment lasts for 30 days, you can always reapply afterwards for that extra protection against pesky fleas and parasites. You can buy from three doses up to eight doses for an 8-month supply.
One downside mentioned by a few customers is the treatment can leave a greasy residue on fur. But this will easily come off in a day or two. It's also worth noting that it is rather expensive compared to other treatments. However, the Frontline Plus Flea & Tick Spot Treatment for Large Dogs is an effective, fast-acting, flea treatment that's easy to use and will quickly solve your pup's discomfort. Which makes it a worthwhile investment.
K9 Advantix II Flea and Tick Prevention for Small Dogs
Best flea treatment for small dogs
Specifications
Usage:
Fleas, ticks and mosquitoes
Reasons to buy
+
Scent free
+
Starts working within 12 hours
+
Kills fleas, ticks and mosquitoes
If you have a pint-sized pooch weighing between 4-10 pounds, then this topical treatment from Advantix is well worth considering. Easy to apply and offering 30 days of protection, this formula starts working within 12 hours of application, killing fleas, ticks, and mosquitoes on contact.
We love that this treatment is waterproof after 24 hours, so it's a great choice if your little one likes getting wet. The only downside is that unlike some brands that contain three applications, you'll only get two in this pack, although this is factored into the price, so don't worry, you won't be paying more for less!
All-in-all, this is a really great topical treatment for small dogs from a reputable and well reviewed brand. Oh, and did we mention it's vet-recommended? Great for giving you peace of mind that you're using a safe and effective formula on your furkid.
How to choose the best flea treatment for your dog
Flea treatments for dogs come in a variety of application types, length of effectiveness and ingredients. To choose the best treatment for your dog, start with what's most important to you. Things like budget, ease of use and the need for ongoing protection can all be factors in what makes a flea treatment the best for you and your dog. If you live in the city center, you may only need sporadic coverage, as opposed to someone living in a more rural area who wants to prevent fleas all year round.
Before you give your dog any kind of medication, talk to your vet to get their advice. If your dog already has a sensitive stomach, a chewable flea treatment may not be a wise choice. Similarly, if your pup suffers from skin problems, a topical treatment may make their condition worse.
It's also vital to match the treatment to your dog's weight. Using a dosage intended for a larger dog on a puppy could make them sick, or even kill them. Some flea treatments for dogs are also not suitable for cats, so if you have a mixed household, check with your vet. No matter which treatment you use, always use it exactly as directed.
Ultimately, the best flea treatment for your dog will be the one that successfully kills fleas. It's that simple. That may require some testing, but with an array of options to choose from, you will undoubtedly find a solution that's best for you and your dog.
Susan Arendt is a writer and editor with more than two decades of experience from companies including AOL, Conde Nast, and The New York Times. She currently resides in North Carolina with three dogs (Alice, Bridget, and Chloe) who, frankly, run her life.
Get the best advice, tips and top tech for your beloved Pets
Thank you for signing up to Petsradar. You will receive a verification email shortly.
There was a problem. Please refresh the page and try again.