Best flea treatment for dogs 2023
Explore some of the best flea treatment for dogs, featuring expert insights from vet Dr. Hannah Godfrey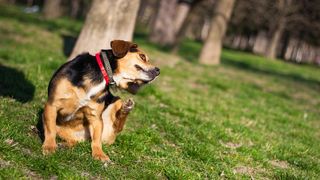 (Image credit: Getty)
Keeping your canine companion free from fleas is part of being a responsible pet owner and this is why knowing about the best flea treatment for dogs is beneficial.
Fleas aren't just an itchy irritation for your dog and your family, if your dog is allergic to their saliva, they can cause severe itchiness, self-trauma, sore skin, and infection. Large numbers of fleas can cause anemia, and fleas can also be responsible for spreading pathogens and parasites, like tapeworms and even the plague.
Therefore, for your dog's comfort and health, it's really important to give them regular treatment to prevent fleas and check their fur regularly for signs that they are harboring uninvited guests. Once there are fleas on your dog or in your home, it can require a serious commitment to banish them again, so prevention is better than cure.
As a vet, I see many pet parents who don't treat their dogs for fleas regularly because they don't find it easy to give them tablets, or because they have reacted to a product in the past. The pet care market is packed with products for specific canine health issues such as the best dog food for allergies. Thankfully, there are many different types of dog flea treatments available, from tablets and chews to spot-ons and medicated collars. So, with the help of this article and your veterinarian, you're sure to be able to find one that suits you and your furry friend
Dr. Hannah Godfrey BVetMed MRCVS
Dr Hannah Godfrey is a small animal vet who graduated from the Royal Veterinary College in 2011 and began work straight away at a busy mixed practice. Initially, she treated all species, but focussed on small animals from 2014. She has a passion for soft tissue surgery, ultrasound, and canine and feline dentistry, having completed additional training in these areas.
PetsRadar's pick of the best flea treatment for dogs
Why you can trust PetsRadar Our expert reviewers spend hours testing and comparing products and services so you can choose the best for you. Find out more about how we test.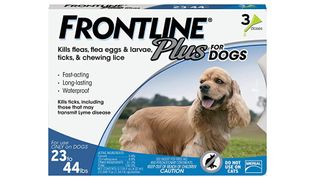 Best overall flea treatment for dogs
Specifications
Usage:
both fleas and ticks
Reasons to buy
+
Easy to use
+
Waterproof
+
Recommended by vets
+
Kills ticks
Reasons to avoid
-
Can be expensive
-
Contains chemical pesticides
Topical flea treatments are typically applied once a month to a dog's back or neck, and can provide weeks of protection against flea infestations. Usually effective against both fleas and ticks, their efficacy and how well they are tolerated by dogs depends on the active ingredients.
Frontline Plus is our pick for best flea treatment for dogs because it is easy to use, safe for dogs of almost all sizes, effective at killing both fleas and ticks at all stages of life, and waterproof (after 24 hours).
While some flea treatments are either effective or easy to use, Frontline Plus has been a veterinarian-recommended flea and tick treatment for years for its combination of effectiveness, ease of use and being well-tolerated by dogs.
Frontline Plus is a monthly, topical liquid that's one-and-done for up to 30 days of protection against both flea and tick infestations. Frontline Plus contains two separate active ingredients that, combined, kill fleas and ticks and their eggs and larvae for up to 30 days with one application. If your dog doesn't like to be fussed with, the once-a-month dosage is a boon.
Frontline Plus begins killing fleas after four hours, and within 12 hours kills 100% of fleas on contact, so a flea doesn't have to bite your dog to be affected. However, the chemicals are hazardous to humans, so it's important to avoid touching freshly-applied Frontline. Application on dogs with long-hair coats is more difficult than on smooth coat pups, as it's important to get the solution close to the dog's skin.
Advantix kills more insects than Frontline, proving lethal to mosquitos and lice in addition to fleas and ticks, but it's more expensive – up to 30% more than Frontline Plus. Whether that extra coverage is worth it to you will depend largely on your environment and the likelihood that your dog will encounter mosquitos or lice often enough to warrant the prevention.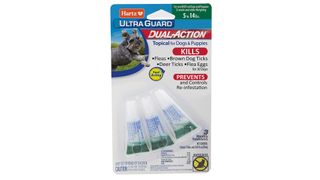 Hartz UltraGuard Dual Action Flea & Tick Topical Dog Treatment
Best budget flea treatment for dogs
Reasons to buy
+
Super affordable
+
Fast acting
+
Suitable for puppies over 12 weeks
Reasons to avoid
-
Ineffective against lice and mosquitoes
Topical treatments can be really expensive and when you consider that you have to reapply them every 30 days, the cost can soon add up. Thankfully, Hartz have created an incredibly affordable three-pack that you can pick up for under $6 - now that's what we call a bargain!
Effective against fleas and ticks, this topical treatment gets to work fast, killing any parasites on your dog's coat in just 15 minutes and preventing future outbreaks. It's waterproof 48 hours after application and can be used on puppies and dogs over the age of 12 weeks and weighing more than 5 lbs.
While some pet parents report that this formula from Hartz isn't as effective as a brand like Frontline, others say they've had overwhelming success with this topical. Given how affordable it is, we feel it's well worth a shot if you're looking for an affordable way to keep fleas at bay.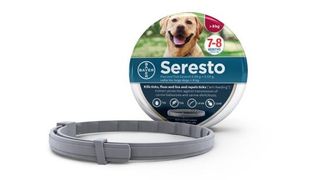 Seresto Flea and Tick Collar
Best flea collar flea treatment for dogs
Specifications
Usage:
both fleas and ticks
Reasons to buy
+
Easy to use
+
Waterproof
+
Lasts 8 months
Reasons to avoid
-
Contains chemical pesticides
-
Should not be combined with other flea treatments
Flea collars offer a more budget-friendly way to protect your pup against flea infestations. As their name implies, they're worn around a dog's neck, though they're not intended to act as a replacement for a tag-displaying collar.
Our pick for best flea collar, the Seresto Flea and Tick Collar by Bayer, offers eight months of protection with one application. And at a cost close to that of six months of topical treatments, Seresto can save you money. Applying it is as easy as putting the collar on your dog and leaving it there.
Seresto differs from most flea collars in its design. Made from a unique polymer matrix, it releases low levels of its active ingredients over long periods of time, maintaining its effectiveness for up to eight months. It starts killing fleas within 24 hours and controls them at all stages of its lifecycle.
Seresto is odorless, non-greasy, and kills fleas on contact, so they don't have to bite your dog for it to work. Seresto is water-resistant, so it can be worn during baths or for swimming, although frequent exposure to water can reduce its length of effectiveness. Dog owners worried that a collar might catch or choke their pup will be pleased to know that Seresto features a two-way release safety feature. It also features visibility reflectors to help keep your dog safe at night.
If your dog has a thick, fluffy coat, a flea collar needs to be adjusted to get close enough to your dog's skin so it can be most effective. One other caveat is while other treatments provide a monthly reminder to maintain your pup's medication, it's easy to lose track of how long your pup has been sporting its current collar. With a little extra vigilance (or at least a note on your calendar), a flea collar is an excellent, budget-friendly way to keep your dog flea-free.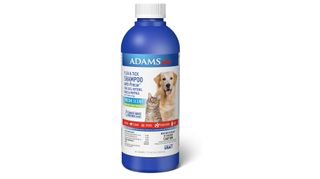 Adams Plus Flea and Tick Shampoo
Best shampoo flea treatment for dogs
Specifications
Usage:
Both fleas and ticks
Reasons to buy
+
Contains soothing ingredients
+
Kills fleas and ticks in all life stages
+
Lasts for up to 28 days
Reasons to avoid
-
Not safe for puppies under 12 weeks of age
If you're looking for a shampoo that will kill fleas, ticks, lice, and their eggs on contact but still be gentle on your furkid's skin and coat, then this formula from Adams is a great choice.
Designed for sensitive skin but suitable for all skin types, it has a rich and creamy texture for the perfect lather and it comes packed full of aloe vera, lanolin, and oatmeal to soothe the skin.
Containing an insect growth regulator that kills and prevents flea development for up to 28 days and it's infused with coconut oil for a clean and fresh scent. We love that this shampoo is safe for use on both dogs and cats (great if you have a multi-pet household!) and is suitable for ages 12 weeks and up.
As well as killing parasites, this deeply conditioning shampoo is also ideal for removing dandruff, dirt, and scales, and depending on the size of your pet, you'll only need to use 1-2 tbsps per wash, so the bottle should last you a good while.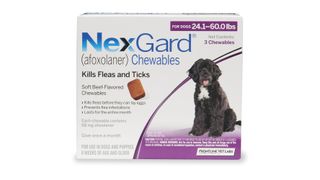 Best easy to use flea treatment for dogs
Specifications
Usage:
both fleas and ticks
Reasons to buy
+
Easy to use
+
Lasts 30 days
+
No mess
Reasons to avoid
-
Contains chemical pesticides
-
Expensive
-
Not suitable for dogs under 4lbs or puppies under eight weeks
It always feels like you're getting away with something when you trick your dog into thinking their medicine is a treat, but we can live with the guilt. Chewable flea treatments for dogs provide a mess-free option that your dog will genuinely enjoy and can last as long as (or longer than) other treatments. The downside is they can be expensive and can have more frequent side effects than other types of flea medications.
Our pick for the best chewable flea treatment is NexGard. NexGard is effective at killing adult fleas before they can lay eggs and it comes in a beef flavor that most dogs seem to like, making it one of the easiest flea treatments to apply.
The trade-off for that ease of use is a laundry list of possible side-effects. Because your dog is digesting the treatment, side-effects include vomiting, diarrhea, lethargy, and loss of appetite.
The only real way to know how your dog will react to NexGard is to give it to them and observe their behavior over the next 24-48 hours. Any negative reaction is usually temporary, but talk to your vet about it should you see any symptoms. NexGard is veterinarian-recommended and FDA-approved.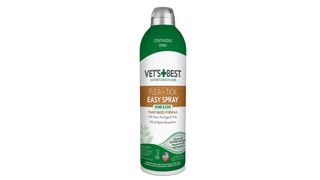 Vet's Best Flea and Tick Easy Spray
Best flea spray
Reasons to buy
+
All-natural ingredients
+
Acts fast
+
Proven effective
If you're looking for a gentle and natural way to rid both your hound and home of fleas, this formula from Vet's Best is well worth a try. It's important to remember that once your dog has fleas, so too does your house, so a flea spray is a great way to treat your bedding, carpets and clothes, as well as your pooch.
This effective formula contains certified natural essential oils and plant-based ingredients that provide a safe and fast acting formula for flea and tick removal and prevention. It will also kill flea larvae and eggs, as well as mosquitos and the mist sprayer is gentle enough to be applied to dogs and puppies over the age of 12 weeks.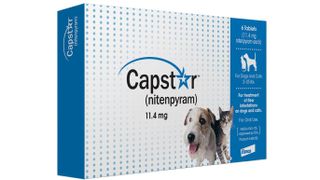 Capstar Flea Oral Treatment for Dogs
Best oral flea treatment for dogs
Reasons to buy
+
Starts to work within 30 minutes
+
Safe for puppies
+
Kills adult fleas within 4 hours
+
Tiny and easy to swallow
Reasons to avoid
-
Only 6 tablets
-
Slightly pricey
If you're after a flea treatment for dogs that is fast-acting and will provide instant relief to your pooch, these Capstar Flea Tablets for Dogs are ideal. Formulated with the active ingredient of Nitenpyram, this makes them highly effective in getting rid of fleas in dogs. These fast-acting tablets start to work in just 30 minutes, and have a 90% success rate in killing adult fleas in four hours.
The tablets are small and easy-to-swallow which makes them suitable to give to puppies four weeks and older. And while they may be tiny tablets, a single dose is strong enough to get rid of any parasite infestation in minutes. This should relieve the unpleasant scratching and discomfort your canine companion is experiencing. But they are also safe to give daily should your pooch get infested again.
The Capstar Flea Tablets for Dogs are slightly more expensive than other treatments on the market, and you only get six in a pack. However, these tiny tablets are fast-acting and provide long-lasting protection, making it a worthwhile purchase.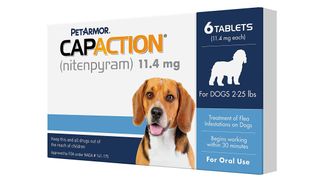 CapAction Oral Flea Treatment Small Dog
Best alternative flea treatment to Capstar
Reasons to buy
+
Safe and easy to use
+
Starts working in 30 minutes
+
Affordable six-pack
If your canine companion is currently crawling with fleas and you're looking for a fast, effective and affordable way to kick those hitchhikers to the curb, then these tablets from CapAction are just the ticket.
While rival Capstar has long dominated the market when it comes to oral flea medication, CapAction is beginning to bridge the gap, offering a product that is substantially more accessible and affordable for those on a budget while containing exactly the same ingredients.
Getting to work within 30 minutes, this pack of six tablets treats flea infestations fast and is suitable to use on puppies and dogs over four weeks of age and weighing between 2-25 lbs. Vet-recommended, CapAction is safe, easy to use and will have your hound feeling happy again in no time.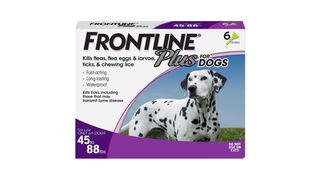 Frontline Plus Flea & Tick Spot Treatment for Large Dogs
Best flea treatment for large dogs
Specifications
Usage:
Both fleas and lice
Reasons to buy
+
Fast-acting and long-lasting
+
Specifically formulated to help disrupt the life cycle of fleas
+
Waterproof
+
Simple application
Reasons to avoid
-
Can leave greasy residue on fur
-
Expensive
If your canine companion is on the larger size, then the Frontline Plus Flea & Tick Spot Treatment for Large Dogs is ideal. Specially formulated for dogs weighing 45 to 88 pounds, this fast-acting treatment will kill adult fleas, flea eggs, flea larvae, chewing lice and ticks.
The long-lasting effects are due to its two active ingredients, fipronil and (S)-methoprene, that effectively disrupts the life cycle of fleas and prevents future infestations.
It's simple to use with one application directly onto your canine companion. Part your dog's hair between the shoulder blades, place the tip of the applicator above the skin and squeeze the contents of the applicator in a single spot. It's advisable not to apply on top of the haircoat, and to avoid contact until dry. Another bonus is it's waterproof, so you don't have to worry about reapplying if your pooch gets wet.
Although the treatment lasts for 30 days, you can always reapply afterwards for that extra protection against pesky fleas and parasites. You can buy from three doses up to eight doses for an 8-month supply.
One downside mentioned by a few customers is the treatment can leave a greasy residue on fur. But this will easily come off in a day or two. It's also worth noting that it is rather expensive compared to other treatments. However, the Frontline Plus Flea & Tick Spot Treatment for Large Dogs is an effective, fast-acting, flea treatment that's easy to use and will quickly solve your pup's discomfort. Which makes it a worthwhile investment.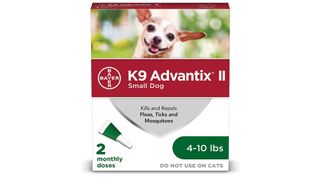 K9 Advantix II Flea and Tick Prevention for Small Dogs
Best flea treatment for small dogs
Specifications
Usage:
Fleas, ticks and mosquitoes