Best dog shampoo: Keep your pooch smelling sweet
From soothing sensitive skin to banishing unpleasant odors, the best dog shampoo comes in a range of different formulas to suit the needs of every canine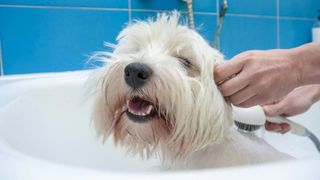 (Image credit: Getty Images)
Investing in the best dog shampoo is well worth it if you're looking for a way to keep your canine companion's coat in tip-top condition. As well as getting rid of any dirt and mud that has built up in their fur, bathing your beloved bundle of fur once every month or two will also prevent bacteria and yeast from building up on their skin and remove any dust and pollen.
But, just like when shopping for the best dog food, choosing a shampoo for your pup can feel more than a little overwhelming at times with so many products lining the shelves. The good news is, armed with a little bit of knowledge, selecting the right bottle of suds doesn't need to be a time consuming process.
The first thing you want to consider before purchasing a shampoo is how active your dog tends to be. If they tend to spend a lot of time having outdoor adventures and often wind up coming home covered in mud, dirt, twigs and leaves, then you'll likely want to choose a formula that contains ingredients like baking soda, which penetrate deep down into the coat to remove grime and odor.
Secondly, give some thought to your dog's skin type. If you notice that it tends to get quite dry and itchy, we recommend looking for a shampoo that's been specifically designed for sensitive skin. It will likely say this on the bottle itself, but, if it's not clear, look for ingredients such as honey, oatmeal, shea butter and coconut oil, all of which do a great job of reducing inflammation and soothing the skin.
While you can absolutely invest in one of the best dog conditioners to use in conjunction with your pup's new shampoo, if you're on a budget, look for a 2-in-1 formula that contains both shampoo and conditioner in the same bottle. Not only can this save you money, but it will save you time too as you won't have to worry about applying the conditioner separately.
When it comes to the question of can you use human shampoo on a dog?, it's important to note that the answer to this is a definite no. A dog's skin has a different pH level than we do, so a human shampoo will disrupt the outer layer of skin called the acid mantle. Washing a dog with a human shampoo will simply prove too harsh, leaving your pooch open to viruses, yeasts and bacteria.
To help you find the best dog shampoo for your canine companion, we've rounded up all of our favorite picks below, with options to suit every breed, skin condition and coat type.