Best dog shampoo: Keep coats clean, healthy and smelling fresh
Choosing the best dog shampoo can be tricky, so we've rounded up some of the best products to make bath time with your pooch a breeze!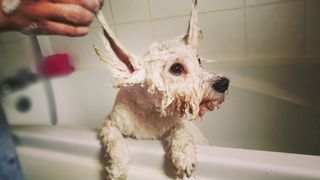 (Image credit: Getty Images)
The best dog shampoo will have your dog looking fluffy and fresh after every bathtime. What's more, it'll keep their fur soft and clean, and smelling great too. But there's actually a lot of different products to choose from, so to save you from a lengthy process of trial and error, we've narrowed your choices down to six of the best dog shampoos on the market.
It's important to choose the right product, not only to keep your dog looking and smelling good, but to benefit their health too. All of the products in our round up are made from all-natural ingredients and are free from harsh chemicals. However, always be sure to check the ingredients on the bottle before use.
You might want a dog shampoo simply to keep your pup clean after long muddy walks, or you may choose a special dog shampoo to keep your pooch free from fleas, mites or ticks. Whatever you're doing, dogs with long hair will need something that helps with detangling, so you may wish to opt for a shampoo and conditioner to help keep their fur sleek and shiny. You can also make sure you check out our round up of the best dog brushes, to keep their fur free from tangles after washing.
If you want to give your dog the full works, then you can also look into getting a dog grooming kit, that will have all the essentials you need to keep your pooch looking sleek, including some of the best dog nail clippers.
So check out our list of doggy shampoos to find which one is right for you below…
Find the best dog shampoo for your dog
Earthbath Oatmeal and Aloe Natural Pet Shampoo in Vanilla and Almond
Ingredients: Clean, no soap, parabens and cruelty free | Scent: Vanilla and almond | Lather: Excellent
Excellent for itchy, dry skin
Lathers well with all fur types
Clean, cruelty free ingredients
Smell could be better
Earthbath Oatmeal and Aloe Natural Pet Shampoo is a classic dog shampoo that owners have been using and loving for years. That's why it's our best overall dog shampoo to buy for your furry friend - it's stood the test of time.
The ingredient list in Earthbath Oatmeal and Aloe Natural Pet Shampoo is simple and full of clean ingredients that are biodegradable, phosphate-free, paraben-free, and soap-free. Plus, it's not tested on animals, so you can rest easy knowing no animal cruelty was involved in creating this shampoo. While the almond and vanilla scent isn't groundbreaking, it's simple and fresh and won't be too overpowering for those who may not love a strong-smelling pooch.
Those who have bought Earthbath Oatmeal and Aloe Natural Pet Shampoo report that it helps dogs with skin allergies, dandruff, and bacterial dermatitis, which can seriously bother your pooch and cause them to incessantly itch. If you don't keep on top of your pup's skin issues, they can easily irritate their skin further or make the problem worse by scratching until they injure themself, so getting a product like Earthbath will certainly help.
And Earthbath is great even if your dog has great skin, as it lathers well for especially dirty pooches or those with long coats, which helps clean and detangle impressive manes. The quality of the lather also means this product will last you a long while, as you won't need to use tons to get your dog clean.
If you happen to own a cat as well, you'll get even more bang for your buck, as Earthbath can be used on cats as well!
Burt's Bees 2 in 1 Tearless Shampoo & Conditioner
Ingredients: Clean and transparent | Scent: Fragrance Free | Lather: Good lather
Natural, transparent ingredients
Good for sensitive skin
Soothes and softens
Slightly watery formula
No strong scent
Burt's Bees 2 in 1 Shampoo and Conditioner is a great value for the price point, with clean and transparent ingredients you'll feel comfortable putting on your pup's skin. It's great for dogs and puppies, and great for owners with sensitive skin too!
This 2 in 1 formula is fragrance-free but will leave your pup smelling clean and fresh. The ingredients are simple and free from harsh chemicals and sulfates, and include soothing and softening ingredients such as oatmeal and cocoa. Its formula is veterinarian recommended, so you can be sure it's safe for your dog (or your puppy, as it's gentle enough for young pooches, too).
Whether you're looking for a shampoo that will clean your golden retriever's luxurious coat or a gentle shampoo for your pit bull's sensitive skin, you can't go wrong with this dog shampoo formula. While the lather will be somewhat lighter than other dog shampoos, that's to be expected considering it's a natural shampoo, so don't fret if you don't see a ton of suds when you start scrubbing, as it's perfectly normal (and healthier). The conditioner will also leave your dog's mane silky soft, making it much easier to brush and will keep it from tangling between washes.
With a great price point, gentle ingredients that soothe even the most irritated skin, and vets' approval, Burt's Bees 2 in 1 Shampoo and conditioner is one of the best value dog shampoo on the market.
4-Legger Dog Shampoo
Best sensitive skin dog shampoo
Ingredients: USDA certified 100% non toxic | Scent: Lemongrass | Lather: Easy to lather
Organic and safe
Great for sensitive skin
Safe for dogs of all ages
Smell can be strong for some
The 4-Legger Certified Organic Dog Shampoo is a fantastic choice for those pooches who have sensitive skin. You have to be extra careful when buying shampoo for your sensitive dogs, as the wrong type can easily irritate their skin further, making them uncomfortably itchy. All-natural shampoos are the safest option for dogs with seasonal allergies or itchy, scratchy skin, and this shampoo is the perfect option.
The 4-Legger Certified Organic Dog Shampoo is the best sensitive skin dog shampoo because all of its ingredients are USDA-certified hypoallergenic, free from synthetic or chemical ingredients, and organic. The ingredients include recognizable things like coconut oil, aloe vera juice, olive oil, lemongrass essential oil, rosemary extract, and jojoba oil, which are all great things for a pup with sensitive skin! It's also widely approved by vets and groomers, so you know it's good.
This shampoo lathers easily and rinses off well, and has a strong lemongrass scent (which might be too much for some people who are sensitive to strong smells) that acts a natural flea deterrent. Those who have used the 4-Legger Certified Organic Dog Shampoo report it does wonders for their dog's skin, especially those who have incredibly sensitive skin that's prone to flare-ups. If you have a dog with sensitive skin (like greyhounds or pit bulls) or a dog who has suffered from demodex mange or other skin issues, this is absolutely the best dog shampoo for you and your canine.
M. Barclay Lather + Bathe Natural and Organic Conditioning Dog and Cat Shampoo
Ingredients: Vegan and Cruelty free | Scent: Italian bergamot and lavender | Lather: Easy to lather
Beautiful, spa-like smell
Lathers and rinses easily
Gives as shiny, lustrous coat
Pricey
Harder to find
If you're looking to spoil your dog, then the M. Barclay Lather + Bathe Natural and Organic Dog and Cat Shampoo is the dog shampoo for you (and your pup). It's certainly not the cheapest dog shampoo on the market, but with fancy smells and a creamy texture, bath time will be like a pampered spa day for your pooch.
The M. Barclay dog shampoo smells like Italian bergamot and lavender, and has all natural, vegan, and cruelty free ingredients that are renewable, natural, and organically-derived. It's coconut based and processed naturally, and includes green tea, licorice, tea tree oil, safflower seed oil, citronella, and 100% plant derived fragrance. This is fancier than some of your skincare products, but you know your pet pooch is well worth it.
Those who have used the M. Barclay Lather + Bathe Natural and Organic Dog and Cat Shampoo report great results - it lathers and rinses easily, smells delicious, and leaves their dogs looking shiny and feeling fresh. Some report it has helped their dogs' allergies, which can cause severe and obsessive paw licking or excessive itching of especially sensitive areas.
While it's certainly a pricier option, if you're looking to bathe your dogs in products as nice as ones you could buy at Sephora, then M.Barclay's Lather + Bathe Natural and Organic Dog and Cat Shampoo is a must-buy dog shampoo. Your pup will thank you for it (and maybe your cat will, too).
Buddy Wash Original Lavender and Mint Dog Shampoo and Conditioner
Ingredients: Pure botanical extracts and natural conditioners | Scent: Lavender and mint | Lather: Rich lather
Great ingredients
Lovely smell and natural deodorizer
Great price
Smell can be strong
Not only is Buddy Wash Original Lavender and Mint Dog Shampoo and Conditioner a great price, but it's a fantastic product for your pooch, too.
It's made from natural and pure ingredients that naturally clean and condition your dog's fur and skin, including sage, aloe vera, rosemary, green tea, and chamomile. The liquid is coconut-based with no alcohol in it, and natural deodorizers like wheat protein for a gentle, great-smelling wash that will last at least a week, according to reviews. Since Buddy Wash is soap-free, it won't harm your dog's eyes or upset their stomach if it gets in their mouth, but it still lathers easily and rinses off quickly for an effective wash.
Some owners even suggest that the lavender scent helps soothe their dogs during bath time, which can often be a stressful experience for your pup (especially if they aren't too fond of water). Many report their dogs' coats felt smooth, incredibly soft, and tangle-free after using the Buddy Wash, and that's likely because it's both shampoo and conditioner! For such a low price and with such simple and effective ingredients, Buddy Wash Original Lavender and Mint Dog Shampoo is a great purchase for your pooch, whether you've got a big old Husky or a tiny Chihuahua.
Veterinary Formula Clinical Care Antiseptic and Antifungal Medicated Shampoo
Best medicated dog shampoo
Ingredients: Coconut oil based cleansers, Benzethonium Chloride, Ketoconazole | Scent: Lavender and mint | Lather: Rich lather
Excellent for allergies and fungal and bacterial infections
Paraben free
Gentle smell
May not work for every dog
If your pooch is dealing with some skin problems, you'll need a shampoo that's vet-approved. Veterinary Formula Clinical Care Antiseptic and Antifungal Medicated Shampoo is a fantastic option for any pet dealing with bacterial or yeast infections.
The shampoo has benzethonium chloride, an anti-bacterial that can treat skin infections like pyoderma, and ketoconazole, an anti-fungal which will treat yeast infections. Despite all the medicated ingredients, this shampoo is free of soaps and parabens, and won't remove spot-on flea or tick treatments.There's also aloe vera in the formula, which will help soothe irritations, and lanolin, which will moisturize and help decrease itching and flaking issues, both of which are side effects of allergic dermatitis.
Veterinary Formula Clinical Care Antiseptic and Antifungal Medicated Shampoo is for both dogs and cats, so the fairly cheap bottle will go a long way. It's safe for dogs and cats over 12 weeks of age, and you can use it twice a week while fighting off a skin condition, then once a week to keep all those skin nasties at bay.
Veterinary-grade dog shampoo can be expensive or difficult to get without a prescription, and that's why Veterinary Formula Clinical Care Antiseptic and Antifungal Medicated Shampoo is so great. You can help take care of your pet's needs without breaking the bank, which we can all appreciate.
The only downside is that this may not be the right formula for your dog's skin conditions, which is why you should consult your vet before using this shampoo and reach out again if it seems like your pup's condition isn't improving.
How to choose the best dog shampoo
It's important that you choose the best dog shampoo for your specific pooch, and for you as well. If your dog has dry, sensitive skin, then lean towards getting an all-natural, soap-free, gentle shampoo. And if you're vegan or concerned with animal testing as well, then make sure that whatever all-natural shampoo you choose is cruetly-free.
If your dogs' skin issues go beyond some dryness or itchy patches and they're dealing with yeast infections or other fungal issues then you'll need a heavy duty veterinarian-approved antiseptic or anti-fungal shampoo. You'll want to make sure those ingredients are safe and as gentle as possible for your pooch, but still effective.
If your pup has fairly normal skin but an incredibly thick coat or is a big fan of rolling in mud puddles and frolicking in fields, then you'll want a great-smelling dog shampoo with a scent that will linger for a little while. Dirty dogs, dogs with lengthy hair, or pooches with plentiful fur will need shampoo that lathers and rinses well and smells great.
In short, think about your dog and what they need when buying dog shampoo and factor in your personal purchasing preference, as well. You and your pooch will be happy and smelling great in no time with these shampoo options, especially with the ones we've laid out. Whether you need all-natural shampoo, extra-clean shampoo, or a special medicated shampoo, there's a ton of options for you and your canine – and make sure you check the ingredients! Getting the best dog shampoo is relatively easy, especially with this guide, so don't fret!
Get the best advice, tips and top tech for your beloved Pets
Thank you for signing up to Petsradar. You will receive a verification email shortly.
There was a problem. Please refresh the page and try again.