Best pet camera: six options to keep an eye on your pets
By Alex Cox
We zoom in on the best pet cameras to suit every lifestyle and budget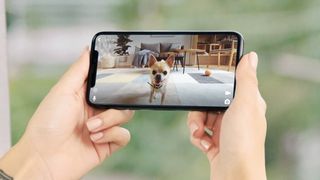 (Image credit: Petcube)
The best pet cameras will let you keep an eye on your furry friend when you're away from home, so you have peace of mind that your furkid is happy and safe whenever you can't be with them. A pet camera has a range of benefits for your fur baby too, with two-way talk systems giving them the comforting and familiar sound of your voice when they're struggling with separation anxiety. 
Just like the best automatic pet feeders, many high-tech pet cameras can dispense treats that can reward your canine or kitty for good behavior while you're not around, while others double as laser toys, which can provide hours of fun for feline furkids. 
When deciding on which camera to choose, consider both your needs and budget. Some of the best pet cameras also double as sophisticated security systems with a wide field of view, so you can keep an eye on both your home and your pet. Others come with access to free veterinarian support via their respective apps that let you gain helpful support and advice when you need it.
We've rounded up the best pet cameras on the market right now across a range of price points and with a variety of different features so that you can choose the one that best suits your budget and your lifestyle. Let's zoom in and take a look...
PetsRadar's pick of the best pet cameras
Best overall pet camera: Petcube Play 2
Best pet camera for dogs: Furbo Dog Camera
Best pet camera with treat dispenser: Petcube Bites 2 Wi-Fi Pet Camera
Best pet camera for fun: Skymee Owl Robot
Best pet camera for cats: Pawbo Plus
Best budget pet camera: Neos Smartcam
Best high-end pet camera: Arlo Ultra
Petcube Play 2
Resolution: 1080p | Field of view: 160° | Laser pointer: Yes | Treat dispensing: No | Motion detection: Yes | Two-way talk: Yes | Night vision: Yes
Fantastic design
Smooth laser pointer
Alexa built in
Quite expensive
The Petcube Play 2 is very compact, and certainly looks the neatest of any of the specifically pet-led cameras we've featured here. It's almost a cube, save for a fraction of an inch on one axis, and its black-and-silver case makes it a little less conspicuous than the white alternatives out there.
It's not only the refined design that makes it a very cool camera. A wide-angle lens lets you see more of your room, and there's a quad-microphone array that helps you hear your pet, along with an upgraded speaker so that your pet can hear you more clearly. Then there's the smarts: the Petcube Play 2 doesn't just link with Amazon's Alexa so you can trigger some of its features with your voice, it actually has Alexa built-in itself, so you can ask it what the weather is like, or play music. 
The camera is very strong: a high-resolution Full HD sensor with night vision and smart motion-sensing, so it can distinguish between whether it's seeing people or animals; position one on your kitchen counter, for example, and you could set it up to alert you when your cat decides to investigate those forbidden areas.
There's no built-in treat-dispensing here, but depending on your pet's proclivities that may be a positive. Instead, there's a rather smooth (and less fattening) laser pointer to keep them entertained. You could, alternatively, try the Petcube Bites 2 if you're OK trading the laser for a treat chute.
Sadly this second edition isn't yet available worldwide. US readers should have no trouble finding it, but for now readers in the UK can only get the first edition, which doesn't have Alexa built in. 
Resolution: 1080p | Field of view: 160° | Laser pointer: No | Treat dispensing: Yes | Motion detection: No | Two-way talk: Yes | Night vision: Yes
Custom bark alerts
Propelled treat dispensing
Sharp camera
Quite large
The Furbo Dog Camera is crammed with nice touches and smart features. Take its treat-dispensing function: where others might dribble out a kibble or two on command, this actively fires 1cm treats a full metre away, with a randomness to its launch method that should keep your dog interested. It works with Amazon's Alexa, and you can even set up dispensing routines in order to keep your canine on its toes during the day.
Pet cameras are often used for training and comfort, so the Furbo Dog Camera naturally features bark alerts. It'll send a message to your phone when your pup is bothering the neighbours, the idea being that you can then open up the app and use two-way talk (or even pop out a little treat) to placate your pet. These alerts are adjustable, meaning you can tweak them to only trigger at a certain volume level, which means you can choose to only be notified when your dog is really raising the roof.
The Furbo Dog Camera doesn't only hang its hat on smart features, though. It's no slouch as a camera, carrying effective black and white night-vision capabilities, a perfectly decent Full HD hi-res camera sensor, and a 160-degree lens that should help you cover as much of your main room as possible. You can zoom in via the app too.
One downside is the size; it's hefty compared to a camera-only device such as the Neo SmartCam, or even a compact pet camera like the PetCube Play 2. It has to make room for treats somehow, sure, just bear in mind that it's not exactly going to hide itself away on a shelf or table.
Petcube Bites 2 Wi-Fi Pet Camera
Best pet camera with treat dispenser
Resolution: 1080p | Field of view: 160° | Laser pointer: No | Treat dispensing: Yes | Motion detection: Yes | Two-way talk: Yes | Night vision: Yes
Dispenses treats from short and long-range
Quick and easy setup
Vet support
No laser
The Petcube Bites 2 is the ultimate pet monitoring system, with all the bells and whistles you've come to expect from this leading brand. Featuring a quick 2-minute setup, the Petcube Bites 2 is the only pet camera to support 2.4Ghz and 5Ghz Wi-Fi connections.
Treat your pet remotely or schedule treat dispensing via the free Petcube app, with treats able to be tossed from short, medium, or long-range for the ultimate in unpredictable fun. Supports a wide range of dry, crunchy dog and cat treats with a 1. 5lb treat capacity.
The built-in Alexa assistant lets you play your pet music, control your smart home devices, and order your pet's favorite treats, no matter how far away from home you are. This camera offers great peace of mind with full 1080pm HD live streaming video, 160° ultra-wide-angle lens, 4x digital zoom, and night vision, plus premium 2-way audio with a 4-microphone array and a speaker bar for natural sound.
Petcube Bite 2 is also the first pet camera that doubles as a smart speaker with vet support, so you can chat live with veterinarians and get immediate help, support, and advice for your precious furkid whenever you need it.
Resolution: 1080p | Field of view: 130° | Laser pointer: No | Treat dispensing: Yes | Motion detection: Yes | Two-way talk: Yes | Night vision: Yes
Can cover a whole floor
Doubles as an outdoor camera toy
Great fun
Needs acclimatization
You may accuse Skymee of deviating into the more silly end of the pet camera market here. Alternatively, you may applaud them for bringing something fun to the table. Whichever your viewpoint, it's hard to argue that Skymee's roving floor robot isn't equal parts ludicrous and brilliant. 
It works like this: you charge it up, fill it with treats, then leave it on the floor. When you want to see what your pet is up to, open the app on your phone and drive the Skymee Owl around your room until you find them. You can then watch the goings-on through the Full HD camera built into its left eye, and it has night vision for darker corners or those nights out. You also don't have to actively control it – the Skymee Owl can be assigned to a pre-programmed patrol schedule or set to use its infrared sensor to detect pet motion and record automatically.
A very handy camera, then, but this won't be for every household. We've seen reports that it struggles with certain kinds of carpet, so it runs best on hardwood or laminate floors. If you're in a multi-level household, you'll obviously only be able to run this on one of those levels. Certain pets will definitely need a little acclimatization before they get used to the little rolling robot, but it seems sturdy enough to take a few back-tooth bites if you have a larger dog at home. Even if your pet starts out spooked, the treat dispenser does mean you'll win them round pretty quickly.
Once your pet is used to it, you can even take the Owl outdoors for some interactive play; it can generate its own Wi-Fi network for you to connect the app to, and you can record video as you play.
As a pet camera we'll admit this is pretty niche, but as an automated or remote pet entertainer, it's super-fun.
Resolution: 720p | Field of view: 130° | Laser pointer: Yes | Treat dispensing: Yes | Motion detection: No | Two-way talk: Yes | Night vision: No
Lots of features
Automated laser
Poor camera
No alerts
Pawbo may or may not have been the first, but it was the company that really made the idea of pet cameras big. We've seen a few different models on the market, and this latest camera, like the rest, doesn't stray far from the original concept. It has the features – two-way talk so you can talk to your pet and hear their dulcet tones, treat dispensing to keep them happy, and a controllable laser pointer to keep them entertained while you're away – and it has the pedigree, as it were.
Where treat dispensing is concerned, this feels like a product that's not going to be for the more curious pet; although the design is quite neat, those treats just sort of fall out of the dispenser onto the floor. You'll need to place it very specifically, or make use of the wall-mounting screw holes, if you don't want it knocked over and thoroughly rifled through.
Laser pointer play is remarkably good for keeping cats amused for at least 10 seconds. The fact that you can automate it is a bonus, and means you might even use it while you're still at home. You (or one of seven friends/family members) can log in and actively direct the laser through the Pawbo app. 
Sadly things get a little less good from here; there's no night-vision functionality on the camera, and some users have grumbled that the resolution isn't really up to scratch – it's less detailed than the other cameras we've mentioned so far. Despite two-way talk, there's also no capacity for bark alerts, as the Pawbo only activates when you specifically log in to view it. We feel that this (and that tempting cache of treats) makes it more suitable for cats than dogs.
6. Neos Smartcam
Resolution: 1080p | Field of view: 110° | Laser pointer: No | Treat dispensing: No | Motion detection: Yes | Two-way talk: Yes | Night vision: Yes
Very affordable
Easy to mount
Surprising picture quality
Not pet-focused
You don't specifically need a camera designed for pets if all you want to do is keep an eye on your furry friends when they're at home and you're not. In fact, you might be better served not picking up a pet camera; there's a certain premium added on for the pet market, a little like how the same flowers will cost three times as much if you utter the word 'wedding'. For the same price as one pet-specific camera, you can cover every corner of your home with individual Neos Smartcams.
There are no pet-specific features here, sure. It can't spit out a treat or waggle a laser around for them to chase. But plenty of the Neos Smartcam's built-in smarts are perfectly applicable to your pets. Two-way talk means you can shout them off the counter or hear whether they're barking (and it has noise detection, so will message you if it hears a sound over a certain level). There's also motion sensing, with 12 seconds of recording triggering after it sees motion or hears sound, which is stored online for free, making it easy to look back on any particular incidents that occur while you're away. The Neos Smartcam also sports night vision, giving its 1080p, 110-degree camera a whole lot more versatility.
Perhaps the coolest thing about the Smartcam is its size. This thing is absolutely tiny, particularly compared to the likes of the chunky Furbo and Pawbo cams. While you'll still need to provide each camera with its own power source, the magnetic base means mounting it on a metal surface like a fridge is trivial, or you'll be able to scatter these around on flat surfaces without compromising your decor too much. It can be wall-mounted, too.
Readers in the US might also see this same hardware not as the Neos Smartcam but as the Wyze Cam. Readers elsewhere still might have seen it under Xiaomi branding. All of these share the same hardware, but have different features and software, so they're not compatible with each other. The common thread, though, is that the camera unit itself is plenty cheap and surprisingly good.
Arlo Ultra
Resolution: 4K | Field of view: 180° | Laser pointer: No | Treat dispensing: No | Motion detection: Yes | Two-way talk: Yes | Night vision: Yes, colour
Incredible picture
Animal detection
Great for security
Very expensive
When you scale up the security camera ladder, you inevitably stop at the Arlo rung: this company makes some of the best wireless cameras going, and this is the top-of-the-line model. If you're willing to back a not-insignificant hardware investment up with a reasonably expensive monthly subscription, then the Arlo Ultra's indoor/outdoor construction makes it perfect for keeping tabs on pets inside and outside your home – and spotting garden visitors, too.
Much of the smart stuff happens in the cloud. When motion is detected, the Arlo securely analyses your footage for the presence of people, cars, packages and, yes, animals, picking out anything above rodent size and sending a notification straight to your phone telling you what kind of thing it saw, and it arrives with a snapshot of the video attached, so you can see exactly what's been detected. Given the Ultra's superb 4K, 180-degree sensor, you shouldn't have any trouble identifying the offending beast, and you'll have access to full recordings to see exactly what they've been up to.
As we've mentioned, Arlo equipment isn't cheap, and the Ultra doubly so. As a tool just for seeing your cat sleeping, this is likely to be way too expensive. But as an investment in your home security that also has some great animal-specific features, that price looks a little less daunting, particularly when you consider all the features on offer. There's two-way audio with full noise-canceling against wind and other outdoor sounds, sound detection (including the ability to detect and warn you if an alarm is going off, such as a smoke alarm), local storage on an SD card as well as cloud, security sirens built into the cameras to scare off intruders, and even color night vision. 
4K resolution is no mere number, either: if something happens at home, you can basically pull off the 'Zoom, enhance' dream of classic crime shows and still see perfectly well what's going on.
How to choose a pet camera
As with most pet products, your choice of camera will depend heavily on your particular pet and their specific pattern of behavior. Before you choose anything, determine what you're OK to leave in the house alone with your pets. 
For larger dogs, a camera that dispenses treats might seem like an invitation to gnaw on that thing until the rest of the treats are revealed, which isn't the best when the treats are contained within an expensive camera powered by electricity. Even smaller dogs might get rather interested, so ensure you can place that camera somewhere they won't be able to reach it.
For lazier cats, a box with a laser built in might not rouse their attention even slightly; but for attentive, easily bored pets, a laser-equipped camera gives you a great opportunity to engage with your furry friends even when you're not there.
If you tend to go out in the evenings, or often hear rumblings around the house while you're in bed, then night vision will be a useful feature, particularly if you have cats aligned to their natural nocturnal sleep cycle, or you're worried about your dog's cage training. Pick something with recording facilities, too, so you can go back and watch for any signs of bad behavior. 
Get the best advice, tips and top tech for your beloved Pets
Thank you for signing up to Petsradar. You will receive a verification email shortly.
There was a problem. Please refresh the page and try again.