Best vacuum cleaners for pet hair: Powerful suckers for besieged pet lovers
The best vacuum cleaners for pet hair will help you de-fuzz your floors and furniture and keep your home looking spick and span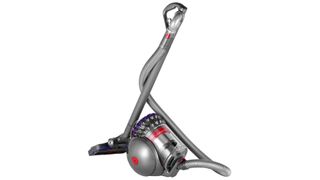 (Image credit: Dyson)
If you're finding your home covered in fur from one end to the other, then investing in one of the best vacuum cleaners for pet hair is going to be the answer to your prayers. Housework will finally be a breeze thanks to these beauties that will effortlessly remove fur, dirt and dander from your hardwood floors, carpets and upholstery.
Even if you have a breed of pet that doesn't shed as much, most dogs and cats will still lose hair at a moderate rate in the same way we humans do. Regular vacuuming will ensure your living spaces stay looking spick and span and it will also help reduce the risk of allergies and fleas.
Investing in one of the best dog beds or cat beds so your furkid has a regular spot to sleep can help cut down on unwelcome fur on your furniture, but it's amazing how easily pet hair manages to migrate its way throughout your home. While you can of course use any vacuum cleaner to tackle this, one that has been specially designed for pet hair can help make the job a lot easier.
When you're perusing those shopping aisles in search of the right model, there are a few things worth considering. Firstly, what size home do you have? If you live in a more compact space, a corded vacuum is a great choice as these offer extraordinary suction power and most come with a 25-foot cord, which should be ample for each room.
For multi-level homes, you might prefer to go with a cordless vacuum cleaner to make it easier to move about. These tend to be very lightweight, so you can easily carry them up and down the stairs. A bagless design also offers great convenience, but cordless vacuums do have one downside in that they need frequent charging, which is something worth considering.
If you're looking for a vacuum that will help you keep on top of things in between your main cleaning sessions, why not consider a smaller robot vacuum? These work completely independently, so you don't have to lift a finger, and many will also empty themselves, which makes your life even simpler! They're also great at getting into tiny spaces, like under couches and beds, which saves you having to move furniture around.
To help you bag the right model for your needs and your home, we've gone in search of the best vacuum cleaners for pet hair and have come up with some amazing models. From corded to cordless and everything in between, there's a model here to suit every home. Let's take a look...
PetsRadar's pick of the best vacuum cleaners for pet hair
Why you can trust PetsRadar Our expert reviewers spend hours testing and comparing products and services so you can choose the best for you. Find out more about how we test.
Best overall vacuum cleaner for pet hair
Specifications
Operating radius:
Infinite
Reasons to buy
+
Supreme performer
+
Top suction power
+
Three power modes
+
Good run time
+
Lightweight
Reasons to avoid
-
Expensive
-
Can't stand up on its own
If you've ever used a cordless lawnmower, you'll know how unbelievably quick it is to set up and get the job done. Well the same thing applies to vacuum cleaners. Since there are no cables involved, you'll be surprised by the effortless efficiency of cordless vacuuming.
The ultra powerful Dyson v11 Animal tackles hard floors, carpets, sofas and confined areas with effortless aplomb. Aside from the four supplied hand brushes and nozzles – including an excellent mini motorised hand tool for pet beds, sofas and car seats – this high-tech super vac also comes with a motorised Direct Drive brush head with spinning bristles made from carbon fibre and nylon for maximum deep cleaning power.
Granted, the v11 Animal isn't cheap to buy, but in our test its brush head collected a commendable amount of pet matter on both hard and carpeted floors. When used in Eco mode – ideal for hard floors and shelving – it ran for the advertised 60 minutes. However, we'd advise using Auto mode most of the time, which adjusts the suction rate according to the floor surface. When switched to boost mode, it sucked as strong as a mains-powered vacuum though the battery did deplete in about 15 minutes.
The v11 Animal's bin emptying mechanism is über cool – just flip down the red latch and the small 0.76-litre bin jolts downwards, ejecting all the carpet matter in one fell swoop. Just be sure to do it with the unit deep inside your kitchen bin or all that ejected dust may cause a sneezing fit. Speaking of which, the v11 Animal also comes with a superb six-stage filtration system that traps 99.97% of dust and pollen particles as small as 0.3 microns. It also keeps that musty just-vacuumed smell to a bare minimum.
As with all stick-style vacs, the V11 Animal doesn't stand up on its own so storing it is a bit of a faff unless you use the supplied wall mount-cum-charger cradle. That aside, this is unequivocally the best all-round cordless vac for pet owners. It's light in the hand, effortless to use and capable of performing every cleaning task in the home, from floor to ceiling.
Eureka PowerSpeed Bagless Upright Vacuum
Best budget vacuum cleaner for pet hair
Reasons to buy
+
Lightweight
+
Deep suction
+
Affordable
Reasons to avoid
-
Not as durable as more expensive models
Go deep with this powerful multi-surface vacuum that tackles hardwood floors and deep carpets with ease. Lightweight and portable, this vacuum cleaner from Eureka weighs just 4.5kgs and has a 2.6L dust cup for uninterrupted cleaning.
With five height adjustment settings, powerful suction, and a detachable handle for hard-to-reach places, this versatile cleaning tool is a must for pet parents. With a variety of attachments, including a pet turbo tool, crevice tool, and upholstery tool, the Eureka PowerSpeed vacuum effortlessly sucks up pet hair across a wide range of surfaces.
We love the 12.5-inch wide floor nozzle that enables you to clean more space in less time and with all the tools stored onboard, you'll always have everything you need when you need it. One of the most affordable models on the market right now, this lightweight and powerful vacuum won't disappoint.
Miele Complete C3 Cat & Dog Pro PowerLine - SGEF3
Best corded vacuum cleaner for pet hair
Reasons to buy
+
Extraordinary suction power
+
Six power levels
+
Comes with two floor heads
+
Tool store under lid
Reasons to avoid
-
Heavy to carry
-
Ungainly to store
If you're after long-term reliability, robust build quality and outright efficiency, you can't go wrong with this excellent mains-powered cylinder vac from Miele. Granted, it isn't as practical for day-to-day use as a cordless model – you will need to plug it in, possibly several times if vacuuming a large house – but it makes up for that with an extra long, automatically retractable 8.5-metre cable.
The Complete C3 is equipped with six suction modes: a gentle reverse waft for cleaning shelves and electronic equipment to a massive 890 watts of suction power which is literally capable of sucking carpet off the floor.
This mean machine comes with two main floor heads. The stiff-bristled head is excellent on hard floors but the friction it creates makes it hard going on carpet. The revolving Turbo brush head, on the other hand, performs superbly well on all types of flooring and is unquestionably the best head to use if you have pets in the home. This brush head picked up a remarkable amount of pet hair and stuffed it all away in the C3's large 4.5-litre dust bag (a very reasonable £10 for four). Naturally, emptying it was a dustless breeze.
Unlike most vacs which are made almost entirely from cheaper injection-moulded plastics, the Complete C3's main body is constructed out of ultra-tough resin-based plastic. Its fabulously adjustable suction tube, meanwhile, is cast out of metal for extra durability.
Granted, at 7kgs the Miele Complete C3 is quite heavy to pull around but this machine is a master in all disciplines, whether it's collecting the remnants of a dog brushing session or gently removing cobwebs from the chandelier. For a Miele product, it isn't too expensive either.
Shark Cordless Stick Vacuum Cleaner
Best cordless vacuum cleaner for pet hair
Specifications
Operating radius:
Infinite
Reasons to buy
+
Unique design
+
Tangle-free roller
+
80 min run time
+
Great all rounder
+
Stores upright
Reasons to avoid
-
Heavy in the hand
-
Surfeit of attachment tools
Shark is one of the most popular brands in vac land, and one of the cheapest. This unique stick vac comes with a plethora of excellent features, including a foldable suction tube that allows it to be stored in an upright position. This is a major plus because most other stick vacs need to be stored in a jumble under the stairs or on a wall mount which is a faff to install. Another cool thing about the foldable tube is that it can be articulated at 90˚ for cleaning deep under low furnishings and shallow beds.
Most stick vacs give up the ghost after about 60 minutes of cleaning but this one comes with two batteries – and a dual charger – that take the running time to a substantial 80 minutes. That's an exceptionally long operating time for a cordless vac, so if you have a large home and wish to switch from corded to cordless, then this may be the model for you.
The Shark's revolving brush head is also notable for having a row of prongs that prevent long hair and cotton thread from wrapping around the two rollers; a boon for anyone fed up with constantly having to remove the rollers in order to untangle them. The easy-to-steer head is also equipped with bright LED headlights which genuinely help highlight all evidence of dust and hair ahead.
Being a pet specific model, the Shark comes with a wide range of attachments for use in hand-held mode. Aside from the usual collection of detail tools, it also ships with an excellent revolving pet tool which makes a very fair fist of removing hair from dog beds and sofas.
In the pantheon of cordless stick vacs this shrewd model excels in all areas: it's excellent on carpets, outstanding on hard floors and this writer was extremely impressed by its exceptional running time. For a stick vac with so many features and additions, it's keenly priced, too.
Shark ZU561 Navigator Lift-Away
Best anti-allergen vacuum cleaner for pet hair
Reasons to buy
+
Self-cleaning brush roll
+
Upright and detachable options
+
Traps 99.9% of dust
Reasons to avoid
-
Not as powerful as other models on the market
The ever-popular Shark ZU561 Navigator Lift-Away is a fantastic choice if you or someone you live with suffers from allergies with the anti-allergen complete seal technology and HEPA filter working together to trap over 99.9% of dust and allergens inside the vacuum cleaner.
This lightweight and bagless vacuum cleaner has a self-cleaning brush roll for powerful pet hair pickup that eliminates hair wrap and it can be used as both an upright vacuum cleaner for floor and carpet cleaning or the pod can be detached to easily clean furniture and stairs.
You'll love the swivel steering on this model, which provides effortless maneuverability for cleaning hard-to-reach areas and the suction control slider effortlessly controls the suction power so you can move seamlessly from hard floors to carpet.
There are a few downsides to this model, namely the 800W motor which isn't as powerful as some other models on the market, and the dustbin, while easily removable for quick emptying, is on the smaller side.
But, if you can live with those two things, this is a beauty of a vacuum cleaner which does a brilliant job of tackling pet hair and comes with several helpful additional attachments that will help you get embedded hair out of your upholstery.
Best robot vacuum with automatic dirt disposal
Specifications
Run time:
90 mins between charges
Operating radius:
Defined by app
Reasons to buy
+
Leave and forget design
+
Automatic dust emptying
+
Recharges itself
+
Great suction
Reasons to avoid
-
Dustbin charger is large
-
Loud noise when emptying
Normally this writer would advise against autonomous robot vacuum cleaners for pet owners, simply because the volume of hair collected in any given day will likely exceed the model's dust capacity. But the iRobot Roomba i7 is a different kettle of fish because, amazingly, it empties itself automatically, ejecting its contents – via suction – into a large collection bin which also serves as the charging base. This is a groundbreaking innovation that provides a completely automated experience with zero human input – simply remove the disposable dust bag every few weeks and pop in a new one.
Since this vac is equipped with a touch sensor and forward-facing camera, it will avoid all obstacles bar, perhaps, a pair of stray socks, and spend all day zipping up and down the living room in a linear pattern. It's also clever enough to avoid stairs and other drop-offs. For extra peace of mind, the i7 ships with a virtual wall/obstacle sensor that creates an invisible barrier to prevent the unit from going near sensitive areas like your pet's water bowl. With the accompanying iRobot Home app (iOS/Android) you can view its cleaning history, see whether it's trapped under a piece of furniture, set a series of schedules – from single clean to a weekly routine – or programme it to clean certain rooms on specific days.
The i7's battery lasts about 25 minutes on hard floors and a bit less on thicker carpets but this is of no real consequence because it'll simply return to its charging base whenever the battery is nearing depletion. However, despite being fitted with a long horizontally spinning brush that flings debris into the path of its rollers and suction area, the circular shape of the i7 means it will have trouble collecting debris in the corners of a room.
In our test the Roomba i7 performed surprisingly well on both carpets and hard floors but, like most roller-type vacs, it did struggle on a thin rug. On the plus side, this writer was impressed by the filter system, which is said to capture 99% of dust, mites, pollen and pet allergens.
If you're simply too busy to be messing about with vacuum cleaners and want to keep pet hair inundation to a bare minimum without lifting a finger, then the Roomba i7 comes highly recommended.
Dyson Big Ball Animal 2
Best vacuum cleaner for hard floors
Reasons to buy
+
Great hard floor performance
+
Highly effective dog bed tool
+
Large dust collector
+
Self righting
Reasons to avoid
-
Heavy to carry
-
Can snag on furnishings
-
Awkward to store
At 7.5kgs in weight the mains-powered Dyson Big Ball Animal 2 is hefty to carry but thankfully its giant integrated wheels make it easy to tow along. And should it tip over when pulled over a door sill (a common occurrence with cylinder vacs), it will self right itself immediately.
Although it doesn't sport the same level of cord-free practicality as the Dyson v11 Animal, the Big Ball Animal 2 does at least have a substantial reach of 10.4 metres when figuring in the length of the hose and the 6.5m self-retracting cable (when finished, simply yank the cable and it's automatically pulled back into its housing).
The Dyson's non-motorised, self-adjusting 10-inch Pneumatic head is fitted with a front row of squeegees that are best suited to hard floors and thin pile carpets. However, you may need to engage the head's suction reduction switch on some carpets to make it easier to push. The smaller eight-inch motorised Turbine head is the better option for pet owners and is as good on carpets as it is on hard floors. This head is equipped with alternate rows of carbon and nylon brushes that dig deep to loosen dirt while scooping up evidence of pet fur. However, you may need to perform a few extra back and forth sweeps to fully complete the task.
For true pet hair removal albeit on a smaller scale, the Big Ball Animal 2's piece de resistance is the quick-release Tangle-free Turbine tool. Measuring just five inches in width, this hand-held wonder tool is comprised of two counter rotating circular brushes that perform a miraculous task on dog beds, sofas and that most obstreperous of nylon fabrics normally used for car seats. The final two tools – stair and combination brush/nozzle – clip to the hose handle for instant access when required.
If you're a Dyson van and don't mind towing a vacuum cleaner around behind you, then this is a model worth pursuing. Despite being cumbersome to store, it's easy to use, very efficient on hard floors and decent enough on carpets. However, it's the small Tangle-free Turbine tool that really made the best impression.
BISSELL Cleanview Rewind Pet Bagless Vacuum Cleaner
Best vacuum for edge-to-edge cleaning
Specifications
Operating radius:
25 foot cord
Reasons to buy
+
Lightweight design
+
Scatter-free technology
+
Triple action brush roll
Reasons to avoid
-
Cord is in an awkward place
One of the most effective and affordable models we've seen in a long time, this vacuum cleaner from Bissell does a really great job of suctioning up deeply embedded pet hair without cleaning out your bank account in the process!
With a lightweight design, this vacuum is a breeze to transport from room to room and the triple action brush roll allows it to move seamlessly from carpets to hardwood floors and back again.
It also does a brilliant job of edge to edge cleaning and the scatter-free technology means that everything gets suctioned up on the first attempt. Multi-iconic suction keeps dirt locked inside for extended machine performance and no loss of suction and the filters are washable, which is great for longevity.
Get the best advice, tips and top tech for your beloved Pets