Best dog brushes: Keep your dog's mane looking sleek and shiny
We've picked out the best dog brushes to tame the mane and leave your pooch feeling pampered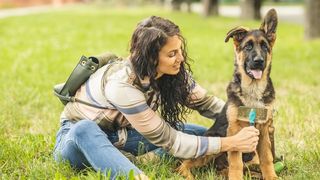 (Image credit: Getty)
Picking the best dog brushes for you and your dog really depends on the breed of dog  and their hair type. Long-hair dogs will naturally need more maintenance, while short-hair dogs may have coarser hair and require only occasional grooming. Getting the right type is important if you want to assemble the best dog-grooming kit possible.
You might be wondering why you need dog brushes anyway. Well, grooming your pooch is important, as this can stop the hair from getting tangled or matted, which can be painful for your pup. Additionally, the more hair you remove manually from your dog's mane, the less you'll have to clear up from your floor, clothes, and furniture. It's always best to wash your dog's hair before giving them a good grooming, so if you want some more tips on how to do this, check out our article on the best dog shampoos to give your dog the full salon treatment. 
There are many different types of brush you can buy, including de-tangler dog brushes for long-hair dogs, thinning dog brushes for big fluffy dogs, shampoo dog brushes for wet hair, and dog combs that can help with fleas and lice. We've picked out the best dog brushes available so you can decide which one is right for your dog.
PetsRadar's pick of the best dog brushes
Pet Neat Pet Grooming Brush
Brush Type: Comb | Dog hair type: All | Material: Stainless steel
Removes dead hair
Safety blade
Suitable for all hair types
Not as effective on super thick/long hair 
If you're lucky enough to have a dog that doesn't shed, then you can skip to the next product, but we absolutely love this Pet Neat Pet Grooming Brush, which is designed to thin out your dog's thick coat. It is the ultimate dog brush for getting rid of extra hair on your dog, so if your pooch is one that malts and leaves hair everywhere, then this comb will put an end to your cleaning, as it removes any dead hair and helps with de-shedding your dog's mane. It has a stainless-steel comb and also has a covered-up blade that works to gently remove excess hair from your dog's coat.
It has an easy-grip handle, which makes it easy to glide over the skin (as long as your dog doesn't wriggle too much), and it is nice and comfortable for your pet when in use – some will even enjoy it! This dog brush will leave your pooch looking smooth and silky, removing 95% of dead hair in under 10 minutes of use.
Pet owners have said that this dog brush is particularly good on topcoats, but not always as effective on the undercoat, so if your dog is a little sensitive on their belly, be sure to use this brush gently on the undercoat.
Hertzko Soft Pet Brush
Best de-tangling dog brush
Brush Type: Tangle teezer | Dog hair type: Long and short | Material: Plastic
Removes loose undercoat
De-tangles knots
Soft on skin
Fragile teeth
Difficult to clean
This tangle brush is designed to keep your dog's coat silky and smooth. Whether they have long or short hair, a day of running around and playing can leave their fur matted if not properly groomed. The Hertzko Soft Pet Brush has flexible plastic bristles that make it easy to comb through even the knottiest parts of your dog's coat, and is gentle on the undercoat. Some pet owners have said that the teeth in this dog brush are a little fragile, so go careful when brushing very knotty hairs in order not to pinch the skin.
Whether your dog likes being groomed or not, this brush will give them a good pampering, as the rounded ends of the bristles work to massage the skin and increase blood flow. You can even use this brush on the face and paws, as it's very gentle. The long handle will make it easy to groom your pet, and the teeth are extra long, which works extremely well for longer-haired dogs.
You can use this brush before or after washing, whether your dog's hair is wet or dry. The only slightly annoying thing is that some users have said it's difficult to clean, especially if your dog sheds a lot, but overall pet owners love how soft, fluffy and well-kept this dog brush leaves their pooches. It even helps get rid of dirt and debris too, so they stay clean and healthy.
Pat Your Pet Five Finger Grooming Glove
Brush Type: Glove | Dog hair type: All | Material: Rubber
Universal fit
Feels good for your pet
De-tangles knots
Not the best on long hair
Make grooming time easier with this pair of gloves that works as a dog brush. You can turn grooming into petting, and your dog may even sit still for five minutes when you use these gloves. The gloves are made from rubber and have soft bristles that can de-tangle fur, get rid of matting, and help you sweep up loose hair from around the home.
These gloves are a great way to get in extra hugs with your pooch while tidying up their coat at the same time. With both gloves, you can easily reach those more sensitive areas, such as the belly, face, and paws, and you can groom them in half the time!
The gloves are one-size-fits-all, with an adjustable strap to tighten them, so every member of the family can have a go at grooming your fur baby. Owners have reported that these gloves remove tons of hair on some dogs but not so much on others, so this really depends on their fur type. However, what's best about this dog brush is that dogs seem to love it. They'll get a gentle massage at the same time as getting rid of any old hair in their coat.
This is one of the best dog brushes for larger dogs, as the gloves make it easier to handle your pet and ensure that you don't miss any spots during grooming.
Shiny Pet Dog Comb
The best fine hair dog brush
Brush Type: Comb | Dog hair type: Fine, short | Material: Rubber, metal
Anti-scratch teeth
Ergonomic handle
Massages the skin
Not very effective on short hair
This is a simple comb that works to gently remove any tangles in your dog's hair. This style of dog brush works on much finer, longer dog hair, and can break up knots and get rid of any dirt or debris in the coat.
The comb has gentle teeth with rounded ends that won't pull on the hair or skin, but instead will remove loose hair without tugging too hard. If you find that larger brushes don't work for your dog's matted fur, then a smaller comb like this one could help on tougher knots.
Overall this comb makes a great addition to any doggy grooming kit – not only does it smooth out the hair, but it massages the skin too, boosting circulation and helping to keep your pooch happy and healthy. If it's your first time grooming your pet, then you're in luck because this dog brush comes with a DIY guide to grooming your dog in the best way possible, and shows you how to get the most out of this comb.
Though this comb is designed for larger breeds of dog, you could use this comb on any breed with any type of fur if you need to target particularly stubborn areas, and the ergonomic handle makes it easy to glide it through the hair. If you're still struggling, you could always use some conditioner and brush through your dog's coat with this comb, and can even trim their hair when it gets too long.
ROPO Dog Grooming Brush
Best shampooing dog brush
Brush Type: Wet brush | Dog hair type: Short hair | Material: Rubber
Soft and flexible
Easy-grip handle
Compact design
Not effective on dry hair
Not the best on long hair
Giving your pup a scrub in the tub has never been easier than with this wet dog brush that helps de-tangle and clean fur. Made from TRP rubber, this dog brush is soft, flexible, and durable for use during bath time. The brush comes with an adjustable handle, which makes it easy to grip and groom your dog with. It's also compact and portable, so you can groom your dog's hair wherever you are.
This dog brush is designed for use when bathing and shampooing your dog, so it doesn't really do much on dry hair. Short-haired dogs will get the most benefit out of it, but due to the small rubber teeth, pet owners have found that it isn't as effective on long-haired dogs.
You can use this dog brush with shampoo or conditioner to help smooth out any tangles or knots, leaving your pup's hair silky smooth and rid of any excess dead hair. If you're looking to give your dog the full salon finish, then this brush is ideal for keeping their fur looking fine, plus it doubles up as a nice little massage for your pooch, making bath time more enjoyable!
Pet Teezer DeShedding Dog Grooming Brush
Brush Type: Tangle Teezer | Dog hair type: All | Material: Plastic
Use on wet or dry hair
Removes excess hair
Easy to clean
Teeth can be a little rough
The Pet Teezer is brought to you by the Tangle Teezer brand, and if you know it, then you'll know how good these products are at getting knots out of hair. This dog brush is ideal for wet or dry hair. It will leave your dog's coat feeling beautifully soft and your pooch looking like they've just walked out of the salon.
Some pet owners have found that this brush is not as effective on shorter-haired dogs, but it really does the trick for long-haired dogs who are prone to build-up of excess hair and matting. The plastic bristles are designed to be soft on the skin, but if you have a very furry or knotty-haired dog, then always be sure to brush gently, especially in areas near the face and paws, to ensure that you don't pull on the skin. 
For dogs with a thick mane, the Pet Teezer is the doggy brush you need in your bag at all times, and it's compact and convenient, so you can always carry it with you. This dog brush will keep them looking the part, even when they come running off the beach all windswept and covered in dirt.
Choosing the best dog brush
The dog brush you choose depends on your pooch's hair type. So consider their needs and what you'd like the brush to do. If you want to give your dog a salon blow-dry, then you'll want to opt for a wet and dry brush, but if you're looking to tackle matting and knots, then a comb or teezer brush will get the job done nicely.
Most of the best dog brushes will work to remove excess hair and any shedding, so that your dog stays happy, healthy, and looking dogtastic!
Sarah is a freelance writer and marketer, covering a variety of topics from lifestyle and fitness to sustainability and travel. When she's not writing, she can be found relaxing with a cuppa and a cute doggo snoozing on her lap!
Get the best advice, tips and top tech for your beloved Pets
Thank you for signing up to Petsradar. You will receive a verification email shortly.
There was a problem. Please refresh the page and try again.