Best nail grinders for pets: These tools will take the stress out of trimming
Invest in one of our favorite nail grinders for pets and trimming the claws of your cat or canine companion will be an absolute breeze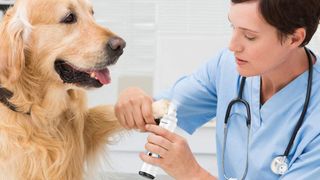 (Image credit: Peteast)
Investing in one of our favorite nail grinders for pets is well worth considering if you're wanting to make those at-home grooming sessions a little easier on yourself and your fur baby. And with so many great options on the market, you'll have no trouble finding the perfect tool to get that all-important nail trimming job done.
While the best dog nail clippers and best cat nail clippers offer a huge selection of tools that can help you trim and clip your furkids nails, they may not work well for everyone. Many pet parents worry about the risk of over-cutting, so if you're new to grooming your pet at home, clippers may not be the best option. And even if you're a veteran, some animals simply don't like the feel of having their nails clipped.
The good news is, nail grinders offer the perfect solution. While cats and dogs tend to wear down their nails naturally if they spend a lot of time outdoors walking on concrete or scratching trees, indoor pets or those who are more sedentary will need help keeping their nails in check. Overgrown nails can end up curling inward, causing a lot of pain that can make walking difficult, so regular trimming is essential.
If you have a nervous pet on your hands who finds having their nails clipped rather traumatic, a nail grinder is the perfect solution. Look for a model that's nice and quiet, as this will help keep those stress and anxiety levels low, and an LED light can help make it easier for you see the nail clearly. We also highly recommend selecting a model with an ergonomic handle as this will ensure you stay comfortable throughout the grooming session.
To help you find the right model for your moggy or mutt, here's our pick of the best nail grinders for pets, which options to suit every fur baby and budget.
1. Pecute Dog Nail Grinder with LED Light: Best overall pet nail grinder
Why you can trust PetsRadar Our expert reviewers spend hours testing and comparing products and services so you can choose the best for you. Find out more about how we test.
Upgraded nail grinder is powerful enough for pets of all sizes
Specifications
Suitable for:
cats, rabbits and dogs
Grinding speed:
7200rpm and 8000rpm
Power type:
1800mAh rechargeable battery
Reasons to buy
+
LED light for improved vision
+
Powerful 5V battery
+
14-hour battery life
+
Suitable for larger dogs
Reasons to avoid
-
Too powerful for smaller pets
-
Relatively heavy
-
Pricier than some models
Pricier than some models, the Pecute Dog Nail Grinder with LED Light is a step-up product from Pecute's successful grooming range. The budget-priced Pecute Pet Nail Grinder for small and medium-sized dogs and other pets slides into second place just below it. As well as the LED light, a much more powerful battery gives this model the edge over other nail grinders.
The 1800mAh battery lasts up to 14 hours between charges and offers a choice of precision grinding at 7200rpm or a speedy grooming session using the 8000rpm setting. Expect to wait just two hours using the fast-charge option before you can use the Pecute again.
When wielding this amount of power on your beloved pooch's paws, you'll want to make sure you either set up the grooming session in a well-lit room or make use of the LED light. Having a crystal clear view of your pet's nails greatly assists when it comes to ensuring you only grind away as much nail as you need to. The last thing you want is to take off too much and cut down to the quick – a sharp, painful experience.
Despite its powerful innards, this best buy device sounds far from fearsome: like its stablemate, it emits no more than 50dB and is therefore unlikely to upset your pet as it works its magic on their claws. The solid brass shaft helps muffle vibration but also results in a heavier than average device. There are four ports, accommodating different-sized pet paws and both smooth and groove-shaped grinding heads.
Given its power, it's probably best used on cats, rabbits and dogs rather than smaller animals. However, larger dog breeds and particularly hard nails pose no challenge for this excellent nail grinder. Users report that it's really quiet and praise its ability to file and smooth even damaged nails.
2. Pecute Pet Nail Grinder 50DB: Best budget nail grinder
Pecute Pet Nail Grinder 50DB
Great value grinder that's quiet enough not to spook your pooch
Specifications
Suitable for:
Cats, rabbits, guinea pigs, dogs
Grinding speed :
6000rpm; 6800rpm
Power type:
600mAh rechargeable battery **Weight ** 100g
Reasons to buy
+
Great value for money
+
Emits less than 50dB
+
One-hour fast-charge mode
+
Replacement grinding heads available
Reasons to avoid
-
Not powerful enough for larger dogs
-
Limited battery life between charges
-
Only 12-month guarantee
If cost is a factor but you're determined to pamper your pet with the superior comfort of a nail grinder rather than clippers, you won't go far wrong with the Pecute Pet Nail Grinder. With a noise rating of 50dB or less, it's no louder than the background hum of an office even at its higher speed rating of 6800rpm. Switch to the 6000rpm setting for a slightly slower but more accurate grind to smooth out any rough nail edges and prevent snagging.
Rated the number 1 product in Amazon UK's Claw Care category, the Pecute Pet Nail Grinder is ideal for hamsters, gerbils and ferrets as well as cats, rabbits and dogs. For first-timers, Pecute recommends using the grinder in bursts of no more than 10 seconds at a time, allowing your pet to get used to the filing and grinding sensation.
A number of customers state that the quiet, gentle action has calmed otherwise nervy pets with black, poorly nails such that they can be successfully ground back to a healthy length.
A single grinding head is provided, but additional grinding pads are available in packs of two. There are three different port sizes, accommodating the nails of a range of animals. This quality budget nail grinder runs off a 3.7V rechargeable battery that can be used for up to four hours before needing to be replenished.
Unlike the more powerful models in Pecute's nail grinder range, this great value option has no LED light to help illuminate your pet's paws as you work on their nail care. This might be an issue if you have small pets with tiny claws. However, you could just shine a lamp light overhead. More pertinently, this model in Pecute's range is not suited to larger dog breeds.
3. Peteast Dog Nail Grinder: Best for dogs of all sizes
Powerful nail grinder is effective even on larger canines' paws
Specifications
Suitable for:
Cats, dogs, rabbits, guinea pigs
Grinding speed:
7000rpm and 8500rpm
Power type:
mAh rechargeable battery
Reasons to buy
+
Suitable for pets of all sizes
+
USB rechargeable for use anywhere
+
LED light
+
Spare grinder provided
Reasons to avoid
-
Not as ergonomic as some
-
No mains power option
-
Spare grinding heads not easily available
Despite being described as a product for dogs, the Peteast Nail Grinder is potentially suitable for cats, rabbits and guinea pigs too. There are three different sizes of port to slip your pet's nails into for grinding, making the Peteast device ideal for a multi-pet household. The powerful 8500rpm motor marks it out from some of the other nail grinders in being up to the task of tackling thicker nails and those of larger dogs.
There's a less powerful, battery-intensive mode for a lighter touch use on small pets. Another plus is the USB rechargeable battery, meaning this nail grinder can be used wherever convenient – outdoors being an obvious option. Red and blue lights indicate when the unit's 2200m lithium-ion battery is charging and when it reaches full charge – a matter of 2.5 hours. Expect up to 10 hours of use between charges.
A key reason for choosing a nail grinder over clippers is that the grooming experience is likely to be more pleasant for both animal and owner. The Peteast nail grinder's LED makes it much easier to see what you're doing while the quiet motor and minimal vibration puts your pet at ease. All in all, there's far less chance of snagging skin or flesh than with sharp clippers.
Design-wise, this device looks a little like a chunky electric toothbrush – others are more clearly crafted to fit the user's grip. A thick, non-slip rubber grip makes this well thought out grinder comfortable to use. Feedback from users of the Peteast Nail Grinder is overwhelmingly positive, with even cautious dogs soon settling to having their nails ground.
4. Wahl Pet Electric Nail Grinder: Best mains-powered nail grinder
Wahl Pet Electric Nail Grinder
Ergonomic grinder aimed at small and medium-sized pets
Specifications
Suitable for:
Cats and dogs
Grinding speed :
Not listed **Power type** Mains
Reasons to buy
+
Good value for money
+
Ergonomic handle for prolonged use
+
Comes with spare filing bands
Reasons to avoid
-
Rather noisy
-
Suitable only for small and medium-sized pets
-
Needs to be mains powered
Wahl is known for its human grooming products, so it's no surprise to find the company also well-regarded for its pet-focused clipping, shaving and maintenance range. The Wahl Pet Electric Nail Grinder costs a little less than its pet clippers and many dog owners report their pup prefers grinding to a nail-clipping regime.
This is a mains power-only product, which may limit where you're able to locate yourself when working on your cat or dog's nails but also means there's no issue of running out of juice partway through the process having got them settled.
Two grades of grinding stone are provided: the 60 grit option is the standard one while the finer 100 grit band smoothes out rough and uneven nails. Wahl provides three of each, meaning there's no need to worry about replacing them as they wear out. There's also a reassuring two-year warranty on this product.
Customers report that Wahl's Pet Electric Nail Grinder is a little noisy, which can be off-putting for some animals, but once accustomed to the whirr, the grinding itself is perfectly pain-free. A felt polisher gently smoothes the nails after grinding, which should mean fewer scratch marks around your home.
The nail grinder is comfortable to use, with an ergonomic handle making it easy to grip. It's aimed at cat and dog owners, though there's nothing to say it won't also suit a rabbit or guinea pig. However, user reviews suggest thicker nails and those of larger dogs may be a challenge for this otherwise impressive and good value nail grinder.
5. OMORC Electric Dog Nail Grinder: Best for nervous dogs
OMORC Electric Dog Nail Grinder
Quiet but powerful grinder trusted by owners of nervous dogs
Specifications
Suitable for:
Cats. rabbits, guinea pigs and dogs
Grinding speed :
7500rpm; **Power type** AA battery
Reasons to buy
+
Powerful
+
Suitable for larger dog breeds
+
Great value for money
Reasons to avoid
-
Batteries not supplied
-
Single speed
-
Only 12-month warranty
A nail grinder needs to be sufficiently powerful to effectively grind your pet's nails and quiet enough that your dog or cat will let you gently clasp their paw while you do so. The good value OMORC fits both these criteria and also comes with the endorsement of many a nervous dog owner. Notably, many are owners of medium to large dog breeds. However, this useful nail grinder is just as effective when it comes to grooming smaller animals.
The OMORC nail grinder ranks highly among Amazon customers and has a strikingly low price tag. This could be because it's not as fully featured as some of the other contenders here: it's a single-speed device, albeit able to grind at a creditable 7500rpm. It has two grinding ports for small and medium-sized pets and two more for larger breeds of dog. This is quite canny since many other nail grinders lack the capacity to tackle large canine nails.
OMORC also keeps the price down by making this an AA battery-powered device, but there's also a USB charger should you wish to recharge it from a computer. On the other hand, this means that if you can get hold of a pair of AA batteries you can use this nail grinder without waiting around for a recharge.
As with the best buy Pecute nail grinder, the OMORC has a safeguard cap to prevent grinding down too far. Note though that despite being termed Ultra Quiet, the OMORC is a smidgen less discreet than the Pecute and Petease models.
6. Toozey Dog Nail Grinder Rechargeable: Best for all-round flexibility
Toozey Dog Nail Grinder Rechargeable
Reliable, rechargeable nail grinder makes a good all-round choice
Specifications
Suitable for:
Cats, rabbits, guinea pigs and dogs
Grinding speed:
6500rpm and 7000rpm; **Power type** rechargeable battery
Reasons to buy
+
10-hour battery life
+
Powerful 14W motor
+
Quiet
+
Suitable for most pets
Reasons to avoid
-
Lithium-ion batteries cost extra
-
Takes 4 hours to recharge
-
No LED light
If you're looking for a good all-round choice, the Toozey Dog Nail Grinder may well fit the bill. As with several others here, it emits a modest 50dB in operation – comparable to the background buzz of an office – and has two speed options so you can switch between efficient nail grinding and greater accuracy as you get closer to your pet's paw or foot. There are three grinding ports equating to small, medium and larger pets.
Toozey offers a 200mAh lithium-ion battery, which lasts up to 10 hours between charges before requiring a relatively lengthy four-hour recharge. An indicator light just below the on/off switch on the unit's main body makes it easy to see when you need to plug in its USB cable and charge it up.
The Toozey's motor is encased in a brass surround, helping dampen vibrations as well as sound. The device resembles a chunky electric toothbrush and is slimmer than some of its rivals but has no discernable ergonomic shaping to make it comfortable to use. Its lack of shudder will therefore be a welcome feature. In fact, one of the selling points is that it's easier to use than nail clippers, particularly if you don't the strongest hands.
Customers report good results from using the Toozey Dog Nail Grinder on canines of many sizes, but it's equally adept at trimming cats' and rabbits' claws. Toozey recommends using its grinder at a 45-degree angle to your pet's nails and to tackle their nails slowly, giving them a chance to settle and for any operational heat from the device to cool – a sensible precaution applicable to any nail grinder.
How to choose the best pet nail grinder
A nail grinder needs to be quiet enough not to upset your pet with its whirring motion, and also have minimal vibration. Under 50dB is ideal. You'll also want the grinder to have a steady action and sufficient power to grind down nails in a few short seconds.
If you have a larger dog or one with thick nails, avoid nail grinders designed only for small and medium-size pets. A range of grinder port sizes keeps your options open if you have several pets. You may also want to choose either a wired grinder (since you can be sure of a consistent amount of power) or one with a long battery life between charges.
Consider where your pet is most comfortable. You don't want them to associate their favorite spot with an unwelcome activity and potential discomfort. However, a quiet, undisturbed location will help keep them calm while they're being groomed. Having chosen a spot, check whether there's a mains outlet. If not, you'll need a battery-powered grinder. Some recharge via USB, but not necessarily at the fast-charge rate the manufacturer claims on the box. Check for any fine print if this is critical to your purchase.
The ergonomic handle design will help you get a good grip when using the grinder, but each nail should require less than 10 seconds work, so arguably this isn't as critical a factor as whether you'll be able to buy new grinder pads once the first ones are worn out.
Get the best advice, tips and top tech for your beloved Pets