Best cat nail clippers: Keep your kitty's claws trimmed
The best cat nail clippers will keep your cat's claws under control, and protect those carpets!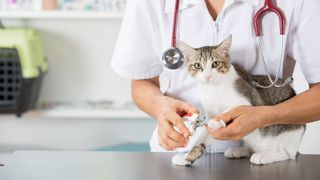 (Image credit: Getty Images)
Why do you need a pair of the best cat nail clippers? Our pet felines have sharp talons just like the larger members of their family, but when they live in a domestic environment, they don't need razor sharp claws like they would when they are out in the wild.
Without the need to hunt pray and fend off vicious attackers, their claws only get worn down when – if you're lucky and are able to let your cat outside – they grind their nails on trees and stone and of course, when they relentlessly scratch on your furniture, drapes, carpets or anything else they fancy inside too!
Of course, it's almost impossible to stop them doing this as it's hard-wired into their brains as a way to mark their territory, as well as to help loosen and remove the older outer part of the claw known as the husk. It's also a form of exercise to help keep them fit, especially if they're an indoor house cat.
Investing in the best cat scratching post will help, but you can't completely deter your kitty from occasionally tearing up the stairs. So, with claws that are constantly growing and shedding, just like our own nails, the only way to protect your precious home from being ruined is to give your furbaby a good manicure. Not to mention, it'll prevent them from getting their claws caught in something and tearing it out (we all know how painful it can be to rip a nail!).
Before you grab the scissors, it's best to invest in a tool that's meant for the job, and we have put together a collection of some of the best cat nail clippers on the market to help you decide which type suits you and your cat best. Make sure you take a look at our guide on when and how to clip your cat's claws too, so you ensure you are performing the task safely!
PetsRadar's pick of the best cat nail clippers
Why you can trust PetsRadar Our expert reviewers spend hours testing and comparing products and services so you can choose the best for you. Find out more about how we test.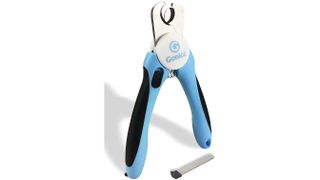 Gonicc Dog & Cat Pets Nail Clippers and Trimmers
Best overall cat nail clippers
Pet size : All | Blade: Flat | Weight: 5.28 ounces | Instructions: Yes
Good grip
Hidden nail file in handle
Safety stop guard
Weak locking mechanism
Strong, sturdy, safe, and straightforward sums up these nail clippers perfectly. If you are on the lookout for a pair of no-nonsense cat nail clippers with a few extra features thrown in then these could be just what you need for you and your feline friend.
Ergonomically designed and lightweight, these clippers fit comfortably between the palm of the hand and fingers ensuring that you can get a good grip of the clippers. The handles are covered in a non-slip material and every time you put them in your hands you always feel like you are in control. They give you confidence that you are not going to slip and perform any unwanted trims. This helps lead to stress-free clipping sessions, something every owner, and of course your feline friend will want.
The design complements the strong durable hardened stainless steel blades and helps cut through even the thickest of nails with little fuss. To add extra security when cutting, the back of the blades have a safety stop guard. This helps you make the right cut and avoid over-cutting. There's much less chance that you will cut into the 'quick' of your cat's claws, and cause them serious discomfort.
Once you've finished trimming up your cat's claws, you might want to finish them off with a nail file to get rid of any rough edges. Thankfully, you don't need to buy one separately, as it comes with the clippers, and is conveniently hidden away in one of the handles. Finally, you can lock them shut before you put them away, but the locking mechanism button isn't the most convincing.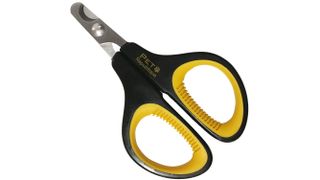 Pet Republique Cat Nail Clippers
Best budget cat nail clippers
Pet size : Small | Blade: Flat | Weight: 1.12 ounces | Instructions: Yes
Inexpensive
Soft sturdy grip
Warranty
For kittens or small cats only
Not for big hands
Little cats need little clippers, and this is exactly what these clippers are: little. The added bonus is that they are little on price. They won't burn a hole in your pocket, and will cost very little to replace when they do finally need replacing. The smart thing to do might be to invest in more than one pair. In fact, you can purchase two for almost the same price as one of the other clippers in this guide. But the lower price doesn't mean you are getting a low quality product, as they have a four-year warranty.
Similar in design to Pet Nail Clippers for Small Animals in this buying guide, these clippers fit neatly in the hand, and are very lightweight, making them easy to use. They have comfortable soft grip handles, which provide plenty of stability for most hand sizes when in action. This leads to an improved, stress-free experience for you and your kitten when being used. Big hands may struggle a little to take total control of the clippers and find them difficult to use properly.
The thick stainless steel blades are small in comparison to the overall size of the clippers, so you will need a keen eye and a steady hand to make sure you get a clean cut. But this won't be a problem, as they are super-sharp, and will last for years. Like all good cat nail clippers, they come with instructions – and useful tips – on how to use them and get the best results to help stop your cute kitten tearing up the furniture.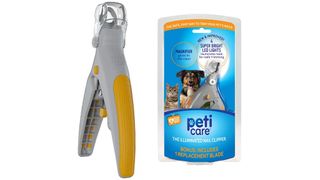 Allstar Innovations PetiCare LED Light Pet Nail Clipper
Best versatile cat nail clippers
Pet size : All | Blade: Flat | Weight: 5.64 ounces | Instructions: Yes
Replaceable blade
Illuminating LEDS
Magnifying lens
Traps clippings
Need to replace batteries
No good on dark nails
Do you want to take the dread out of clipping your cat's nails and get a professional finish at the same time? Of course you do. The easier it is to trim your cat's nails, the happier both you and your cat will be. This illuminated nail clipper from PetiCare brings with it a few extra features that take nail clippers up to another level over standard clippers and give you peace of mind.
Cat claws can be small and not always easy to see, so any help you can get will help make sure that you do a good job. In this case, four super-bright LED lights help illuminate the bloodline of light colored nails. This increases the visibility of your pets 'quick' – this is the blood supply to the claw – and helps determine where you can make a safe cut. If you cut them quick, your poor cat will be in pain, and the claw will bleed. It works on darker nails, but is not as effective.
Keeping the LED lights company is a small magnifying lens that offers 5x magnification, making it easier to see what you are clipping, and get a good look at the cut when done. The lens doubles up as a nail trapper, so your cat's claws don't fly all over the place, and more importantly don't get in your eye.
To add to an already impressive array of features, the clippers have two wide easy to grip comfortable handles. This makes sure that there's much less chance of any slippage when trimming your cute kitty's claws. The durable stainless blade is integrated into the body, and a quick-release blade replacement lever makes it easy to replace the blades when needed – a replacement is included. It's perfect for prolonging the life of the clippers, but you will need to eventually replace the light batteries.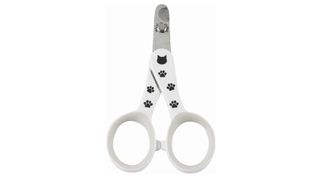 NECOICHI Purrcision Feline Cat Nail Clippers
Best thin cat nail clippers
Pet size : All | Blade: Flat | Weight: 1.41 ounces | Instructions: Yes
Made from Japanese steel
Sharp, strong, thinner blades
Cute design
Not for big hands
No cat owner wants a poor-quality cut when clipping their cat's nails, and your cat won't like it very much either. The cleaner the cut, the less stressed your cat will be, and the calmer they are, the easier it will be for you to clip and trim.
These clippers are expertly crafted in Japan and made from stainless steel from Seki City, which has been the home to some of Japan's most celebrated swordsmiths for over 800 years. This means that you will be getting high-quality metal that should stay sharper for longer, and last longer than your average nail clippers. The blades have extra-sharp edges that give a nice clean cut, but unfortunately no file is included to smooth off any edges.
But it is not just the durability and strength of these clippers that makes them a must-consider purchase. Thanks to the strength and quality of the steel, the ballads do not have to be as thick as more conventional blades. These are 30% thinner than most standard blades, which brings with it one distinct advantage. You will be able to see the 'quick' of your cat's claws easier, leading to a more accurate cut and less stress for you when doing the job.
The handles are cushioned and non-slip to help give added security when using them, but you'll only be able to get your thumb and a finger through the handle holes. It's not much good if you've got big hands, but handy for precision cuts. Finally, the aesthetic may not be the most important part of cat nail clippers, but these have a simple and cute paw cat design that makes them almost irresistible.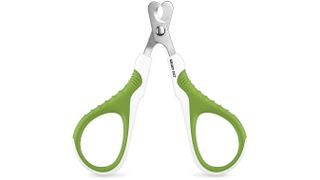 Pet Nail Clippers for Small Animals
Best small pet cat nail clippers
Pet size : Small | Blade: Angled | Weight: 0.6 ounces | Instructions: Yes
Lightweight
Ideal for kittens
Instructional ebook
Not for large hands
If you have a cute little kitten, you don't want a great big pair of clippers to hack away at their nails. Small pets need specialist clippers designed to take on the challenge that small paws and claws present. And this is exactly what you get with this pair of neat nail clippers. They measure 3.7 x 2.6 x 0.6 inches, so they are not tiny and neatly rest in the hand. They are ergonomically designed so that your thumb and finger slip easily into sturdy eco-friendly plastic finger rests.
The handles are covered with a non-slip rubberized coating that allows you to securely grip them when in action. This makes sure that there is much less chance of slipping when clipping your kitten's nails. No owner wants that to happen. Admittedly, they are not ideal for those with larger hands, but the majority of owners will be able to use them comfortably.
The finger-friendly handles give great control over the sturdy stainless steel blades. Their semi-circular edge ensures that you get a clean, precise cut, no ragged edges. And the design means that the nail is always visible, so you can always keep an eye on what you are doing and keep the worrying down to a minimum.
If you are using cat nail clippers for the first time, or simply not sure what to do with them and are worried that you might be doing it wrong, don't panic. You can download an instructional ebook to guide you in the right direction. All you need to do is scan a QR code on the back of the packaging to get the full guide.
How to choose the best cat nail clippers
Size and ease of use
Cat nail clippers come in different shapes and sizes, much like your feline friends. If you have a kitten, you want a pair of clippers specially manufactured for small pets. These will be smaller in size, and have blades tailored for cats with smaller claws. These have smaller handles so can be more difficult to use for larger hands, so make sure that the handles are non-slip, and will give a safe strong grip. Larger clippers – as you might expect – are commonly tailored for fully grown cats. Again, make sure that the handles provide a sure grip and fit neatly into the palm of your hand. No owner want to slip when cutting and trimming claws.
Blade quality and style
The blade is the most important part of any cat nail clippers, so you need to make sure that you have a strong, long lasting and rust-free blade. The popular – and recommended – choice are clippers with a stainless steel blade. Most blades will last a good few years, but consider clippers with changeable blades. When they do start to dull, just change the blade rather than buying new clippers.
Blades come in two styles: flat and angled. Both work equally well, but an angled blade may make it easier when trimming.
Bonus features
Basic cat nail clippers do the job you expect, but if you want to make the whole cat-clipping experience less stressful and pamper your feline friend a little more then think about some extras. Some clippers come with lights and magnifying lens to help you see your cat's claws better. You can finish a cut with a file for a smoother and more aesthetic finish. You can go manual with a simple nail file, or splash out on an electric trimmer to finish the job. For safety reasons, consider a clipper with guard to protect the blade when not in use.
Get the best advice, tips and top tech for your beloved Pets
Steve Jenkins is a freelance content creator and long-time journalist with more than 20 years in the industry. He has written for numerous titles covering tech to pets, with his latest faithful hound always by his side. When not walking his dog, or discussing who's best - cats or dogs? Loud guitars, AFC Bournemouth, Photoshop, and trying to save the world take up the rest of this time.