Best dog nail clippers 2023: Give pooches a perfect paw-dicure
Use the best dog nail clippers to keep paws in great shape and prevent nails from overgrowing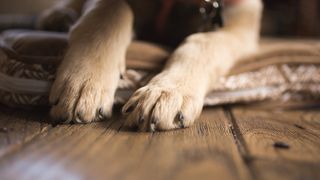 (Image credit: Getty Images)
If a trip to the groomers is proving costly, then the best dog nail clippers may prove to be a sound investment. Although it will mean spending some time giving your pooch an at-home "paw-dicure", clippers let you safely trim nails, preventing them from becoming painfully overgrown.
In this guide, you will find a host of clippers that would be worthy of a spot in any of the best dog grooming kits. They include both plier-style and guillotine-style clippers that will suit beginners and experienced groomers although you may also want to consider the best nail grinders for pets if you find your dog is running for cover the minute you try and groom them.
In fact, it's always a good idea to learn how to clip a dog's nails – that way you'll feel more confident. It is especially important if your dog mainly exercises on soft ground, is elderly or often stays indoors, as reported in the journal Applied Animal Behaviour Science. Of course, you can still treat your pup to a special salon session every now and then too.
So let's take a look at the best dog nail clippers available today. Below you will find our favourite picks including a great nail clipping set that will have no trouble tackling the toughest of nails. You will also find some great advice to help you make an informed choice.
PetsRadar's pick of the best dog nail clippers
Why you can trust PetsRadar Our expert reviewers spend hours testing and comparing products and services so you can choose the best for you. Find out more about how we test.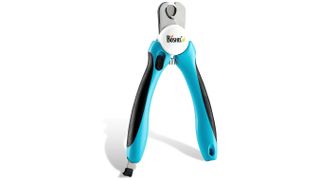 BOSHEL Dog Nail Clippers and Trimmer with Quick Safety Guard
Best overall dog nail clippers
Reasons to buy
+
Recommended by professionals
+
Clean cut every time
+
Safety stop
Reasons to avoid
-
Can be difficult to use on small dogs
WHAT DOG OWNERS SAY
With a user rating of 4.5 out of five on Amazon, these trimmers are praised for making clean cuts. Users like how sharp they are and they say they're a perfect size for puppies. They are also deemed easy to use and, because they have a safety guard, users say they are far less likely to cause an accident. One user says the location of the logo made it hard to see where the cuts were being made.
If you're looking for the Rolls Royce of nail clippers, then look no further than this offering from Boshel, who have managed to wrap up substance and affordability in one funky, vibrant blue package.
Recommended by professional groomers, animal trainers and veterinarians, this high-quality nail clipper has an ergonomic design with easy-grip, non-slip handles that make it a breeze for you to use.
The 3.5mm thick stainless steel blades mean it only takes one cut to trim each nail clean, and if you and your dog are prone to sweating bullets every groom time for fear of injury, then you're going to love the integrated safety stop, which makes it almost impossible to cut too deep.
We like that there's a safe storage switch, which means that when you're not using the clipper, you can lock the blade away, a great feature if you have young children at home. You also get a bonus nail file, which stores conveniently in the handle, so you always know where it is. A great addition if you're wanting to give your dog that full salon experience and shape their nails after you've trimmed them.
With over 21,000 reviews on Amazon, and close to 90% of those being four-stars or above, this is the gold standard in nail clippers. Granted, its large size means it's not a great choice for small dogs, but for medium or large breeds it gets our vote every time.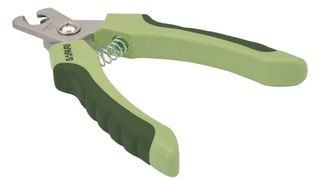 Safari Professional Stainless-Steel Nail Trimmer
Best budget dog nail clippers
Reasons to buy
+
Ergonomic handles with rubberized grips
+
Available in two sizes
+
Locking mechanism for safe storage
Reasons to avoid
-
Thick nails may require significant force
WHAT DOG OWNERS SAY
An impressive 90% of users give these trimmers four or more stars on Amazon, giving an overall rating of 4.5 out of five. Praised for being sharp, users say they perform the task safely. "They are less painful than the single shear blade on another type of cutter I've used," said one. Capable of cutting differing nail thicknesses, some users nevertheless say the sharpness can deteriorate.
Are those trips to the vets to get your dog's nails clipped starting to take their toll on your bank balance? Look no further than this nail clipper from Safari, which replicate the experience without the hefty financial outlay.
These come in two sizes, so whatever the size of your breed, you should be covered. Sharp and offering a clean cut, these are very durable, and should remain a fixture in your household for many years to come
Moreover, they're very lightweight, with the rubberized grip offering control and comfort. Adding to this, there is a locking mechanism and safety stop, which reduce the risk of injury.
The only real downside to this that we can see is that it sometimes struggles with thicker nails – you'll need to apply a significant amount of pressure to cut them in one go, which some dogs may not appreciate. Even so, this offers great value for money.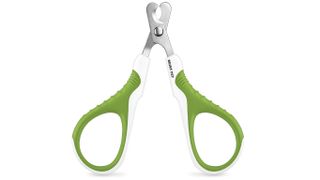 Shiny Pet Nail Clippers for Small Animals
Best for small dogs
Reasons to buy
+
Money-back guarantee
+
Free e-book
+
User-friendly design
Reasons to avoid
-
Can be stiff when first used
WHAT DOG OWNERS SAY
Users have given these clippers an impressive rating of 4.7 out of five on Amazon. As well as being great for cutting dogs, there are many users reporting success with cats and rabbits too. Since they're aimed at small animals, most dog owners are buying them for puppies, it seems, saying they're easy to use and can cut without cracking.
If you've got a pint-sized pooch, then you'll want to try these nail clippers that have been specifically designed for use on small dogs and cats. Designed like a pair of scissors, the rubber grip gives these clippers a comfortable feel in your hands and stops them from slipping.
The semi-circular shape of the stainless steel blades gives you a clean and precise cut, and the windowed opening means that your dog's nail is visible at all times, great for reducing the risk of injury.
If you're new to clipping your dog's nails, you'll love that you get a free e-book that provides you with a comprehensive guide on how to cut and trim safely. Simply scan the QR code on the back of the packet with your smartphone and the e-book is all yours. Talk about great peace of mind.
If you're after even more of that, then the lifetime money-back guarantee is pretty impressive. If for any reason you're not happy with the quality of the clippers you can ship them back and get a refund, no questions asked.
The only drawback to this affordable nail clipper is that it's not spring-loaded, so you may find you're having to exert more effort when you're using them, and reviewers also note that they can be a bit stiff to open and close on first use. Still, there's a lot to love with this offering from Shiny, and given you've got nothing to lose, why not give these clippers a try?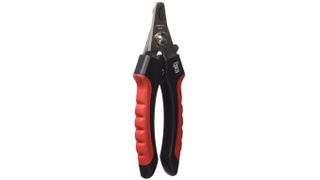 Epica Professional Pet Nail Clippers
Best for large dogs
Reasons to buy
+
Automatic lock
+
Lifetime warranty
+
Precise and sharp blades
Reasons to avoid
-
Nail guard doesn't always stay put
WHAT DOG OWNERS SAY
These clippers have been hailed a success, with users giving them an Amazon rating of 4.6 out of five. They are praised for being super sharp and study and their ease of use is also notable. One groomer-in-training was very impressed and users generally say their pets enjoy a painless cut. Users have claimed they're not suitable for dogs that aren't small.
With 96% of the 10,000+ reviews on Amazon being positive, it's clear to see that pet parents can't get enough of this nail clipper by Epica. The blades have been correctly spaced for use on medium and large dogs to ensure safe clipping, and the sharp stainless steel blades make for an effortless clip.
These durable clippers won't bend or rust, so you'll get years of use out of them, and the ergonomic design means the handles are shaped to fit your fingers, providing maximum comfort. You don't have to hold them super tight to maintain control either; just grasp lightly and apply a normal amount of pressure and your dog's nails will be looking beautifully manicured before you know it.
The safety feature enables the clippers to be stored away with the blades in a locked position, so you don't have to worry about accidentally cutting yourself when you're rummaging through your drawer. There's also a nail guard, which is optional to use during the nail trimming process to protect from accidental cutting, although some reviewers have noted that this doesn't always stay put.
Overall, the Epica Professional Pet Nail Clippers have a thoughtful design that takes into account the unique needs of larger breeds, which is why it easily takes the top spot in this category.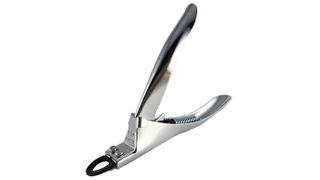 Best guillotine-style dog nail clippers
Reasons to buy
+
Replaceable blades
+
Lifetime warranty
+
Sharp blade for a smooth cut
Reasons to avoid
-
No quick-guard safety feature
WHAT DOG OWNERS SAY
With a rating of 4.4 out of five on Amazon, these nail clippers are praised for cutting nails quickly. They are also very well made, owners say, with one suggesting they will last for a lifetime. Some say they are not great for large dogs but others are very happy with their purchase, with one even going so far as to say they took the fear out of trimming.
If you hate using plier-style nail clippers, then switching to a guillotine-style might be just the ticket. Made from high-quality steel and featuring a lifetime guarantee, these heavy-duty clippers with premium chrome plating are the only ones you'll ever need.
We love that this trimmer features patented blade replacement technology, which means you can replace the blades when they start to go blunt. The blades are sharp too, so they'll effortlessly cut through all nails, including super thick ones. With a micro-honed cutting system, you won't have to worry about split or ragged nails either.
The advantage of using a guillotine-style nail clipper is that it creates a cleaner cut with less force than other types of clippers require. There is a drawback though as there's no quick-guard safety feature, so you need to take care not to clip too far down the nail.
That aside, the Resco brand comes highly recommended by veterinarians and groomers so, if you feel comfortable working without a safety stop, then these clippers are a solid investment.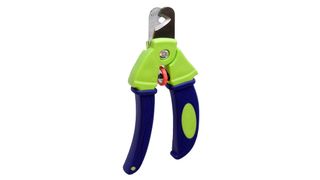 Zen Clipper Precise Safer Pet Nail Trimmer
Best adjustable dog nail clippers
Specifications
Dimensions:
LxWxH 9.5 x 7 x 0.75 inches
Reasons to buy
+
Fully adjustable to suit all breeds
+
Sharp blade
+
Ergonomic design
WHAT DOG OWNERS SAY
These clippers have been given a rating of 4.3 out of five and owners say they work wonders, especially on dogs who have hated having their nails clipped in the past. That seems to be a running theme across many of the online reviews on Amazon, although owners also praise the safety feature.
The Zen Clipper is an adjustable dog nail trimmer that can be reconfigured to suit the nails of any breed of pup. The unique fully adjustable blade limits the amount of nail being clipped and reduces the risk of over cutting the nails and hurting your pet's sensitive quick.
To use, simply determine how much nail you want to cut and then use the convenient thumb wheel to adjust the blade. The widest setting is 11m and the narrow setting is 2mm, so you'll easily be able to find the perfect size for your pooch.
The extra sharp blade will cut through even the thickest nails and the laser etched markings ensure consistent measuring. We also love the ergonomic design, which is comfortable to hold and great for arthritis sufferers. The result is a no-stress nail clipping experience for both you and your canine companion.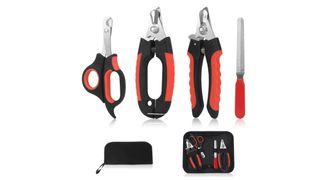 Bretheil Dog Nail Clippers Trimmer Set
Best dog nail clipper set
Specifications
Dimensions:
7.87 x 4.33 x 0.98 inches
Reasons to buy
+
4-in-1 clipper set
+
Comes in a storage case
+
Professional grade
Reasons to avoid
-
Not suitable for toy breeds
WHAT DOG OWNERS SAY
With a rating of 4.6 out of five on Amazon, users generally believe you can't go far wrong with these clippers. Said to be perfect for dogs of all sizes, they're praised for making cutting easy although users have said they may struggle with thick nails so bear that in mind. Otherwise they appear to be a solid purchase.
Looking for more than just a single pair of nail clippers to take care of your dog's grooming needs? Well, this super affordable set from Bretheil is a worthy contender for a place in your shopping cart.
You'll get not one but three different pairs of clippers, perfect for tackling all nail types, plus a handy nail file to put the finishing touches on your pup's pedicure.
The nail clippers are plier-style and come with a safety stop to prevent over-cutting. Made from thick stainless steel blades, they cut quickly and cleanly, making fast work of even the thickest nails.
With a soft rubber coating and ergonomically designed handles, the clippers are easy to grip and comfortable to hold for long periods of time. While you could use these on smaller breeds at a push, they're best suited to medium and large sized dogs.
We love that these clippers and file come in a handy storage case, so they're perfect for use at home or can slip neatly into your bag for those trips away.
How to choose the best dog nail clippers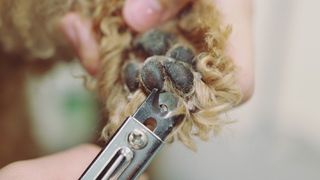 Regular nail trimming is super important for your fur friends' health and wellbeing. Although very active dogs will likely wear down their nails naturally by walking and running on hard surfaces, senior dogs or those who spend a lot of time indoors, will need a little extra assistance.
When it comes to choosing a pair of nail clippers for your dog, there are a few things worth considering.
Size
If you have a small dog and you choose a pair of clippers designed for a larger dog, you may end up removing more of the nail than you want to. If you have a large dog and use clippers designed for a small dog you may not take off enough.
Style
Scissor-style clippers, also known as pliers, are popular and easy to use. Squeeze the handles together, and the blade will cut off the end of the nail. These often feature a safety stop so you don't cut too far down and the nail also remains visible, which offers great peace of mind if you're an inexperienced groomer. Scissors are a good choice for larger breeds and dogs with thick nails.
Guillotine-style clippers are a good choice for small and medium-sized dogs as little nails can fit easily into the hole where the tip of the nail is gently sliced off. With no safety stop feature, it can be easy to take off too much of the nail and injure your dog so these are best used by experienced home groomers.
Longevity
Sometimes it's worth spending a little extra for a high-quality clipper as inexpensive dog nail clippers are prone to becoming dull quicker. Some dog nail clippers cannot be sharpened yourself and will need to be replaced in time, adding further expense.
Nail grinder v clipper
Nail grinders work by grinding the nail down rather than clipping it off. They tend to be very quiet and they're also gentle, allowing you to slowly grind away until the nail reaches a suitable length. Nail grinders are less likely to cause injury. They're a great option for dogs with thick nails and those who don't like the feeling of clippers.
Best dog nail clippers: FAQs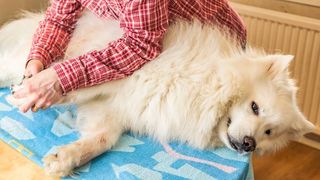 Is it better to clip or grind dog's nails?
Clippers are typically quieter, but are far more likely to accidentally remove too much of the nail or reach down too far into its blood supply which can cause bleeding – if this happens you must discover how to stop a dog's nail from bleeding. Clippers are also typically less expensive than a grinder, but they can leave behind sharper edges.

By contrast, a dog nail grinder quickly grinds down the nail. Accidents can still happen, but you are less likely to expose the 'quick' or blood vessel area of the nail. Grinders are also ideal for creating a smooth round edge but you may need to desensitize your dog to the sound. You could opt to use clippers first and then smooth it out with a dog-friendly nail file.
Can you use human nail clippers on dogs?
No, it's not advisable to use human nail clippers on dogs. Dog nails are thicker and tougher so clippers are specially designed. They often have useful features that help pet owners to cut their pet's nails, such as a guard or stop mechanism.
How often should you replace dog nail clippers?
After being in use for some time, many clippers become dull and will inevitably need sharpened or replaced. High quality dog nail clippers should last at least a year or two without needing to be replaced. Low-quality dog nail clippers can become dull after as few as three or four uses.