Best dog nail clippers: Give your pooch the perfect pedicure
Find the best dog nail clippers for big dogs, small dogs or owners on a budget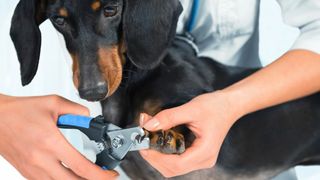 (Image credit: chantellervheerden)
The best dog nail clippers make tending to your pooch's paws a lot easier. Clipping your dog's nails is important, as letting them get too long can cause them to become sharp and fragile, with more possibilities of them breaking and hurting themselves. Owners should try and make nail clipping part of their regular grooming routine, incorporating a good set of clippers into their collection of the best dog grooming kit.
Long nails are also mean your dog is more likely to damage furniture, floors or even themselves when scratching, so clipping them regularly is necessary on all fronts. If you need a little help, you can check out our handy guide on how to clip a dog's nails. It's very simple, as long as you've got the best dog nail clippers to hand, you should have no trouble at all. Alternatively, take a look at our selection of the best nail grinders for pets if you think you'd be more confident using one of those.
Of course, it's not going to be your dog's favorite thing in the world, but there are plenty of ways you can get them to sit still for ten minutes while you give them a good pamper. You can always consider training your dog with treats, as this usually catches their attention for a few minutes, allowing you to get on with your job with ease.
So, to make life easier, we've picked out some of the best dog nail clippers for all pups out there to stay looking smart. Check out our top picks below…
PetsRadar's pick of the best dog nail clippers
BOSHEL Dog Nail Clippers and Trimmer with Quick Safety Guard
Best overall dog nail clippers
Safety Stop: Yes | Dimensions: 7.5" x 2.5" | Dog Size: All
Recommended by professionals
Clean cut every time
Safety stop
Can be difficult to use on small dogs
If you're looking for the Rolls Royce of nail clippers, then look no further than this offering from Boshel, who have managed to wrap up substance and affordability in one funky, vibrant blue package.
Recommended by professional groomers, animal trainers and veterinarians, this high-quality nail clipper has an ergonomic design with easy-grip, non-slip handles that make it a breeze for you to use.
The 3.5mm thick stainless steel blades mean it only takes one cut to trim each nail clean, and if you and your dog are prone to sweating bullets every groom time for fear of injury, then you're going to love the integrated safety stop, which makes it almost impossible to cut too deep.
We like that there's a safe storage switch, which means that when you're not using the clipper, you can lock the blade away, a great feature if you have young children at home. You also get a bonus nail file, which stores conveniently in the handle, so you always know where it is. A great addition if you're wanting to give your dog that full salon experience and shape their nails after you've trimmed them.
With over 21,000 reviews on Amazon, and close to 90% of those being four-stars or above, this is the gold standard in nail clippers. Granted, its large size means it's not a great choice for small dogs, but for medium or large breeds it gets our vote every time.
Safari Professional Stainless-Steel Nail Trimmer
Best budget dog nail clippers
Safety Stop: Yes | Dimensions: 10.5" x 2.5" | Dog Size: All
Ergonomic handles with rubberized grips
Available in two sizes
Locking mechanism for safe storage
Thick nails may require significant force
Are those trips to the vets to get your dog's nails clipped starting to take their toll on your bank balance? Look no further than this nail clipper from Safari, which replicate the experience without the hefty financial outlay.
These come in two sizes, so whatever the size of your breed, you should be covered. Sharp and offering a clean cut, these are very durable, and should remain a fixture in your household for many years to come
Moreover, they're very lightweight, with the rubberized grip offering control and comfort. Adding to this, there is a locking mechanism and safety stop, which reduce the risk of injury.
The only real downside to this that we can see is that it sometimes struggles with thicker nails – you'll need to apply a significant amount of pressure to cut them in one go, which some dogs may not appreciate. Even so, this offers great value for money.
Shiny Pet Nail Clippers for Small Animals
Best nail clippers for small dogs
Safety Stop: No | Dimensions: 3.7" x 2.6" | Dog Size: Small
Money-back guarantee
Free e-book
User-friendly design
Can be stiff when first used
If you've got a pint-sized pooch, then you'll want to try these nail clippers that have been specifically designed for use on small dogs and cats. Designed like a pair of scissors, the rubber grip gives these clippers a comfortable feel in your hands and stops them from slipping.
The semi-circular shape of the stainless steel blades gives you a clean and precise cut, and the windowed opening means that your dog's nail is visible at all times, great for reducing the risk of injury.
If you're new to clipping your dog's nails, you'll love that you get a free e-book that provides you with a comprehensive guide on how to cut and trim safely. Simply scan the QR code on the back of the packet with your smartphone and the e-book is all yours. Talk about great peace of mind.
If you're after even more of that, then the lifetime money-back guarantee is pretty impressive. If for any reason you're not happy with the quality of the clippers you can ship them back and get a refund, no questions asked.
The only drawback to this affordable nail clipper is that it's not spring-loaded, so you may find you're having to exert more effort when you're using them, and reviewers also note that they can be a bit stiff to open and close on first use. Still, there's a lot to love with this offering from Shiny, and given you've got nothing to lose, why not give these clippers a try?
Epica Professional Pet Nail Clippers
Best nail clippers for large dogs
Safety Stop: Yes | Dimensions: 9.8" x 3.8" | Dog Size: Medium - Large
Automatic lock
Lifetime warranty
Precise and sharp blades
Nail guard doesn't always stay put
With 96% of the 10,000+ reviews on Amazon being positive, it's clear to see that pet parents can't get enough of this nail clipper by Epica. The blades have been correctly spaced for use on medium and large dogs to ensure safe clipping, and the sharp stainless steel blades make for an effortless clip.
These durable clippers won't bend or rust, so you'll get years of use out of them, and the ergonomic design means the handles are shaped to fit your fingers, providing maximum comfort. You don't have to hold them super tight to maintain control either; just grasp lightly and apply a normal amount of pressure and your dog's nails will be looking beautifully manicured before you know it.
The safety feature enables the clippers to be stored away with the blades in a locked position, so you don't have to worry about accidentally cutting yourself when you're rummaging through your drawer. There's also a nail guard, which is optional to use during the nail trimming process to protect from accidental cutting, although some reviewers have noted that this doesn't always stay put.
Overall, the Epica Professional Pet Nail Clippers have a thoughtful design that takes into account the unique needs of larger breeds, which is why it easily takes the top spot in this category.
Casfuy Dog Nail Grinder
Best electric dog nail clippers
Rechargable: Yes | Dimensions: 6.8" x 2.9" | Dog Size: All
Low noise
Rechargeable and portable
Two speeds for light and heavy grinding
Charging cable but no power adaptor
If manual trimmers aren't your thing and you're looking to take your pooch's nail care to new electrifying heights, then the Casfuy Nail Grinder might just be your new best friend. This nifty little gadget is getting rave reviews, and it's not hard to see why. It offers one of the most effective and precise nail-trimming experiences that grind nails down painlessly and without the risk of injury.
It has two settings, low and high, so you can choose between light and heavy grinding depending on the thickness of your dog's nails. It also comes with three grinding ports, each one designed to match small, medium, or large dogs so you can select the appropriate port for your dog's size.
Your dog will love the soft volume of this grinder. The low noise and vibration come from whisper-quiet technology, which minimizes the chance of your fur baby getting stressed while you trim. When using for the first time, simply turn on the grinder near your dog to get them used to the sound and offer them a treat during and after so that they associate the nail grinder with a reward.
We love how lightweight this trimmer is, and it's also easy to hold in the hand so it makes trimming that much easier. It also comes with a USB port so you can plug the grinder into your computer for easy recharge. After charging, the battery should last for around two hours. The only downside is the lack of a power adaptor, so you'd need to purchase that separately if you're wanting to charge via a wall socket.
Resco Nail Clippers
Best guillotine-style dog nail clippers
Safety Stop: No | Dimensions: 5" x 3.5" | Dog Size: All
Replaceable blades
Lifetime warranty
Sharp blade for a smooth cut
No quick-guard safety feature
If you hate using plier-style nail clippers, then switching to a guillotine-style might be just the ticket. Made from high-quality steel and featuring a lifetime guarantee, these heavy-duty clippers with premium chrome plating are the only ones you'll ever need.
We love that this trimmer features patented blade replacement technology, which means you can replace the blades when they start to go blunt. The blades are sharp too, so they'll effortlessly cut through all nails, including super thick ones. With a micro-honed cutting system, you won't have to worry about split or ragged nails either.
The advantage of using a guillotine-style nail clipper is that it creates a cleaner cut with less force than other types of clippers require. There is a drawback though as there's no quick-guard safety feature, so you need to take care not to clip too far down the nail.
That aside, the Resco brand comes highly recommended by veterinarians and groomers so, if you feel comfortable working without a safety stop, then these clippers are a solid investment.
How to choose the best dog nail clippers
If you can hear the tap, tap, tap of your dog's nails on your wooden floors long before you see their little face appear, then it's definitely time to whip them into your home salon and give those nails a trim. With so much choice available, we've put together some tips to help you choose the perfect pair of clippers for your pup.
The first thing you want to think about is size. This is important because if you have a small dog and you choose a pair of clippers designed for a larger dog, you may end up taking off more of the nail than you want to, and if you have a large dog and use clippers designed for a small dog you may not take off enough. Choose the right nail clipper for your dog's breed, and also one that's comfortable for you to hold.
Secondly, consider what style of nail clipper you want to use. Scissor-style clippers, also known as pliers, are popular and easy to use. Simply squeeze the handles together, and the blade will cut off the end of the nail. These often feature a safety stop so you don't cut too far down, and the nail also remains visible, which offers great peace of mind if you're an inexperienced groomer. Scissors are a good choice for larger breeds and dogs with thick nails.
Guillotine-style clippers are a good choice for small and medium-sized dogs as little nails can fit easily into the hole where the tip of the nail is gently sliced off. With no safety stop feature, it can be easy to take off too much of the nail and injure your dog so these are best used by experienced home groomers.
Finally, there are nail grinders which, as their name suggests, work by grinding the nail down rather than clipping it off. Nail grinders are less likely to cause injury as they file the nail down slowly, but it can be a more time-consuming process than simply snipping the end of the nail off. They're a great option for dogs with thick nails and those who don't like the feeling of clippers.
While trimming your dog's nails may seem like a daunting task, it doesn't have to be. With the right nail clippers, healthy paws your dog will thank you for are just a few safe snips away.
Get the best advice, tips and top tech for your beloved Pets
Thank you for signing up to Petsradar. You will receive a verification email shortly.
There was a problem. Please refresh the page and try again.