Best topical flea treatment for cats: How to stay flea-free
We pick the best topical flea treatment for cats to keep in mind should your cat start scratching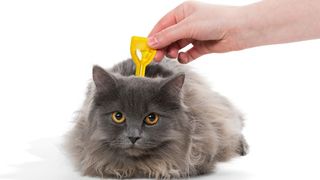 (Image credit: Getty)
Choosing the best topical flea treatment for cats is arguably the best way to keep your kitty free from parasites. Most formulas offer protection for around 30 days, so are ideal for monthly treatments. But with the numerous brands offering a variety of products, it's understandable if you were confused as to which one to pick. With this in mind, let's take a closer look at what flea treatment for cats entails.
Fleas aren't just biting nuisances; they can cause other issues, such as anemia and skin problems. The best flea treatments for cats will ideally address these too. From collars and shampoos, to sprays and spot-on treatments, each have their benefits and downsides.
If your cat doesn't mind – or at least will tolerate the prospect of – a small amount of liquid being applied to the back of their neck, then topicals might be an ideal choice, as they offer full-body coverage. They're easy to use and apply – just like the best flea treatments for dogs – and most of them come with a six-month supply.
Along with flea collars for cats, topical flea treatment probably represents the best method of killing, preventing the birth of, and repelling fleas. The way it works is as follows: the flea treatment is absorbed into the fatty layer of the skin, which then spreads throughout the cat's coat, and in the process provides 24/7 protection.
One thing to bear in mind when making your choice of product is whether you have an indoor or outdoor cat. For the former, the most basic protection – which usually covers fleas, eggs, and larvae – is generally adequate. whole for outdoor cats, you should probably look at something that works on ticks and lice.
With the wide amount of products offering flea treatment for cats currently out there, we've put together a guide to the best ones out there. Hopefully this will make things easier for you when you're making your mind...
PetsRadar's pick of the best topical flea treatments for cats
Why you can trust PetsRadar Our expert reviewers spend hours testing and comparing products and services so you can choose the best for you. Find out more about how we test.
The best overall flea treatment for cats
Specifications
Kills:
Fleas, ticks and lice
Suitable for:
Pregnant cats
Reasons to buy
+
Fast-working
+
Very popular formula
+
Long-lasting protection
The Frontline spot-on treatment is an extremely popular topical flea treatment. Its 'vet-strength' formula is safe, fast-working and easy to apply.
Once treatment is applied, any fleas that dare to jump onto your cat will be killed within 24 hours, and ticks will be killed within 48 hours, which will prevent infestations. It also kills lice, which live and feed on a cat's skin.
Like all spot on treatment, the formula is applied with a pipette, which makes it a bit easier for jumpy and restless cats who don't like to make these sorts of things easy. Simply empty the contents of the pipette onto your cat's skin at the back of their neck, so they don't lick it off, and it will spread itself around.
The treatment comes in one, three and six-dose packs. One three-dose pack will provide your cat with three months of protection.
The formula can be safely used on kittens weighing more than one kg, from eight weeks old, including cats that are pregnant.
And as long as you don't bathe your cat more than once a week, nothing should affect the efficacy of this popular product.
Beaphar Fiprotec Spot On solution
The best budget flea treatment for cats
Specifications
Active ingredient:
Fipronil
Reasons to buy
+
Good value for money
+
Vet-authorised
Reasons to avoid
-
Only works for five weeks
-
Slower formula
Beaphar Fiprotec Spot On solution is one of the better value options for flea treatments available on shelves and online today. It kills fleas and ticks on your cat as you apply it and for up to five weeks after that – although, it's recommended you reapply the solution every four weeks, just to be safe.
The active ingredient in this formula is fipronil, which concentrates in the sebaceous glands on your cat, located at the base of the hair follicles, where it can constantly replenish the skin. The sebaceous glands store fipronil, which allows it to stay active for five weeks. But because of the nature of fipronil, it can take up to 24 hours for fleas and up to 48 hours for ticks to die.
This treatment contains six pipettes alongside an easy instructions guide, and is licensed by the Veterinary Medicines Directorate. It is suitable for all cats over eight weeks old, and who weight more than 1kg.
The best pesticide-free flea treatment for cats
Specifications
Active Ingredient:
Margosa
Kills fleas:
Within 24 hours
Reasons to buy
+
Fast-working formula
+
Pesticide-free
+
Easy to use
Reasons to avoid
-
Only removes adult fleas
-
Only works for four weeks
If you're looking for a pesticide-free way to save your cat from fleas, Bob Martin Clear Spot On is one of the most popular products of its kind on the shelves.
Instead of using a pesticide, the active ingredient in this flea treatment is margosa, an oil with a strong smell and taste that's been used across Asia as a natural medicine for centuries.
The formula starts to kill fleas within 15 minutes of application, and promises to kill all the fleas hitching a ride on your cat within 24 hours. However, the treatment will only kill adult fleas that have settled on your cat, so it's recommended you also apply it to your cat's bed and around the home to prevent another outbreak.
Each pack contains six applications, and will protect your cat for up to four weeks, after which time you're advised to reapply to ensure continuous protection. Although – you'll have to reapply it sooner if your cat gets excessively wet.
TevraPet Actispot II Flea Prevention
The best flea treatment for large cats
Specifications
Contains:
Imidacloprid and Pyriproxyfen
Kills:
Fleas, eggs, and larvae
Use on:
Cats and kittens over 8 weeks
Reasons to buy
+
Easy to use application
+
Affordable
+
Six month supply
Reasons to avoid
-
No protection against ticks and lice
Using the same active ingredients as Advantage II but at almost half the price, this six-month supply of topical flea treatments from TevraPet offers outstanding value.
Suitable for cats over 9lbs and eight weeks of age, the brand also makes the same formula for smaller-sized cats so no matter your kitty's size, TevraPet has them covered.
Each application offers powerful protection against fleas, eggs, and larvae for 30 days and it's fully waterproof so you don't need to worry if your furkid gets wet. The formula kills fleas on contact preventing the pain of nasty bites and is easy to apply.
Frontline Plus Spot On Cat Flea Treatment
The best flea treatment for the home
Specifications
Kills:
Fleas, eggs and larvae
Reasons to buy
+
Kills eggs and larvae
+
Stops flea eggs from hatching
If you're looking for a flea treatment that really means business, you might want to try Frontline Plus spot on cat flea treatment.
The formula has to potent ingredients: fipronil and (S)-methoprene to ensure the life cycle of your cat's flea infestation is truly broken. Unlike most other cat flea treatment on the market, (S)-methoprene specifically targets flea eggs and larvae.
The formula also contains insect growth regulator technology, which also interrupts the flea cycle by stopping eggs from hatching in the home. The vast majority of flea infestations start from flea eggs, larvae and cocoons in your cat's everyday environment. However, it's still recommended you use this in conjunction with a flea spray for the home.
Each treatment lasts for four weeks, preventing and treating flea infestations. It's suitable for cats over the age of eight weeks.
There are numerous flea treatments for cats on the market, with a range of prices, active ingredients and ways of working. Making the right purchase for your cat is only half the job – the other half is ensuring you apply it correctly, of course.
From potent to pesticide-free products, our guide will hopefully equip you with the basics to make the right decision for your cat, so they can enjoy a flea-free life.
Get the best advice, tips and top tech for your beloved Pets
Jessica is a freelance features journalist. When she isn't writing, she's chasing after strangers' dogs in the park.