Best cat litter subscriptions: Never run out of litter again
The best cat litter subscriptions deliver straight to your door, offering value for money and peace of mind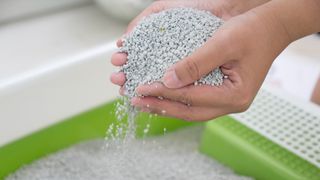 (Image credit: Getty Images)
The best cat litter subscriptions make life easier. Rather than having to traipse to the shops for fresh litter or remembering to buy some when you're out, you can simply have it delivered on a regular basis straight to your door. In many ways, it's just like taking out the best cat subscription boxes - only the motivation here is convenience rather than any sense of excitement.
The good news is that you won't be compromising on quality if you do opt for a subscription. Companies offering cat litter subscriptions tend to promote very good products that cater to a wide range of wants and needs. There are clumping cat litters, for instance, designed so that poop and urine bind together making them easy to remove. You can also choose non-clumping varieties which are often better for the environment.
In that sense, there is not much difference between the litter being offered on a subscription basis and the best cat litter in general. What it tends to come down to are price, flexibility and the available options. Some subscriptions, for instance, will provide a total solution: delivering the litter in a recyclable box that doubles as the litter tray. Others will allow you to determine how often you need the litter and some will help determine the quantity.
In most cases, there is a risk-free guarantee, so if you find that kitty doesn't like the litter, you can stop the subscription and get a refund on the first delivery. Ease of cancellation is also important – no one wants to be stuck with a subscription that makes you jump through hoops to leave. To that end, all of the services we recommend are easy to get out of, usually by going into your account and bringing the subscription to an end. Let's take a look at what's on offer.
PetsRadar's pick of the best cat litter subscriptions
Why you can trust PetsRadar Our expert reviewers spend hours testing and comparing products and services so you can choose the best for you. Find out more about how we test.
Best overall cat litter subscription: Kitty Poo Club
Best cat litter subscription for flexibility and choice: Chewy Autoship
Best natural cat litter subscription: Skoon All Natural Cat Litter
Best cat litter subscription for assessing cat health: PrettyLitter
Best environmentally-friendly cat litter subscription: Catalyst Pet
Kitty Poo Club
Best overall cat litter subscription
Typical contents: Box with litter | Subscription type: Monthly | Cost: $22.99/box
Five types of litter
Comes pre-prepared in a litter box
Website is easy to use
Limited availability of certain litter types
It's one thing receiving a bag of litter each month, quite another when you're having to clean out the litter tray and all of the horrid mess that has been deposited there. With Kitty Poo Club, however, you don't have to clean anything at all. The litter comes in a 100 percent recyclable cardboard box which doubles as the litter tray. It's also more than large enough at 19 inches long and 15 inches wide for your kitty to poop in comfort.
The idea is that you discard your used box once a new one arrives, with each box designed to last one month for a normal-sized cat (empty boxes can also be purchased). Simply choose from one of five odor-battling litter options – three of which are non-clumping (diatomite, silica and fine-grain silica) and two that are (clay and organic soy) – and you'll pay the exact same price of $22.99 each month. It's even possible to change your mind over the litter material month-by-month if you find your choice isn't working for you.
In each case, the litter is derived from natural 100 percent chemical-free material although only diatomite and organic soy are biodegradable and some give off more dust than others. If your cat eats large quantities of any of the litter, the manufacturer says the worst that would happen is they'll get a stomach ache. Kitty Poo Club also sells litter in bags for $18.99, a range of accessories, including a dome that can be placed over the litter tray for $7.99, and a scoop for a couple of dollars. What's more, there's a no-risk guarantee: if you're unhappy with your first box, you can get a refund.
Chewy Autoship
Best cat litter subscription for flexibility and choice
Typical contents: Litter bag | Subscription type: Flexible | Cost: Varies
Choose from lots of litter
Set your own schedule
Save money on orders
Fiddly setting up process
The online retailer, Chewy, has a service called Autoship which allows you to set up a recurring delivery on a wide range of products. The great thing about this is that you can choose how often you want to receive deliveries so if you need litter to be delivered every week rather than every month, that's entirely feasible.
Getting set up is a little more fiddly than dedicated litter subscription services. You need to click on a pet (in our case a cat), the category you want (Litter & Accessories), and then the product you need. You'll get a large choice of brands so it's worth checking out our guide to the best cat litter to help you decide. Once you've chosen, you have to add it to your cart and select Autoship at checkout where you can decide on the frequency and pay.
The first order gives you a 35 percent discount with subsequent orders knocking five percent off the price. As a bonus, you get free access to licensed veterinarians and it's possible to cancel at any time by visiting Manage Autoship and clicking Cancel – no messing around contacting customer services and the like.
Skoon All Natural Cat Litter
Best natural cat litter subscription
Typical contents: Bag of litter | Subscription type: Flexible | Cost: $24.95/bag
Choose bag or box
Select pebbles or fine grain
Totally natural materials
Most expensive subscription here
If a natural option is high on your list then you don't need to look much further than Skoon. It will deliver a sufficient supply of litter for one, two or three cats (any more than that and you need to contact customer service). You can also choose to have deliveries sent monthly or every 12 weeks (saving a small amount of money in the process).
The litter is made from diatom pebbles. These are pH neutral and highly absorbent so you can be assured that they are not going to allow smells to escape into your home. When signing up for the subscription, you'll be able to choose between non-clumping pebbles or a fine grain. The latter is compatible with self-cleaning litter boxes and cats will find it feels more natural too.
If you choose the pebbles, then you have more options. For starters, you could opt for a standard or large disposable litter box that comes ready-made with unscented litter, meaning you don't need to use or own your own tray. Those selecting pebble bags can also have the litter scented with natural lavender or lemon at no extra cost.
Such options don't exist for the fine grain but they retain the same odor-absorbing powers as the pebbles. Again, whether you choose pebbles or fine grain, the cost is the same. You could, however, sign up for Skoon's email newsletter and save a further 15 percent if you're a new subscriber.
PrettyLitter
Best cat litter subscription for assessing feline health
Typical contents: Bag of litter | Subscription type: Monthly | Cost: $22/bag
Changes color to help monitor health
Traps odors in an instant
Savings for multi-cat households
Cat may need to get used to it
Cat litter serves a basic purpose, allowing kitties to relieve themselves of waste but that doesn't mean it can't do more. With PrettyLitter, you get an odor-trapping, super-absorbent silica gel substance that changes color when a cat passes urine. It allows you to instantly see if your feline friend has a health issue.
For example, if the litter turns a dark yellow or olive green, you can rest assured your cat is likely to be fine. But if it turns blue it's a potential indication of a urinary tract infection. Orange indicates possible metabolic acidosis or kidney tubular acidosis and red should alert you to kidney disease, bladder crystals, or feline lower urinary tract disorder.
It's a wonderful, low-effort way of keeping tabs on your tabby and, since it's non-clumping, the company says you'll only need to refill once a month. You can also input how many cats you have and the company will not only ensure you have enough litter to last the duration but let you save money on any extra bags you may need.
To that end, it's well worth considering. Although you may have a small amount of trouble transitioning your cat to the new litter (the manufacturer suggests using a poop and urine clump from old litter to get them used to the smell), we like that it's practically dust-free and will work with many automated self-cleaning litter boxes. There is also a 30-day risk-free guarantee.
Catalyst Pet
Best environmentally-friendly cat litter subscription
Typical contents: Cat litter bag | Subscription type: Monthly | Cost: $20/bag
Uses natural pine softwood
Lightweight, strong clumping litter
Highly likely to be accepted by kitty
Won't work with self-cleaning boxes
Catalyst says it is "on a mission to overthrow the litter aisle" and it is doing so by making use of cat litter created out of upcycled wood waste. Not only does this make for a lightweight litter, but it is also highly permeable, able to block odors and offer strong clumping.
As such, it's an attractive option made all the better for being one of the cheapest subscriptions around with prices starting at just $20. There is also a choice of three products: go for multi-cat if you want enhanced clumping for easier litter tray cleaning, unscented if you don't desire a natural pine scent, or else just stick with the standard scented, normal-clumping variety. None of them use bark or needles and are totally safe.
Selecting these is as simple as clicking a button, clicking Subscribe and selecting Checkout once you've decided how many bags you want to place on an auto-renew subscription. You can then opt to pay using PayPal or a credit card.
Unfortunately, the site isn't the most pleasurable to navigate but the FAQ is comprehensive. It's also possible to pause, cancel or swap your subscription to a different formula at any time. Just be aware that you can't use the litter with self-cleaning boxes.
How to choose the best cat litter subscription
Cats may be clean pets but going to the toilet is as smelly a business for them as it is for all animals (humans included). It's always a good idea, then, to consider buying litter that claims to eliminate odors and, in most cases, you'll have a choice between scented and unscented options.
In such circumstances, consider how averse your cat is to strong scents. You want to encourage them to use the litter, after all. Naturally derived plant extracts tend to work well, as do materials such as carbon and silica.
One of the benefits of many subscriptions is the ability to easily swap to a different product, allowing you to experiment to some degree (if there is an option to buy a sample without signing up, then it's a good idea to choose that to begin with). Also, decide between clumping and non-clumping litter. Clumping makes cleaning easier.
Finally, consider the levels of dust emitted by some litters. Many will be effectively dust-free and those will be better for your home and the health of your cat, especially if they suffer from respiratory problems. Good subscription websites explain their products well, so do take care to read all the information on offer.
Get the best advice, tips and top tech for your beloved Pets
David Crookes has been a journalist for more than 20 years and he has written for a host of magazines, newspapers, websites and books including World of Animals, BBC Earth, Dogs and Canines, Gadget and The Independent. Born in England, he lives in a household with two cats but he's also keenly interested in the differences between the huge number of dog breeds — in fact, you can read many of his breed guides here on PetsRadar. With a lifelong passion for technology, too, he's always on the lookout for useful devices that will allow people to spend more time with their pets.