Best cat subscription boxes: Brilliant boxes for cats
From budget to luxury options, our pick of the best cat subscription boxes will keep even the fussiest felines occupied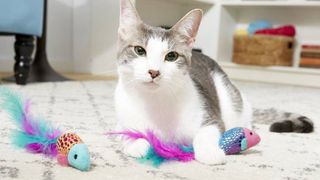 (Image credit: Chewy)
If you're looking for a fun and convenient way to treat your moggy, cat subscription boxes are an ideal way to receive treats and toys delivered to your door.
The concept is simple: sign up and subscribe and every month – or every few months, depending on the subscription length you choose – you will receive a box of goodies any fortunate feline would be lucky to receive.
If you're not ready to commit, not to worry, you can sometimes still try out the concept with a one-off box instead. This is still full of the best cat toys and treats chosen especially for your feline friend, but without the hassle of a subscription fee.
It's also particularly useful when it comes to our furbabies, who often love nothing more than snubbing our futile attempts at providing a luxury cat bed in favor of the humble cardboard box.
If you're hoping that your fickle feline is much more excited by the contents than the packaging, our lowdown to the best cat subscription boxes will ensure even the most pampered of pussycats are fully satisfied.
PetsRadar's pick of the best cat subscription boxes
Best overall cat subscription box: Meowbox
Best one-off cat box: Goody Box by Chewy
Best for value: KitNipBox
Best luxury cat subscription box: BoxCat
Best cat subscription box for treats: Raw Paws Cat Birthday Gifts Box
Best for cat parents: Gus & Bella
Meowbox
Best overall cat subscription box
Typical contents: 5-6 toys and treats. No treats option available. | Subscription type: Monthly or every other month | Cost: $20.00 for first box
No treats option for felines with dietary restrictions
Themed boxes
Catnip-stuffed
Personalisation
A little pricey
Novelty value
If you're looking for a feline equivalent to the BarkBox dog subscription box, look no further than Meowbox. It's stuffed with plenty of enticing treats to keep your kitty busy.
You'll love the themes on offer here – they have previously included a Caturday Brunch, involving a catnip-style sausage and their own frying pan toy. What's great about Meowbox is that it typically includes lots of treats centering around catnip that even the fussiest of felines are powerless to resist.
If your cat has dietary restrictions or allergies, we like that you can choose a package without treats that contains an extra toy instead of edible items. The personalized note is a nice touch too; simply give your cat's name and they'll receive a special note you can read to them. For cat lovers who want to give something back, Meowbox also donates a can of food, or the monetary equivalent, to a shelter cat with every purchase.
Depending on how well your feline takes to the toys, you will either be charmed by the contents or consider it a complete novelty. For $20 for the first box (rising to $23 for renewal), it is a little pricey as a frequent subscription, but you can opt to cancel after the first box.
GoodyBox by Chewy
Typical contents: 6-7 products | Subscription type: One-off | Cost: From $24.99
Themed boxes
No need for subscription
Box for kittens available
Great for special occasions
No alternative product options
Whether you're looking to treat your cat on a special occasion or fancy testing out the concept with your feline, Chewy's Goody Box is ideal.
The brand is particularly notable for the birthday box, which bundles together seven fantastic products that are just perfect for a moggy celebration. This includes lickable cat treats and plush birthday-themed toys.
Perfect for all-year-round use, the retro-themed box adds a fun nostalgic twist, while if you have younger cats in your household, Chewy offers a box just for kittens and you can opt to add in kitten food too on some bundles.
If you have a particularly fussy feline who knows exactly what she likes or a cat with allergies, it should be noted that the set contents of the box means alternative products cannot be chosen.
KitNipBox
Typical contents: 5-7 toys and treats | Subscription type: Monthly | Cost: $16.99-$25.49 for first box
Good price
Multiple options
Themed boxes
Lack of more subscription types
A heavyweight competitor to Meowbox, KitNipBox undercuts their rival in the price department. For a respectable $16.99, the box gives you five toys and treats in a solo cat box, but you can also choose the multi-cat option, with up to seven items for $25.49.
There are some brilliant themes on offer here: Back to school, picnic, rock 'n' roll – who wouldn't be charmed by the 'Hiss' t-shirt cat toy, a unique play on the merch from the rock band Kiss.
Like Meowbox, your perception of value for money will be determined by how excited your kitty is by the contents in the box. Tat or terrific is definitely the great divide here.
KitNipBox looks to offer good value for money; the multiple options are particularly helpful for pet owners who have dietary restrictions. In both the solo and multi-cat options, you can also choose to pick up a dietary option instead which gives you an extra toy instead of a treat.
One drawback to KitNipBox is the lack of subscription options. For pet owners watching their pennies, the cost of a monthly subscription can easily stack up. The option of a three- or four-month subscription period would offer greater choice.
BoxCat
Typical contents: Approx 5 items in a standard box, includes 1 large item with luxury option | Subscription type: Monthly or 4x a year | Cost: From $24.99 for first box
Multiple options
Large products available
Handmade treats
Pricey
Looking to go all-out and spoil your moggy? Pampered pussycats will adore BoxCat which features both basic and luxury options. A standard box comes with five items for your cat, including handmade cat treats, skincare or gear and toys, or upgrade to the luxury box which includes large items such as beds or tunnels.
Of course, this pedigree option comes with a premium price tag: $34.99 which, once paid monthly, can certainly add up. Fortunately, if you love the idea but not the cost, BoxCat offers a seasonal box too that arrives at your door four times a year. It comes in at $49.99 for your first box but is packed with eight or nine items, including two large luxury products. You can always just stick with the basic box, at $24.99, if either of the luxury options seems a bit too much for your feline.
One area in which BoxCat performs well is its handmade treats. If you're looking for something authentic or you're concerned about whether store-bought treats are the healthiest option for your feline, BoxCat's premium package offers something a bit different. Picky felines may however prefer their old tried and tested favorites.
Raw Paws Cat Birthday Gifts Box
Best cat subscription box for treats
Typical contents: At least 5 products | Subscription type: One-off | Cost: $49.99
Good mixture of products
Independent supplier
Great for health-conscious pet owners
Pricey
No themes
Does your cat prefer treats over toys? Then why not consider Raw Paws Cat Birthday Gifts Box instead? It is ideal for their birthday, but it doesn't have to be a special occasion for felines to want to tuck into these goodies.
Inside is a mixture of minnows and chicken liver treats, while the inclusion of catnip produce is sure to make it even more appealing to fussy felines. A laser cat toy is also in the box, which is perfect for both owner and cat to indulge in some well-earned playtime.
If you're bored of store-bought options or are looking for a more natural option, Raw Paws is an independent small business. Many of the items look akin to the type of product you'd expect to see for humans in your local health and wellness store.
Unfortunately, you pay for the niche nature of the produce. Many pet owners will find $49.99 a hefty price to pay for their feline's treat time, but if fresh, all-natural ingredients are most important to you and your moggy, it's a great one-off option for cats who love snacking the healthy way.
Gus & Bella
Typical contents: 8-10 items | Subscription type: Monthly or one-off | Cost: From $41.31
One-off box available
Chic
Themed boxes
Pricey
If you fancy getting in on the action, then Gus & Bella is a great option for felines and their parents. While you receive goodies galore for your kitty, also included are a few additions for you, making it a fabulous shared experience.
It doesn't always reach the creative heights of Meowbox in its choice of theme, but it does cover the basics well: Halloween is spooky, Christmas is cozy and there's always something interesting on other dates too, often with a wellness or eco focus.
One thing that separates Gus & Bella from the pack is that it's all rather chic: it features kooky designs and soft neutral color palettes that give off independent supplier vibes.
However, at $41.31, it is fairly pricey. It is much more expensive than the leading Meowbox, but does feature eight to ten products, compared with five or six.
What's particularly favorable about Gus & Bella is that it's one of the few pet subscription boxes to offer their service as a one-off, so if you're curious to try it out for yourself, you don't need to take out a subscription then cancel, you can simply get one delivered. It's an ideal gift option for cat lovers everywhere.
Get the best advice, tips and top tech for your beloved Pets
Thank you for signing up to Petsradar. You will receive a verification email shortly.
There was a problem. Please refresh the page and try again.