Best cat treats 2023: Tasty tidbits for your feline friend
The best cat treats will please even the most finicky of felines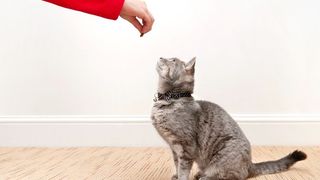 (Image credit: Getty Images)
Having a pack or two of the best cat treats in your cupboard can be a real lifesaver if you're looking for a delicious way to reward your kitty for good behavior. They're also wonderful when used as a training tool and can be a great way of adding variety into your fur friends daily diet.
While it's important that the best cat food makes up the bulk of your kitty's diet, a treat here or there, equating to no more than 10% of your cat's daily calorie intake, can be a great way of positively reinforcing good behavior and motivating your feline friend to repeat that behavior in the future.
When it comes to treats, we recommend you don't worry too much about the nutritional content. After all, a treat is just that - a treat - and as long as you're feeding your kitty the best dry cat food or the best wet cat food they'll be getting all the vitamins, minerals and nutrients they need to stay fit and well.
Instead, focus on selecting treats based on what you plan to use them for. Training your cat to not scratch the furniture or you're wanting them to be able to comfortably tolerate wearing a harness, opt for soft and small treats so that you can keep up a high level of reinforcement.
If, on the other hand, you're wanting your feline friend to stay out of mischief when you're at work or running errands, it's worth choosing a longer-lasting treat, such as a chew stick, as this will keep them amused for longer.
Below, we share our pick of the best cat treats and seek the expert advice of Dr. Joanna Woodnutt who shares her thoughts on which cat treats are healthiest for our feline friends and whether it's okay to feed your kitty treats every day.
Dr Joanna Woodnutt qualified as a veterinarian from the University of Nottingham where she then went on to practice companion animal medicine in the Midlands. She really took to the consulting side of things and helping clients with medical problems such as dermatology, behaviour and nutrition - anything that involved helping clients understand their pets better.
PetsRadar's pick of the best cat treats
Why you can trust PetsRadar Our expert reviewers spend hours testing and comparing products and services so you can choose the best for you. Find out more about how we test.
Temptations Classic & MixUps Crunchy and Soft Cat Treats
Best overall cat treats
Specifications
Flavor:
Chicken, Catnip, Cheddar
Reasons to buy
+
Multiple flavors
+
Large resealable tub
+
Helps reduce tartar build-up
+
No artificial flavors
Temptations by name, tempting by nature, these tasty cat treats come in three flavors that cats love. Every time your feline friend deserves a reward, you can dip into the resealable 16oz tub, and pick a flavor at random. Will they get chicken, catnip, or cheddar? Whatever they get, you know they will love it and will be back for more.
Crunchy on the outside and soft on the inside, these snacks not only give a great savory experience, they also help support dental health. Each time your cat bites into one of the treats, the outer shell helps to control the build-up of tartar. Good news for healthy teeth and gums, unfortunately, they're not so good at helping freshen your cat's breath.
As well as keeping your cat's dental health in good shape, they will also help keep your cat's general health in tip-top condition. At two calories per treat, you can give them more than the odd one throughout the day. But remember, treats shouldn't make up more than 10% of your feline friend's daily diet. They are also 100% nutritionally complete, and provide a good balance for your cat's needs. Plus, you won't find any artificial flavors hidden away on the ingredients list.
If you want to mix up the flavors to give your cat even more variety, you can go meaty with chicken, beef, and liver, or go fishy with tuna, shrimp, lobster, or salmon. So many to choose from, but all healthy, tasty, crunchy, and chewy – what more could you and your feline friend want?
Purina Friskies Party Mix Adult Cat Treats
Best budget cat treats
Specifications
Flavor:
Chicken, Original, Beachside Crunch
Reasons to buy
+
Inexpensive
+
Added minerals and vitamins
+
Cleans teeth
Reasons to avoid
-
Not grain-free
-
Includes artificial flavors
You can make every day a special occasion with the help of this 20oz sachet of party mix treats. The tasty chicken flavor helps satisfy your feline friend's cravings for meat, and is combined with gravy to make every snack hard to resist.
To add to their appeal, the treats come in a collection of shapes, including stars and fish. This gives your cat more variety, and adds interest to their snack time. Their crunchy texture is great for helping keep your pet's teeth clean, and goes a long way to helping reduce the build-up of tartar, ultimately giving your kitty much better dental hygiene.
To boost your cat's health, the treats are packed with a collection of essential added vitamins that are good for bones, skin, fur, and pretty much everything else. But if you are looking for a completely natural cat treat, you won't find it here, as there are both natural and artificial flavors. It's not grain-free either, as there is rice and corn in the ingredients. So if your kitty has a sensitive stomach, it might not be good for them.
But there's not just the tasty chicken and gravy flavor available. There are other options if gravy is not your cat's thing. You can choose from plain chicken or original, which brings together a few favorites in the shape of chicken, liver, and turkey – all available in 20oz packs. For something different, you can choose the Beachside Crunch flavor, which combines ocean whitefish, shrimp, crab, and tuna for a fishy sensation at just two calories a treat. If your kitty loves it, you can invest in a larger 30oz pack for longer-lasting fish tasting fun.
Hartz Delectables Squeeze Up Interactive Lickable Wet Cat Treats
Best wet cat treats
Reasons to buy
+
Made with real ingredients
+
Grain-free
+
No added fillers or preservatives
+
No by-products
Reasons to avoid
-
Includes artificial flavors
We all love our cats, and we all love to give them a treat that keeps them happy and healthy. But if you want your cat to love you even more than they already do then these wet treats from Hartz could have the answer.
Each squeezable half-ounce treat comes neatly packaged in its own tube which you can hand feed directly to your kitty. Tear off the top, give the tube a squeeze – just enough to bring out a portion of the rich creamy puree - and watch your kitty come running. They'll love the irresistible fresh flavor. The smaller the squeezes, the more time you can spend with your playful pussy. If you're feeling a little lazy, or in a hurry, squeeze the puree onto a plate for them to enjoy at their leisure. It's also great as a tasty wet food topper for dry food.
Made with real tuna, you will find there are no added fillers, no by-products, no added preservatives, and no artificial colors in these tasty grain-free treats. The only non-natural ingredient is the addition of a small amount of artificial flavor. To boost your cat's immune system and general health each squeezy tube has added vitamin B & E.
Like all good cat treats, if one flavor isn't your cat's favorite, there is always another you can choose. Delectables Squeeze Ups bring you Chicken, Chicken & Veggies, and Tuna & Shrimp – all made from real ingredients. If you're not sure which to try, invest in a 24-tube or 48-tube variety pack. Your cat will love you forever.
Sheba Meaty Tender Sticks Cat Treats
Best stick cat treats
Reasons to buy
+
Real meat ingredients
+
Added vitamins
+
Individually packed for freshness
The taste and texture of real meat are always a winner when it comes to cat treats. Dried treats can pack an intense flavor, but they have a crunch that isn't quite as satisfying as a tasty chew for some cats. Weighing in at four grams a stick, these tasty premium chicken flavor treats really are a treat, with only one a day recommended.
Every stick is made with real meat, with the primary ingredients being the ever-popular chicken, pork, liver, and turkey. To finish off the meaty flavor, there's pork skin – something that most cats love. Chicken also provides plenty of lean protein, which is good for your cat's muscles.
If your cat is sensitive to grain or artificial ingredients then it is worth knowing that you won't find any corn, wheat, soy, or artificial flavors included in these sticks. But you will find vitamin A, D3, and E supplements to help build up your kitty's general health.
Each pack contains five soft and tender meaty treats that are individually packed to ensure that each stick treat stays fresh for as long as possible. And you get 10 packs in each purchase, so that's 50 sticks in all. That's enough tasty treats to last well over a month. Subscribe, and not only do you save money, you can choose how often you can get them delivered to your door.
Once opened, you can give the treat to your furry friend to enjoy all at once. Alternatively, to make it last a little longer, break into more manageable bite-size pieces. If your cat's not keen on the chicken choice, there's always tuna or salmon to choose from.
ORIJEN Freeze-Dried Cat Treats
Best all-natural cat treats
Reasons to buy
+
All-natural ingredients
+
No additives
+
Grain-free
+
Freeze-dried for better flavor
Quality wholesome delicious snacks the way nature intended sounds like a combination that most cat owners would be more than happy to feed to their furry friend. Orijen's philosophy is to nourish cats with a meat-based diet just as their ancestors would have enjoyed.
They feature quality all-natural animal ingredients with a ratio that replicates wild prey. You get chicken, chicken liver, chicken heart, turkey, turkey liver, turkey heart, wild-caught monkfish, chicken and turkey gizzards, and nothing else – apart from a natural preservative. You won't find any rice, wheat oats, or any type of grain, which makes the treats ideal for those looking for a grain-free snack for their pet kitty.
To retain all their natural goodness, flavor, and aroma the treats are slowly freeze-dried over 18 hours so only water is removed. This leaves behind all the ingredients' flavors and nutrients in a concentrated form, which makes the treats even more tempting and tasty for your cat. You won't find any artificial flavors or additional vitamins, minerals, or nutrients here. And, to make sure that the high-quality ingredients stay just that – high-quality – Orijen only source their ingredients from the local community.
In keeping with the manufacturer's ethos, there are a whole range of flavors that come packed with all-natural ingredients. Unleash the lamb and there are only three elements, try the Six Fish flavor for six types of fish, or embrace the Regional Red flavor which is packed with beef, lamb, boar, and goat for a more exotic outing. There's something for every cat to enjoy – naturally.
Greenies Feline Natural Dental Care Cat Treats
Best dental health cat treats
Reasons to buy
+
Prevent plaque and tartar build-up
+
Freshens breath
+
Boosted with vitamins and mineral
Reasons to avoid
-
Not grain-free
-
Not for kittens
There's no denying that your pet's breath isn't top of the list when it comes to things you love about your furry feline friend. So, any treats that can help resolve this problem have to be given a thumbs-up, right?
Designed to help give your kitty good all-round oral hygiene, these crunchy oven-roasted chicken flavor treats help reduce the build-up of plaque and tartar. And just as importantly, they will freshen their breath, so cuddle time is a much more pleasant experience. At two calories per treat, you can spoil your feline friend a little, but you should follow the manufacturer's guidelines. They recommend that to get the best dental benefits you should feed a 10-pound cat eight treats (that's 16 calories) twice a day. So a mere 32 calories in total. And 16 treats a day should be enough to keep your cat happy.
Made with natural ingredients – including folic acid, rosemary, and flaxseed – the treats are boosted with a whole host of vitamins, minerals, and other nutrients that are perfectly balanced for your adult cat's well-being. And you won't find any artificial flavors or artificial preservatives in the ingredients, but you will find rice, wheat, corn, and oats. So if you are on the lookout for a grain-free treat for your favorite cat, you will need to look elsewhere. It's worth noting these treats are not ideal for kittens, as they have been specially formulated for the needs of adult cats. If you have a kitten, try looking for treats that have been specifically designed for the needs of younger cats.
Vital Essentials Freeze Dried Cat Treats
Best freeze-dried cat treats
Reasons to buy
+
Single ingredient snack
+
High in protein
+
Vitamin-rich
For the ultimate single-ingredient snack that's high in protein and tastes delicious, these freeze-dried minnows are hard to beat!
Your kitty will love the satisfying crunch of these little fish and if you have a picky eater on your hands, the tempting scent and tantalizing taste of real, whole fish is sure to win over even the fussiest feline.
Free from gluten, dyes, artificial fillers and harsh preservatives, the treats also contain no rendered by-products and no synthetic vitamins and minerals.
Easy to absorb and gentle on the digestive tract, these treats are ideal for any cat who suffers from a sensitive stomach.
Just one thing worth noting - they are very crunchy, so if your kitty has dental issues and finds chewing painful or challenging, they might not be the best choice of snack.
How to choose the best cat treats
Cats love a treat, and your furry feline friend that would eat a lot more of them if you let them. But too many won't be good for your cat, so you really need to consider how many calories a treat may contain. If they are high in calories, you only want to give them one or two a day. Or you could give them more, but less of their main diet to balance the calories. If they are low in calories, your kitty will be happy as they can have a few more.
Definitely pay attention to the ingredients. First, this determines the flavor, and your cat might prefer chicken to fish, or the other way round. It's a treat, so you need to find the right flavor for your cat. Natural ingredients that contain real meat or fish are the best choice. They provide plenty of protein and nutrients, and boost your kitty's health. Also, consider if the treat is grain-free or not. Not all cats cope well with them. If you're unsure, you can always go grain-free.
Should you try wet or dry? Wet is typically a tastier more natural treat, but again, this depends on the ingredients. Dry treats – especially freeze-dried treats – have the benefit of not only being tasty, but also of being good for dog's dental hygiene, and helping reduce the build-up of plaque and tartar.
What are the healthiest treats for cats?
"To find a healthy cat treat, look for something low in calories and high in protein (unless your cat has kidney disease)," Woodnutt advises. "This often means cubes of dried or freeze-dried meats are a good option. However, all treats can be unhealthy in excess. It's essential to remember that more than 50% of cats in the US and UK are obese, and eating too many calories from treats plays a large part in that. You should ensure that no more than 10% of your cat's daily calorie intake comes from treats, and their dinner is reduced accordingly."
Is it okay to give cats treats every day?
"Whilst it's ok to give cats treats every day, it's essential they aren't eating too many calories overall," explains Woodnutt. "An average 4kg cat can have only about 19 calories of treats a day. If you struggle to keep below this because your cat's favorite treat is calorific, you may have to feed treats only every few days to ensure they aren't getting too many calories and gaining weight."
Get the best advice, tips and top tech for your beloved Pets
Steve Jenkins is a freelance content creator and long-time journalist with more than 20 years in the industry. He has written for numerous titles covering tech to pets, with his latest faithful hound always by his side. When not walking his dog, or discussing who's best - cats or dogs? Loud guitars, AFC Bournemouth, Photoshop, and trying to save the world take up the rest of this time.