Best cat toys 2023 for keeping your kitty entertained and happy
The best cat toys allow you to bond with your kitty and keep your cats stimulated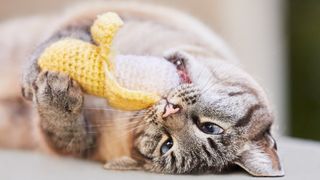 (Image credit: Getty Images)
When it comes to shopping for the best cat toys, you really are spoiled for choice. From catnip-filled mice and flapping fish to treat-filled puzzles and laser pointers, there's a toy to suit every age and stage. But, there's no denying that the sheer volume of playthings lining the shelves these days can make selecting one feel overwhelming - which is where this guide will come in handy.
Setting aside time each day for your feline friend to play is vital for their physical and mental wellbeing. It doesn't matter whether these play sessions involve sophisticated options, like the best interactive cat toys, or something as simple as a piece of string, what matters is that your kitty is getting the stimulation and enrichment they need to stay healthy.
The PDSA (opens in new tab) (the People's Dispensary for Sick Animals) recommends cat owners spend two sessions a day playing with their cat for around 15-20 minutes each session. Not only can regular play help to banish boredom and give your feline friend's mental health a boost, but it also increases their activity levels, which can help to reduce their risk of a range of health issues, including diabetes and obesity.
That being said, we also understand that there are times when you can't be with your furry friend and that's why we've also included some of the best automated cat toys. Find our round up of the best cat toys below along with expert insight from vet Dr. Joanna Woodnutt about what to look for.
Dr Joanna Woodnutt (opens in new tab) qualified as a veterinarian from the University of Nottingham where she then went on to practice companion animal medicine in the Midlands. She really took to the consulting side of things and helping clients with medical problems such as dermatology, behaviour and nutrition - anything that involved helping clients understand their pets better.
PetsRadar's pick of the best cat toys
Why you can trust PetsRadar Our expert reviewers spend hours testing and comparing products and services so you can choose the best for you. Find out more about how we test.
Petstages Cat Tracks Cat Toy
Best budget cat toy
Specifications
Primary exercise:
Pouncing and batting
Reasons to buy
+
Inexpensive
+
Mentally engaging
+
Great for multi-cat households
Reasons to avoid
-
Large cats may find this toy too small
If you're looking for a toy that will be both physically and mentally engaging, then look no further than this track toy from Petstages. Designed with 3 levels of tracks and 6 brightly colored moving balls, your kitty will love batting, swatting and pouncing on the balls as they engage their natural hunting instincts.
Made from durable plastic, this toy has a sturdy construction (meaning it won't topple over when in use) and comes with a non-slip base to hold it in place during vigorous play sessions.
We love the unique safety bar design across the top opening which will prevent your kitty from getting stuck while playing, and because it comes with multiple tiers and balls, it's a great choice if you have more than one cat.
Best home-alone cat toy
Specifications
Primary exercise:
Pounce, bat and grab
Reasons to buy
+
Attention grabbing
+
Two modes of play
+
Programmable
Reasons to avoid
-
Slightly noisy
-
Feather can get stuck inside
With feathers to hunt, balls to bat and flashing lights to attract attention, this three-in-one electronic toy from Orsda is guaranteed to get even the most disinterested moggie up and playing. It's programmable too, so you can set it to come on at set intervals, to ensure your kitty is getting much needed distraction when you aren't there to play with them.
Featuring a ball on a circular track your moggy will spend ages trying to catch and an unpredictable feather playing peekaboo from various apertures, this is one cat toy that's hard to ignore. It does make a noise when in operation, but users have said this acts as a great signal for their cats to come running ready to catch that bothersome feather. And with various modes to choose from, including a random one, variety is guaranteed to keep them interested, and ready to exercise those hunting instincts.
Because of its constant movement in and out the feather lasts longer than on other cat toys, and it comes with replacement feathers to ensure if it is destroyed by your crafty cat, they are easily replaced. One slight issue is that some owners have reported that the feather can get stuck inside – although it's simple enough to fix just by dislodging it with a pencil.
You can set it so the toy comes to life every four hours, perfect for stimulating a cat left on its own during the day. And even when it's off, the ball on the track still works, so it can provide amusement even when unpowered. With users saying that even cats that are usually uninterested by toys are drawn to this one, this is a great toy to keep your moggie amused and stimulated while you are out and about.
Smart Cat Peek-A-Prize Toy Box
Best curious cat toy
Specifications
Primary exercise:
Paw fishing and hunting
Reasons to buy
+
Easy to carry around
+
You can put either small toys or cat treats inside
+
Contains two toys
Reasons to avoid
-
Balls can be too easy for cats to get out
Curious cats have an instinctual desire to hunt. That's why they love to watch cracks and crevices, especially when they know something is hiding inside! The Smart Cat Peek-A-Prize Toy Box comes with two toys inside, and designed to develop and encourage your cat's natural, predatory instincts. Simply hide some of their toys inside the box and your cat will have fun fishing them out. Not only will this stimulate them physically but provide mental stimulation in working out how to get to the objects.
You can swap around the toys in the box for more exciting variety, but only smaller toys would work. If you wanted to treat your feline pals, you could always swap the toys for treats, which will be a delicious incentive.
The Smart Cat Peek-A-Prize Toy Box is ideal for when busy owners have to leave the room for a while or need to pop out. The plus side is, it's easy to use, simple and doesn't require batteries! It is rather expensive though, but it's designed to be sturdy and last long. Besides, once your kitty is digging around, this will keep her occupied and amused for hours.
Vealind GiGwi Automatic Moving Mouse Cat Toy
Best chasing cat toy
Specifications
Primary exercise:
Chasing and stalking
Reasons to avoid
-
Won't entertain for as long
-
Some cats will ignore them
If your cat loves to chase toys, a mechanical or motorized mouse is a great pick. They're cheap, often coming in packs of two or three, and they're simple toys to operate.
While the mechanical mice, with winders, will provide limited amounts of play time, the battery-powered mice could provide decent sessions if your cat decides to stalk and chase it.
These toys are usually the size of an average mouse, so they're perfect for smaller cats. Larger cats may not be challenged by them, and will want to stalk something a little juicier, but they're ideal for kittens learning to hunt. They're inexpensive too, so if you just want to try one out it won't cost much. Spending a bit more will get you a mouse that squeaks too, which adds extra temptation for your kitty.
The build quality isn't always the best with motorized mice, but the low cost makes this less of an issue. If you do go for a fully motorized mouse, make sure you go for a rechargeable battery. Obviously, the mechanical ones don't need any power, so they're super cheap.
Amazon Basics Pet Activity Center and Feeder
Best food-related cat toy
Specifications
Primary exercise:
Hunting
Reasons to buy
+
Uses food to encourage use
+
Comes with a host of puzzles
+
Durable design for lastability
Reasons to avoid
-
Some puzzles may be too easy
Packed with compartments in which you can hide tasty treats, this low-cost pet activity center is designed to stimulate your cat's mind. By forcing kitties to figure ways of gaining access to any kibble or treats you've dotted around the toy, it helps to relieve boredom. It also taps into a cat's innate desire to hunt and stimulates a sense of curiosity.
By including food-based puzzles, there is an added benefit: it will slow down the rate at which your cat eats. This is useful if you have a kitty that likes to gobble their food too fast, something that can lead to indigestion problems. It also makes feeding feel more rewarding. Cats will have to perform different actions to get at their food and it'll be enjoyable watching your cat seeking solutions.
In the process, you may even be amazed at how intelligent your cat is, although don't worry about the puzzles being too hard. The activity centre has been designed to be as attractive and rewarding for kittens as it is for cats so nobody is going to go hungry here. Neither are you going to have to frequently replace this toy. It's made of hard-wearing polypropylene and you can keep it clean by simply wiping with a damp cloth.
Catit Super Roller Circuit
Best mental exercise cat toy
Specifications
Primary exercise:
Chasing
Reasons to buy
+
Attractive, robust design
+
Ongoing fast play
+
Can be expanded
One of the problems with giving a cat a ball to play with is that, with an ill-timed swipe, it's so easily lost. By ensuring a ball is sent along a structured path, a cat can repeatedly enjoy all the thrill of a chase. You won't be on your hands and knees trying to rescue a ball from beneath the sofa with this toy, that's for sure.
Made from plastic and colored blue, the Super Roller Circuit certainly looks fun. Simply fix the eight pieces together to create a ring and the ball will zip along inside the tube. As the ball whizzes past openings, cats should attempt to put their paw on it. They won't be able to flick it out of the tube so, when they release their grip, the ball will continue on its journey, continuing the enjoyment.
As a bonus, the ball can be illuminated. This makes it more noticeable, encouraging cats to play day and night. Of course, this means you will need to power the toy in some way: in this case, it's batteries-only (and you don't get any in the box) but that at least makes the toy portable.
It's also a versatile kit, suitable for cats of all ages. Nothing stops you adding extra balls or even buying a second set and making a larger ring. Some owners have done just that, making for some impressive set-ups.
Moody Pet Fling-AMA-String Cat Toy
Best string-based cat toy
Specifications
Primary exercise:
Catching
Reasons to buy
+
Great spin on a traditional idea
+
No assembly required
+
Maker offers free replacement parts
It's always worth having a ball of string handy for an impromptu play session with your kitty but this toy goes that little bit further. It provides all of the thrill of catching a piece of moving string but without any involvement on your part.
Just attach it to a door handle, pop in three AA batteries (sadly not included) and the string will wiggle around while moving in and out of the casing. It's simply like pulling a piece of string away from a cat and watching them pounce and chew.
The toy works by attaching the string to a moving elastic conveyor belt but there's no assembly required and the string is sewn for you. There are also two speeds which not only provides an additional challenge but ensures the toy doesn't become too predictable. Just be sure to keep an eye on cats while they play with the toy.
It may be an idea to use rechargeable batteries, too, because some pet owners say they drain fast. But it's good to see that the manufacturer provides free replacement parts for the life of the toy ensuring it's not going to end up being junked within a short period.
Best catnip toy
Specifications
Primary exercise:
Chasing
Reasons to buy
+
100% premium catnip filling
+
Big enough to grip and kick
+
Robust fabric
Bright and brash, you won't miss the Yeowww Catnip Banana flying across the room but there's much more to this perfect plaything that its standout looks. Yeowww is a big name when it comes to catnip toys and this brilliant banana is crammed full of premium quality, organic catnip that's grown without pesticides.
Much bigger than the average catnip toy, there's plenty here for mini tigers to get their paws around so don't be surprised to see your feline holding one end and bunny kicking the other, all in the name of exercising those natural hunting skills.
You'll find that the banana is made from heavy duty cotton twill, so it should be tough enough to withstand some pretty rough play, although a few testers have reported the toy being ripped open at the seams. As with any catnip toy, damage is possible if a cat gets a little too enthusiastic so it's always best to supervise their playtime.
Most cats will be enticed by the bright design, but it doesn't necessarily mimic prey -there's no mice designs here - although you can pick up a fish if that's important to you and your feline.
Yeowww also use the same 100% catnip fillings in other toys including a rainbow and a heart if you want to go cutesy with their playthings.
KONG Connects Benderz Teaser Dragonfly Cat Toy
Best teaser cat toy
Reasons to buy
+
Has a versatile stick
+
Contain catnip
+
Bright fun colors
Reasons to avoid
-
Toy may easily detach from the stick
This looks like a very simple toy. You essentially get a cute dragonfly on the end of the bendy stick but don't be fooled – it's a little more versatile than you may imagine.
Although it's not the most sophisticated toy around, it's ability to attach to almost any surface makes it appealing. Cats can soon get bored if they see the same toy in the same location day after day so having something you can move around and place low or high will make all the difference.
It's possible to loop this toy around a bannister or a chair, for instance. You could also hang it from a door handle. If choosing multiple locations doesn't keep your cat curious then the next feature surely will. This toy is also filled with catnip which is bound to attract attention.
In some cases, a cat may become too excited and some users have said their kitties managed to detach the dragonfly from the stick. It's easy to put back on but you may want to supervise play at first, just to see how enthusiastically they take to it.
Kitty City Large Plaid Cat Tunnel Bed
Best dual purpose cat toy
Specifications
Primary exercise:
Pouncing and batting
Reasons to buy
+
Great size for multiple cats
+
Bed and toy
+
Assembles and breaks down easily
Reasons to avoid
-
No suction cups to hold it in place
If you're looking to cut down on kitty clutter and kill two birds with one stone, then this tunnel bed with a hanging toy is well worth considering. Measuring 39" L x 39" W x 12.5" H, the roomy design offers plenty of space for two furkids to play together and the plaid fabric creates a beautiful classic look.
The middle features a plush cat bed that's perfect for those all day snooze sessions and the tunnel itself has two peek-a-boo entryways that will let you engage with your kitty while they play.
With a dangling catnip heart toy completing this model, this enticing toy will provide hours of amusement with a comfortable spot to rest and recover in afterwards. The zip together design is easy to assemble and pack away and it's suitable for all ages and stages.
Best subscription box with toys
Specifications
Primary exercise:
Pouncing and chasing
Reasons to buy
+
Comes with four toys
+
Contains cat treats
+
Delivered monthly
Looking to treat your feline friend with a regular array of new toys that get delivered straight to your door each month? Then this great bundle from KitNipBox could be just the ticket.
Containing a mouse toy, a fishing wand, kicker toy and tea bag sachets filled with catnip, there's plenty of variety here to tap into all of your cat's hunting instincts and keep them amused for hours.
Along with the toys, you'll also get a pack of Wellness Kittles, delicious grain-free cat treats made with salmon and cranberries that have only 2 calories per treat - the perfect light snack to reward your feline friend for good behavior.
At $26.99 per month, it's definitely an investment as opposed to just buying the odd new toy now and again, but if you want to keep that toy box overflowing with a range of entertaining options, this subscription box could be well worth considering.
How to choose the best cat toys
When choosing a cat toy you really need to try different things to see what your cat likes. The good thing is that most cat toys are inexpensive, so you don't lose much if your pet takes little or no interest. If they don't play with a toy, don't take this as a sign that your cat isn't playful – just keep trying different options.
We also fully suggest you persist with cat toys several times after buying them. Some don't have instant appeal, and many cats are nervous about changes to their environment, so something like a new scratching post may intimidate them to start with. We've known cats ignore toys, trees, and beds for months before suddenly loving them.
If your cat stays indoors, play is an essential part of their day, so most vets recommend a minimum of 15-30 minutes of play per day. This is for exercise and bonding, so it's very important. Try to choose toys that will give your cat a work-out and require personal input from you, so you're more involved in your cat's play.
Can cat toys be dangerous for your cat?
Woodnutt tells us that any cat toy can potentially be a danger, so it's important that you follow any safety advice given on the pack and use your common sense when playing. "A common danger is swallowed string from wand toys – if you allow your cat to 'catch' the toy, be sure to remove it before they chew through the elastic," warns Woodnutt.
What cat toy will keep my indoor cat entertained?
The best cat toy depends on your cat's personality. Some like to hunt for the fun of it, while others are only interested in food. According to Woodnutt, "Wild cats would have spent a large part of their day hunting for food, but our domestic cats get it in a bowl twice daily. Filling the rest of their time can be tricky!
"If your cat spends all their time indoors, consider using a puzzle feeder to help them keep those hunting instincts honed. Some puzzle feeders are designed to be hidden around the house so your cat has to hunt for his dinner!"
Get the best advice, tips and top tech for your beloved Pets
Andy is an online Editor-in-Chief, a photographer, and a cat owner of 25 years. He has owned many types of cat, rescuing some and adopting others from kittens. He currently lives with Pickle, a tortie, who loves to play with Christmas wrapping bows and eat flowers.