Best cat toys: banish boredom with these 12 feline playthings
By Andy Hartup published
The best cat toys will tap into your feline's natural instincts and help keep them fit and healthy
Included in this guide:
1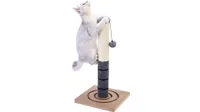 PAWZ
Road Sisal Rope Scratching Post
2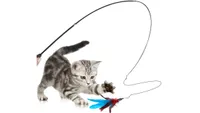 GingerUP
Cat Toy Cat Feather Toys
3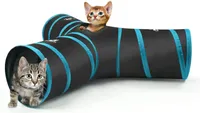 Pawaboo
cat tunnel tube collapsible play tent
4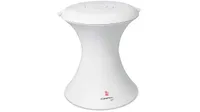 PetSafe
FroliCat Dart Duo
5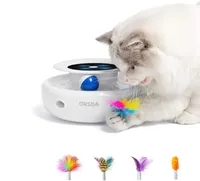 ORSDA
Electronic Cat Toy
6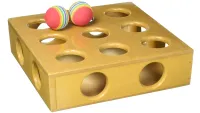 Smart
Cat Peek-A-Prize Toy Box
7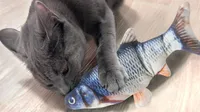 Senneny
Electric Moving Fish Cat Toy
8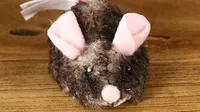 Vealind
GiGwi Automatic Moving Mouse Cat Toy
9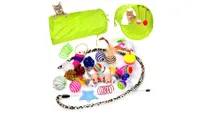 Youngever
24 Cat Toys and Assortments
10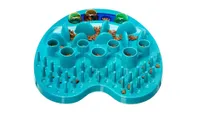 Amazon
Basics Pet Activity Center and Feeder
11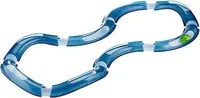 Catit
Super Roller Circuit
12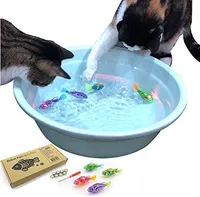 Indoor
Interactive Swimming Fish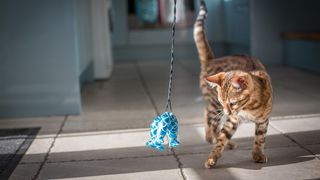 (Image credit: Getty)
Although cats love to play with a ball of string, investing in the best cat toys will do your moggies far more good in the long run. Since cats easily become bored, a variety of toys are more likely to keep them occupied. It means you can continue to mentally and physically stimulate your furbaby which will help to keep them in good health.
One thing's for sure, cats love to play and they do so in many different ways. They like to chase, kick, swat and pounce. They'll also spend lots of time stalking. The trick, then, is to consider toys that allow them to indulge in such behavior, letting them enjoy the benefits of short bursts of exercise. By focusing their attention on toys, there's also every chance you can avoid the development of cat play aggression.
That's not to say you shouldn't get involved, however. There's heaps of fun to be had in playing with your cat and it also allows you to bond. With plenty of toys encouraging you to get stuck in, there's certainly no reason not to become your feline's playmate. Just remember that you can't always be there so consider the best interactive cat toys or automated cat toys as well. These will let you play with a cat from a remote location or simply allow the toy itself to entertain.
There are other reasons why the best cat toys are better than a ball of string. You can find items that allow cats to chase, explore, socialize and climb and you can even find those that allow a spot of grooming such as keeping their claws trim. Don't worry if your cat doesn't immediately fall in love with a toy either. Try moving them to a different location, introducing them in new ways or simply sprinkle them with catnip.
In fact, if you're after toys with an instant attraction then you could do far worse than consider the best catnip toys. And if you're wondering "is catnip bad for cats", you should check out our guide. For now, though, let's check out our pick of the best 12 cat toys for 2022.
PetsRadar's pick of the best cat toys
PAWZ Road Sisal Rope Scratching Post
Best overall cat toy
Specifications
Primary exercise:
Scratching and claw health
Reasons to buy
+
Universally loved
+
Cats will use independently
+
Saves your couch
Reasons to avoid
-
Cats can ignore scratching posts
All cats scratch. Scratching is primarily used to sharpen claws, and to shed older claws (just as we cut our nails), but it can also be a way for cats to establish territory and to simply entertain themselves. Sadly, this often means they scratch our couches, footstools, rugs and curtains, and can quickly ruin these furnishings. The way to control this is to buy a scratching post, or even a cat tree, which allows your mog to exercise their claws without taking it out on your fabrics.
We class scratching posts as toys as they are often accompanied by some kind of teaser-toy, they can be laced with catnip, and they will keep your pet entertained for months if you get the right one. You can also get scratching posts as part of cat trees, which are indoor structures that let your pet practice climbing as well as giving them a high vantage-point (which they love) and often a hidey-hole to get some privacy.
The best scratching posts really come down to budget and style, as they achieve the same purpose regardless of which one you get. Simple posts with a toy on top can be bought for around £10-20, whereas elaborate cat trees can run to £100s. They come in all shapes and sizes too, but we find the simple 'post' design works best, especially when paired with a simple teaser toy dangling from the top.
GingerUP Cat Toy Cat Feather Toys
Best budget cat toy
Specifications
Primary exercise:
Pouncing and jumping
Reasons to buy
+
Inexpensive
+
Good play between you and cat
Reasons to avoid
-
They don't last long
-
You may get scratched
The teaser wand is basically just a small toy on the end of a stick (usually suspended by elastic or a piece of string). Think of them as a fishing rod for cats. You can get one for just a few pounds, and they're almost always a success with all types of cat.
Kittens especially love them, as they're perfect for practicing jumping, pouncing, and even biting. If you're really tight on budget, you could even make a teaser wand yourself with a stick, string, and some kind of makeshift toy – they are that simple.
We recommend looking for a teaser wand with a decent pole, which isn't going to break, so choose either a wooden or metal pole for sturdiness. Elastic is probably the best attachment for the toy, as it will flick further when your cat grabs it and lets go.
The type of teaser really depends on your personal preference, or what your cat prefers. Ours likes a mouse-shaped attachment, although you can also get ones with colorful feathers or stringy tassels too.
The only downside is that they don't last long. An active cat will claw through even the most well-made teaser toy in a handful of weeks, so be prepared to either change the attachment regularly or buy new ones every couple of months.
Pawaboo cat tunnel tube collapsible play tent
Best toy for kittens
Specifications
Primary exercise:
Chasing and playing
Reasons to buy
+
Spacious 3-way tunnels
+
Portable and light
+
Simple to use
Reasons to avoid
-
Not waterproof
-
Not ideal for adult or larger cats
If you have a playful kitten who loves peek-a-boo or hide and seek, this tunnel toy is the perfect pick. The Pawaboo Cat Tunnel Tube is a simple, 3-way tunnel that will provide a maze of fun for your kitties. With a peep hole at the top to poke their heads out, it also comes with hanging ball bell toys in the middle to keep them entertained.
It has a diameter of 25cm x 35cm so has sufficient space for kittens to move and turn around in, the downside is it might be a tight squeeze for tubby or adult cats. Overall, it is strong and durable and your kitten will be able to spend hours playing, hiding, scratching or even taking a cat nap in it! The material also makes a slight rustling noise when moving around in which adds to the sensory experience.
Designed to be light and portable, the tubes easily pop into place. In addition, they are collapsible and fold back securely after use, making it simple to pack up, carry around the home and store away.
More suitable for kittens and small pets, this Pawaboo Cat Tunnel Tube is ideal for keeping them occupied and active. The best thing is, it's simple, hassle-free and doesn't even need batteries!
Best for multi-cat playtime
Specifications
Primary exercise:
Chasing/Hunting
Reasons to buy
+
Dual rotating laser pointers
+
Customise with adjustable speed settings
+
Automatic shut-off
+
Battery lasts for a good time
Reasons to avoid
-
No manual timer
-
Slightly noisy when turned on
-
Prone to be knocked over during play
The PetSafe FroliCat Dart Duo Interactive Dual Laser is an automated toy featuring two lasers that rotate and create unpredictable paths for kitties to chase. The patterns are traced over 360 degrees and there are 16 play combinations and four variable speed settings to ensure your cat never knows what's coming next.
What sets the PetSafe FroliCat Dart Duo Interactive Dual apart from other cat toys in this class is the dual rotating lasers. Most of the best laser toys for cats on the market only have one, but PetSafe's randomized dual beams are guaranteed to get cats darting and charging around the room in pursuit of them. If you have limited space, don't worry, there are three distance settings which are easily adjustable for smaller or larger rooms. The dual lasers are also perfect if you have more than one cat as they make group play possible.
If you have an excitable cat or multiple cats in need of constant entertainment the PetSafe FroliCat Dart Duo, Interactive, Dual Laser Cat Toy will make the ideal purchase. It's only drawback is the lack of a manual timer to set if you need to be away for more than 15 mins.
ORSDA Electronic Cat Toy
Best for home-alone cats
Specifications
Primary exercise:
Pounce, bat and grab
Reasons to buy
+
Attention grabbing
+
Two modes of play
+
Programmable
Reasons to avoid
-
Slightly noisy
-
Feather can get stuck inside
With feathers to hunt, balls to bat and flashing lights to attract attention, this three-in-one electronic toy from Orsda is guaranteed to get even the most disinterested moggie up and playing. It's programmable too, so you can set it to come on at set intervals, to ensure your kitty is getting much needed distraction when you aren't there to play with them.
Featuring a ball on a circular track your moggy will spend ages trying to catch and an unpredictable feather playing peekaboo from various apertures, this is one cat toy that's hard to ignore. It does make a noise when in operation, but users have said this acts as a great signal for their cats to come running ready to catch that bothersome feather. And with various modes to choose from, including a random one, variety is guaranteed to keep them interested, and ready to exercise those hunting instincts.
Because of its constant movement in and out the feather lasts longer than on other cat toys, and it comes with replacement feathers to ensure if it is destroyed by your crafty cat, they are easily replaced. One slight issue is that some owners have reported that the feather can get stuck inside – although it's simple enough to fix just by dislodging it with a pencil.
You can set it so the toy comes to life every four hours, perfect for stimulating a cat left on its own during the day. And even when it's off, the ball on the track still works, so it can provide amusement even when unpowered. With users saying that even cats that are usually uninterested by toys are drawn to this one, this is a great toy to keep your moggie amused and stimulated while you are out and about.
Smart Cat Peek-A-Prize Toy Box
Best for curious cats
Specifications
Primary exercise:
Paw fishing and hunting
Reasons to buy
+
Easy to carry around
+
You can put either small toys or cat treats inside
+
Contains two toys
Reasons to avoid
-
Balls can be too easy for cats to get out
-
Expensive
Curious cats have an instinctual desire to hunt. That's why they love to watch cracks and crevices, especially when they know something is hiding inside! The Smart Cat Peek-A-Prize Toy Box comes with two toys inside, and designed to develop and encourage your cat's natural, predatory instincts. Simply hide some of their toys inside the box and your cat will have fun fishing them out. Not only will this stimulate them physically but provide mental stimulation in working out how to get to the objects.
You can swap around the toys in the box for more exciting variety, but only smaller toys would work. If you wanted to treat your feline pals, you could always swap the toys for treats, which will be a delicious incentive.
The Smart Cat Peek-A-Prize Toy Box is ideal for when busy owners have to leave the room for a while or need to pop out. The plus side is, it's easy to use, simple and doesn't require batteries! It is rather expensive though, but it's designed to be sturdy and last long. Besides, once your kitty is digging around, this will keep her occupied and amused for hours.
Senneny Electric Moving Fish Cat Toy
Best for solo play
Specifications
Primary exercise:
Pouncing and kicking
Reasons to buy
+
Great exercise
+
Fun to watch
Reasons to avoid
-
Some cats won't touch them
-
Build quality is inconsistent
The flapping fish is a love it / hate it toy for cats. We've seen some cats absolutely adore it, whereas others just look a little scared and confused. There are all kinds of varieties, but most flapping fishes are realistic looking plushies, often life-size, that flap around just like a fish out of water. Most are motion or pressure activated too, so they only flap around for a few seconds when pounced on or batted by a cat.
Each one is padded, so your cat can grip it with their paws, and they're the perfect shape and size for kicking. You'll be surprised by how actively some of the cats flap when activated, and this can be intimidating for kittens and more shy cats. However, larger and more powerful cats will love the challenge of attacking it.
Make sure you get a rechargeable flapping fish, or you'll spend a fortune on batteries.
Some come with sachets of catnip inside them, to entice your pet to interact with them for the first time. We can't guarantee all cats will actually play with these fish, but those that do will have a great time solo-playing.
Vealind GiGwi Automatic Moving Mouse Cat Toy
Best cat toy for chasing
Specifications
Primary exercise:
Chasing and stalking
Reasons to avoid
-
Won't entertain for as long
-
Some cats will ignore them
If your cat loves to chase toys, a mechanical or motorized mouse is a great pick. They're cheap, often coming in packs of two or three, and they're simple toys to operate.
While the mechanical mice, with winders, will provide limited amounts of play time, the battery-powered mice could provide decent sessions if your cat decides to stalk and chase it.
These toys are usually the size of an average mouse, so they're perfect for smaller cats. Larger cats may not be challenged by them, and will want to stalk something a little juicier, but they're ideal for kittens learning to hunt. They're cheap too, so if you just want to try one out it won't cost much. Spending a bit more will get you a mouse that squeaks too, which adds extra temptation for your kitty.
The build quality isn't always the best with motorized mice, but the low cost makes this less of an issue. If you do go for a fully motorized mouse, make sure you go for a rechargeable battery. Obviously, the mechanical ones don't need any power, so they're super cheap.
Youngever 24 Cat Toys and Assortments
Best toy starter pack for cats
Specifications
Primary exercise:
Chasing and playing
Reasons to buy
+
A wonderful range of toys
+
Comes with a tunnel too
+
Good value for money
Reasons to avoid
-
Can't leave many unsupervised
If you look at the other options here and are totally spoiled for choice, then consider taking the plunge with this amazing value-for-money set that not only gives you a wide selection of toys but also throws in a two-way tunnel for good measure. It'll be like Christmas has come at once for your kitty, with the chance of disappointment being very low. There's bound to be a good selection of toys here that your cat will love!
The collapsible tunnel is perhaps the star attraction to some degree. Users report it being a firm favorite among their furkids and it's large enough to provide fun for both cats and kittens. But then you get the heap of staple toys that will surely provide hours of enjoyment, from a cat teaser wand with a fluffy snake on the end (ideal when you're playing and bonding with your cat) to feathered items, crinkle balls and springs.
Colorfully designed, they will both mentally and physically stimulate your cat but you will have to be careful about which ones you leave out when you're not around. The manufacturer advises that you supervise kitties when they're playing because they may eat some of the small parts – one user had an issue with the red foam balls being easily torn apart.
Amazon Basics Pet Activity Center and Feeder
Best food-related toy
Specifications
Primary exercise:
Hunting
Reasons to buy
+
Uses food to encourage use
+
Comes with a host of puzzles
+
Durable design for lastability
Reasons to avoid
-
Some puzzles may be too easy
Packed with compartments in which you can hide tasty treats, this low-cost pet activity center is designed to stimulate your cat's mind. By forcing kitties to figure ways of gaining access to any kibble or treats you've dotted around the toy, it helps to relieve boredom. It also taps into a cat's innate desire to hunt and stimulates a sense of curiosity.
By including food-based puzzles, there is an added benefit: it will slow down the rate at which your cat eats. This is useful if you have a kitty that likes to gobble their food too fast, something that can lead to indigestion problems. It also makes feeding feel more rewarding. Cats will have to perform different actions to get at their food and it'll be enjoyable watching your cat seeking solutions.
In the process, you may even be amazed at how intelligent your cat is, although don't worry about the puzzles being too hard. The activity centre has been designed to be as attractive and rewarding for kittens as it is for cats so nobody is going to go hungry here. Neither are you going to have to frequently replace this toy. It's made of hard-wearing polypropylene and you can keep it clean by simply wiping with a damp cloth.
Catit Super Roller Circuit
Best cat toy for mental exercise
Specifications
Primary exercise:
Chasing
Reasons to buy
+
Attractive, robust design
+
Ongoing fast play
+
Can be expanded
One of the problems with giving a cat a ball to play with is that, with an ill-timed swipe, it's so easily lost. By ensuring a ball is sent along a structured path, a cat can repeatedly enjoy all the thrill of a chase. You won't be on your hands and knees trying to rescue a ball from beneath the sofa with this toy, that's for sure.
Made from plastic and colored blue, the Super Roller Circuit certainly looks fun. Simply fix the eight pieces together to create a ring and the ball will zip along inside the tube. As the ball whizzes past openings, cats should attempt to put their paw on it. They won't be able to flick it out of the tube so, when they release their grip, the ball will continue on its journey, continuing the enjoyment.
As a bonus, the ball can be illuminated. This makes it more noticeable, encouraging cats to play day and night. Of course, this means you will need to power the toy in some way: in this case, it's batteries-only (and you don't get any in the box) but that at least makes the toy portable.
It's also a versatile kit, suitable for cats of all ages. Nothing stops you adding extra balls or even buying a second set and making a larger ring. Some owners have done just that, making for some impressive set-ups.
Indoor Interactive Swimming Fish
Best cat toy for water-based fun
Specifications
Primary exercise:
Hunting
Reasons to buy
+
The fish light up to catch attention
+
Their fins move as they swim
+
Come as a pack of four
Reasons to avoid
-
Will need to regularly replace batteries
Keeping cats and fish in the same home is generally a bad idea. After watching them for a while you may find your feline friend suddenly decides to stick a paw into the tank to grab themselves an early dinner. Either that or they end up plunging into the water and end up a soggy mess.
There's much less danger with this toy – a collection of four colorful robot fish that are designed to be placed into a bowl. They allow your kitties to watch as the fish swim around, their fins moving back and forth. This encourages cats to interact and the idea is that the toy taps into your cat's instinct to hunt which will stimulate their mind while also allowing them to exercise. It also helps cats to overcome any fear of water.
In order to attract their attention, the fish have built-in LEDs which flash as the tiny fake-swimmers move around in the water. Each one is powered by two batteries but you also get an extra set of eight which is a nice touch (there's a battery installation tool too). What's more, the fish have been designed to save power: they'll start swimming when they're introduced to water but stop when they are taken out.
The main downside is that the batteries will drain rather quickly. Used continuously, you're unlikely to get more than 30 minutes of power which is perhaps why the manufacturer recommends limiting playtime to 10 minutes at a time. You'd have to factor in the cost of replacement LR44 batteries before deciding to make a purchase.
How to choose the best cat toys
When choosing a cat toy you really need to try different things to see what your cat likes. The good thing is that most cat toys are inexpensive, so you don't lose much if your pet takes little or no interest. If they don't play with a toy, don't take this as a sign that your cat isn't playful – just keep trying different options.
We also fully suggest you persist with cat toys several times after buying them. Some don't have instant appeal, and many cats are nervous about changes to their environment, so something like a new scratching post may intimidate them to start with. We've known cats ignore toys, trees, and beds for months before suddenly loving them.
If your cat stays indoors, play is an essential part of their day, so most vets recommend a minimum of 15-30 minutes of play per day. This is for exercise and bonding, so it's very important. Try to choose toys that will give your cat a work-out and require personal input from you, so you're more involved in your cat's play.
Andy is an online Editor-in-Chief, a photographer, and a cat owner of 25 years. He has owned many types of cat, rescuing some and adopting others from kittens. He currently lives with Pickle, a tortie, who loves to play with Christmas wrapping bows and eat flowers.
Get the best advice, tips and top tech for your beloved Pets
Thank you for signing up to Petsradar. You will receive a verification email shortly.
There was a problem. Please refresh the page and try again.