Best automatic laser cat toys: Six low-effort ways to keep them captivated
What could be better than an automatic laser cat toy? We've selected some great options to entertain your kitty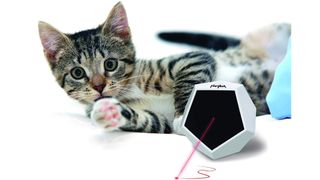 (Image credit: Amazon)
An automatic laser cat toy is the ultimate piece of entertainment for your kitty. No more waving around your cat laser pointer, getting a tired arm, because these laser toys will do it for you. If you're having trouble picking one of the best cat toys for your pet, then you really can't go wrong with an automatic laser cat toy.
Guaranteed to wear your kitty out, these are perfect for cats with lots of energy, or indoor cats who don't get out much. Lasers will have them running and jumping and pouncing – all of the natural behaviors that they love to do. They run on batteries, which can drain pretty quickly, but you can always opt for rechargeable batteries so that this toy doesn't end up costing you a fortune.
We've selected some of the best automatic laser cat toys out there, to help you narrow down the choice to one your moggy will love.
1. Felix & Fido Playdot: Best overall automatic laser cat toy
Felix & Fido Playdot
A whopping 30 minutes of mesmerising play
Needs batteries: Yes, 3 AA | Includes batteries: No | Automatic shut-off: Yes
Hard to knock over
Manual and automatic modes
Stays on for 30 minutes
Batteries not included
Screwdriver required
Batteries run down quickly
Besides looking like a cool modernist sculpture, this well-designed automatic laser cat toy has a lot to offer. It's relatively small and light but, thanks to its shape, doesn't get knocked over like some competitors are prone to.
You can set the Playdot on any flat surface, including the floor, table and even the cat tree. There are three automatic modes and one manual, so if you want to personally interact with Felix, you still can: you just pick up the Playdot and move it around yourself.
The automatic modes are Slow, Fast and Advanced, each with a different laser pattern to keep kitty interested. Like most of the toys on this list, the Playdot has an automatic shutdown to conserve batteries, but it's a rather lengthy 30 minutes – which could be a positive or a negative depending on your point of view. It'll certainly keep your cat occupied for longer (assuming they don't lose interest), but it will eat through batteries quickly.
If you have some rechargeable batteries ready to switch around, this toy is a winner as far as we're concerned. It looks good, doesn't cost too much, can be used in lots of different places and includes enough modes to keep things interesting for the cat. The addition of manual mode is also a nice touch, so you can play too.
2. Ethical Pet Spot Rockin' Laser Cat Toy: Best budget automatic laser cat toy
Ethical Pet Spot Rockin' Laser Cat Toy
A rockin' robin that projects irresistible light wherever it goes
Needs batteries: Yes, 2 AA | Includes batteries: Yes | Automatic shut-off: Yes
Reasonably priced
Batteries included
Automatic or manual control
Can break easily
Batteries run down quickly
Doesn't encourage much movement
Cute and colourful, this little laser bird is weighted at the bottom so it wobbles all over the place when kitty swats it with her paw. That, of course, makes the laser go crazy, and so the cycle continues until kitty is too tired to play any more.
It has both a manual and an automatic on/off option. That means you can turn it on yourself if your cat seems bored, and off when you want to conserve battery. Alternatively, you can leave it on motion activation, so it turns on and off automatically depending on whether it's being played with. One enthusiastic reviewer described it as a Weeble with a laser inside, which is pretty accurate.
Some other reviewers had problems with their units breaking quickly, which might be down to the inexpensive design – but plenty of others had a good experience and found their fluffy friends couldn't resist the toy. If you do get one that breaks quickly, you can of course return it, and at this price, you can probably afford to buy a back-up to keep kitty occupied in the meantime.
3. HuggyTeam Smart Interactive Cat Toy: Best for kittens
HuggyTeam Smart Interactive Cat Toy
A multi-talented spinning laser ball with three toys included
Needs batteries: Yes, 2 AA | Includes batteries: No | Automatic shut-off: Yes
Two attachments
Fish toy included
Makes noise
Screwdriver required
Batteries not included
Too small for adult cats
Ideal for bouncy kittens that need to burn off some energy (that'll be all of them), this inexpensive interactive toy has lots of features to keep them interested.
Looking like an off-brand BB8, this little white ball rotates 360 degrees, projecting its laser light toy on the floor as it goes. It can spin on the spot or do more of a Weeble wobbling-type movement, causing different kinds of light display.
The spinning movement also moves the (detachable) dangling toy protruding from the stick on top of the ball. Some cats like this, some aren't so keen, so if yours keep hitting themselves in the face, you can take it off or try the other attachment that comes with the toy.
It works on both carpet and hard floors, and makes noise to keep kitty interested. The movement of the toy itself isn't too quiet, either, so this isn't the ideal choice for when you're trying to work from home.
The ball shuts off automatically after five minutes, which seems a little short – you might end up reactivating it a lot if your kitten likes it. Oddly, it also includes a fish toy that doesn't interact with the ball in any way, but is a welcome freebie nonetheless.
4. Pawbo+: Best for when you're at work
Pawbo+
This laser-chasin', treat-dispensin' camera lets you play with kitty from anywhere
Needs batteries: No | Includes power cable: Yes | Automatic shut-off: Yes
Allows remote play
Functions as a petcam
Also a treat dispenser
Pricey
Over-complicated for a laser toy
App can be unreliable
Even if a laser existed that could project all the way from your office to home, it probably wouldn't be a good idea to aim it near your cat. This is a much better solution: a remote-monitoring petcam with the ability to play laser games from anywhere.
The Pawbo+ offers HD (720p) live video of your home and pet through its 130-degree wide-angle lens, meaning you can see a good portion of the room and check out what your pet's up to while you're away. Through the app, which is available on iOS and Android, up to eight people can check in on the same video, with the ability to remotely activate the laser toy and watch kitty play.
You can even dispense a treat – it can only hold nine at a time, so remember to top them up before you go out. There's a two-way mic so you can talk and listen, and you can also take photos and recordings of laser playtime for your social media.
All this functionality comes at a higher price than many of the toys in this list – but it's worth the expense if you're often away from home, or you miss them a lot.
5. FroliCat ZIP Automated Laser Light Cat Toy: best for homes with lots of floor space
FroliCat ZIP Automated Laser Light Cat Toy
A laser on a tank, for badass cats
Needs batteries: Yes, 3 AA | Includes batteries: No | Automatic shut-off: Yes
Provides lots of exercise
Laser and toy move randomly
Works on hard floors and thin carpets
Batteries not included
Makes lots of noise
Crashes into furniture
If you have the kind of home that can easily accommodate a robot vacuum cleaner – one with lots of empty, flat space that's relatively free of cables, steps and obstructions – this is the perfect laser cat toy for you.
The FroliCat ZIP, by PetSafe, is essentially a laser pointer mounted on its own little tank. The wheeled toy careens around the floor, projecting the laser as it goes, giving your cat an excellent workout, as long as it's not constantly bumping into/disappearing under furniture.
Since this is a much more energetic toy than many of the automatic cat laser chasers, it's probably for the best that it automatically shuts off after ten minutes of play – it's important to let kitty rest and recuperate sometimes. That said, cats with this toy have been known to sit next to it miaowing until it's turned back on – you have been warned!
Speaking of noise, this one's not the quietest: the motorized movement may well bug you if you're trying to read. That said, it helps your cat know when it's playtime and can be useful in tracking down the toy if it gets stuck under something.
6. PetSafe Bolt Interactive Laser Cat Toy
PetSafe Bolt Interactive Laser Cat Toy
Over there! No, over there! Where'd it go?!
Needs batteries: Yes, 4 AA | Includes batteries: No | Automatic shut-off: Yes
Automatic and manual modes
Easy to use
Projects across walls and floors
Easily knocked over
Batteries not included
Can be loud
This skittle-like laser tower is pretty straightforward: you turn it on, and it rotates its internal mirror to project random laser patterns across the wall and floor for kitty to chase. It keeps going for 15 minutes before automatically switching off, which should be plenty of time to temporarily tire out even the most energetic of kittens.
This toy has a useful dual function: you can either leave it to entertain your cat automatically, or you can switch it to manual mode and hold it in your hand to play with them yourself. It's 9in tall by 3in wide, so small and light enough to comfortably hold, although that does mean it's easy for the cat to knock over during playtime. If it keeps happening, try positioning it on a higher surface with the laser pointing down.
The laser pattern is randomized to keep play exciting, moving between smaller and larger circles and squiggle patterns. It's a little loud when in automatic mode, so probably not ideal for when you're trying to concentrate.
How to choose the best automatic laser cat toy
Firstly, a word about lasers: a lot of cat laser toys come with warnings. It's important to read the instructions carefully because if you or kitty look directly at the source of the laser, you could sustain irreparable eye damage.
That said, laser toys by reputable brands are designed not to cause damage – which is why you should ensure you get your cat's laser toy from somewhere you trust.
A big reason for getting an automatic laser toy over a manual one is that you can get on with your day while your pet is entertained. However, it's worth thinking about where you are and what you'll be doing, because you should be supervising any play involving lasers and kittens – and cats in general if you don't want all your stuff chewed and broken.
Then there's the noise issue: if you're planning on getting some work or reading done while the toy is on, you'll want to choose something a bit quieter. Some of the motorized toys can be fairly loud and repetitive, which can drive some people crazy.
You'll also want to think about the type of flooring you have in your home: some automatic laser chasers work better on hardwood than carpet, especially thick carpets or rugs. If you do, you'll be better off choosing something that sits on a higher-up surface such as a table, and projects the laser down onto the floor, than something with wheels.
Get the best advice, tips and top tech for your beloved Pets
Thank you for signing up to Petsradar. You will receive a verification email shortly.
There was a problem. Please refresh the page and try again.