Best automatic laser cat toys: The top cat chasing devices
We round up the best automatic laser cat toys for when your kitty is home alone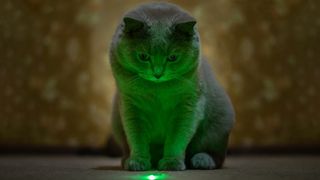 (Image credit: Getty Images)
Automatic laser cat toys are very sought after, and for good reason. Over time, they have proved to be the perfect tool for keeping your car engaged and free from boredom, offering hours of amusement for those times when you can't be with them.
While we have a selection of the best cat toys that offer plenty of opportunities for fun, automatic laser cat toys go above and beyond to offer an exciting and unpredictable option for your cat.
Just like us humans, cats can suffer from anxiety and depression, which can be caused by them not getting enough physical and mental stimulation. Cats who spend the majority of their time indoors are at particularly high risk of this.
You will likely find automatic laser cat toys in the best toys for indoor cats. This is because unlike their active outdoor peers, these cats don't have as many opportunities to tap into their natural instincts to run, jump, chase, and pounce. A good automatic laser cat toy solves that problem by offering them the chance to do all of the things they love.
When you're looking for an automatic laser cat toy to buy, make sure you keep an eye out for ones that have a few different settings so that you can vary the speed. This means that even older cats can enjoy these toys.
Some automatic laser cat toys even come with feathers or ribbons included. These add an extra dose of unpredictability, as well as giving your cat a variety of things to chase and engage with beyond just the laser.
The best interactive cat toys usually have an automatic switch-off feature too, meaning that the laser will only operate for around 15-30 minutes at a time before switching off for a few hours. This is important, as having plenty of down time between play sessions will ensure your cat doesn't become overstimulated.
In order to help you select the best automatic laser cat toy for your cat, we have collected together seven of our favorite devices. Collectively, these encompass a range of options to suit every age, stage, and budget.
PetsRadar's pick of the best automatic laser cat toys
Why you can trust PetsRadar Our expert reviewers spend hours testing and comparing products and services so you can choose the best for you. Find out more about how we test.
Best overall automatic laser cat toy
Specifications
Needs batteries:
Yes, 3 AA
Reasons to buy
+
Hard to knock over
+
Manual and automatic modes
+
Stays on for 30 minutes
Reasons to avoid
-
Batteries run down quickly
Besides looking like a cool modernist sculpture, this well-designed automatic laser cat toy has a lot to offer. It's relatively small and light but, thanks to its shape, doesn't get knocked over like some competitors are prone to.
You can set the Playdot on any flat surface, including the floor, table and even the cat tree. There are three automatic modes and one manual, so if you want to personally interact with Felix, you still can: you just pick up the Playdot and move it around yourself.
The automatic modes are Slow, Fast and Advanced, each with a different laser pattern to keep kitty interested. Like most of the toys on this list, the Playdot has an automatic shutdown to conserve batteries, but it's a rather lengthy 30 minutes – which could be a positive or a negative depending on your point of view. It'll certainly keep your cat occupied for longer (assuming they don't lose interest), but it will eat through batteries quickly.
If you have some rechargeable batteries ready to switch around, this toy is a winner as far as we're concerned. It looks good, doesn't cost too much, can be used in lots of different places and includes enough modes to keep things interesting for the cat. The addition of manual mode is also a nice touch, so you can play too.
Enoctu Cat Laser Toy and Feather
Best value automatic laser cat toy
Specifications
Includes batteries:
Built-in and rechargeable
Reasons to buy
+
Three modes
+
Built-in battery and USB charging
+
Adjustable height
Want something a little more exciting for your kitty than a standard laser toy? Then the Enoctu laser and feather cat toy is definitely worth considering. Combining a laser pointer with two different cat chaser toys (a ribbon and a feather), your furkid is guaranteed to have triple the fun!
Featuring three modes, you can set the laser and chaser toys to operate on a slow, fast, or random setting and after 30 minutes the toy will automatically shut itself off, which is great for ensuring your kitty doesn't become overstimulated.
We love that this toy comes with a 500mA rechargeable lithium battery, so you don't need to worry about it going flat while you're out, and it can be easily charged via a USB cable.
You can also adjust the height, lengthening the feet by pressing and holding a button underneath the toy and the feather and ribbon rods can also be lengthened to suit, making it a fantastic option for cats of all ages and sizes.
The shell is made from environmentally friendly high-impact ABS plastic, so it's durable and sturdy, and it comes with three ribbons and two feathers, ensuring you get longevity and great value for money.
Suitable for use on the table or floor, it's also super easy to transport, so no matter whether you're at home or on holiday, your cat will always have their favorite toy close at hand.
HuggyTeam Smart Interactive Cat Toy
Best automatic laser cat toy for kittens
Specifications
Needs batteries:
Yes, 2 AA
Reasons to buy
+
Two attachments
+
Fish toy included
+
Makes noise
Reasons to avoid
-
Too small for adult cats
Ideal for bouncy kittens that need to burn off some energy (that'll be all of them), this inexpensive interactive toy has lots of features to keep them interested.
Looking like an off-brand BB8, this little white ball rotates 360 degrees, projecting its laser light toy on the floor as it goes. It can spin on the spot or do more of a Weeble wobbling-type movement, causing different kinds of light display.
The spinning movement also moves the (detachable) dangling toy protruding from the stick on top of the ball. Some cats like this, some aren't so keen, so if yours keep hitting themselves in the face, you can take it off or try the other attachment that comes with the toy.
It works on both carpet and hard floors, and makes noise to keep kitty interested. The movement of the toy itself isn't too quiet, either, so this isn't the ideal choice for when you're trying to work from home.
The ball shuts off automatically after five minutes, which seems a little short – you might end up reactivating it a lot if your kitten likes it. Oddly, it also includes a fish toy that doesn't interact with the ball in any way, but is a welcome freebie nonetheless.
Best automatic laser cat toy for when you're at work
Specifications
Includes power cable:
Yes
Reasons to buy
+
Allows remote play
+
Functions as a petcam
+
Also a treat dispenser
Reasons to avoid
-
Pricey
-
App can be unreliable
Even if a laser existed that could project all the way from your office to home, it probably wouldn't be a good idea to aim it near your cat. This is a much better solution: a remote-monitoring petcam with the ability to play laser games from anywhere.
The Pawbo+ offers HD (720p) live video of your home and pet through its 130-degree wide-angle lens, meaning you can see a good portion of the room and check out what your pet's up to while you're away. Through the app, which is available on iOS and Android, up to eight people can check in on the same video, with the ability to remotely activate the laser toy and watch kitty play.
You can even dispense a treat – it can only hold nine at a time, so remember to top them up before you go out. There's a two-way mic so you can talk and listen, and you can also take photos and recordings of laser playtime for your social media.
All this functionality comes at a higher price than many of the toys in this list – but it's worth the expense if you're often away from home, or you miss them a lot.
Most versatile automatic cat laser toy
Specifications
Needs batteries:
Yes, 3 AAA
Reasons to buy
+
Automatic turn off after 15 minutes
+
Random laser patterns
+
Can be hung from a doorknob
One of the most popular and versatile laser toys on the market, the PetSafe Dancing Dot works beautifully on elevated surfaces, floors, and even hanging from doorknobs, offering your kitty an unpredictable play session every time.
Featuring a Certified Class 1 laser that's completely safe for your cat, this toy has two play modes so you can set it to one-time-play or all-day-play, great for if you're going to be out of the house for a long period of time. The laser patterns are also random, which adds an extra element of fun to the game.
With an automatic shut-off, the laser powers down after 15 minutes and if you set it for all-day-play, there's a rest period of two hours in between each session to ensure your kitty doesn't become overstimulated.
The one drawback is the lack of a rechargeable battery, so you'll need to purchase 3 x AAA batteries and keep an eye on them to ensure the toy doesn't run out of juice while you're out and about. But aside from that, this is an exciting laser toy for all ages and stages.
PetSafe Bolt Interactive Laser Cat Toy
Most unpredictable automatic laser cat toy
Specifications
Needs batteries:
Yes, 4 AA
Reasons to buy
+
Automatic and manual modes
+
Easy to use
+
Projects across walls and floors
Reasons to avoid
-
Easily knocked over
-
Can be loud
This skittle-like laser tower is pretty straightforward: you turn it on, and it rotates its internal mirror to project random laser patterns across the wall and floor for kitty to chase. It keeps going for 15 minutes before automatically switching off, which should be plenty of time to temporarily tire out even the most energetic of kittens.
This toy has a useful dual function: you can either leave it to entertain your cat automatically, or you can switch it to manual mode and hold it in your hand to play with them yourself. It's 9in tall by 3in wide, so small and light enough to comfortably hold, although that does mean it's easy for the cat to knock over during playtime. If it keeps happening, try positioning it on a higher surface with the laser pointing down.
The laser pattern is randomized to keep play exciting, moving between smaller and larger circles and squiggle patterns. It's a little loud when in automatic mode, so probably not ideal for when you're trying to concentrate.
SereneLife Automatic Cat Laser Toy
Best designed automatic laser cat toy
Specifications
Needs batteries:
Yes, 3 AA
Reasons to buy
+
Very easy to operate
+
Laser movement suitably unpredictable
+
Timer setting saves on battery life
Reasons to avoid
-
Some report laser to be weak in daytime
For our money the best-looking of the automatic laser cat toys in this list, we would be happy to have it in our home based on looks alone. But obviously aesthetics aren't everything, so how does it work?
Happily, it's generally as reliable as it is well-designed. Coming with a number of modes, you can turn any part of the room – ceiling, wall, or floor – into a playground, depending on where you have the device positioned.
The path of the laser is suitably unpredictable, designed to keep your cat guessing. The speed of the laser can be adjusted too, with a simple tap of a button making this possible.
There is also a power-saving mode for moments of activity to save on battery life, so you can leave it on without worrying about wasting power.
While customer reviews were generally positive, a few reported on the laser not showing up particularly well in daylight. For maximum efficiency, we would recommend using this in a darkened room.
Overall though, this is one of the better automatic laser cat toys that we've seen available to buy.
How to choose the best automatic laser cat toy
Firstly, a word about lasers: a lot of cat laser toys come with warnings. It's important to read the instructions carefully because if you or kitty look directly at the source of the laser, you could sustain irreparable eye damage.
That said, laser toys by reputable brands are designed not to cause damage – which is why you should ensure you get your cat's laser toy from somewhere you trust.
A big reason for getting an automatic laser toy over a manual one is that you can get on with your day while your pet is entertained. However, it's worth thinking about where you are and what you'll be doing, because you should be supervising any play involving lasers and kittens – and cats in general if you don't want all your stuff chewed and broken.
Then there's the noise issue: if you're planning on getting some work or reading done while the toy is on, you'll want to choose something a bit quieter. Some of the motorized toys can be fairly loud and repetitive, which can drive some people crazy.
You'll also want to think about the type of flooring you have in your home: some automatic laser chasers work better on hardwood than carpet, especially thick carpets or rugs. If you do, you'll be better off choosing something that sits on a higher-up surface such as a table, and projects the laser down onto the floor, than something with wheels.
Get the best advice, tips and top tech for your beloved Pets