Best catnip toys: Amuse your cat with these toys
Looking for catnip toys to bring out your cat's playful side? Here are some of the very best
Included in this guide:
1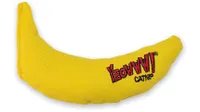 Yeowww
Catnip Banana
2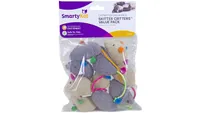 SmartyKat
Skitter Critters Value Pack
3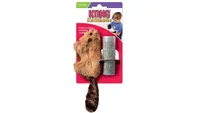 KONG
Refillables Beaver Catnip Toy
4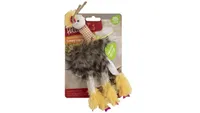 Petlinks
Loopy Llama
5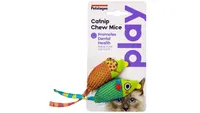 Petstages
Catnip Chew Mice
6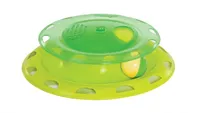 Petstages
Catnip Chaser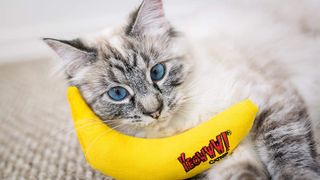 (Image credit: Amazon)
While not all kitties go crazy for catnip, for those that do, the best catnip toys can provide hours of fun. If your feline furkid is firmly in the camp of "I can't get enough of this stuff" then surprising them with a few of these fragrant toys will score you some major pet parent points!
The best cat toys are designed to enrich your kitty's life, offering plenty of mental and physical stimulation to ward off boredom and keep them entertained. Catnip toys, which are filled with the flowering herb that sets off a chemical reaction in your furkid, take play to a whole new level by inducing excitable rolling and pawing behaviors that often end with your kitty lulled into a relaxed and sleepy state.
Catnip toys are a great option if you have a furkid who isn't overly interested in regular toys and they can also be used as a reward for good behavior. Available in a range of styles from chaser balls to enticing mice, we recommend looking for toys made from durable materials infused with a quality catnip that won't lose its smell too quickly.
Much like the best automated cat toys, catnip toys can vary both in price and their ability to go the distance, so it's worth doing some research before parting with your hard-earned pennies. With that in mind, we've perused the shelves and pet parent reviews to bring you the best catnip toys on the market in 2021.
PetsRadar's pick of the best catnip toys
Best overall catnip toy: Yeowww Catnip Banana
Best budget option: SmartyKat Skitter Critters Value Pack
Best for longevity: KONG Refillables Beaver Catnip Toy
Best chance of success: Petlinks Loopy Llama
Best for dental care: Petstages Catnip Chew Mice
Best for interactivity: Petstages Catnip Chaser
Yeowww Catnip Banana
Catnip element: 100% catnip filling | Material: Cotton twill | Size: 7 inches long | Refillable: No | Amazon rating: 4.6
100% premium catnip filling
Big enough to grip and kick
Robust fabric
Doesn't look like prey
Yeowww is a big name when it comes to catnip toys, and for good reason. The Catnip Banana is stuffed with 100% catnip – no other filling in there to pad it out. With so much catnip packed in, you can expect the appeal of this toy to last longer than others. It's premium quality organic catnip too, grown without pesticides.
The Yeowww Catnip Banana is much bigger than the average catnip toy, so it's suitable for larger breeds or those that like to cuddle up with their favorite toys. It also means playful cats can grab hold of one end and bunny kick the other, putting all their hunting skills to work and getting a good amount of exercise. The banana is made from heavy duty cotton twill, so it should be tough enough to withstand some pretty rough play, although a few customers have reported the toy being ripped open at the seams. As with any catnip toy, damage is possible if a cat gets a little too enthusiastic so it's always best to supervise while they're playing. As the filling is 100% catnip, there's less of a choking risk if the toy does come open than with other toys filled with a combination of catnip and cotton or synthetic stuffing.
If you're not keen on the banana, Yeowww use the same 100% catnip fillings in other toys, including a rainbow, a heart and a fish.
SmartyKat Skitter Critters Value Pack
Catnip element: Catnip mixed with FiberFill | Material: Cotton twill | Size: 1.5 inches long | Refillable: No | Amazon rating: 4.7
Value multipack
Lightweight – perfect for batting
Filling unsafe if toy is ripped open
With their small fluffy bodies and yarn tails, SmartyKat's Skitter Critters are easy for cats to carry, bat, and throw around. These mice come in a pack 10 for the same price as some single catnip toys. They're surprisingly small, and could easily get lost behind furniture, but having nine others ready to go means one rolling away into a dark corner doesn't have to put an end to playtime. If they're a success with your cat, buying a multipack also means you have spares to hand if one gets damaged or begins to lose its scent. There's a 3-pack available too, with each mouse working out at roughly the same cost in each pack, but the 10-pack saves re-ordering and paying additional delivery fees.
Each mouse is filled with a combination of recycled FiberFill and pure high-quality catnip grown in the USA, giving it a pretty high potency and a soft feel – just be aware that the filling is unsafe if the toy is ripped open. If you have a large cat or a cat that likes to chew its toys, you'll need to pay particular attention when they play and check the critters regularly for any signs of damage. The Skitter Critters currently have a rating of 4.7 on Amazon UK from 7,350 ratings. Several customers could barely get the mice out of their packaging before their cats were reaching for them, and others said they even encouraged older cats to play.
KONG Refillables Beaver Catnip Toy
Catnip element: Catnip pouch and refill tube | Material: Synthetic fur | Size: 6.5 inches long | Refillable: Yes | Amazon rating: 4.6
Refillable for a longer life
Animal shape mimics prey
Pouch could open during play
Unlike other catnip toys, this won't lose its appeal easily; the KONG Refillables toys come with a small tube of catnip so the toy can be refreshed by adding a pinch of catnip to a Velcro pouch when the scent starts to fade and the cat begins to lose interest. You can swap the catnip provided for a different brand if you prefer, or try an alternative like valerian root if your cat doesn't seem to respond to catnip.
The KONG Refillables range features several different animals, including a turtle, a squirrel, a hedgehog, and a duck. The beaver's tail makes it slightly larger than other toys in the range, giving your cat more surface to grab, wrestle and bite. Lots of satisfied customers say their cat had a new favorite toy the second this beaver was unpacked, with several saying it's the only toy their cat shows interest in.
While the pouch is the main appeal of this toy, it's also a potential problem. If a cat gets their claws under the Velcro or really throws the beaver around, there's a possibility that the catnip could come flying out of its pouch. Customers say the toy is robust and withstands a lot so it's not too likely to happen, but it might be worth encouraging your cat to play with it on a smooth floor rather than carpet - just in case.
Petlinks Loopy Llama
Catnip element: 'HappyNip' blend mixed with FiberFill stuffing | Material: Fabric and feathers | Size: 8 inches long | Refillable: no | Amazon rating: 4.3
Catnip and silvervine blend
Multiple textures
Good size
Filling unsafe if toy is ripped open
Petlinks' HappyNip is a blend of catnip and silvervine, another herb that induces playfulness and euphoria in cats. This blend is more potent than catnip alone, and many cats that don't respond to catnip are affected by silvervine because they release different chemicals. If you're not sure whether your cat is sensitive to catnip, up your chances of success with a HappyNip toy.
There are several designs in the HappyNip range, but the Loopy Llama offers an interesting shape and combination of textures that make it more likely to bring out your cat's inner hunter. With a feathery body and dangling legs, the llama is a good prey mimic, and the shape makes for more exciting play as the cat throws it around. Its larger size also means cats can grab hold of one end and kick at the other, or curl up with the toy when the relaxing effects of the catnip kick in. Bear in mind that the toy is stuffed with a combination of HappyNip and FiberFill; if a cat manages to get its claws into the seams and rip the Loopy Llama open, the toy needs to be taken away immediately to avoid any filling being ingested.
Petstages Catnip Chew Mice
Catnip element: 100% catnip filling | Material: fabric and netting | Size: 3.5 inches long (including tail) | Refillable: No | Amazon rating: 4.5
Mesh for cleaning between teeth
Catnip filling
Lightweight
Small
This two-pack of catnip-filled mice does double duty as entertainment and tooth cleaner. As cats chew on the mice, the netting massages the gums and removes soft tartar on their teeth – perfect for cats that won't let people near their mouths with a toothbrush. Dental sticks can splinter in a cat's mouth, while dental chews and snacks only last a few seconds and are unsuitable if your cat is on a controlled diet – a dental toy can be the perfect solution for some pets. The catnip filling should keep cats interested in the toy long enough for them to get the dental benefits.
Of course, if your cat isn't much of a chewer these mice won't do much for their teeth. Even without this feature, the mice are a good size for a cat to bat around. If the novelty of playing with them begins to wear off, they're small and light enough to be attached to a string for a more exciting and interactive playtime. As they're only small, you'll need to keep an eye on your cat as they play.
Petstages Catnip Chaser
Catnip element: Compartment for catnip | Material: Plastic | Size: 9.5 inches across | Refillable: Yes | Amazon rating: 4.6
Interactive
Easy to clean
Durable
Ball can pop out of track
The Petstages Catnip Chaser offers a completely different style of play; the catnip compartment and vent draw a cat's attention to the track and the captive ball that runs around it. The more the cat bats the ball, the faster it rolls around the track. The slow release of the catnip aroma will keep pets in a playful mood, keeping them physically active and engaging their brains as they try to keep up with the ball. As the only plastic toy on our list, the Catnip Chaser is by far the easiest to clean – an important factor, as catnip can make cats drool. It also has slip-proof feet to keep it in one place while the cat bats away at the ball.
Customers have reported that exuberant and persistent cats can turn the toy over or pop the ball out of the track. Others have said it's slightly too small for their large cats. For a kitten or smaller cat under supervision, the Catnip Chaser can be fun to play with alone, with other cats or with their owner. You may even find that they'll keep playing with it if your supply of catnip runs out. Pure catnip can be picked up in pet stores or bought online, so it's easy enough to restock – if your cat isn't interested in the toy initially, you could try putting an alternative like silvervine in the compartment instead.
How to choose the best catnip toy
These are some of the catnip toys we think are best overall, but you know what your cat enjoys and how it plays. When trying to decide which product to buy, the most important factors are safety, size, and style of play. Use your knowledge of your cat's behavior to inform your choice. If you know your cat chews toys, choose one with a simple shape and no small attachments that could come off in their mouth. If your cat rarely picks up a toy to play with on their own, go for an interactive one you can enjoy together.
Once your new catnip toy has arrived, there are a couple of things to keep in mind. First, check the packaging for washing instructions – toys with catnip in their filling are often unsuitable for machine washing, and should be washed with a damp cloth to keep them potent and hygienic. Second, be aware that cats will develop a tolerance to catnip if they're regularly exposed to it for six months or so. If you can prise the toy away from your cat, putting it away when playtime is over will help them enjoy the affects for much longer.
Don't forget to take a look at our guide to the best cat toys for more ideas on amusing your feline friend.
Victoria has a degree in Evolutionary Biology and has written for magazines including World of Animals, How It Works and Science+Nature. She grew up with rabbits and a spaniel, and has had her horse, Bernie, for 11 years.
Get the best advice, tips and top tech for your beloved Pets
Thank you for signing up to Petsradar. You will receive a verification email shortly.
There was a problem. Please refresh the page and try again.