Best interactive cat toys: Fun toys for better cat play
By Steve Wright
Our picks of the best interactive cat toys, to keep your feline friends entertained and happy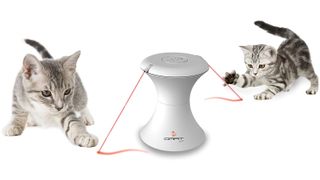 (Image credit: Amazon)
Having a range of the best interactive cat toys to hand is essential, especially during the winter months. Even if your cat is happy to venture outside, you should always keep some toys indoors for them to interact with when they don't want to venture into the wide world. Of course, if your cat stays indoors all the time, it's vital that they have something to play with, and you should get a variety of the best cat toys to rotate periodically, in order to keep them amused.
What do we mean by interactive cat toys? These are the teasers and laser pointers, along with other toys, which require you to actually play with your pet. While you can get a range of automated cat toys that your cat can play with solo, we recommend having toys that bring the both of you together in play. This not only helps maintain and strengthen the bond with your pet, but it can also train them to avoid other, less desirable behaviors.
Interactive cat toys are useful for training kittens, to stop them from biting and scratching your hands and feet. If they start nibbling you, calmly replace your hand with a teaser or feather toy. Getting cats in the habit of playing with toys (instead of fingers) when they're young is much easier than when they're full grown from 12-18 months onwards. And the good news is that cat toys are cheap, so you can easily afford to have a whole variety in your cat box, in case they get tired of one type.
PetsRadar's pick of the best interactive cat toys
Catit Senses 2.0 Super Circuit
Best overall interactive cat toy
Weight: 1.1kg | Dimensions: 26.67 x 19.81 x 24.89 | Batteries required?: No | Recommended age: 1 month and above | Material: Plastic
Customisable into multiple layouts
Easy to assemble and clean
Compatible with other Catit products
No free flashing ball
We're yet to meet a cat that doesn't love smashing balls around the floor. While it's great to see them having fun, having to constantly retrieve their spherical prey from underneath cupboards can grow tiresome.
Thanks to the Catit Senses 2.0 Super Circuit, this will no longer be a problem for you. An upgrade on the blue Super Roller Circuit, this new version takes on a green hue – and owners of the original will be envious when they see what this comes with.
Unlike the original, this is fully customizable. Depending on your preferences, the 2.0 Super Circuit can be configured into over 100 different layouts. This will allow you to keep things interesting for your cats, giving you the option to change things around should you get bored.
Once you've purchased and set it up, the play process for your cat is simple: they bat the ball around along the track until their heart's content. We found assembly simple, with everything clicking easily into place.
Some reviews have reported difficulty in assembly, but we reported no such issues at our end, so maybe it was a case of early different problems.
Another great feature is that this is designed to be compatible with other Catit products. Whether it's other circuits, the Senses 2.0 Grass Planter or Senses 2.0 Food Tree, everything fits together seamlessly, leaving open numerous cat activity possibilities.
Our only real quibble is that this doesn't come with the flashing light-up ball the Super Roller Circuit had, and that our cats were so fond of – you'll have to buy that separately, or pilfer it from the old circuit.
Ultimately, however, this is a nitpick. While cats can be fickle, we're yet to find one that hasn't been utterly entranced by this. If you're on the hunt for toys for your felines then you can't go far wrong with this.
PetSafe SlimCat Food Dispensing Cat Toy
Weight: 25.9g | Dimensions: 14.73 x 8.13 x 17.78 cm | Material: BPA-free plastic | Recommended age: All ages
Helps fight cat obesity
Great source of exercise
Easy to clean
Some cats might not use it as intended
Obesity can be a problem among cats, especially indoor ones. Minimal opportunities for exercise coupled with the ready availability of food can inexorably lead to expanding feline waistlines.
Enter the SlimCat Food-Dispensing Cat Toy from PetSafe. Effectively doing just what the title says, usage requires the spherical toy to be filled – at least partially – with a certain amount of food. When the cat starts knocking it about, food will be dispensed from it. Thus, its goal is reached – kitty has to work for their dinner.
This works well in a number of ways. Firstly, in order to aid digestion, cats are generally supposed to have a number of small meals rather than fewer large ones. While this isn't always possible to achieve during day-to-day, this device allows this to become a possibility once more.
Since the food is dispensed slowly, cats will eat slowly as a result. It's the best kind of cat toy – encouraging engagement and healthy eating in one fell swoop. Whether you choose to use it as a dinner time aid or fill it with treats for some fun and games, it's equally versatile.
Additionally, it's made from BPA-free plastic, and can be cleaned safely in the dishwasher, making it safe to use in the long-term.
It's hard to describe our one bugbear as a flaw since it depends entirely on the nature of your cat. While one of ours happily smashed it around in search of edible treats, the other took a more measured approach, slowly nudging it until food dropped out. Maybe our cat simply discovered a life hack?
Regardless, this still comes highly recommended. There are all manner of food dispensers out there, but few as efficient and straightforward as this.
Catit Play Tumbler Bee Interactive Cat Toy
Shipping weight: 6.4 oz | Dimensions: 10 x 10 x 10 cm | Batteries included?: No
Has a number of features
Small size ideal for kittens
Might move too quickly for some cats
Doesn't come with batteries
Encouraging play in kittens is important for their development, so it pays to get it right when you start looking for toys for them.
Catit has a good reputation for creating products that are designed to engage with pets, and it looks like the trick has been repeated once more with the Catit Play Tumbler Bee.
Essentially, its functions are threefold: while it spins, kittens will love chasing the plushie bee that adorns the top of its antennae. Laser beams for your kitten to chase will be emitted from time to time too, and finally, the base contains a dispenser for which to drop food out of, meaning you can choose it as a means of allocating treats.
In our tests, the results were generally impressive. There was a lot to take in for our small cat, who had a great time chasing the laser, and definitely appreciated the treats.
It can move rather quickly, with some accounts saying that this discouraged their cats from further usage, so if yours is naturally timid, it might not necessarily be the best option, but this wasn't an issue we personally encountered.
Unlike some other interactive cat toys, this also requires two AA batteries (not included), although these will be safely out of reach of your cat. Having to change them from time to time may be cumbersome, but ultimately it will be worth it for the experience it offers your kitten. All in all, it's a great starter kit for them.
PetSafe FroliCat Dart Duo Laser Cat Toy
Weight: 0.73 kg | Dimensions: 12.5 x 19 x 19 cm | Batteries required: 3 x AA | Batteries included: No
Fully automatic
Has multiple laser combinations
Encourages chasing and pouncing
A bit loud
Doesn't come with batteries
Anyone with a laser pen can probably testify to the fact that cats can't get enough of chasing them. But for obvious reasons, we can't be waving one around for them all day, which makes this offering from PetSafe a potential winner.
The FroliCat Dart Duo comes with two rotating lasers that your cats are encouraged to chase. The patterns are random, thus encouraging behaviour like pouncing, darting and chasing. There are 16 combinations, with the two lasers encouraging multiple cats to take part in the fun and games.
It requires three AA batteries to operate (not included with the purchase), but these provide a decent amount of operating time, so should keep your furry friends going for a while.
It's durable enough, but our only real concern is with the laser itself. It comes with a warning not to shine the laser directly into your cat's eye, and while that's obviously something most owners won't do, it's hard to stop your cat from looking directly at the laser. In this case, we recommend monitoring their behaviour around it – if they prove to be especially self-destructive, it might not be the toy for them.
For all other cats, however, this should provide them with hours of fun. It's easy for indoor cats to become set in their ways, so anything that encourages more natural behaviour is a good thing in our book. There's a lot to enjoy in the FroliCat range, and it has delivered once again here.
Ferplast Magic Box Clever And Happy Cat Toy
Weight: 1.38 kg | Dimensions: 27 x 27 x 8.5 cm | Material: Wood | Batteries required?: No | Availability: : Online only
Sturdy and durable
Encourages interactive play
Works well as a slow feeder
Might be a bit noisy for some
Cats love sticking their paws in and out of hidey holes, searching for the treasure within. The Magic Box from Ferplast provides plenty of opportunities for this, potentially offering hours of fun in the process.
Taking the form of a wooden box, there are numerous holes just big enough for an inquisitive paw to investigate. For all they know, it could be a veritable Aladdin's cave of treasure.
The main source of your cat's intrigue will be the flashing ball contained within. When they swipe at it, it will light up accordingly. Cats can't resist a flashing object, so you can guarantee they'll be back for more.
But there are plenty more possibilities besides, such as its capacity for use as an interactive feeder. Hide some treats in one of the holes, for instance, and you have another handy game that is both fun and helps them hone their hunting skills.
All in all, it's hard to find much fault with it. It's easy to assemble (providing you with further options to add features and customize it), doesn't require batteries, and looks nice, with the hand-crafted aesthetic meaning it won't stand out obtrusively in your home like other cat toys might.
The only thing to consider is that it could be a bit noisy, what with your excited cat attempting to bat the ball around, but then it's probably nothing you're not used to by now. All in all, it's a great toy to leave your cats playing with.
Bilisder Electric Moving Fish Cat Toy
Encourage your cat's inner predator
Dimensions: 27.4 x 9.9 x 6.6 cm | Weight: 200 g | Batteries required?: No
Rechargeable, so no need for batteries
No sharp or rough edges
Great for solo play
Might be intimidating for some cats
There's something about toys designed to look like animals that naturally freaks us out a bit. So, this offering from Bilisder proved to be a welcome surprise, working efficiently and effectively, and providing lots of enjoyment for our cat.
Arriving with a built-in sensor, the fish moves around when the cat comes into contact with it, making it seem lifelike and engaging towards its predators. The more they attack and tear at this unfortunate fish, the less likely they are to scratch at your carpet or furniture.
Made of cotton and soft plush, cats are able to safely chew and scratch at it, meaning you can leave them without having to worry. Moreover, it is filled with naturally-grown catnip, as if they somehow needed any further encouragement.
It's worth emphasizing the positive behavioral and health effects that come from this. Catnip has been proven to decrease anxiety in cats, and playing with the toy has a gradual calming effect.
Also ideal is the fact that this is rechargeable. So many products seem to require battery use, but conveniently forget to include them, so it's refreshing to see this. The chargeable motor is easy to separate from the rest of the toy, making it easy to clean when required.
It's quite a hefty toy, which might make it slightly off-putting for smaller cats, but others will enjoy being able to attack and hurl it around in a consequence-free manner. It'll be both fun for you to watch them embrace their inner kitten, and for them to truly let loose.
Ferplast Tornado Circuit Clever And Happy Cat Toy
Keeping your options open
Weight: 645 g | Dimensions: 24 x 24 x 34 cm | Batteries required?: No
Plenty for your cat to do
Doesn't take up much space
Great for hyperactive cats
Big cats may knock it over
We've come to expect quality from Ferplast products, and we're glad to say that we weren't disappointed with the Tornado Circuit.
Its functions are two-fold: first, there's a rotating hanging ball on the top, intended for your cat to swipe at (and trust us, they won't need much encouragement on that front). Second, there are a couple of balls secured by tracks on the lower platform. One of them contains a flashing LED light, designed to catch your cat's attention and encourage further play.
The device is made from cat-safe plastic, meaning you can leave them alone with it and not have to worry. If one of the balls somehow gets broken, it's easy enough to take apart and replace, thus ensuring a degree of longevity.
Ultimately, the degree of usage you get out of it will depend on the personality of your cat. If they're sufficiently hyperactive enough to be enticed by it then hours of fun are guaranteed. Saying this, it's not the biggest, so it might be liable to get knocked over.
Also, we can't help the feeling that this is like two inferior versions of different products. The PetSafe FroliCat Dart Duo's laser has many more functions, and the track for Petit's 2.0 Super Circuit offers far more to do than the one included here.
Saying that, if you're happy with essentially combining these products (and in the process gain an inferior but still worthwhile product in the process), then you can't go too far wrong.
Petstages Tower of Tracks
Weight: 272 g | Dimensions: 15 x 24.7 x 24.7 cm | Batteries required?: No
Ideal for solo play and play with your cat
Well constructed – balls won't come loose
Durable
Can sometimes get knocked over
Petstages' Tower of Tracks is one of the most popular interactive cat toys around, and it's easy to see why.
It may look simple – three tiers containing a ball on each track for your cats to knock around – but a lot of thought has clearly gone into this. The user-friendly nature and strong production values are testament to its appeal.
Unlike other similar products, the balls won't come loose, no matter how hard your cats swipe at them. They stay there securely for long-lasting fun and continue to stimulate your cats' senses and hone their hunting instincts for long durations. It's both a mental and physical workout.
Moreover, there's a high degree of versatility to this. Cats can either play solo, with other cats or with you. Simply knock the ball towards them, and see if they bat it back. Another layer of comfort is the safety bar on top, which keeps cats from getting stuck. The product description recommends supervision, but this seems pretty safe to us – you can feel secure knowing that they'll come to no harm while using this.
We're really struggling to find downsides here – once or twice our cat managed to knock it over, but that's hardly a huge issue. It won't break the bank, chances are your cats will love it, and it doesn't take up a lot of space. It's hard to know what more to ask for.
When looking for interactive cat toys, this should really be near the top of your list.
Doc & Phoebe Indoor Hunting System Cat Toy
Encourage their hunting instinct
Weight: 136 g | Dimensions: 12 x 5 x 5 cm (each mouse) | Material: Plastic | Care instructions: Hand wash only
Encourages natural cat behaviour
Aids digestion
Encourages exercise
Can cause mess
We've seen a few interactive feeders here, but these are the first ones that truly hone cats' natural hunting instincts. And it's done in the most obvious way: by shaping the feeders like some of their favourite prey.
The set comes with three mouse-shaped feeders, which you then proceed to fill with food, after which you hide them around the house. Once your cat finds them, voila! Dinner is served.
As well as encouraging natural cat behavior and providing them with smaller meals (each mouse holds 1.6 tablespoons of food), a number of other adverse types of behaviour are combated by this. These include destructive behaviour, scarf and barf and night waking. Manufacturers Doc & Phoebe claim to take their approach from "science and nature", so it's no surprise that this product's health benefits are emphasized.
While these credentials aren't in doubt as far as we're concerned, there are other factors that can prove to be problematic. One of which is that if you choose to leave your cats to it, don't be surprised if you come back to find a load of leftover food on the floor. There's every chance that cats will treat these mice just like they treat any rodents they may encounter in the wild.
Shaping these feeders like mice may be a gimmick, but there's no denying their effectiveness, and we'd be hard-pressed not to recommend it. Easy to use and maintain (handily, these are machine washable), these have to be some of the more innovative cat feeders out there.
CA&T Paw Chase & Scratch Interactive Cat Scratcher Toy & Game
Cat toys go environmentally sustainable
Weight: 250 g | Dimensions: 5 x 25 x 48 cm | Material: Corregated Cardboard | Batteries required?: No
100% recyclable and eco friendly
Multi-purpose
Encourages interactive play
Some cats might find it easy to destroy
While there are plenty of great-looking cat toys there, a lot of them seem to be made of non-recyclable plastic. In short, their environmental footprint isn't especially great.
It's therefore refreshing to find this offering from CA&T. Made from corrugated cardboard, it is 100% recyclable, meaning that if it becomes the victim of too much wear and tear, or you simply become bored of it, all you have to do is sling it in the recycling bin.
The Paw, Chase & Scratch combines an interactive cat track-ball game with a scratching pad, giving your cat a choice of things to play with. To sweeten the deal, there is even a bag of catnip thrown in, which you could use to entice them over or hide some in the holes.
Inevitably, the type of material this is constructed from does mean it is more flimsy than plastic cat products, with bits liable to fall off, possibly making it unsafe towards cats and requiring it to be thrown away. As such, the product's safety advice says it shouldn't be left alone with cats, which is a shame.
It may not have the longest lifespan, but this shouldn't necessarily put you off – it's nice for your cats to have a variety of things to play with.
While it obviously has its flaws, there's still a lot to admire about it, not least its commitment to being eco-friendly. If future products can somehow become more durable, there will be even more factors in its favor.
How to choose the best interactive cat toy
Keep things varied. If you already have two or free cat food dispensers, then maybe pick something a little bit different.
When choosing which toys to buy for your cats, there are a number of factors to consider. For our money, the most important to bear in mind are:
Will your cat like it?
If he or she is naturally timid or a bit jumpy, then something loud and intimidating may not be the best option.
What's the brand?
Certain names have a track record of consistently delivering high-quality products. We've seen a lot of quality output from Catit, for instance, and PetSafe and Petstages also score highly in this regard.
How well has it been reviewed?
The better the reviews, the less of a risk it is likely to be. If you're buying something with few or no reviews then you're undertaking a big gamble.
Which places stock it?
When it comes to pet toys, reputable stockists include PetSmart, Fetch and Amazon. We recommend looking at these sites first (or the manufacturers' own websites) rather than smaller, lesser-known ones. It makes sense to shop around.
Keep things varied
If you already have two or free cat food dispensers, then maybe pick something a little bit different.
Steve has combined editing and writing for publications like SciFiNow, How It Works and All About History with being a doormat to various cats and dogs. He lodges with two moggies called Giles and Willow, and will be told off if he doesn't mention his girlfriend's magnificent pooch, Toby.
Get the best advice, tips and top tech for your beloved Pets
Thank you for signing up to Petsradar. You will receive a verification email shortly.
There was a problem. Please refresh the page and try again.