DIY cat toys you can make at home
Keep your kitty entertained and save money at the same time with these great DIY cat toys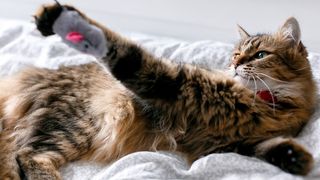 (Image credit: Getty Images)
Not only will these DIY cat toys bring your feline friend hours of fun, they're also a great way to tap into your creative side on those cold or rainy days when you're looking for a fun activity to help you wile away those indoor hours.
Cat play is so important for your fur baby's mental and physical wellbeing, and not only that, it's a beautiful way for the two of you to bond. Setting aside 15-20 minutes each day to indulge in a few games, can help lift both your spirits and ensure you little one stays happy and healthy.
While you can definitely shop for the best cat toys online or in store, there's something really satisfying about making your own, plus, they come infused with your time and love, which makes them extra special. The options below all come with step-by-step instructions, but feel free to adapt them to fit whatever materials you have at home.
Although some of the DIY cat toys in this guide are a little more time consuming to make than others, all of them are inexpensive and don't require you to purchase any special equipment. You can also tailor them to suit your cats age and stage and switch up the color choices to match your décor - the sky really is the limit!
1. Felt emoji cat toys
These emoji felt cat toys are just so darn cute! And your kitty will love them, not just because they're super soft, but they're also filled with catnip, so playtime is sure to be extra fun with these toys in the house.
What you'll need:
Free printable patterns Smiley Emojis and/or Heart Emojis
Yellow, black, white, pink and red felt
Matching embroidery floss
Needle and scissors
Catnip
Instructions:
Print your free patterns on office paper or freezer paper.
Cut the copy paper patterns out and trace or apply the freezer paper patterns with a hot iron (see more details on how to perfectly cut felt with freezer paper here).
Stitch the pieces onto the felt large, yellow felt circles with matching floss. Use your patterns to help guide you with placement of each piece. You can always use a smidge of glue if you're having a difficult time keep your felt pieces in place while you stitch. Just add a dab of glue to the center and it will stay perfectly in place!
When a face is complete, using yellow embroidery floss, stitch the top circle to another yellow felt circle using the blanket stitch. Leave a gap of about 1-1.5 inches open.
Using a piece of paper and tape or staples, create a funnel and transfer catnip into the inside of your emoji through the gap you left open.
These are fairly large cat toys so each will take about 0.25 ounce to get a nice, even fill.
inish the blanket stitch to close up your gap and these guys are done!
2. DIY soda box cat toy
This is such a great cheap and cheerful fun that will cost you peanuts to make but will provide your cat with hours of entertainment.
What you'll need:
12-pack cardboard soda carton
Scissors
X-acto knife
Glue (or hot glue gun)
Bamboo skewers
Crafting feathers
Decorative or duct tape
2 pipe cleaners
Paper towel tube
Instructions:
Remove soda cans from the shorter side panel. Once empty, re-glue the panel back together.
Using an X-acto knife or scissors, cut out one of the longer side panels.
Make a support post by cutting a cardboard paper towel tube to the height of the box. Apply glue to both ends and place in the center of the box.
Using your X-acto knife, cut out circles from the top of the box, avoiding the support post.
Time to make your toys! Tape both ends of the bamboo skewer to make sure there are no sharp ends.
Take both of your pipe cleaners and fold them in half. Bend to create about an inch-long tip that points upward, perpendicular to the skewer.
Wrap the pipe cleaners around the skewer, and secure the loose ends with tape.
Glue features to the part of the pipe cleaners that sticks up (so that your feathers end up sitting perpendicular to the skewer).
Play! Maneuver the skewer up through the holes of the box to entice kitty!
3. Easy toy mouse
There are lots of patterns available for toy mice, but they can often be a bit daunting if you don't have much experience with sewing. If you're looking for a simple mouse that you can put together in well under an hour, this is the one for you.
You will need:
Piece of fabric at least the size of your hand – felt, fleece and cotton (including old t-shirts and shirts) all work well
Scissors
Sewing needle
Thread – black, pink and the color of your fabric
Stuffing – soft toy filling, cotton wool, fabric scraps, or yarn Pink yarn or ribbon
Prep time: 35-45 minutes
Instructions:
Cut out a squat teardrop shape from your fabric – the size is up to you, just make sure it's big enough that the finished mouse won't be a choking hazard.
Cut out a much smaller teardrop for the first ear, then use it as a template to cut out a second ear. Snip the pointy end off of both.
Using black thread, sew a few small stitches on each side of the large teardrop to create a pair of eyes.
Fold the large teardrop in half and sew along the edge from the nose, leaving a gap at the back for stuffing. You have two options – either fold the fabric so the eyes are on the inside, then sew along the edge and turn the mouse inside out (giving you a neater finish as the stitches will end up on the inside); or just fold the teardrop with the eyes on the outside and sew it up.
Push your chosen stuffing through the gap at the back, packing it in until the mouse is a good shape.
Position your pink ribbon or yarn so that at least half an inch is tucked into the body of the mouse. Sew up the gap at the back, making sure your needle goes through the tail several times before tying off the thread. Give the tail a tug to make sure it's securely attached.
Using pink thread, sew a few stitches across the point of the body to create the mouse's nose.
Fold the blunt end of one of the small teardrops so that the corners meet, then sew onto the body. Repeat on the other side with the second ear. Tug both ears and add extra stitches if needed.
4. Box palace
Sometimes cats would rather play by themselves than with people, and it's no secret that they love boxes. Put this box palace together in a few minutes to give your cat a comfy place to rest and play.
You will need:
Cardboard box
String or rope
Tassels or strips of fabric
Cushion or blanket
Prep time: 10 minutes
Instructions:
Give the box a wipe with a cloth if it has any dust or crumbs in it.
Turn the box on its side and place a cushion or folded blanket in the bottom.
Slide tassels or tie strips of cloth onto a length of string or cord.
Attach the string or cord to the top of the box's opening – simply loop around the flap and tie at the top, or make some holes on either side and tie each end separately for a more secure fastening.
The box and cushion can be left in place if your cat approves of its new DIY palace, but only attach the play cord when someone is around to supervise.
5. Pom pom cat wand
Fishing pole-style toys tap into your cat's hunting instincts, giving them something to jump for and grab at. Feel free to adapt this toy as it will work with most fabrics and items that you have lying around the house.
You will need:
Wooden dowel rod
Flat leather cord
Scissors
Glue gun
Yarn
Baker's twine
Embroidery thread (I went with metallic gold. Because cats and shiny things.)
Small strips of felt
Instructions:
Drill a tiny hole in one end of the dowel rod, approximately 1/4″ from the end.
On the opposite end, place a small amount of glue and begin wrapping the flat leather cord.
Add more glue along the rod as you wrap, enough to create a comfortably sized handle.
This next step is as simple or as intricate as you choose to make it: Create a variety of colorful braids or simply gather together a few straight pieces of whatever textiles you choose (yarn, twine, embroidery thread, woven cord, you get the idea) to add color and length.
Knot each section at both ends, leaving tails long enough to tie to the next section. I took this opportunity to channel my inner 12-year-old and made some varying lengths of 5-loop-square-braids with yarn and standard braids with sparkly baker's twine and metallic embroidery thread.
Create enough pom-poms (find an easy how-to here) to intersperse between each section of textile material.
And create a tassel or two (find another easy how-to here).
Use baker's twine or embroidery thread to tie and knot the pom-poms between sections of braid.
Repeat to attach the tassels, one to each end.
Attach your string creation to the dowel rod by threading baker's twine through the drilled hole and tying a secure knot. Before tying that final knot, I topped it off with an extra pom-pom for good measure.
If you want to take the embellishing a step further, wrap and straight-stitch a couple of felt tabs along the dowel rod, one near the handle and another at the end of the dowel rod.
6. Toy tower
Up for a bigger challenge? This tower is simpler than it looks, and can be customized to suit your cat's favorite ways of playing and the materials you have to hand
You will need:
Wood – pieces for the uprights, and pieces for the base and platforms
Saw Nails or screws
Hammer and/or drill
Soft fabric – carpet, felt, or fleece
Staples and staple gun
Carpet offcut or sisal
Cord Wooden beads
Pet brush
Prep time: up to three hours
Instructions:
Decide how many levels you want, how tall you'd like the tower to be and how large you want each of the platforms. As an example, the dimensions of our tower are below
Choose or cut a piece of wood for the base – it should be large and heavy enough to keep the tower stable.
Cut two identical pieces to form the support for the highest platform, and screw or nail them to the base, towards the back but not right on the edge. Attach the top platform.
Cut a support for the middle platform and attach to the base. Nail a wooden block to the side of the taller support (level with the top of the new piece) then attach the middle platform.
Cut a final piece to support the lowest level. Nail wooden blocks to the three other supports, and attach the platform.
Cover each platform with soft fabric, wrap it over the edges, and staple it to the underside.
Add toys – we've attached a brush for self-grooming, carpet for scratching, and a pom-pom and string of beads for batting.
Check all the staples and nails/screws are secure and flush with the wood before letting your cat climb its new tower.
Work around your materials with this one – there are endless ways you can set out a cat tower. You can use thick cardboard tubes instead of wood for the upright pieces, or make platforms from old drawers. Why not add a box, a hammock, or a ladder?
7. Yarn ball catnip toys
Not only are these yarn ball cat toys super easy to make, but they come stuffed with something that most feline furkid's go crazy for, yip - catnip! Make a few of these beauties and you'll win some serious brownie points with your kitty.
What you'll need:
Golf ball size and larger styrofoam balls
Hot glue gun (helpful but not totally necessary)
Mod podge glue
Dried catnip
Yarn in various colors and thicknesses
A disposable paintbrush (we'll be dipping the brush in glue, so no need for your fancy brush)
Craft paper
Instructions:
Place catnip in a medium shallow bowl. Place Mod Podge in a small bowl. For easy clean up, work on top of a large sheet of craft paper.
Using the paintbrush, lightly brush a styrofoam ball with Mod Podge glue. Place the glue covered ball in the bowl of catnip and toss around, coating evenly. Set aside to dry while you glue and catnip the remaining balls.
Use a bit of hot glue to adhere the initial yarn pieces to the catnip covered ball. Wrap for several turns in one direction, then wrap in an alternating direction. You can cut the yarn and start fresh in a new direction to make sure to cover all sides. The initial yarn covering doesn't have to be perfect. The second round of yarn covering can be more directionally intentional.
When ball is completely covered and layered twice in yarn, tuck the end piece into the yarn ball (and tie into a knot if you'd like) to adhere. Toss around the house. It's kitty playtime!
Note: Keep an eye on your cat when they play with these yarn balls. Cats shouldn't swallow string. Actually, no one should swallow string!
Fun for you and your cat
There are endless ways to keep your cat entertained without buying anything new. Get creative and work with what you have – just remember to check that all the parts of your homemade toys are attached securely, and supervise your cat while it plays.
If you're keen to find more ways to inject plenty of physical and mental stimulation into your cat's day, here are nine reasons to use a cat puzzle feeder toy.
Get the best advice, tips and top tech for your beloved Pets
Victoria is a writer, author and communicator with a background in science and has recently completed an MSc in Science Communication. She also has a degree in Evolutionary Biology and has written for magazines including World of Animals, How It Works and Science+Nature. She grew up with rabbits and a spaniel, and has had her horse, Bernie, for 11 years.