Best automated cat toys: Keep your cat amused when you've no time to play
These automated cat toys will keep your kitty amused and active even when you're busy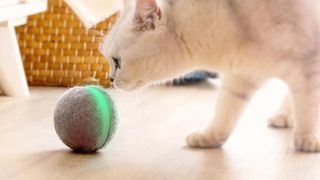 (Image credit: Amazon)
Automated cat toys can help owners who don't have time to play with their cat as much as they'd like, and also with weight loss for cats who are putting on pounds. They can also help stop cats getting bored by appealing to their natural hunting instincts and fuelling their curiosity, all within the comfort of your own home.
There's a few things to bear in mind when choosing the best cat toys and it will pay to think about your cat's personality, physical characteristics and age before going toy shopping. All cats are different and what appeals to one cat, might not appeal to another. For instance, brightly colored toys that are low to the ground and don't snag on sharp claws will be well suited to older cats or those with mobility issues. Younger cats and kittens will prefer a good, high-speed chase and you'll find plenty to satisfy this need in our guide to the best kitten toys. If you want toys which are less passive and require some kitty-interaction, take a look at the best interactive cat toys for some suggestions.
Most cat-experts will stress the importance of mixing things up with a wide range of toys to prevent boredom. All cats need a decent selection of objects to play with, such as fluffy mice, balls and feather-type toys," says Danièlle Gunn-Moore, professor of feline medicine at the University of Edinburgh. "Every cat has different preferences, and these may change every day. Leave a few toys out for your cat to play with, but keep some in a box and swap them around every day or so."
Take a look at our selection of the best automated cat toys below and get your moggy moving today!
PetSafe Dancing Dot Laser Toy
Best overall automated cat toy
Batteries: Three AAA batteries | Material: Plastic | Best for: Cats of all ages
A laser toy that doesn't need human intervention
A timer enables it to be pre-programmed
Not mains powered
Potential for loop to catch on items
Let's face it, nothing beats a laser toy when it comes to keeping a cat's attention for longer periods of time. The beauty of this standalone laser is that it can be placed on any flat surface, or hung from a doorknob – no human intervention required. The 15-minute setting is great for a short burst of laser-powered fun, while the all-day play mode is perfect if you're leaving your cat on its own for longer periods of time – the laser will turn on for 15 minutes every two hours. It's also perfectly safe – like most laser toys, it uses a Class 1 laser, which is the least hazardous type.
OurPets Bird in a Cage Electronic Spin Cat Toy
Batteries: Two AA batteries | Materials: Plastic and stuffing-filled cotton | Best for: Kittens and younger cats
Realistic bird sounds
Wide range of movements
On the small side
Potential for cats to snag their claws in the softer materials
This undeniably cute cat toy will keep curious kittens engaged for hours on end, thanks to its bright colors, sound effects (a surprisingly realistic chirping) and wide range of movements. Its small size – it's just 15cm high – means kittens and smaller cats will get the most out of this automated pet toy, although it's also a great way to encourage older cats with mobility issues to get moving, too. Our one gripe is the battery compartment, which can be tricky to prise open.
Petsafe Peek-a-Bird Electronic Cat Toy
Best for cats who are home alone
Batteries: Three AA batteries | Materials: Plastic and artificial feather | Best for: Kittens
Auto shut-off feature saves battery life
Ultra-reactive motion sensor
Limited movements
Noisy
Although this toy is a pretty simple one – a brightly colored feather on the side of this duck-shaped toy moves from side to side – various added extras will certainly prevent boredom setting in. To start with, there are two modes. One-time-play will prompt the feather to flutter back and forth for 10 minutes, while play-all-day mode will fire up the toy for 10-minute sessions every two hours, although a handy motion sensor will always kick-start the toy when your cat's nearby.
PetSafe FroliCat Cheese Automatic Cat Teaser
Best for cats of all ages
Batteries: Three AA batteries | Materials: Plastic | Best for: Cats of all ages
Great price
Compact
We'd like to have seen more moving parts
The shape of the plastic mice makes them tricky to grab
Even the coolest of cats won't be able to resist this ridiculously cute toy. The premise is simple – plastic mice pop out from holes on either side of the cheese wedge, only to (hopefully) disappear once your cat makes a lunge. An auto shut-off feature kicks in after 15 minutes of play to help preserve battery life, and the play-while-you-are-away mode will keep boredom at bay when you're not around.
PetSafe Frolicat Fox Den Toy Automatic Cat Teaser
Best for cats with mobility issues
Batteries: Three AA batteries | Materials: Plastic and faux fur | Best for: Older cats
Sleek and compact
Bright colors to catch your cat's attention
Limited range of movement
High price tag for a relatively simple toy
The low profile of this toy makes it perfect for cats whose jumping days are behind them. That said, the swishing fox tail will still give your pet a decent workout, and the two-tone design means the tail is easy to spot, too. It's another toy with a mode designed especially for when you're not at home, and the random pattern of the tail's movement does a wonderful job of capturing and holding your pet's attention for longer periods of time.
Ferplast Tornado Circuit
Batteries: None required | Materials: Plastic | Best for: Fully grown cats**
Doesn't require batteries
Grabs pets' attention in multiple ways
Height makes it unsuitable for kittens
High price tag
This colorful creation is a welcome reminder that the best moving pet toys don't necessarily need batteries. This toy will keep your cat entertained in two ways: with a colorful flashing ball that moves around the base unit and can be tapped and batted by your cat; and with a fishing hook-style ball suspended from the central tower. It's also wonderfully easy to assemble and surprisingly stable.
EaMien Catnip Fish Toy
Batteries: None required – charges via USB | Materials: Cotton and stuffing | Best for: Older cats
Lifelike design
Charges via USB
Limited movements
Sharp-clawed cats could snag their paws
Although cat owners who also keep fish might want to bypass this particular toy, it's proof that some of the best pet toys are the simplest – in this case, two small rechargeable fish that twitch and flap across the floor. The best bit? They're stuffed with catnip, making them irresistible to feline friends. A word of warning – they're also surprisingly lifelike, which means there will inevitably be a fleeting moment when you're convinced your cat's caught an actual fish.
Cheerble Wicked Ball
Best cat toy for outdoor use
Batteries: None required – charges via USB | Materials: Plastic | Best for: Fully grown cats
Waterproof
Charges via USB
Size makes it tricky for kittens to play with
Could easily be snatched by dogs when used outside
The Wicked Ball is packed with features that won't simply keep your cat entertained, but will improve their fitness, too. This hi-tech smart toy has been designed especially for cats to play with when they're left home alone for short periods of time, but its rugged nature means it's one of the best outdoor cat toys, too. It's best described as a tennis ball-sized toy that will roll around the floor, relying on sensors to avoid hard surfaces and giving its movements an unpredictability your cat will love. It will work equally well on carpets, grass or hard flooring.
Moody Pet Fling-Ama-String Cat Toy
Batteries: Three AA batteries | Materials: Plastic and string | Best for: Young and middle-aged cats
Great price
Brightly colored design
Can't be simply placed on the floor
String could be a potential choke hazard for cats who love to chew
Although we'd urge caution when it comes to toys featuring loose lengths of string, this hi-tech teaser is an exception. It's a battery-powered gadget that can be propped against a wall or hung from hooks and door knobs. The premise is simple but irresistible to cats. Simply turn it on (there are two speed modes), and an internal conveyor belt will start rotating. Attached to this belt is a length of brightly colored, ultra-tough cord that flings through the air as it rotates. When a cat grabs the cord, the conveyor belt stops, only to start again when kitty's claws release.
YOFUN Smart Interactive Cat Toy
Best ball-type toy for smaller cats
Batteries: Two AAA batteries | Materials: Plastic | Best for: Kittens
Low price
360-degree self-rotation
Not particularly rugged
Potential trip hazard
A smaller, more kitten-friendly version of the Wicked Ball, YOFUN's toy is a brilliant option for younger cats. Although it's designed for indoor play (use it on grass and it will quickly roll to a stop), its lightweight design means it can't fail to entertain curious kittens as it skitters across the floor, and the bright red light adds to its catch-me-if-you-can appeal. A top tip – place it in a small, brightly colored paper bag to ramp up the fun factor.
Yami Windmill Cat Toy
Best for young, agile cats
Batteries: None required | Materials: Plastic | Best for: Kittens and young cats
Grabs your cat's attention in multiple ways
Aids grooming
Small size means it's less suitable for larger cats
Small openings in the pods make it tricky to fill them with treats
Another reminder that batteries aren't always best, this turquoise cat toy ticks multiple boxes. To start with, it will give your cat a brilliant workout as they bat the spinning pods. Then there's the central column, topped with soft bumps that are designed to enhance grooming regimes. The plastic balls can be filled with small cat treats or pieces of catnip, making it irresistible to the coolest of cats. We're also pleasantly surprised by the strength of the suckers, which ensure that it won't topple over during the most energetic play sessions.
Get the best advice, tips and top tech for your beloved Pets
Thank you for signing up to Petsradar. You will receive a verification email shortly.
There was a problem. Please refresh the page and try again.