Best automated cat toys: Perfect playthings to keep your kitties active
By Tamara Hinson published
If you're unable to keep a cat company, the best automated cat toys will help ensure they continue to play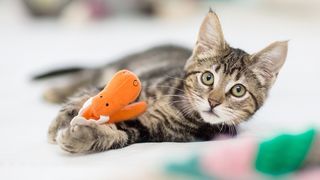 (Image credit: Getty)
The best automated cat toys are more than a way of providing extra fun for your moggy. Their main attraction is an ability to enthral kitties when nobody is around, providing them with much needed mental and physical stimulation at any point during the day and night.
There are many reasons why this is desirable. Maybe you're away from home for most of the day and you worry your cat is going to become bored. Perhaps you're simply too busy and can't find the time to play right now. There's also a chance that the best automated cat toys will keep a kitty's attention while you're asleep and prevent them from bringing live "toys" in from outside. Whatever the reason, there's an abundance of choice.
Which one you choose will, by and large, depend on the natural instinct you're looking to tap into. Just as with the best cat toys, there are auto playthings that allow kitties to pounce, stalk, chase or paw. Look out for toys which are unpredictable if you want to prevent a cat from becoming bored too soon and choose those which can be programmed or work on different levels if you want more control.
Your purchasing decision should also take into account your cat's age and stage of development. Kittens love fast-moving toys which challenge their mind and force them to move quickly while senior cats are happier with slower-moving toys. You'll be able to gauge the level of your cat by seeing how they react to a manual toy. Are they hyperactive or more passive?
One thing's for sure, you shouldn't set up an automated cat toy and then leave a cat to their own devices – certainly not at first. It's a good idea to supervise cats and see how they react so that you can spot any potential safety concerns. Doing so gives you a good excuse to bond and have a bit of fun – after all, there's a lot of pleasure and many benefits to be had from playing with your cat.
Once you're happy a cat can play unsupervised, though, you will really get the most out of a toy. At the same time, however, you will want to ensure a cat doesn't become overstimulated while you're away so look out for auto-toys that are time-limited, stopping after about 20 minutes and resuming at a set time later. This is particularly important for the best laser toys for cats and for ensuring a toy remains challenging.
PetsRadar's pick of the best automated cat toys
Best overall automated cat toy
Specifications
Batteries:
Three AAA batteries
Best for:
Cats of all ages
Reasons to buy
+
A laser toy that doesn't need human intervention
+
A timer enables it to be pre-programmed
Reasons to avoid
-
Not mains powered
-
Potential for loop to catch on items
Let's face it, nothing beats a laser toy when it comes to keeping a cat's attention for longer periods of time. The beauty of this standalone laser is that it can be placed on any flat surface, or hung from a doorknob – no human intervention required. The 15-minute setting is great for a short burst of laser-powered fun, while the all-day play mode is perfect if you're leaving your cat on its own for longer periods of time – the laser will turn on for 15 minutes every two hours. It's also perfectly safe – like most laser toys, it uses a Class 1 laser, which is the least hazardous type.
Potaroma Electric Flopping Fish
Best budget automated cat toy
Specifications
Best for:
All ages and stages
Reasons to buy
+
Rechargeable battery
+
Catnip pouch
+
Washable cover
If you're after a cheap and cheerful toy that's sure to delight your feline friend, then look no further than this fun flopping fish that's bound to captivate your kitty with its wiggling and realistic movements.
Featuring an automatic built-in motion sensor that kicks into action whenever your cat touches the fish and a catnip pouch that will entice them to keep playing, this is a great affordable toy to help alleviate boredom and loneliness whenever your fur baby is home alone.
We love that this fish comes with a rechargeable battery, so you don't have to worry about being caught short without replacement batteries, and the cover is washable so you'll easily be able to keep it clean.
Pawaboo Cat Toy with Running Mouse
Best automated cat toy for cats who are home alone
Specifications
Batteries:
Three AA batteries
Reasons to buy
+
Multiple levels of play
+
Durable micro-fibre scratching mat
+
Doubles up as a comfortable place to rest
This exciting toy is bound to be a huge hit with your fur baby regardless of whether they're big or small. Mimicking the hide-and-seek movement that taps into your cat's natural instinct to pounce and play, simply turn on this toy and watch as they try to catch the unpredictable and cunning mouse.
We love that this toy features two settings, so you can set the mode to fast or slow depending on your feline furkids age and stage. The top of the toy is covered with a soft micro-fibre layer that means your kitty also has a comfortable place to rest in between play sessions.
The only drawback to this toy is that it can be quite noisy, but that small issue aside, this is a really fun and interactive peekaboo plaything that will keep your kitty amused for hours.
PetSafe FroliCat Cheese Automatic Cat Teaser
Best for all ages
Specifications
Batteries:
Three AA batteries
Best for:
Cats of all ages
Reasons to avoid
-
We'd like to have seen more moving parts
-
The shape of the plastic mice makes them tricky to grab
From the moment we got this toy out of the box, we were very impressed by its build. Although it uses an abundance of plastic, it's sturdy, well-created and has no sharp edges which makes it a toy that is sure to last while also proving to be very safe. Our admiration for the Cheese Teaser extended to its use. Although the batteries are not included (which seems par for the course with many cat toys), once we located a trio of AAs and inserted them, it was clear our cats were in for a good time.
The concept is simple enough: a couple of mice pop out of two sides of the cheese at random intervals, sometimes coming all the way out and sometimes just poking their nose through. While it would have been better to have had more holes and, therefore, more mice, this arrangement nevertheless proved sufficient for our test cats to fully engage. Once they figured what was going on, they played with great enthusiasm.
To save battery power and, more importantly, to prevent your kitty from becoming overstimulated and over-familiar with the toy to the point of boredom, each session lasts for between just 10 and 15 minutes. If you decide to program the device, then you can have it set off every couple of hours for that length of time, and we would have no problems leaving a cat unsupervised with this one.
Indeed, it would appear PetSafe has really thought this toy through. The rubber feet on the bottom of the toy means it's not likely to slide around when a cat is attempting to claw at the mice. And, since the button needs to be firmly held down to turn on and off, your cat is going to struggle to accidentally activate and deactivate the device, putting you in control of when it gets used.
What's more, none of this comes at a particularly high price, certainly not when you consider how well it's made. As a bonus, you get a two-year manufacturer's warranty and only if we were being particularly picky would we express a need for a plug option and some sort of smartphone integration – options that would, granted, push the price up considerably.
PetSafe Frolicat Fox Den Toy Automatic Cat Teaser
Best for mobility issues
Specifications
Batteries:
Three AA batteries
Materials:
Plastic and faux fur
Reasons to buy
+
Sleek and compact
+
Bright colors to catch your cat's attention
Reasons to avoid
-
Limited range of movement
-
High price tag for a relatively simple toy
The low profile of this toy makes it perfect for cats whose jumping days are behind them. That said, the swishing fox tail will still give your pet a decent workout, and the two-tone design means the tail is easy to spot, too.
It's another toy with a mode designed especially for when you're not at home, and the random pattern of the tail's movement does a wonderful job of capturing and holding your pet's attention for longer periods of time.
Best battery-free automated cat toy
Specifications
Best for:
Fully grown cats**
Reasons to buy
+
Doesn't require batteries
+
Grabs pets' attention in multiple ways
Reasons to avoid
-
Height makes it unsuitable for kittens
-
High price tag
This colorful creation is a welcome reminder that the best moving pet toys don't necessarily need batteries.
This toy will keep your cat entertained in two ways: with a colorful flashing ball that moves around the base unit and can be tapped and batted by your cat; and with a fishing hook-style ball suspended from the central tower. It's also wonderfully easy to assemble and surprisingly stable.
Best for outdoor use
Specifications
Batteries:
None required – charges via USB
Best for:
Fully grown cats
Reasons to buy
+
Waterproof
+
Charges via USB
Reasons to avoid
-
Size makes it tricky for kittens to play with
-
Could easily be snatched by dogs when used outside
The Wicked Ball is packed with features that won't simply keep your cat entertained, but will improve their fitness, too. This hi-tech smart toy has been designed especially for cats to play with when they're left home alone for short periods of time, but its rugged nature means it's one of the best outdoor cat toys, too.
It's best described as a tennis ball-sized toy that will roll around the floor, relying on sensors to avoid hard surfaces and giving its movements an unpredictability your cat will love. It will work equally well on carpets, grass or hard flooring.
Migipaws interactive cat toy
Best rechargeable automated cat toy
Specifications
Materials:
Plastic and feathers
Reasons to buy
+
Built-in rechargeable batteries
+
Infrared pproach sensor and auto-off
+
Great for multi-cat households
Cat toys don't come much more fun than this smart interactive box from Migipaws with automatic moving feathers that will unpredictable movements that will delight and entertain your kitty for hours.
The box features seven holes spread across the top and sides and contains three durable multi-colored feathers that pop out at random, stirring your cat's hunting instincts and allowing them to pounce and play for up to five minutes at a time.
We love the infrared sensor which detects when your kitty is within 5-10 inches and switches the box on, and the built-in rechargeable battery means you'll never be caught short.
A great choice for single or multi-cat households, this durable cat toy will provide your furkid with all the mental and physical stimulation they need to thrive. All the materials are safe and cat-friendly and there are three replacement feathers included ensuring this cool cat box goes the distance.
Best automated cat toy for agile cats
Specifications
Best for:
Kittens and young cats
Reasons to buy
+
Grabs your cat's attention in multiple ways
+
Aids grooming
Reasons to avoid
-
Small size means it's less suitable for larger cats
-
Small openings in the pods make it tricky to fill them with treats
Another reminder that batteries aren't always best, this turquoise cat toy ticks multiple boxes. To start with, it will give your cat a brilliant workout as they bat the spinning pods. Then there's the central column, topped with soft bumps that are designed to enhance grooming regimes.
The plastic balls can be filled with small cat treats or pieces of catnip, making it irresistible to the coolest of cats. We're also pleasantly surprised by the strength of the suckers, which ensure that it won't topple over during the most energetic play sessions.
SmartyKat Hot Pursuit Cat Toy
Best concealed automated cat toy
Specifications
Materials:
Plastic wand and plush toy
Reasons to buy
+
Adjustable speed and direction settings
+
Affordable
+
Engages a cats natural hunting instincts
Playtime just got more fun with this fascinating toy that replicates the movement of hidden prey. Satisfying your cat's natural hunting instincts, this toy contains an erratically moving wand hidden under durable fabric with moving lights.
With adjustable speed that lets you control the fun, choose from complete circles, half-circles, or small movements. The toy takes 3 x AA batteries and gives around an hour of life, making it ideal for brief interactive play sessions.
If you're looking for an affordable toy that will provide your kitty with plenty of amusement, then this product from SmartyKat is well worth a go.
Pawzone Interactive Cat Toy
Best automated cat toy for indoor kitties
Reasons to buy
+
2-in-1 butterfly and ball toy
+
Easy to assemble
+
Keeps cats occupied for hours
There's nothing better than a toy with different components that will hold your kitty's attention for hours on end and with this rotating butterfly and ball toy from Pawzone, that's exactly what you'll get.
Designed with a unique UFO shape, this roller track toy features chase balls for your feline furkid to bat about as well as two butterfly wands that can be activated at the press of a button to create unpredictable flutters that will tap into your cat's natural pouncing instincts.
Made from durable and safe materials, this toy is strong enough to hold up to plenty of scratches and rough and tumble and it's easy to clean and transport. While the 3 x AA batteries it needs to operate aren't included, you'll likely find the hours of amusement it provides your kitty with make the extra expense well worth it.
FOFOS 360° Self Rolling Ball Toy
Best rolling ball automated cat toy
Specifications
Batteries:
USB chargeable
Reasons to buy
+
Will keep going for up to eight hours
+
Moves quickly and randomly
+
Charged via USB
Cats love playing with balls because it taps into their instinct to hunt prey. Give them this interactive ball toy, however, and they're going to have their work cut out. Not only does it move all by itself, it does so randomly. Cats can't help but chase it around the room but will they actually be able to catch it?
Given that the ball moves at some speed, there's no real way of knowing but that's all part of the fun. As you'd probably expect, it can roll 360-degrees and it's clever enough to work out when it's going to bump into something, quickly figuring which way it needs to go so that it doesn't get stuck in some random places.
When we first saw it, we thought the face on the front would also move, arousing further curiosity. Alas, it doesn't, but it will flash thanks to a set of LEDs and that's usually enough to get a cat to wander over and try to interact.
To prevent a cat from becoming bored or giving up, the ball will stop after about three minutes but it only needs a light touch to get it to spark up again. What's more, it can continue rolling for up to eight hours on a one-hour charge. There's also a slot at the top into which you can insert a teaser or wand for additional fun.
Tamara Hinson is a freelance writer who grew up with huskies but unfortunately now has a husband who is allergic to dogs. Luckily she has a neighbour who lets her dog-sit her Maltese terrier and a nearby greyhound rescue centre where she can walk the residents.
Get the best advice, tips and top tech for your beloved Pets
Thank you for signing up to Petsradar. You will receive a verification email shortly.
There was a problem. Please refresh the page and try again.