Best automated cat toys 2023 to banish boredom once and for all
The best automated cat toys will ensure your feline friend can play independently and keep themselves entertained while you're out and about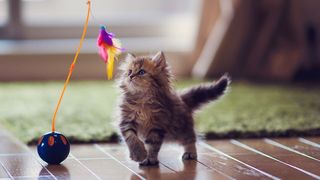 (Image credit: Getty)
Automated cat toys are well worth the investment if you're looking for a fun way to keep your feline friend entertained while you're out and about. Some of the best cat toys that money can buy, these little beauties are wonderful for providing your kitty with the physical and mental stimulation they need to thrive.
While learning how to play with a cat and creating the time and space each day to spend 1:1 time with them is super important, your lifestyle may require you to be away from home each day - which is where automated cat toys can come in really handy.
"The main benefit of automated cat toys is that your cat can continue to play without any input from you," explains Dr. Joanna Woodnutt. "This is great if you're out the house for work, especially if you have a young cat with lots of energy. Bored cats can become destructive or stressed, so try to find ways to amuse them even when you can't play."
However, while an automated cat toy is a great substitute (and you'll find plenty of amazing options below), Woodnutt says you shouldn't let these devices stop you from playing with your cat. "Although they may play with the toy when you aren't there, they'll still enjoy a more sociable game with you when you get home."
After graduating as a veterinarian from the University of Nottingham, Dr Joanna Woodnutt went on to practice companion animal medicine in the Midlands, UK. Dr Woodnutt is specifically interested in consulting and helping her clients understand their pets better, whether it's around medical problems such as dermatology, behavior, and nutrition.
PetsRadar's pick of the best automated cat toys
Why you can trust PetsRadar Our expert reviewers spend hours testing and comparing products and services so you can choose the best for you. Find out more about how we test.
Best overall automated cat toy
Specifications
Batteries:
Three AAA batteries
Best for:
Cats of all ages
Reasons to buy
+
Two play modes
+
Rest modes between sessions
+
Can be hung from a doorknob
Reasons to avoid
-
Chews through batteries quickly
WHAT CAT OWNERS SAY
Averaging 4.1 stars on Amazon, pet parents say that this is one of the best and highest quality laser toys they've ever used. While cats seem to go crazy for it, people report that it does tend to chew through batteries fairly quickly and can be quite noisy.
Let's face it, nothing beats a laser toy when it comes to keeping a cat's attention for longer periods of time. The beauty of this standalone laser is that it can be placed on any flat surface, or hung from a doorknob – no human intervention required.
The 15-minute setting is great for a short burst of laser-powered fun, while the all-day play mode is perfect if you're leaving your cat on its own for longer periods of time – the laser will turn on for 15 minutes every two hours. It's also perfectly safe – like most laser toys it uses a Class 1 laser, which is the least hazardous type.
Some pet parents do find that the Dancing Dot Laser Cat Toy is slightly louder than expected when in use, but, overall, we feel that the random patterns and movements of the laser do a great job of stimulating a feline's natural instincts to chase, stalk, and pounce, resulting in a plaything that is sure to keep your much-loved moggy challenged and entertained.
Potaroma Electric Flopping Fish
Best budget automated cat toy
Specifications
Best for:
All ages and stages
Reasons to buy
+
Rechargeable battery
+
Catnip pouch
+
Washable cover
WHAT CAT OWNERS SAY
Another toy that receives 4.1 stars on Amazon, people love how long the charge lasts on this toy and that the catnip pouch keeps their kitties engaged for longer. The only drawback appears to be the thumping noise the fish makes, with cat owners reporting they wish it were a little quieter.
If you're after a cheap and cheerful toy that's sure to delight your feline friend, then look no further than this fun flopping fish that's bound to captivate your kitty with its wiggling and realistic movements.
Featuring an automatic built-in motion sensor that kicks into action whenever your cat touches the fish and a catnip pouch that will entice them to keep playing, this is a great affordable toy to help alleviate boredom and loneliness whenever your fur baby is home alone.
We love that this fish comes with a rechargeable battery, so you don't have to worry about being caught short without replacement batteries, and the cover is washable so you'll easily be able to keep it clean.
Migipaws Interactive Cat Toy
Best premium automated cat toy
Specifications
Materials:
Plastic and feathers
Reasons to buy
+
Built-in rechargeable batteries
+
Infrared approach sensor and auto-off
+
Great for multi-cat households
WHAT CAT OWNERS SAY
Cat owners say that their cats give this toy two enthusiastic paws up, returning to it again and again thanks to its engaging design. While people would like the charge to last longer, it appears to be a small flaw when compared with how long it keeps cats content for.
Cat toys don't come much more fun than this smart interactive box from Migipaws with automatic moving feathers that will unpredictable movements that will delight and entertain your kitty for hours.
The box features seven holes spread across the top and sides and contains three durable multi-colored feathers that pop out at random, stirring your cat's hunting instincts and allowing them to pounce and play for up to five minutes at a time.
We love the infrared sensor which detects when your kitty is within 5-10 inches and switches the box on, and the built-in rechargeable battery means you'll never be caught short.
A great choice for single or multi-cat households, this durable cat toy will provide your furkid with all the mental and physical stimulation they need to thrive. All the materials are safe and cat-friendly and there are three replacement feathers included ensuring this cool cat box goes the distance.
Petstages Tower of Tracks Interactive 3-Tier Cat Toy
Best multi-level automated cat toy
Specifications
Best for:
Cats of all ages
Reasons to buy
+
Colorful and fun
+
Replacement balls available
+
Doesn't need batteries
WHAT CAT OWNERS SAY
With an impressive 4.6 stars on Amazon, this hugely popular toy is a hit with pet parents who say that their cats have so much fun rolling, batting, pouncing and chasing. The only drawback appears to be the sturdiness, with some people wishing it had a more solid and durable design.
If you're looking for an easy and fun way to entertain your kitty without the constant need for batteries, then look no further than the Petstages Tower of Tracks Interactive 3-Tier Cat Toy.
Tapping into your cat's love of hunting and pouncing, the toy features spinning, multi-colored balls for your feline to chase, complete with three levels. Simply place it on the floor and watch your feline friends go nuts for it - it's great for one or two cats to engage in, leaving you free to do other things around the home.
While some automated toys may lose power quickly or required a power outlet to work, this terrific toy keeps on going for hours of fun so your kitty can play for a while, then return at a later date.
Just be sure to check in on your cats from time to time; though the toy does feature a safety bar design and a non-slip base, some excited cats may be prone to flipping the tower over, particularly if it's being used by multiple cats at the same time.
Petchain Interactive Cat Toy
Best automated cat toy for cats that love to chase
Reasons to buy
+
Rechargeable with USB
+
Sleep mode
+
Irregular movements for unpredictable play
Reasons to avoid
-
Not suitable for carpeted floors
WHAT CAT OWNERS SAY
Keeping cats amused for hours, reviewers note that this toy works beautifully on wooden floors, makes cute noises and has a decent battery life but it does tend to get stuck when it runs into a wall, which is why it's only been awarded 4 stars on Amazon.
This mouse-shaped toy with its unpredictable movements is sure to surprise and delight your fur friend as it chases it around the house in an attempt to catch it. Complete with a feather tail, this realistic toy will capture and maintain your kitty's attention and is sure to provide hours of fun.
Featuring erratic movements to keep your feline entertained, the mouse can move forwards and backwards as well as turning around when it encounters an obstacle, so there's plenty of uncertainty to keep your kitty on their toes.
Requiring no batteries and rechargeable via a USB cable, the mouse toy offers around two hours of play for every 90 minutes of charge and comes with a sleep mode that enables it to automatically shut itself off if your cat doesn't play with it for five minutes.
Pawaboo Cat Toy with Running Mouse
Best automated cat toy for cats who are home alone
Specifications
Batteries:
Three AA batteries
Reasons to buy
+
Multiple levels of play
+
Durable micro-fibre scratching mat
+
Doubles up as a comfortable place to rest
WHAT CAT OWNERS SAY
A hit with younger cats, people praise how engaging this toy is and that it has two speeds, allowing them to select the one that best suits their kitty. However, there's no automatic shut off and reviewers cite this as the main drawback as the batteries drain quickly.
This exciting toy is bound to be a huge hit with your fur baby regardless of whether they're big or small. Mimicking the hide-and-seek movement that taps into your cat's natural instinct to pounce and play, simply turn on this toy and watch as they try to catch the unpredictable and cunning mouse.
We love that this toy features two settings, so you can set the mode to fast or slow depending on your feline furkids age and stage. The top of the toy is covered with a soft micro-fibre layer that means your kitty also has a comfortable place to rest in between play sessions.
The only drawback to this toy is that it can be quite noisy, but that small issue aside, this is a really fun and interactive peekaboo plaything that will keep your kitty amused for hours.
PetSafe FroliCat Cheese Automatic Cat Teaser
Best automated cat toy for all ages
Specifications
Batteries:
Three AA batteries
Best for:
Cats of all ages
Reasons to buy
+
Engages your cat's natural instincts
+
Compact
+
Durable
Reasons to avoid
-
We'd like to have seen more moving parts
-
The shape of the plastic mice makes them tricky to grab
WHAT CAT OWNERS SAY
Praising the design, quality and pleasing aesthetics, many pet parents report that this is hands down their favorite cat toy - and their feline friends agree! As with many automated options though, people note that it can be noisy and it does have a tendency to drain the batteries quickly.
From the moment we got this toy out of the box, we were very impressed by its build. Although it uses an abundance of plastic, it's sturdy, well-created and has no sharp edges which makes it a toy that is sure to last while also proving to be very safe.
Our admiration for the Cheese Teaser extended to its use. Although the batteries are not included (which seems par for the course with many cat toys), once we located a trio of AAs and inserted them, it was clear our cats were in for a good time.
The concept is simple enough: a couple of mice pop out of two sides of the cheese at random intervals, sometimes coming all the way out and sometimes just poking their nose through. While it would have been better to have had more holes and, therefore, more mice, this arrangement nevertheless proved sufficient for our test cats to fully engage. Once they figured what was going on, they played with great enthusiasm.
To save battery power and, more importantly, to prevent your kitty from becoming overstimulated and over-familiar with the toy to the point of boredom, each session lasts for between just 10 and 15 minutes. If you decide to program the device, then you can have it set off every couple of hours for that length of time, and we would have no problems leaving a cat unsupervised with this one.
Indeed, it would appear PetSafe has really thought this toy through. The rubber feet on the bottom of the toy means it's not likely to slide around when a cat is attempting to claw at the mice. And, since the button needs to be firmly held down to turn on and off, your cat is going to struggle to accidentally activate and deactivate the device, putting you in control of when it gets used.
What's more, none of this comes at a particularly high price, certainly not when you consider how well it's made. As a bonus, you get a two-year manufacturer's warranty and only if we were being particularly picky would we express a need for a plug option and some sort of smartphone integration – options that would, granted, push the price up considerably.
Cheerble Smart Interactive Cat Toy
Best rolling ball automated cat toy
Specifications
Batteries:
USB chargeable
Reasons to buy
+
Charged via USB
+
Will keep going for up to four hours
+
Moves quickly and randomly
Reasons to avoid
-
Not suitable for use on carpet
WHAT CAT OWNERS SAY
Averaging 3.9 stars on Amazon, reviewers describe this as a 'cool' toy that's really well made. With random movements and different colors, people say that it's very engaging, however it doesn't work well on carpeted surfaces and is prone to getting stuck in certain spots around the home.
Give a cat a ball and your pet can be entertained for hours. After all, it taps into their instinct to hunt prey. With this interactive ball toy, you can take playtime to another level, plus, it's super convenient - simply charge for one hour using a USB cable and it will provide up to four hours of play.
The ball – given its natural shape – can roll 360-degrees but it does so erratically to keep your cat alert. It has three interaction modes (normal, passive and gentle) and upon being turned on, it will automatically move, shake or bounce depending on the mode it's been set to.
The surface of the Cheerbe cat ball is made of synthetic fiber that's furry to the touch, making it comfortable to play with. We love that it offers 10 minutes of active play and then goes in to rest mode for 30 minutes to ensure your fur baby has a good play-rest balance and doesn't become overstimulated.
Thanks to the built-in intelligent motion sensor, the Cheerble light up ball is able to reverse itself and move away when hitting an obstacle or tight spots, so you don't need to worry about it becoming stuck, and while we don't recommend it for use on carpets, it works beautifully on wooden flooring.
Best automated cat toys: FAQs
How to choose the best automated cat toys
When it comes to selecting from amongst the best automated cat toys for your fur friend, there are two main things you want to consider - enjoyment and safety. Automated toys can elevate playtime and make it more fun, but just like with us humans, our kitty companions all have their own ideas about what they consider to be an engaging toy.
"One thing to be aware of is automated cat toys with lasers," advises Woodnutt. "Laser toys can create obsessive-compulsive behaviour in cats, as they never get the 'release' of actually managing to catch their prey. Some automatic cat toys just use a laser pen to drive your cat crazy, but these should be avoided."
It's also wise to give some thought to how old your feline friend is. Younger cats and kittens tend to be more active and will likely enjoy automated toys that are faster paced. For senior cats or any kitty that may be suffering from arthritis or joint pain, you still want a toy that will capture and hold their attention, but you may find they prefer something a bit slower moving that's more comfortable for them to play with.
Finally, safety is of paramount importance when it comes to toys, especially if your feline friend is going to be using their new plaything unsupervised. "For safety's sake, your cat toy should have a battery compartment that can't be broken open – good toys will have a screw preventing them from being able to be bashed open and the batteries eaten," says Woodnutt. "Watch out for loose strings or wires that could tangle around your cat and cause injury."
Get the best advice, tips and top tech for your beloved Pets
Tamara Hinson is a freelance writer who grew up with huskies but unfortunately now has a husband who is allergic to dogs. Luckily she has a neighbour who lets her dog-sit her Maltese terrier and a nearby greyhound rescue centre where she can walk the residents.