Best dog subscription box: Top-rated treat boxes for dogs
As a one-off or as a frequent treat, a dog subscription box offers plenty of fun for well-behaved pups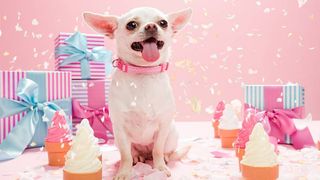 (Image credit: Getty Images)
Whether you're not sure what to buy or are looking to rotate your dog toys, the dog subscription box offers a handy all-in-one package delivered directly to your door.
These brilliant treat boxes for dogs usually contain a mixture of toys, chews, and treats to keep your canine companion occupied.
Typically, a dog subscription box comes with a monthly, bi-monthly, or quarterly subscription, but you can also sometimes buy one-off boxes too if you're not sure whether the idea is right for your pooch.
Many pet owners like to consider the quality of the contents; whether the box offers the most durable dog toys for the price and whether the toys and treats inside will be exciting enough to grab the attention of their furry friend.
Fortunately, plenty of dog subscription boxes offer some of the best dog toys you could buy individually. Some are even social media trendsetters!
If you've been considering what's the best dog subscription box for your poochy pal, read on to discover our top picks.
PetsRadar's pick of the best dog subscription boxes
Best overall dog subscription box: BarkBox
Best one-off dog box: Goody Box by Chewy
Best dog subscription box for aggressive chewers: Kong box
Best eco-friendly dog subscription box: Pupjoy Eco-friendly Goodie Box
Best for handmade products: BoxDog
Best dog subscription box for chew treats: Gnaw Box
BarkBox
Best overall dog subscription box
Typical contents: 2 toys, 2 treats and a chew | Subscription type: Monthly | Cost: $35.00/box
Multiple options available
Unique themed collections
High quality toys
On the pricey side
Standard box not for aggressive chewers
If you're looking to put your best paw forward with your dog, BarkBox is a lot of fun. This popular treat box is well-known for thinking outside the box with its unique themed collections, including the breakfast toy-themed 'Barkfast in Bed' and travel-themed boxes. Even if you're not sure how your pooch will take to their new toys, what pet owner can resist the charm of a Home Alone or NBA sports-themed box?
BarkBox is not only seriously inventive with its product choices, but it focuses on high-quality loot too. If you have an aggressive chewer in the family, however, the cute appeal of their toys is liable to end up in doggy destruction. Some pet owners may find themselves weighing up the subscription cost vs the character of their dog.
For the price, the box could feature more products or focus on more durable dog toys as standard, but it's undeniable just how charming their offerings are.
If you are concerned why not check out the brand's Super Chewer box instead, which focuses on providing products for aggressive chewers?
All subscriptions are non-committal, so even if you find your pooch prefers to destroy rather than play nice with his new toys, you can cancel after one box, plus there's always the accompanying treats to enjoy.
Goody Box by Chewy
Typical contents: 6-7 products | Subscription type: One-off | Cost: From $24.99
Good value for money
No subscription required
Great for special occasions
Themed boxes available
Some toys could be more durable
If you're not ready to commit to a box with a subscription fee, then Chewy's Goody Box offers a fantastic alternative. You can buy one of these as a one-off purchase for a reasonable $24.99, and it's typically packed with between six or seven products.
The brand's birthday bundles are particularly notable and include everything you need to spoil your canine chum. It includes a bandana, pup-friendly birthday cake treats, and even a large Pup-Pie to really start the party.
There's also some nice themed boxes on offer, including retro-themed dog boxes loaded with top-rated goodies inspired by your favorite decade, or pick up one specifically devised for your new puppy.
We especially love the Brunch box, which offers a convenient alternative to BarkBox's leading 'Barkfast in Bed' idea that's frequently seen over social media, so it's a great way to get on trend without the need to subscribe.
Some toys could be more durable. If you were hoping the birthday cupcake would last a long time in the jaws of an aggressive chewer, you may be disappointed if your pup loves to play rough. However, the boxes are ideal for special occasions and most pet owners will be content to simply spoil their pup to the max on their birthday with little regard to the durability of the products.
Kong Box
Best dog subscription box for aggressive chewers
Typical contents: 1 Kong Classic, 1 Kong training toy, 1 personality toy, 3 Kong treats,1 Kong recipe | Subscription type: Monthly | Cost: From $44.95/box
Ideal for chewers
Recipe tip great for Kong lovers
Handpicked personality toy included
On the pricey side
Appeal limited to Kong brand
If you love the Kong brand, then you'll be pleased to know that the company has capitalized on the success of its Kong Classic toy to bring you a dog subscription box.
The Kong box is based around the popularity of the Kong Classic, but also includes at least one training toy per box. If your dog is liable to chew everything in sight, the Kong box is a great option owing to just how durable their toys are. The Kong brand is frequently a name synonymous with good-quality tough and durable toys.
The Kong Classic itself is ideal for chewers and pet owners who love being creative with their fillings. Each subscription box comes with a recipe tip and treats you can try out inside the toy. There's also the addition of a handpicked personality toy to sweeten the deal.
For pet owners who are not familiar with Kong, however, the box can feel overly expensive, plus the lack of themed options is a drawback for brand newbies.
Pupjoy Eco-friendly Goodie Box
Best eco-friendly dog subscription box
Typical contents: 4 treats, 2 toys, 2 bully sticks | Subscription type: Bi-monthly, Monthly, Quarterly | Cost: $33.99 for first box
Flexible subscriptions
Good focus on natural treats
Sourced from independent makers
Renewal price should be noted
Pupjoy's Eco-friendly Goodie Box contains a range of socially responsible goodies from independent makers. There are at least four treats, two toys, and two bully sticks included inside that can be delivered when it suits you.
If you feel like a monthly box is too many treats for your pooch, this box can arrive every two or three months instead. An initial box costs $33.99 but note that this increases to $37.99 a box on renewal, which is either a drawback or a sign of getting a special offer as a new customer, whatever way you choose to look at it.
Each item inside the box is full of natural, eco-friendly goodies that, as the name suggests, are good for the planet. However, the box also looks to provide natural treats that are good for your dog too.
With health an important consideration for any pet owner, Pupjoy's Eco-friendly Goodie Box's appeal is far broader than that of eco-enthusiasts.
BoxDog
Best for handmade products
Typical contents: 2 treats, 1 skincare/gear item, 2-3 toys, clothing or gear | Subscription type: 4 boxes per year; one every 3 months or monthly | Cost: $49.99 for first box
Skincare products included
Handmade items a nice touch
Clear plan for tough chewers
Pricey
Renewal price should be noted
If you're looking to truly spoil your pup, BoxDog is like a luxury independent spa and treat supplier in one. There's the inclusion of vegan wellness products, such as nose balm or shampoo, that sets it apart from some other dog subscription boxes, while your pooch will also receive treats, such as frosted cookies, donuts, and cupcakes, all handmade by a dog chef.
There are toys too of course, while the addition of seasonal products for adventurous pups and owners, such as blankets, leashes and travel water bottles, is a great touch.
For pet owners with aggressive chewers, we like that there is a clear option to choose products for tough chewers, which can save money (and heartache) further down the line.
With its multiple deluxe options, however, there is a higher cost here than other dog subscription boxes. Like Pupjoy, BoxDog also has a different price for renewal which saves you a tidy $10 upfront but should be noted down the line.
Gnaw Box
Best dog subscription box for chew treats
Typical contents: 15-20 dog chews | Subscription type: Monthly | Cost: $20-25.00 for first box
Great for all sizes of dogs
Ideal for aggressive chewers
Good quality
Some treats don't last long enough
Renewal price should be noted
Whether you have an aggressive chewer in your household or are looking for an anxiety buster for your dogs, Gnaw Box is a specialist in natural dog chews. Depending on the breed, you can choose a box specially made for small or large dogs; light or aggressive chewers.
Each box includes a mix of bully sticks, jerky chews, beef tendons, tripe twists, salmon skins, and deer antlers. There are between 15-20 chews inside, which should keep most dogs busy for a while.
If you have a large dog, however, you might find the chews don't last quite as long as you'd hoped. Even with the Large Gnaw Box, big breeds can demolish the goods just as quickly as received. You should be pleased with the quality of the produce for the price, though; Gnaw Box sources the goods from local farmers in South America.
Like a few other dog subscription boxes in this list, there is an additional renewal cost, but you can cancel at any time if you find the chews aren't to your dog's liking.
Get the best advice, tips and top tech for your beloved Pets
Thank you for signing up to Petsradar. You will receive a verification email shortly.
There was a problem. Please refresh the page and try again.