Best dog toys: Six options to keep your pooch entertained
By Amy Davies
Find the best dog toys to keep your canine companion happy and entertained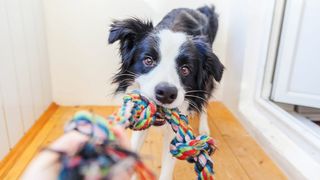 (Image credit: Getty Images)
Choosing the best dog toys can be a confusing experience, to say the least. Chances are, whether you're in a pet shop or searching online, you will quickly be presented by a huge array of choices including the best dog chew toys, the best rope dogs toys and the best durable dog toys.
While they might appear to be a trivial purchase compared to things like food and beds, dog toys are important for a number of reasons. Just like any living being, dogs benefit from stimulation. Playing with dogs can help with lots of different problems, including behavioral issues, anxiety, comfort, and boredom. It is a good idea to have lots of different toys, since your dog could easily become fed up with just one or two.
Thus, we have found a number of toys to suit a variety of needs. There's something for every pup, whether they like to fetch or chew, get easily bored, or simply go mad for squeakers. Whether you're on a budget, or are obsessed with the latest high-tech dog-flavored gadget (probably as much for your benefit as theirs), there's something for everyone.
Out of the thousands of different toys out there on the market, these are the ones that we'd recommend right now. As far as your dog is concerned, you can never have too many, so let's go shopping.
1. Outward Hound Stuffingless Snake: Best overall dog toy
A durable toy that will suit chewers, tuggers and squeaker lovers
Material: Dura-tuff | Includes stuffing?: No | Includes squeakers?: 12 | Tough?: Yes
Lots of squeakers
Durable material
No stuffing for less mess
Expensive
No match for destructive dogs
This toy has a lot of the features we would want in a dog toy. It has a lot of squeakers, is built to last, and looks great as well. Bearing testament to this is the fact that there is no stuffing, meaning less mess to clear up should your pup tear it asunder.
Moreover, it has been reinforced with double-layered seams, so it should be able to withstand a good amount of chewing. Saying this, there are still some reports from pet owners that their dogs have managed to rip it apart (nothing's indestructible, after all), so you might want to closely supervise your dog when playing with this toy, should they have a track record for destruction.
The risk of this is relatively low compared to other toys, however. With so many squeakers to find (there are 12 in the XXL version), that it should keep even the strongest dogs occupied for quite some time. The manufacturer claims that the squeakers should continue to squeak, even if punctured. Again, we think that this will depend on how destructive your dog is, but it's good news for those whose dogs aren't into wanton vandalism.
There are three sizes, with the largest perhaps best suited for large dogs, or those with a low boredom threshold and want to hunt out all the squeakers. Depending on which size you pick, they come in a variety of colors.
The main drawing back is the high retail price – there are many cheaper toys elsewhere. However, if this one lasts as long as the manufacturers believe it can, then you've got yourself value for money.
2. Konky Squeaky Dog Toys Set: best for value
A great value set of toys to give your dog plenty of variety
Material: Plush cotton | Includes stuffing?: Yes | Includes squeakers?: Yes | Tough?: No
Great value
Cute designs
Lots of textures and squeakers
Easily destroyed by destructive dogs
If you want to get your dog lots of toys in one purchase, this cute set from Konky is a great buy.
You get five different toys for your money, including a monkey, a rabbit, a cow, a dinosaur and a lamb. You could give them to your dog all at once, so they have plenty to choose from, or give them out one at a time. Or why not save them for different rooms in your house? They'd make a great gift for someone who has just got a new dog.
We like all the different textures featured on the toys, including plastic rings on the monkey, rope detailing on the cow, a fine ribbed texture on the rabbit and a bumped surface on the dinosaur. Inside the toys, there are also squeakers, which should attract the attention of most dogs.
The toys are made from soft plush cotton, with stuffing made from cotton also inside. That makes them cute and soft for snuggling, but if you have a destructive dog you might find that the toys are destroyed relatively quickly – the stuffing might leave a large amount of mess behind. It's worth supervising your dog while using these toys, especially if you're not quite sure how destructive they are just yet.
The five toys come in an array of sizes, but overall, we'd say they are probably best for medium to large dogs, or perhaps smaller dogs who like a challenge and are not easily overwhelmed by larger toys.
3. Nina Ottosson Dog Walker Interactive Brain Game Toy: best for boredom
Provide mental stimulation for pooch with this challenging brain game
Material: Food safe material | Includes stuffing?: No | Includes squeakers?: No | Tough?: No
Great for training your dog
Fun way to give treats
Easy to clean
Some dogs may find it frustrating
High price
Depending on the type of dog you have, you might find that your pooch becomes easily bored with standard types of dog toys. Toys such as the Interactive Brain Game Toy promise to help alleviate boredom by providing your dog with a challenge.
Such toys can even help modify behaviour, including destruction and separation anxiety, since the mental stimulation from the game provides an excellent distraction for your dog.
Nina Ottoson has been making puzzle toys for dogs for over 25 years, so she has plenty of expertise in what makes a dog's mind tick. This particular toy features sliding blocks and swivelling flippers which hide compartments for treats. You could place your dog's kibble inside to encourage speedy eaters to slow down. It's recommended that you use particularly pungent (to dogs) treats such as cheese or peanut butter to really draw their attention.
Although there are plenty of hidden compartments, none of the parts are removable, which should give you peace of mind while your dog is playing. However, dogs should still be supervised when playing with this toy, especially if they are known for destructive behaviours, just in case.
Considering this dog toy is used to hide treats, you'll need to clean it regularly – the good news is that it's designed to be easy to clean. A neat extra is that tips and tricks are included in the box to help you get the most from the toy.
A downside of this toy is its high asking price compared to cheaper, standard dog toys. However, if your dog gets hours of entertainment out of it, then it can be considered decent value for money.
4. Kong AirDog Dumbell Dog Toy: best dog ball alternative
Is your dog bored of traditional balls? Try this alternative…
Material: Felt | Includes stuffing?: No | Includes squeakers?: Yes | Tough?: Yes
Durable
Gentle on dog's teeth
Variety of sizes
Not suitable for destructive dogs
Kong is a brand that is well-known to animal lovers for its range of well-built and durable products. It has lots of products featuring squeakers, but we love this dumbbell for its novel approach to the traditional ball toy. If your dog has already become bored with a standard tennis ball, it's worth giving this one a try.
As well as being more fun to play with, it features non-abrasive felt designed to be gentle on your pup's teeth, unlike a standard tennis ball that can be rougher.
There are three different sizes available here (small, medium and large) so you can easily find one to match your dog. We love the way that the toy bounces in erratic and fun fashions when it rebounds off a hard surface – the unpredictable nature will keep your pooch entertained far more than the average tennis ball.
If your dog loves squeakers, then this will also provide hours of fun, with the tough exterior making it hard for the dog to get at the squeaker itself. Some users have reported that the toy is less durable if you have a particularly destructive dog, so it's worth paying close attention, especially when you first let your dog play with the toy.
For those that find their dog loves the AirDog type of toys, Kong makes a variety of other shapes and designs, including a donut, football and a fetch stick.
5. ChuckIt Breathe Right Stick: Best for fetchers
A safer alternative for dogs who like to chase and fetch sticks
Material: Rubber | Includes stuffing?: No | Includes squeakers?: No | Tough?: No
Safer than normal sticks
Floats
Brightly coloured
Some dogs uninterested
Many dogs love to chase after wooden sticks, but they can be dangerous if they splinter, or get stuck in the ground at an awkward angle. For those that want to give their dog the fun they get from chasing a stick with the danger removed, the ChuckIt BreatheRight Stick is a fantastic alternative.
The design of the stick features holes that help to maintain airflow while your dog is walking or running while carrying it. We love the fact that it's brightly coloured and buoyant so you can also throw it into water for dogs that love a paddle.
As well as being ideal for throw and fetch type games, it's also well-suited to tug games, with the holes making it easy for your dog to get a grip on the stick.
On the outside of the stick, you'll find raised bumps with a range of textures designed to stimulate your dog's senses. Some dogs however may find the lack of a squeaker or anything to destroy a little uninteresting.
The BreatheRight is available in two different sizes depending on the size of your dog. The material isn't advertised as being particularly durable or tough, but plenty of users report that it lasts well and withstands a good amount of chewing.
Although this toy is not expensive in itself, you could argue that, compared with an actual stick, it is. However, for the peace of mind and greater safety that the BreatheRight provides, it offers good value for money.
6. Wickedbone Smartbone: Best for gadget-lovers
Gadgets aren't just for humans with this entertaining toy
Material: Polycarbonate | Includes stuffing?: No | Includes squeakers?: No | Tough?: Yes
High tech toy
Durable
Long-lasting battery life
Very expensive
Not for tough chewers
If you want to take your toy-buying to the next level, then check out the WickedBone interactive smart pet toy.
You can control the toy from your phone ("drive mode"), while it will also "react" to what your pet is doing and require no input from you ("interactive mode"). The battery has been designed to last for 40 minutes in drive mode, but up to four hours in interactive mode. The bone can respond to being chased, being touched, being ignored and more.
The body of the toy is made from tough polycarbonate, so it should withstand some chewing – but it's worth supervising your pet while playing with the toy, especially when they are first using it. The manufacturers state that it is not recommended for "strong chewers", so be wary if that describes your canine pal.
Despite being an electronic gadget, it is easy to clean with detachable tires and a protective cover.
Since the toy appears to have a life of its own, it's likely to keep your pet amused for several hours, and is well suited to dogs who are easily bored by conventional toys. Some dogs may be scared of the toy at first, but tips are supplied to help them get used to it, including using treats to encourage them to play with it.
This is a fun gadget that will likely amuse you just as much as the dog, but the big downside with this product is the high price. This is a lot to spend on a dog toy, but if it's something that lasts for several years, you might consider it a worthy investment.
How to choose the best dog toy
Generally speaking, it's hard to go too far wrong when picking a dog toy. When your dog is young and you're still getting to know their personality, it may take you a while to figure out what kind of toys they like, but it should soon become quite clear.
Some dogs love toys with lots of different textures, while others are more concerned about noise. If you have a dog with a penchant for chewing, always look out for toys that claim to be extra strong or durable – bearing in mind that no toy is ever indestructible and supervision is always a good idea.
If you do have a destructive dog, look for toys with little or no stuffing to help prevent mess. If you have a dog that gets bored easily, look for toys that provide stimulation and a challenge, or toys that you can hide treats in to keep them interested.
It's a good idea to have lots of different types of toys available for your dog to provide variety, a challenge and a good degree of mental stimulation. It can be a good idea to look for cheaper toys when you're figuring out your dog's preferences, but be aware that low-cost toys tend to be a false economy as they won't last as long as their pricier counterparts.
Get the best advice, tips and top tech for your beloved Pets
Thank you for signing up to Petsradar. You will receive a verification email shortly.
There was a problem. Please refresh the page and try again.