Best dog toys 2023 – ensure your pet remains mentally and physically stimulated
Discover the best dog toys to banish boredom and promote a healthy canine lifestyle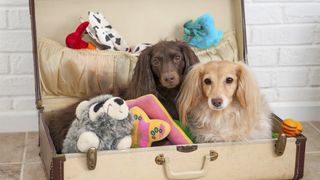 (Image credit: Getty Images)
The best dog toys are worth their weight in gold. Aside from providing mental stimulation for your furry friend, dog toys are ideal distractions, cracking comforters and superb gum soothers. They also help to improve your pet's overall health by encouraging dogs to move. There's no doubt they're a great investment but with so many toys on the market it's difficult to know what to choose.
That's where our trusted guide comes into its own. In the same way that we've tackled the best cat toys, we've curated a selection of our favorite picks for dogs that take into account the durability of each item, a toy's suitability for different doggy personalities and whether they include sound and stuffing.
In doing so we've touched upon the best dog puzzle toys and the best teething toys while taking into consideration an item's usefulness in tackling separation anxiety in dogs. One thing's for sure, with the right toys, your dogs are going to be happier and easier to live with, potentially steering attention from other items in your home such as your clothes and furniture.
So let's take a look at what's on the market today. Don't worry if you find more than one that you like – it's generally a good idea to consider a selection of toys since a study published in Animal Cognition found that dogs actually prefer new items over existing ones. For that reason, we've made sure that we've included a good number of inexpensive toys. Time to find a perfect match.
PetsRadar's pick of the best dog toys
Why you can trust PetsRadar Our expert reviewers spend hours testing and comparing products and services so you can choose the best for you. Find out more about how we test.
Outward Hound Stuffingless Snake
Best overall dog toy
Reasons to buy
+
Lots of squeakers
+
Durable material
+
No stuffing for less mess
Reasons to avoid
-
Expensive
-
No match for destructive dogs
What buyers say
Scoring 3.9 out of five on Amazon, users have praised this toy for being more robust than they imagined it would be. They say it has survived a daily mauling, with the squeaker remaining intact. Many also say it's also proven to be great fun and a good size for big dogs. That said, there are users who say the exact opposite but, percentage-wise, they make up a smaller number. Some say you just need to be careful of the fluff.
This toy has a lot of the features we would want in a dog toy. It has a lot of squeakers, is built to last, and looks great as well. Bearing testament to this is the fact that there is no stuffing, meaning less mess to clear up should your pup tear it asunder.
Moreover, it has been reinforced with double-layered seams, so it should be able to withstand a good amount of chewing. Saying this, there are still some reports from pet owners that their dogs have managed to rip it apart (nothing's indestructible, after all), so you might want to closely supervise your dog when playing with this toy, should they have a track record for destruction.
The risk of this is relatively low compared to other toys, however. With so many squeakers to find (there are 12 in the XXL version), it should keep even the strongest dogs occupied for quite some time. The manufacturer claims that the squeakers should continue to squeak, even if punctured. Again, we think that this will depend on how destructive your dog is, but it's good news for those whose dogs aren't into wanton vandalism.
There are three sizes, with the largest perhaps best suited for large dogs, or those with a low boredom threshold and who want to hunt out all the squeakers. Depending on which size you pick, they come in a variety of colors.
The main drawing back is the high retail price – there are many cheaper toys elsewhere. However, if this one lasts as long as the manufacturers believe it can, then you've got yourself value for money.
Best for chewers
Specifications
Includes stuffing:
Yes, but minimal
Reasons to buy
+
Good for chewers
+
Very cute
+
Durable
What buyers say
This toy comes in for a heap of praise with many saying its durable and, in some cases, the only toy their dog will actually play with! Some users advise that you check the sizes before you buy – it's always a good idea to buy a toy big enough for your dog and there are complaints that it can be too small. But overall it would appear pets enjoy it and have no problems getting it to squeak. It gets 4.2 out of five on Amazon.
Here's another product from Kong, which has well-and-truly earned its reputation as the go-to brand of choice for dog toys, especially if you're looking for a durable product.
We love the Wild Knots bear toy because it manages to blend together cuteness with durability. The interior "skeleton" of the bear is made from rope, which most dogs will find incredibly satisfying to get their teeth stuck into. Meanwhile, the exterior plush is designed to be tough and durable, so if you've got a dog who's keen on chewing, it should last a little while at least.
For any dog that manages to get through the exterior, the inside has very minimal stuffing, so you shouldn't have too much mess to clean up should that happen. There is also a squeaker inside, which many dogs will go mad for. If you don't like the bear design, there are also other animal options, such as a fox, lion, dragon, and flamingo.
The bear is available in a range of sizes, so you can match it perfectly to the size of your dog. The larger one is ideal for playing tug, or for two dogs to play with each other.
One of the downsides of this toy, along with other Kong toys, is that it's not cheap. However, considering the high-quality construction of the toy, we think it's worth it.
ChuckIt! Paraflight Flyer Dog Frisbee Toy
Best frisbee dog toy
Reasons to buy
+
Great for use on land or in the water
+
Designed for long distance flight
+
Gentle on your dog's mouth
What buyers say
With an impressive 4.3 out of five on Amazon from more than 18,000 users, you can't really go wrong with this frisbee. Users say it flies really well, providing many hours of fun. They also like that it's soft and light. Just be aware that some users say it's not as durable as they would like it to be but it it's great for dogs who have teeth removed because it's soft in the mouth.
If you have an active canine companion on your hands who loves zooming about all over the place, then this frisbee from ChuckIt! is sure to provide them with hours of fun and entertainment.
Measuring 10 inches and designed for long-distance flight, the frisbee floats beautifully on water, making it the ideal toy for use both on land and in a pool or lake.
The frisbee features a multilayer nylon interior with soft rubber edges that are gentle on a dog's mouth and it will gradually descend making it easy for your pup to jump up and catch mid-flight.
Available in small and large sizes, this toy is perfect for all breeds, and the bright blue and orange colors make it easy for pets (and their parents!) to spot the frisbee in tall grass or on water.
Best for boredom
Specifications
Material:
Food safe material
Reasons to buy
+
Great for training your dog
+
Fun way to give treats
+
Easy to clean
Reasons to avoid
-
Some dogs may find it frustrating
-
High price
What buyers say
There's more than 108,000 reviews for this toy and 78 percent of those give it four or more stars on Amazon (it gets 4.2 out of five overall). One user said it was "out of this world" and it's come in for praise for having a triple-layer system and being solidly built. Cats are also rather enjoying the toys so it may be useful if you live in a multi-pet home. Some users do say that their dog can solve the puzzles with ease, though.
Depending on the type of dog you have, you might find that your pooch becomes easily bored with standard types of dog toys. Toys such as the Interactive Brain Game Toy promise to help alleviate boredom by providing your dog with a challenge.
Such toys can even help modify behavior, including destruction and separation anxiety since the mental stimulation from the game provides an excellent distraction for your dog.
Nina Ottoson has been making puzzle toys for dogs for over 25 years, so she has plenty of expertise in what makes a dog's mind tick. This particular toy features sliding blocks and swiveling flippers which hide compartments for treats. You could place your dog's kibble inside to encourage speedy eaters to slow down. It's recommended that you use particularly pungent (to dogs) treats such as cheese or peanut butter to really draw their attention.
Although there are plenty of hidden compartments, none of the parts are removable, which should give you peace of mind while your dog is playing. However, dogs should still be supervised when playing with this toy, especially if they are known for destructive behaviors, just in case.
Considering this dog toy is used to hide treats, you'll need to clean it regularly – the good news is that it's designed to be easy to clean. A neat extra is that tips and tricks are included in the box to help you get the most from the toy.
A downside of this toy is its high asking price compared to cheaper, standard dog toys. However, if your dog gets hours of entertainment out of it, then it can be considered decent value for money.
Kong AirDog Dumbbell Dog Toy
Best dog ball alternative
Reasons to buy
+
Durable
+
Gentle on dog's teeth
+
Variety of sizes
Reasons to avoid
-
Not suitable for destructive dogs
What buyers say
There's a lot of love for this dumbbell dog toy – from pets at least! Some users say having more than one squeaker inside can make it a tad noisy. Still, that is generally the point and this toy is deemed to be excellent value. It's durable, potentially lasting for months, and it's ideal for larger dogs too. Some say it's perfect for dogs who like to chew. It gets a solid four out of five on Amazon.
Kong is a brand that is well-known to animal lovers for its range of well-built and durable products. It has lots of products featuring squeakers, but we love this dumbbell for its novel approach to the traditional ball toy. If your dog has already become bored with a standard tennis ball, it's worth giving this one a try.
As well as being more fun to play with, it features non-abrasive felt designed to be gentle on your pup's teeth, unlike a standard tennis ball that can be rougher.
There are three different sizes available here (small, medium, and large) so you can easily find one to match your dog. We love the way that the toy bounces in erratic and fun fashions when it rebounds off a hard surface – the unpredictable nature will keep your pooch entertained far more than the average tennis ball.
If your dog loves squeakers, then this will also provide hours of fun, with the tough exterior making it hard for the dog to get at the squeaker itself. Some users have reported that the toy is less durable if you have a particularly destructive dog, so it's worth paying close attention, especially when you first let your dog play with the toy.
For those that find their dog loves the AirDog type of toys, Kong makes a variety of other shapes and designs, including a donut, football, and a fetch stick.
JW Pet Bouncin' Bowlin Pin Dog Toy
Best indestructible squeaky toy
Reasons to buy
+
Durable
+
Easy to clean/maintain
+
Non-toxic rubber
+
Easily portable
What buyers say
With a rating of 4.3 out of five on Amazon, this fun bowling pin is, in the words of one user, the "best purchase ever". Said to be great for aggressive chewers and capable of lasting for a long time, the main quibbles are that it may be smaller than expected (so check the sizes) and hard to make squeak. But, in a lot of cases, it's become a dog's favourite toy.
If you're after an indestructible, squeaky toy that your dog can happily chew on for hours on end, this bowling pin set from JW is a great option.
Its classic bowling pin shape makes it easier for dogs to grab onto with their mouths, and the tough, natural rubber is designed to be durable. Inside the pins are squeakers, adding to the fun and excitement of the toy. The set also comes in three different sizes and assorted bright colors (pink, yellow, orange, and blue), adding more interest for your playful pup.
We like the fact that it's made from a non-toxic rubber which means that it won't affect the health of your canine in the long run. The fact that it's durable and hard-wearing means that it is likely to last a long time. Plus it's bouncy and flexible, perfect for throwing up in the air and carrying around. It's light and easy to maintain and keep clean, which is always handy!
Perhaps the only downside is the price, as they are considerably more expensive than other toys on the market. However, if you're looking for longevity, these will save you money in the long term. This toy is ideal for large dogs prone to destroying their toys fairly quickly or teething puppies who can repeatedly chew safely, to their heart's content.
Best for gadget-lovers
Reasons to buy
+
High tech toy
+
Durable
+
Long-lasting battery life
Reasons to avoid
-
Very expensive
-
Not for tough chewers
What buyers say
The Wickedbone Smartbone is praised for being able to engage dogs and keep their attention. Although some users have struggled with the instructions, a good number praise the advanced nature of the toy and say it's great if your dog has bags of energy. It may be more suitable for small dogs than those who are medium or large, however, and some users say it's not great if your dog is an aggressive chewer. It gets 3.3 out of five on Amazon.
If you want to take your toy-buying to the next level, then check out the WickedBone interactive smart pet toy.
You can control the toy from your phone ("drive mode"), while it will also "react" to what your pet is doing and require no input from you ("interactive mode"). The battery has been designed to last for 40 minutes in drive mode, but up to four hours in interactive mode. The bone can respond to being chased, being touched, being ignored, and more.
The body of the toy is made from a tough polycarbonate, so it should withstand some chewing – but it's worth supervising your pet while playing with the toy, especially when they are first using it. The manufacturers state that it is not recommended for "strong chewers", so be wary if that describes your canine pal.
Despite being an electronic gadget, it is easy to clean with detachable tires and a protective cover.
Since the toy appears to have a life of its own, it's likely to keep your pet amused for several hours, and is well suited to dogs who are easily bored by conventional toys. Some dogs may be scared of the toy at first, but tips are supplied to help them get used to it, including using treats to encourage them to play with it.
This is a fun gadget that will likely amuse you just as much as the dog, but the big downside with this product is the high price. This is a lot to spend on a dog toy, but if it's something that lasts for several years, you might consider it a worthy investment.
SmartPetLove Snuggle Puppy Behavioral Aid Toy
Best for comfort
Reasons to buy
+
Snuggly design
+
Comes with a disposable heat pad
+
Variety of colors available
+
Suitable for all ages and breed sizes
Reasons to avoid
-
Sensitive dogs may be frightened by the pulsing heartbeat feature
What buyers say
This cute looking toy gets the thumbs up from the majority of users – some 83 per cent have given it four or more stars on Amazon (it's 4.4 overall). Its strong heartbeat has helped many a pup to settle at night and it's providing wonderful comfort for weeks at a time. Some users say the heartbeat it too loud, however, so if your dog is particularly sensitive to noise, it's something to think about.
If you have an anxious pooch in the family, consider the SmartPetLove Snuggle Puppy Behavioral Aid Toy. Although it's generally designed for puppies experiencing separation anxiety, it's actually useful for a dog of any age so whether you've adopted a pup or an adult dog, you're likely to find great value for money here as you pass it on to future generations.
It's surprisingly tougher than it looks in the durability stakes too: expect a bit of batter here and there, but its teddy-like design should stay together for most dog breed types.
How it works is that the Snuggle Puppy looks to recreate the intimacy of a dog's mother with a 'real-feel' pulsing heartbeat, a nifty extra that could end up being a lifesaver for you too if your canine struggles to settle and cries through the night.
Sensitive dogs may find the sound alarming, but the ability to add and remove the heart is a useful feature that will be appreciated by pet owners looking to tailor toys to their dog's preferences.
Best dog toy with squeaker
Reasons to buy
+
Unique and fun
+
Squeaker
+
Perfect size for all breeds
Reasons to avoid
-
Not suitable for aggressive chewers
What buyers say
Wow! Users really like this one! It gets a staggering 4.8 out of five on Amazon with 87 percent giving it a five-star rating and that's because they're deemed to be super cute, amusing, great for chewers and robust. "My dogs go nuts over these," said one. A very small number of users have questioned their value and durability.
This duo parody pack that has been designed to look like the adult White Claw drink is likely to be a fan favorite again this year with its fun and unique appearance and built-in squeaker.
Ideal for small, medium and large dogs, these 7-inch-long stuffed toys will keep your pup busy and entertained for hours. Super plush and durable enough for all but the most aggressive of chewers, these toys are the perfect way to spoil your pup and also make a great gift for a fellow pet parent.
And unlike some toys that fall apart in the washing machine, you'll have no such problem with this set - they'll even hold up to a good tumble dry! While they may be a little on the pricey side, the novelty factor alone makes them well worth it.
Best dog toy for heavy chewers
Reasons to buy
+
Strong and durable
+
Great for physical and mental health
+
Fantastic fetch toy
Reasons to avoid
-
Super aggressive chewers may still destroy this one
What buyers say
Deemed very strong and great for aggressive chewers, this KONG toy is, in the words of one user, "properly indestructible". It's almost certain to last for a good while: "this one has been holding up very well with no signs of wear even after a couple of months," another user said. The praise gives it an overall rating of 4.4 out of five on Amazon.
If you're looking for a toy that you can throw, stuff, and bounce and that will hold up to heavy chewing then look no further because this KONG toy really does do it all! One of the most popular toys on the market (and for good reason), it provides outstanding mental and physical enrichment.
By encouraging healthy play and satisfying instinctual needs, this treat-dispensing puzzle toy helps solve chewing, separation anxiety, teething, boredom, weight management, crate training, digging and barking. Stuff it with peanut butter, applesauce, banana, or any other favorite food and your pup will be kept amused for hours.
The toy is available in a range of sizes to suit all breeds and its unpredictable bounce makes for an exciting game of fetch. The tough and durable rubber means it's ideal for heavy chewers and it's dishwasher safe, so you won't have any problems keeping it clean.
Nylabone Chill and Chew Dog Chew Toy
Best dog toy for puppies
Reasons to buy
+
Available in different sizes
+
Can be used by senior dogs
+
Flavored with chicken
What buyers say
There are many happy users of this chew toy, it would seem. With an overall Amazon rating of 4.4 out of five, it's a long-lasting toy that works well for dogs who are teething and it also seems to go down well among owners who are training their pups. Deemed tasty, they're sure to go down well. Just be aware that there are a small number of users who have reported bits coming off.
Looking for the best dog toys for puppies can be especially tricky. Many toys will be too big for them, and they might be unsure of how to play yet. This offering from Nylabone provides them with a handy introduction to dog toys, available in a less intimidating size, and with plenty of customizable options.
The idea is that you either chill the Nylabone, or fill it with dog treats, then let your puppy have fun with it. You can even fill it with paste like peanut butter, so really there are no ends to what you can put in it.
While it's a great toy for puppies, there are a number of things that you should bear in mind before buying. Firstly, it's intended for dogs weighing less than 35 pounds, and you should really adhere to this recommendation, as the last thing you want is your puppy getting over-exuberant and destroying it.
Secondly, it can get messy. Do the math: puppy + peanut butter-filled dog toy = potential recipe for untidiness!
Best indoor dog toy
Specifications
Material:
Textured chenille fabric
Reasons to buy
+
Strong enough to hold up to light to medium chewing
+
Lightweight
+
Fabric is soft on pets' mouths for comfortable catching and carrying
Reasons to avoid
-
Quite large so may not be suitable for smaller breeds
What buyers say
This toy is rated 4.1 out of five by users on Amazon and that's because it's said to be durable, a good size and light. One user says the covering enables small dogs to carry the ball in their teeth and its softness makes it safer to use indoors. "The ball bounces really well even after months (even years) of hard work," another user said.
At 4.7 inches in diameter, this durable dog ball plush dog toy is slightly larger than a softball and has an incredibly lightweight and soft design that will ensure you can play games with your dog indoors without having any of your precious belongings destroyed in the process!
Featuring a multi-layer construction, this toy is durable enough to hold up to light and medium chewers, and the circular design allows for easy rolling across hardwood or tile floors in the home. It's great for rolling and fetching, and the bright colors will make it easy for your dog to spot.
With a soft, chenille fabric exterior it's incredibly comfortable for your dog to hold in their mouth and it's compatible with the indoor Chuckit! ball launcher, so you don't have to worry about getting doggy slobber all over your hands! While it's marketed at all breeds, the larger size means smaller dogs may find the ball a little bit more tricky to retrieve.
Volacopets Treat Dispensing Dog Toys
Best interactive dog toy
Specifications
Material:
Rubber and rope
Reasons to buy
+
Five different balls
+
Durable
+
Great value
Reasons to avoid
-
Not suitable for large breeds
What buyers say
Given an impressive rating of 4.4 out of five by Amazon users, this dispensing toy appears to be widely loved by dogs. It's praised for being of great quality and seems great for both puppies and adults. As is often the case, there is criticism that the toy doesn't always last that long in the mouths of some dogs.
If you're looking for a way to keep your canine companion amused for hours on end, this variety pack of five ball toys might just be the answer to your prayers. Containing a squeaky ball, solid rubber ball, dental cleaning ball, treat dispensing ball and wool ball, this brightly colored set is full of fun.
We love that these toys are made from rubber and rope, as opposed to plastic, which can be easily bitten into, so they're great for dogs of all ages and stages. They're also durable enough to withstand plenty of light to moderate chewing, although given they're roughly the size of a tennis ball, they're best for small and medium sized breeds.
Two of the balls can hold treats, with one being slightly more challenging than the other, so they're ideal if you're wanting to keep your dog occupied for a few hours while you're out of the house. And because they're made of rubber, they're wonderful for teething puppies.
How to choose the best dog toy
When choosing the best dog toy, the important thing to bear in mind is that every pup is different. What works for one dog doesn't necessarily work for another so the trick is to get to know your dog's personality and work out what they like and don't like. For example...
Champion chewers: If you have a dog with a penchant for chewing, always look out for toys that claim to be extra strong or durable – bearing in mind that no toy is ever indestructible and supervision is always a good idea.
Destructive dogs: If you have a destructive dog, look for toys with little or no stuffing to help prevent mess.
Disinterested dogs: If you have a dog that gets bored easily, look for toys that provide stimulation and a challenge, or toys that you can hide treats in to keep them interested.
Also bear in mind that some dogs love toys with lots of different textures, while others are more concerned about noise. It's also a good idea to have lots of different types of toys available for your dog to provide variety, a challenge, and a good degree of mental stimulation.
Just be wary of buying cheap! Low-cost toys tend to be a false economy as they won't last as long as their pricier counterparts.
Best dog toys: FAQs
Why do dogs destroy toys?
There are many reasons why your dog may seek to destroy a toy. In some cases, your canine companion will simply see the toy as prey and inherently try to chomp down on it. In other cases, your dog is simply bored and venting their frustration – you may find dogs become less destructive the more mentally and physically stimulated they become. Sometimes, a dog is feeling undernourished and hungry. Make sure you're giving your pet the best dog food.
Why do dog's toys squeak?
Not all dog's toys squeak but those that do are tailored for a specific doggy instinct: to catch prey. The squeak is intended to mimic the sound of a small animal and this is why dogs tend to love playing with them. The high-pitched sound gets dogs very excited so if you have a pet who appears to be disinterested, a squeaker toy may prove to be the answer.
Get the best advice, tips and top tech for your beloved Pets
Amy Davies is a freelance writer and photographer with over 15 years experience. She has a degree in journalism from Cardiff University and has written about a huge variety of topics over the years. These days she mostly specialises in technology and pets, writing across a number of different titles including TechRadar, Stuff, Expert Reviews, T3, Digital Camera World, and of course PetsRadar. She lives in Cardiff with her dog, Lola, a rescue miniature dachshund.