Best puppy toys: Six options for keeping young dogs amused
By Amy Davies
The best puppy toys will indulge your furbaby's teething instincts, soothing painful gums and distracting from discomfort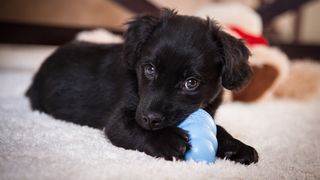 (Image credit: Getty)
There's nothing a puppy loves more than playing, and because this often involves chewing, investing in a few of the best puppy toys can help keep those teeth off your chair and table legs. 
Just like the best kitten toys can help keep our feline furbaby's mentally and physically stimulated, puppy toys engage young and active minds in ways that can ward off boredom, separation anxiety, and help ease teething pain.
If you already have an adult pooch in the family, then you'll know that the best dog toys come in all sorts of shapes, sizes, and styles. Just like their older brothers and sisters, puppies love variety, which is why we recommend investing in a mixture of chew toys, puzzles, balls, and rope toys to keep your pup entertained.
Puppies undergo their most rapid development between the ages of 2 and 10 months and exposing them to a range of appropriate toys doesn't just teach them to play, but it also helps them learn about healthy chewing behaviors. Puzzle toys with nooks and crannies are excellent for training as these can be stuffed with the best puppy treats that encourage them to chew on the toy and not your furniture.
No matter what toy you choose for your new furbaby, we recommend you supervise their play sessions until they're adults. This will ensure they don't break off any part of the toy and try to swallow it. Ready to find the perfect new playthings for your forever friend? We've rounded up the best puppy toys on the market right now that your furbaby can sink their teeth into...
1. Kong Wild Knots Bear: Best overall puppy toy
A cute yet durable toy that should keep your dog company through puppyhood and beyond
Materials: Rope, Plush | Type of play: Comfort | Includes stuffing: Minimal | Includes squeaker: Yes
Minimal stuffing for less mess
Durable internal rope design 
Cute
Expensive
In terms of our overall favorite puppy toy, it takes a lot to beat the Kong Wild Knots Bear. Not only is it cute – just like your puppy itself – it's made from durable materials to help make it last. 
The Kong brand is well-known for producing tough toys and is a favorite among many dog owners (and their dogs of course). For puppies, this sweet bear has a number of advantages. The internal design features a sturdy rope which makes up the "skeleton" of the bear. This helps to give it a great shape but is also a pleasurable texture for your puppy to chew. 
The external plush material is reinforced so it should take even the strongest of puppies some effort to get through to the ropes and the squeakers inside. For those that do manage to break through the barrier, there's a minimal amount of stuffing inside to help cut down on the mess that tends to get left behind.
Depending on the size of your dog, there are various sizes available for your puppy, including extra small, small/medium, medium/large and extra-large. We'd recommend matching the size of the toy to the size your dog will eventually be, as this as a toy that should last them beyond puppyhood (depending on how destructive your dog is). 
One downside of this toy is its relatively high asking price, compared with some other dog toys on the market. However, when you consider how well it has been made and how long it should last, it's easy to argue that it represents good value for money.
2. Rosewood Biosafe Puppy Bone: Best budget puppy toy
A cheap and cheerful puppy toy with a range of benefits
Materials: Plastic | Type of play: Chewing | Includes stuffing: None | Includes squeaker: No
Great price
Microbial surface
Floats
Not tough enough for some puppies
Bones are classic shapes for dog toys, and we like this one for its range of great features at a very affordable price – you could even stock up on a few to keep them in rotation, or in different rooms in your house. 
The Rosewood bone is designed to be stimulating for your dog, helping to reduce boredom but with the added benefit of massaging gums and reducing plaque and tartar build-up in your puppy – toys like this can help to reduce dental bills down the line. It's a tough toy too, so it should be pretty durable – though it's worth noting that no toy is completely indestructible so make sure you keep an eye on your puppy while it's chewing it. 
As well as being tough, the plastic the bone is made from uses antimicrobial technology which helps to keep it as hygienic as possible. It also features a mint scent to help reduce those doggy odors that can be less than pleasant. 
Another useful feature of the bone is that it floats – so you could take it with you to lakes, rivers, the sea and so on to use it as a safer alternative to throwing a stick. If you don't fancy the bone shape,  Rosewood also makes similar puppy toys in ball, ring, and dumbbell shapes.
If you have a particularly "chewy" or strong dog, some owners have reported that the bone isn't quite as tough as some of the others in this round-up – but at the price, you perhaps wouldn't expect that. If your dog is not quite so destructive, or fairly gentle, it's still a good option.
3. ChuckIt Ultra Squeaker Ball Small: Best for fetch-lovers
Teach your puppy how to fetch with this small ball perfect for tiny mouths
Materials: Rubber | Type of play: Fetch | Includes stuffing: None | Includes squeaker: Yes
Small size ideal for puppies 
Ultra-durable 
Loud squeaker appeals to puppies
High price for dog balls
Most dogs like to chase balls, and if you're lucky, some will even bring them back too. When you're trying to train your puppy how to play fetch, larger balls designed for adult dogs can be a little overwhelming and hard to pick up. These small balls are perfect for puppies (and smaller dogs), while the ultra-loud squeaker inside can help train your dog how to play.
Made from a very durable rubber, ChuckIt balls are expensive but will easily outlast most other dog balls on the market. If you've got a puppy who generally destroys or chews up balls that it likes to chase, it's worth giving a ChuckIt a go – several dog owners report them lasting for years. 
Among the great features of the ChuckIt Ultra Balls are their ability to bounce high, which makes for a lot of fun if your dog likes to chase and jump after balls. They also float, so you can take them to the beach, river and so on and feel confident that you won't lose the balls. They're also easy to clean should your dog like to play in less than pristine conditions.
It's worth noting that the squeakers inside the ChuckIt can be fairly easily destroyed if you have a particularly destructive dog, so it's perhaps worth investing in a separate squeaker if you intend to use the sound as part of your training program. You can buy ChuckIt balls without a squeaker, too, if you prefer quieter toys.
4. Nylabone Puppy Chew Rhino Teether Toy: Best for chewing
This well-trusted and well-established brand is the go-to for durable chew toys
Materials: Nylon | Type of play: Chewing | Includes stuffing: None | Includes squeaker: No
Great for dental hygiene 
Ideal for teething 
Vanilla scented
Expensive compared to some 
For puppies only
Nylabone has been making chew toys for 65 years, so it knows a thing or two about how to please our canine friends. It makes chews for all types and ages of dog, but we've picked out this puppy chew as it's ideal for when your puppy starts teething and losing their puppy teeth. 
As the name suggests, Nylabone makes its chews from nylon material. However, the puppy versions are made from softer moderate nylon, which are specifically designed to be gentle on a puppy's new teeth and gums. 
This toy has been designed to discourage destructive chewing of your other property, but it also helps to clean teeth and stave off boredom. By using a toy like this when your puppy is young, you'll teach them to only chew toys – and lay off your shoes, cushions, or anything else they might sink their teeth into. 
Nylabone makes plenty of teething toys, so if this one doesn't appeal, there's plenty of other shapes and sizes to choose from. We like the vanilla scent which helps to reduce unpleasant odors building up in your home. The bright yellow color is also nice and cheerful to look at.
The downsides here are the price – you will likely be able to find cheaper teething toys elsewhere, and the fact that it's only really suitable for teething puppies. Once your puppy's permanent teeth come in, it's recommended that you dispose of the toy.
5. Beewarm Pineapple Dog Chew Toy
Hide treats in this toy to encourage mental stimulation and active play
Materials: Rubber | Type of play: Chewing | Includes stuffing: None | Includes squeaker: No
Can be used to feed treats
Durable material 
Lifetime replacement guarantee
High price 
Very destructive dogs may easily destroy
This fun and quirky puppy toy is great for combining play with treat time. You can stuff treats in the bottom of the toy, or you could also include other treats such as peanut butter to keep them interested. A top tip is to fill the toy with peanut butter and freeze it – that'll make it last even longer. Thankfully, the toy is easy to clean which you'll need to do fairly often if you're stuffing it with treats. It's also dishwasher safe, which saves you the hassle of trying to get to all the nooks and crannies.
You could also use this toy to help teach your puppy to slow down while eating – as it'll take a long time to get through all the treats inside the toy, it's good for those that tend to wolf down their dinner. 
It's worth supervising your puppy when playing with this toy at first, but once you've established how destructive they are, it's also something that you can leave with them if you need to leave your puppy alone for a short period – the distraction of trying to get the treats out can help to alleviate problems with separation anxiety.
The toy is made from durable rubber which should mean that it lasts well. It's designed to be extra-firm, but some owners report that very destructive dogs can destroy it fairly easy. However, you get extra peace of mind from the lifetime replacement guarantee that comes with the toy.
6. IFOYO Dog Play Mat
Give your puppy lots to explore with this sweet playmat
Materials: Various | Type of play: Chewing, Comfort | Includes stuffing: Minimal | Includes squeaker: Yes
Lots of activities to keep your dog entertained 
Machine washable 
Anti-slip bottom
Expensive compared to smaller toys 
Takes up space
If you want to tick off lots of toys with one purchase, then this playmat could be a good option. It's one product, but it features lots of different toys around the edges to give your puppy lots of different types of stimulation. 
There's chew toys, soft toys, toys with squeakers in and lots of different textures to give your dog a fun experience no matter which they go for. It's all contained within one mat, so although it takes up quite a bit of space on your floor, it can be quickly picked up and put away, too. The bottom of the mat has a non-slip surface so if your house has hard floors it'll be easy to use. 
As well as being a suitable play mat, you could also use the toy as a sleep mat – which is another thing your puppy will definitely be fond of doing. Since puppies are not known for their cleanliness, another top feature of this playmate is that it's easy to wash – you can simply chuck it in the washing machine too. Another potential use of the playmat is to help keep other surfaces in your home – such as sofas – free from fur and dirt. 
This is another toy which isn't super cheap, but, considering it's basically six toys in one, you could argue that it offers good value. Some users have also reported that super destructive dogs can make light work of some of the attached toys – which is something to be wary of depending on what your dog is like.
How to choose the best puppy toy
Although it can be tempting to just stock up on the cutest, brightest, and perhaps cheapest puppy toys when buying for your new dog – it pays to do just a little bit of research before committing to buy. 
Cheap toys are often cheap for a reason. They probably won't last very long, and you'll end up buying twice as many. Non-durable toys can also leave a lot of mess behind – and worse, present a choking hazard for very young dogs. When shopping for puppy toys, pay attention to those that claim to be durable, and check the type of material which is used. Rubber tends to be a good option for most puppies and their sharp teeth. 
Look out for toys with little to no stuffing, especially for destructive puppies. Stuffing can be easily ripped out and spread around your home, while those which feature other materials, such as rope, tend to last a lot longer.
Other things you could look out for include whether the toy has any flavorings, such as vanilla, mint or meat flavorings. These can help keep your puppy's attention for longer, giving them extra motivation to chew. 
Finally, if your dog likes sound stimulation, look for toys which feature squeakers. Be aware that many puppies will try their hardest to rip out and destroy squeakers though – which can, of course, be part of the fun, but require close supervision.
Get the best advice, tips and top tech for your beloved Pets
Thank you for signing up to Petsradar. You will receive a verification email shortly.
There was a problem. Please refresh the page and try again.