Farley the dog plays with door stopper toy and you won't be able to stop laughing
Farley the dog playing with her door stopper toy is the best thing you'll see today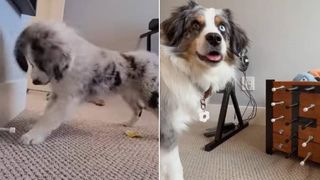 (Image credit: @justbeingfarley TikTok / YouTube)
Everyone who's ever had a puppy knows they're into everything! No abandoned shoe, discarded bottle or floor cushion is safe from those inquisitive little furry explorers. Farley, a miniature Australian Shepherd pup from the Canadian Rocky Mountains, quickly discovered a household toy that went a step better – it played back!
Like most dogs of the shepherd breed, Aussies are intelligent, energetic and like to explore their surroundings. Although she also loves hiking, camping and swimming Farley soon found that the perfect plaything was in her very own home. Spring-mounted door stoppers never get tired of playing – they go 'boing' ceaselessly but can't run away!
Owners Victoria Stuart and her partner Todd – who describe their beloved pet as 'the center of our worlds' – were amused at Farley's attachment to her new toy. They filmed her reactions for TikTok where the videos quickly went viral and gave them an idea.
A viewer posted a comment suggesting a 'bouncy board' covered with multiple door stoppers – and soon the Stuarts knew exactly what Farley was getting for Christmas.
Todd thought it through and decided to combine the bouncy board with a toy box. He bought a readymade wooden planter online and carefully measured the spacing to put in a whopping 25 door stoppers.
The initial video of Farley receiving her doorstopper gift, titled 'Farley's new toy', has been now been viewed over 30.3 million times on TikTok. Farley's joy as she figures out how the box works and starts to play with it is the best thing you'll see today! Complete, utter joy and excitement captured in a few seconds of film as she leaps from one paw to the other, barking.
A couple of weeks into the new year and we're pleased to report that the novelty hasn't worn off. Victoria, who posts on TikTok and Instagram as JustBeingFarley, has continued to post clips of her pet having the time of her life with her new toy. Farley is one lucky dog, with owners who pay her so much attention – but having watched her joyful exploits, we think her owners are pretty lucky too.
Get the best advice, tips and top tech for your beloved Pets
Sara is a freelance journalist and copywriter of many years' experience with a lifelong love of animals. She's written for a range of magazines and websites on subjects varying from pet care to travel. A horse rider since the age of five, she's currently a full time pet slave to horse Blue and gorgeous, goofy English Springer Spaniel Olly. Adorable Olly has a huge sense of adventure and no sense of direction, keeping Sara on her toes.