Best teething toys for puppies: Soothe your pup's discomfort
The best teething toys for puppies are tough enough to withstand plenty of chewing yet soft enough for tiny teeth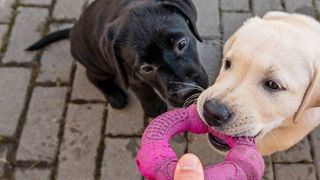 (Image credit: Getty Images)
The best teething toys for puppies are the must-have weapon in your pet parent arsenal if you're finding your little one trying to chew on everything in sight. From gnawing on your favorite sweater to nibbling on your new cushions, when it comes to the best dog toys, those designed to help ease the discomfort that comes with teething are well worth investing in.
There are a fantastic range of puppy teething toys currently on the market; we recommend investing in several toys of different kinds because puppy teething lasts for several months and you'll want to keep tiny teeth busy.
Kong toys are always a firm favorite but anything made from rubber tends to be a hit as your puppy can get a good chew going with these and you can also try making your own homemade puppy teething toy that can be frozen to provide a cooling and soothing treat.
You might also like to try some toys made from softer materials as these can be incredibly comforting for puppies in pain and also make for good overnight companions.
Whatever toy you choose, make sure it's made from strong and durable material and doesn't contain any small parts that your puppy might break off and swallow. To help you find the right plaything for your pup, here's a roundup of our favorite teething toys for puppies.
PetsRadar's pick of the best teething toys for puppies
Why you can trust PetsRadar Our expert reviewers spend hours testing and comparing products and services so you can choose the best for you. Find out more about how we test.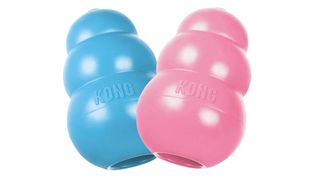 Kong Natural Teething Rubber Puppy Toy
Best overall teething toy for puppies
Specifications
Size:
3.4 x 2.2 x 2.2 inches
Reasons to buy
+
Multi-functional
+
Soft but tough material
+
Trusted brand
+
Durable
The puppy equivalent of the best-selling Kong toy for grown dogs, this version features a soft rubber formula that is specially customized for a growing pup's baby teeth and gums.
Like its grown-up counterpart, what makes Kong so great for pet owners and dog alike is the ability to stuff it with kibble or gooey homemade dog treats. Simply pop in your canine's preferred grub and watch them go.
Not only this is puppy teether a great dog chew toy, ideal for distracting them from chewing through your entire household, it's also a fantastic mental game keeping them entertained for hours.
You can use it to play fetch, or simply let your pup play and dig out the contents to their heart's delight; the durability of the rubber will withstand even the roughest canine teeth, whilst being soft enough to soothe them.
The main drawback here lies in the product's key selling point. If you'd rather not fill your Kong with gooey DIY produce due to mess and smell, then this might not be for you.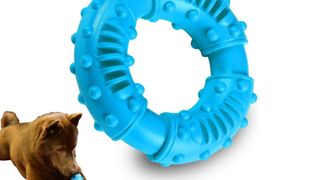 CPYOSN Durable Dog Chew Toy
Best puppy teether for aggressive chewers
Specifications
Size:
5 x 5 x 1.57 inches
Reasons to buy
+
Extra durable
+
Great for large breeds
+
Enticing beef smell
+
Multiple colors
+
No mess
If you're looking for one of the best durable toys out there, then look no further than the CPYOSN Durable Dog Chew Toy.
This puppy teether is made from thick, ultra tough natural rubber which is hard enough to withstand even the most destructible dog breed's teeth whilst retaining flexibility.
The bumps and grooves built into the ring's design are fantastic here, helping to massage gums and clean teeth. You can let your pup tear into it without fear of damaging their teeth or causing a chaotic mess around your home.
There's no stuffing inside, no squeakers, no need to use messy food inside and the beef scent is purely for canines.
Available in two bright colors, the chew ring remains intact even when given to the rowdiest pups so it presents fantastic long-lasting value, particularly at its attractive price point.
Do note, however, that smallers breeds may find they've bitten off more than they can chew since the ring is on the heavier side.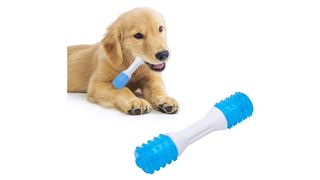 ONTWOPETS Puppy Teething Chew Toy
Best puppy teething toy for gentle chewers
Reasons to buy
+
Massages the gums
+
Removes plaque and tartar
+
Two sizes available
Reasons to avoid
-
Not suitable for aggressive chewers
Clean your little one's teeth, freshen their breath and give them something to chew on with this great dental teething toy from ONTWOPETS.
Available in two sizes, the bone-shaped toy features soft spikes and smooth grooves that help gently sweep away plaque, tartar and debris while massaging the gums and providing relief from teething pain.
Infused with a natural mint or vanilla flavor, the toy also works beautifully with doggy toothpaste if you're wanting to give your pup's teeth an extra clean. The rubber is safe, non-toxic and durable, and the varying degrees of hardness provide variety while your fur baby chews.
This is a great toy, both for health and play, and it can be popped in the dishwasher, making it a breeze to clean. The one thing worth noting is that it's not been designed for aggressive chewers, so if you have one of those on your hands, check out our top pick above.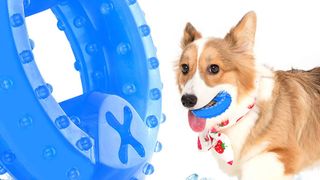 NWK Pet Teether Cooling Chew Toy
Best cooling teething toy for puppies
Specifications
Material:
Thermoplastic rubber
Size:
4.92 x 4.92 x 1.26 inches
Reasons to buy
+
Cooling action ideal for heatwaves
+
Tough and durable
+
Fun
+
Great for larger dogs
Reasons to avoid
-
Not ideal for smaller breeds
Ideal for summer, the NWK Pet Teether Cooling Chew Toy is like a cool water sports accessory for canines.
It's a tough chewing ring with water inside that's perfect for throwing to your pooch outdoors or opt to freeze it instead and it becomes a stress-busting cooling aid for your pup.
The cooling action provides extra relief during the teething stage, while its thick design is naturally extra durable for dog chewing.
Expect a toy that's on the larger side, however. If your puppy is perfectly petite over full-bodied, they might find this more than a mouthful.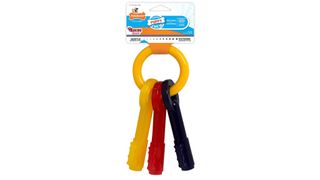 Nylabone Just for Puppies Teething Chew Toy
Best puppy teether for small dogs
Specifications
Material:
Thermoplastic polymer
Size:
5.38 x 1.5 x 2.38 inches
Reasons to buy
+
Great for small pups
+
Fun design
+
Generally solid design
+
Bacon flavoring
Ideal for smaller dog breeds, the Nylabone Just for Puppies Teething Chew Toy weighs in at a light 82 grams.
One of the most stylish teething toy for puppies on the list, its key design is fun and colorful with the long bendable shapes ideal for pups who find other shapes difficult to hold in the mouth. They'll love carrying it back to their cosy den to own and to chew.
Fortunately, this toy is built for a canine's grip. Made from thermoplastic polymer, its solid and durable enough for the most part to withstand even a mini teething monster's jaws.
Pet owners will likely want to supervise use, however, as some dog parents have noticed their pups chewing off pieces.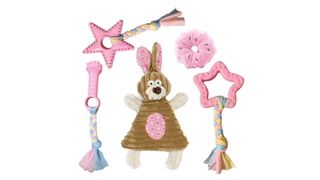 Volacopets Puppy Toys for Teething
Best set of teething toys for puppies
Specifications
Material:
Thermoplastic rubber
Reasons to buy
+
A good set of textured chews
+
Also includes squeaky toys
+
They look cute
Reasons to avoid
-
The cloth ropes may come apart
This set of washable chews and squeaky toys looks so cute, you almost want to play with it yourself. Aimed specifically at small teething dogs, the bag contains three chews of different textures and shapes, helping to ensure your puppy is less likely to become bored – something that could result in them seeking out other more precious items in your home instead.
Each of the chews is attached to a braided cotton rope which allows a puppy to easily fetch and carry it to a favorite spot. It also lets a dog place down a paw to keep the chew in place, making it easy for them to gnaw on the main thermoplastic rubber component. That said, some users report the cotton being easy to rip apart. It's advisable to keep an eye on your dog during chewing and, if problems arise, consider detaching the rope and handing over the main part.
In any case, the texture of each chew is designed to keep a puppy engaged and the manufacturer claims the chews will keep teeth clean while soothing the gums. In addition, the two squeaky toys can also prove a further distraction, with the main toy – a fun-looking rabbit-like doll – having a cracking sound within the body, adding interest. When teething, a dog's mind needs to be occupied and these will definitely help. It'd also be interesting to see which of the toys becomes a favorite.
How to choose teething toys for puppies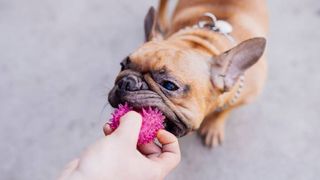 Age
As puppies transition, you'll want to opt for the best chew toy for every stage of their life. At 8-12 weeks, consider a Nylabone teething ring to massage their gums or opt for the Kong Natural Teething Rubber Puppy Toy which can be filled with soothing frozen treats. As your pup leaves the teething period (around 24 weeks) you can then introduce quality chew toys designed for adults, including rope toys, fetch toys and transition into a Kong Classic or Kong Extreme.
Type
There's a wide variety of teething toys for puppies out there but some of the best types include sturdy rubber toys for both safety and durability, while bully sticks can also make a great choice for teething puppies.
You should avoid natural chew toys such as bones, antlers and hooves as these can be too hard on your young pup's mouth or even too large for them in the first instance. Always look for a product that's been professionally devised to help with your puppy's teething phase.
Durability & Safety
Where tiny teeth are involved, it goes without saying that you'll want teething toys that are highly durable so that smaller parts don't come off and pose a hazard to your pup.
Look for high quality, tough rubber that's firm enough to stand up to chewing but that's soft enough for developing teeth. You'll find many puppy teething products use softer material than their adult counterpart for this reason.
Chew level
If your pup is a particularly aggressive chewer or is a larger breed, then a teething stick can be a wise option. Products like the Kong Puppy Teething Stick are designed to be as indestructible as they come but you should always supervise your puppy's play with any toy to be on the safe side.
Get the best advice, tips and top tech for your beloved Pets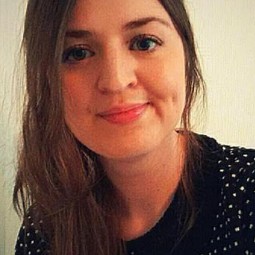 Ashleigh is Digital Editor on PetsRadar. With over 8 years of experience in print and digital media, she has acted as an editorial lead on a variety of projects, with animal themes a keen interest. As an avid animal lover, you can often find Ashleigh checking out the newest trends in animal care or looking at cute cat videos on TikTok.