Best dog chew toys: These products are built to last
By Amy Davies published
From alleviating teething pain to helping to soothe separation anxiety, the best dog chew toys have something to suit the needs of every pup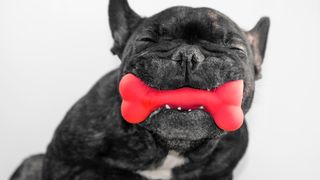 (Image credit: Getty)
The best dog chew toys are an absolute lifesaver if you're frequently catching your canine companion in the act of gnawing on your clothes and furniture. One of the best dog toys money can buy, chew toys allow you to redirect your dog's natural chewing instincts towards a more appropriate object.
But, before you rush out and stock up on these tough and durable playthings, it's worth giving some thought to what you're wanting to get out of a chew toy. A young puppy, for example, who's chewing everything in sight because they're trying to alleviate the pain of their new chompers growing in, will do well with one of the best teething toys for puppies that have been specifically designed to ease the pain of sore teeth and gums.
If, on the other hand, you're trying to figure out how to reduce separation anxiety in dogs, we recommend that you opt for a soft and comforting toy that will help relieve any loneliness, anxiety or depression your canine companion might be feeling when they're apart from you. These cozy creations are super snuggly and can help mimic the secure feeling a dog would have had when with its mother, helping to cut down on destructive behaviors.
When it comes to selecting a chew toy, you'll find pretty much all of them have been built to last thanks to the strong materials used in their design. That being said, for super heavy chewers, we'd recommend you take a look at our guide to the best durable dog toys. These are even more tough in design than regular chew toys and will hold up a lot better to powerful jaws, meaning you won't have to be rushing out and replacing your pups playthings every few days.
One thing to be aware of when choosing chew toys is to avoid anything that's too hard. While you definitely want a toy that's durable, super tough toys can actually cause dental damage that can land you with an unwanted vet bill. It's also important to pick toys that are unlikely to shatter as you don't want your dog swallowing any small bits of plastic and having them become lodged int their stomach. That's why we also recommend that you supervise your dog whenever they're playing.
To help you find the right object for your ball of fur to sink their teeth into, let's take a look at the best dog chew toys with a range of designs to suit every need and budget.
PetsRadar's pick of the best dog chew toys
Best overall dog chew toy
Specifications
Can be used with treats?:
Yes
Size options:
S, M, L, XL, XXL
Reasons to buy
+
Dishwasher safe
+
Can be filled with treats
+
Super durable
Reasons to avoid
-
The larger models can be quite expensive
Are you even a dog owner if you don't have at least one classic Kong lying around your home? Kong is pretty much the go-to brand when it comes to tough dog toys and they have built up a well-earned reputation for being a high-quality brand.
If you've got a dog that absolutely loves to chew, then the Extreme version of the "Classic" Kong toy is the one to get. It's been specifically designed with ultra-chewers in mind with a black rubber formula that can withstand even the most powerful jaws.
Just like the other Kong toys, you can fill the Kong with treats, or even with special Kong Stuffing treats. It will keep your dog interested in the toy for longer – especially if you pop it in the freezer first.
If you've got a dog with separation anxiety, a frozen Kong stuffed with peanut butter can help take their mind off the fact that you've left them alone. The excellent news is that Kongs are dishwasher safe, so you don't need to worry about cleaning it after your dog's done with it for the day.
There are plenty of Kong-like imitations on the market, so if perhaps your dog isn't a super-chewer, you might be tempted to go for a cheaper version (just don't expect the same level of quality). The variety of sizes available in the Kong Extreme is great news if you have a very large dog, but be aware that the super large model is highly priced.
Best value dog chew toy
Specifications
Can be used with treats?:
No
Reasons to buy
+
Great value
+
Built-in squeaker
+
Easy to wash
Reasons to avoid
-
Won't last long with heavy chewers
Is this not the cutest thing you've ever seen? Okay, maybe it's just us but this adorable donkey toy has a sweet look and a low price that makes us want to rush out and buy one right now!
Super affordable and full of fun, this toy features a built-in squeaker to add a touch of unpredictability and the rope legs mean that it also doubles up as a great tug-of-war toy.
Made from plush cotton, it's lightweight and durable enough to hold up to moderate chewing. It has a waterproof layer inside too which prevents it from getting soaked through with dog slobber. We love that's it's machine washable as well, so it's a breeze to freshen it up.
The toy has a soft and comfortable feel which is great for soothing anxiety, stress, loneliness or boredom, and if you give this to a young pup, you can use it as a way to teach appropriate chewing behavior.
Not keen on the donkey design? No problems, this toy also comes as a cute lion, or at this affordable price, why not get both?
ZNOKA Pet Products Arctic Freeze Fetch Food Cooling Teether Upgraded Chew Toy
Best dog chew toy for hot days
Specifications
Can be used with treats?:
Yes
Size options:
One size only
Reasons to buy
+
Great value
+
Good for teething puppies
+
Cools dogs down
Reasons to avoid
-
Strong chewers may destroy it
An inexpensive dog chew toy that not only let's your furry friend worry at something which isn't precious to you but cools them down on hot days as well? What's not to like? Designed to be filled with water and popped in the freezer, these strong plastic rings will provide welcome relief for your pooch on those scorching summer days. It's also perfect for teething puppies, providing both something to gnaw on and to help soothe the pain this can cause.
The plastic rings also float, even when frozen, and are easy to throw so they're great for water play. This means you can use them to encourage your pooch to plunge into the pool or river as an alternative way to help them cool off.
The x-shaped holes around the 5-inch diameter ring allow you to slot in dog chew treats so your happy hound can have some variety in what they gnaw, and help to keep their attention on it for longer. These boredom-busting rings will also help clean their teeth, particularly if combined with dental chews.
Although it's strong enough to play tug of war with, and it has a new thicker ring design to make it more durable, be warned this chew toy still isn't for aggressive chewers. As it's made of plastic some users have reported that as it cools less-passive dogs will start to destroy it, so it's best to keep an eye on them when they are gnawing on it for long periods. However, you can buy them in packs of two, so you can swap the ring with a more sturdy frozen one when it looks like it is starting to lose its rigidity.
Antos Antler Chew
Best dog chew toy for extreme chewers
Specifications
Can be used with treats?:
No
Reasons to buy
+
Natural materials
+
Variety of sizes
+
Long lasting
Instead of adding to the mountain of plastic and rubber toys, you could go down the natural route as an alternative.
Antler chews are exactly what they say on the tin – chews which are made from deer antlers. This brand in particular uses antlers from red deer and fallow deer, much of which is from Scottish highland herds. The antlers are cleaned (without chemicals) and cut to various sizes.
You can buy Antos in a number of different sizes depending on the size of your dog, encompassing small, medium and large.
The idea is that over time, your dog will naturally grind the antler bone down until it has completely disappeared. Depending on what kind of chewer your dog is, you might find very little mess left behind – but some users reported that bits can break off from time to time.
As the toy is made from natural materials, no two bones are the same. They can be a variety of colours and lots of different shapes and sizes – this should also help keep your dog interested since each one should be slightly different from the last.
Designed for extreme chewers, many find that antler toys last much longer than other toys which are designed for chewing, while also holding your dog's attention more. Since they are natural, you'll also be less worried about your dog ingesting small parts of the toy and causing a potential problem – it's still worth supervising your dog while they are chewing a toy like this, especially for the first time.
Best for throwing
Specifications
Can be used with treats?:
No
Size options:
S, M, L, XL, XXL,
Reasons to buy
+
Good value
+
Very durable
+
Multipurpose toy
Reasons to avoid
-
No squeaker
-
High price for a dog ball
ChuckIt is another go-to brand when it comes to reliable and dependable dog balls. If you've got a dog that has chewed up no end of ordinary (cheaper) dog balls, then ChuckIt is worthy of your attention.
The balls come in a variety of sizes, making them suitable for pretty much every breed. If you've got a small dog that might otherwise struggle or be overwhelmed by standard tennis ball sized dog balls, then the small is the one to go for. Equally, if you've got a very large dog, you can match them to an XL Chuckit.
Being made from a lightweight rubber material, these balls can float in water and also bounce erratically and highly, making them ideal as chase and fetch toys. When your dog catches it, you can feel confident that even if they spend the next hour chewing it, they're unlikely to do too much damage to the ball.
We also like the bright orange colour of the ball, not only is it fun to look at – they're easy to spot among grass, on the beach and in water, or even among our dog's other toys. If you don't fancy touching the ChuckIt when it's covered in dog slobber, further good news is that it's compatible with a ChuckIt launcher.
The only major downside of ChuckIt balls is their high price compared to standard dog balls. However, if you've got a dog that loves to chew, we can't recommend these highly enough. There's no squeakers in the Ultra Ball, so if you've got a squeaker lover, look out for the ChuckIt Ultra Squeaker Ball instead.
Arm & Hammer Ora-Play T-Bone Dental Chew Toy for Dogs
The best dog chew toy to help reduce plaque and tartar build up
Specifications
Can be used with treats?:
No
Reasons to buy
+
Great value
+
Good for gums
+
Nicely scented
Reasons to avoid
-
Some dogs don't like the peanut butter flavour
If you're looking for a toy that's going to keep your pup occupied for hours while also removing plaque and tartar buildup and freshening the breath, this great little gizmo from Arm & Hammer will tick both those boxes nicely.
We love the ergonomic shape of this toy plus all the scrubbing grooves, which means this toy does a brilliant job of acting like a toothbrush. It's flavored with peanut butter, which means your pup will likely go nuts for it (pun intended!) and the nubs in the center get right up into the gum line for optimal cleaning.
Made of super tough nylon, this dog toy is intended for use by the most powerful chewers, although we do recommend as with any plastic toy that you supervise your canine companion while they're using it.
Best wooden dog chew toy
Specifications
Material:
Wood fibers and synthetic materials
Can be used with treats:
No
Size options:
Petite, small, medium, large
Reasons to buy
+
Durable
+
Safe from splintering
+
Encourages positive chewing behavior
Reasons to avoid
-
Not suitable for aggressive chewers
If you're looking for something a little bit different that mimics what your dog would play with in the wild, then this wooden stick from Dogwood might be just the ticket. Pups love playing with sticks and this one is made from a blend of natural wood fiber and safe synthetic materials that mimic the taste and texture of the real wood your dog loves.
Available in a range of sizes from a petite 4' H x 0.75" W up to a large 8" H x 1.5" W, this wooden stick is ideal for all ages and stages from teething pups all the way through to senior dogs. It also changes color as it wears down, so you'll know when it needs replacing.
Unlike the real deal that can easily splinter and cause oral and intestinal damage, the blend of materials in this toy prevent splintering to keep your dog safe. That being said, no chew toy is indestructible, so we still recommend supervising your pup when they're playing with this.
A great toy for indoor and outdoor play, it's far messier than a real piece of wood so your dog gets all of the fun without you having to do any of the usual cleaning up!
West Paw Zogoflex Hurley Durable Dog Bone Chew Toy
Best durable dog chew toy
Reasons to buy
+
Sizes to suit all breeds
+
Great for use on water or land
+
Dishwasher safe
Reasons to avoid
-
Not strong enough for very aggressive chewers
Built for tough chewers, this West Paw classic rubber bone toy is a great safe alternative to wood sticks and is ideal for dogs who love to gnaw and play fetch. It's made from durable, bouncy and floatable Zogoflex material, which makes it perfect for use on both water and land.
We love the bright colors this toy comes in, which makes it really easy to spot, and it's available in a range of sizes, so there's one to suit every breed. Non-toxic and recyclable, it's also dishwasher safe, which makes it a breeze to keep clean.
This is a great toy for any dog who loves to chew, but we'd recommend opting for the KONG Extreme toy if you have a super aggressive chewer on your hands as although it's strong and durable, it won't quite standup to that level of teeth action!
Nylabone PRO Action Dental Power Chew
Best for a dog's teeth
Specifications
Material:
Durable nylon and thermoplastic rubber
Can be used with treats:
No
Size options:
Small, medium and large
Reasons to buy
+
Withstands strong chewing
+
Keeps teeth clean
+
Has a great bacon flavor
Reasons to avoid
-
Largest size is a little expensive
This bone-shaped chew is designed to look after your pooch's teeth by ensuring that every bite will sooth your pup while keeping their gnashers clean. It has been made by Nylabone, a company that has been producing chew toys since 1955. By rating their toys according to how well they cope with different chewing styles and strength, you will know exactly what to expect from the moment you make your purchase. In this instance, you're getting a power chew for the most extreme gnawing.
Created out of durable nylon and thermoplastic rubber, the centre section is where most of the magic happens. The toy provides lots of ridges that slip between the teeth, preventing plaque and tartar build-up. There are also little nubs that also scrape away debris while massaging gums. This helps to keep bad doggy breath at bay as well.
To ensure a dog keeps coming back, the toy also has a delicious bacon flavor throughout. It means you could use the chew as a treat during training, for instance, without fear that you'll be helping your dog pack on the pounds. But do be sure to buy the correct chew size. There are three in total and the maker clearly shows the best one to buy according to your dog's weight so it's hard to go wrong.
How to choose the best dog chew toy
There's a wide variety of different chew toys on the market, all designed to meet slightly different needs. It's hard to go too far wrong when picking up a chew toy, but it's worth paying attention to exactly how destructive your dog is to help you choose the right toy.
If you have a dog that likes to chew but isn't overly destructive, you can probably get away with the cheaper options, or those which haven't been labelled as tough. If you have an extreme chewer that really likes to go to town on a toy, look out for those which have been marked as durable or designed for extreme chewing.
You might also want to look out for chew toys which have a flavouring, whether that's something that humans are likely to find appealing – such as mint or vanilla, or something which is more in line with your dog's tastes, like bacon.
Look for chew toys which include a variety of textures to keep your dog from getting bored. Rope, raised surfaces, rubber, soft and hard surfaces can all be stimulating for your dog, especially highly intelligent ones that tend to get easily fed up.
Lastly, be wary of very cheap chew toys. It might seem prudent to stock up on low-cost toys, but if your dog chews them up in just a few minutes, they won't seem like such good value for money after all.
Amy Davies is a freelance writer and photographer with over 15 years experience. She has a degree in journalism from Cardiff University and has written about a huge variety of topics over the years. These days she mostly specialises in technology and pets, writing across a number of different titles including TechRadar, Stuff, Expert Reviews, T3, Digital Camera World, and of course PetsRadar. She lives in Cardiff with her dog, Lola, a rescue miniature dachshund.
Get the best advice, tips and top tech for your beloved Pets
Thank you for signing up to Petsradar. You will receive a verification email shortly.
There was a problem. Please refresh the page and try again.