Best puppy food: Ensure you give your new pup the perfect diet
Puppies need the best start in life so give them the best puppy food to help them thrive and grow into healthy adult dogs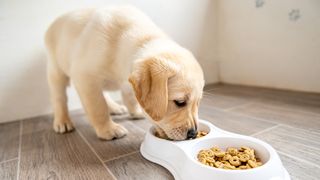 (Image credit: Getty Images)
Choosing the best puppy food is important as the right one will provide all the vitamins and minerals our pups need to grow up healthy and strong. 
Some owners might think that it's fine to feed a pup the best dog food enjoyed by adult dogs, however, this will not provide the correct levels of nutrition needed by young puppies. Their dietary requirements need higher levels of protein to help their muscles and skeletal system to fully develop. 
In fact, during the first 12-months, your pup needs the best possible nutrition to give their bodies everything they require to develop strong bones, lean muscles, a robust immune system, and a healthy digestive system. For those with fussy pups, you can also try adding the best puppy treats alongside their puppy food at mealtimes. These can add fun and variety as well as a great incentive during training. 
There are so many formulated brands on the market to meet varied nutritional needs, it can be tricky to decide on the right one. Small and large breeds have different dietary requirements based on the size of their bodies, how they function, and if they have certain health issues. So it's vital to choose a puppy food specifically designed for your puppy's breed.
We've collated this our selection of top picks of the best puppy foods on the market to help you make the right choice and ensure your pup is on the healthiest diet possible.
PetsRadar's pick of the best puppy food
Best overall puppy food: IAMS for Vitality Puppy & Junior Small & Medium Dog
Best budget puppy food: Wagg Complete Puppy Food with Chicken
Best dry puppy food: Eukanuba Dry Puppy Food
Best wet puppy food: Royal Canin Puppy Food in Gravy
Best for sensitive stomachs: Burgess Sensitive Hypoallergenic Puppy Food
Best all natural puppy food: Taste of the Wild High Prairie Puppy Recipe
IAMS for Vitality Puppy & Junior Small & Medium Dog - Chicken
Age: Suitable for puppies between one and 12-months-old | Supplements: 85% animal protein. Vitamins, minerals, and added fibre | Additives: Free from artificial colours and flavours
Made using premium ingredients to suit both small/medium and large breeds
Comes with a 100% money back guarantee if you're not fully satisfied
Only available in one flavour (chicken)
May not be suitable for dogs with wheat allergies
The feeding guide can appear confusing
IAMS for Vitality Puppy & Junior Small & Medium Dog – Chicken is a specially formulated dry food that contains 85% animal protein, which is vital for the growth and brain development of your puppy. 
It is made using a variety of vitamins, minerals, and added fibre to help strengthen their bones and immune system, maintain a healthy digestive system, and support a glossy coat and healthy skin. 
Also, if your pup is classed as being a small or medium breed, with an expected adult body weight of up to 25kg, then this food would be suitable to continue with after their puppy stage too. 
"I bought this product back in January 2020 when I adopted a rescue from Cyprus with bowed legs and suffering from malnutrition… I have had him for four months now and the progress is amazing. Although he has bowed legs which he'll suffer from due to his bad start in life, they have straightened out a lot with the vitamin D supplement in this food... I would 100% recommend this food to anyone who may have a puppy suffering from malnutrition or growth issues" claimed one dog owner. 
Several customers have commented on finding the feeding guide confusing. "I cannot understand why the amounts decrease as the puppy grows older," explained a dog owner called Annabel.
With puppies, it's important to feed them little and often. It is commonly the case that puppies will have more energy during this stage in their lives, so require more fuel to keep them going. 
For the first two months for example, it's recommended that owners offer their puppy between four and six meals a day. From two to three months old, this decreases to 4 meals a day; between four and six months, it reduces further to two to three meals a day; before finally decreasing to two meals a day once over six months old (of course, this is all dependent on breed but this is the general advice).
Wagg Complete Puppy Food with Chicken
Age: Suitable for puppies more than four weeks old | Supplements: Contains vitamins and citrus extracts, Omega 3 fatty acids and yucca plant extract | Additives: No added sugar, artificial flavours or colours
Suitable for all breeds and sizes of puppy
Contains vitamins A, C, and E, to assist with the development of a strong immune system
Low meat content at 28.5%, with cereals listed as the main ingredient
Contains gluten, not suitable for puppies with an intolerance or allergy
Pieces are quite small
With 44 servings per 12kg bag (on average), Wagg Complete Puppy Food with Chicken is considered to be one of the best puppy foods to buy whilst on a budget. This brand is suitable for puppies more than four weeks old and, although it is a dry food, can be mixed with small amounts of warm water to transform it into easy-to-digest wet food.
 It contains a variety of vitamins and minerals, which are important for the overall health of any puppy. It also includes a probiotic called MOS (Mannan oligosaccharides), which tend to occur naturally in some fruits and vegetables, and assist with keeping your puppy's digestive system healthy. 
"My dog's coat is super shiny, teeth look white, has lots of energy, and is a very healthy, happy puppy. Excellent value for money" claimed a happy customer. 
The brand is described as being suitable for all puppy breeds. Some that have been spotted in positive reviews include labradors, german shepherds, and spaniels. 
Protein is one of the essential elements in a puppy's diet. This product is listed as containing 28.5% meat and animal derivatives, so it is unconfirmed as to the type of meat used, with only 4% of that figure being chicken. Some customers have shown concern over this, especially since the main ingredient is cereal – a "filler" which is known to cause some puppies to experience upset stomachs. 
Other customers have commented on the texture of the product, "It's very small pieces and so much of it was broken further and had like a powder to it. Wouldn't buy again. Puppy liked it though"
Eukanuba Dry Puppy Food
Age: Suitable for puppies aged between one and 12 months old | Supplements: Contains DHA (a Omega 3 fatty acid) to assist with the puppies ability to learn and be trained | Additives: Includes calcium for healthy bone development
Meat (both dried chicken and turkey, and fresh chicken) is listed as its main ingredient
Developed with the help of nutritionists, recommended by top breeders, and approved by vets
It's environmentally friendly with at least 25% of the energy used to create the product being generated by the company's own wind turbines
Some customers have reported that it gives their puppies issues with flatulence
In some cases, this also had an effect on some pup's stools making them more loose and discoloured than they should be
Eukanuba is a company that has been involved in looking after pets (in the form of food) since 1969. Their range of dry puppy food is diverse in that it offers specially formulated recipes for various breed sizes, which come in multiple flavours. 
Along with DHA it also contains FOS (Fructooligosaccharides), a prebiotic found naturally in some fruits and vegetables, which helps support and maintain a healthy digestive system. 
Vitamins E and C are present in this dry food to boost immunity and added calcium helps the development of your pups bones. It also contains natural sources of Omega 6 and 3, which helps keep a puppy's skin and coat healthy. 
Many positive reviews refer to this product as being suitable for fussy eaters: "I decided to try this product. It's fantastic. My dog loves it – I don't have to wet it, his dental health appears to be improving, bowels are good, coat looks shiny. Price is fantastic, nice size pieces."   
As is the case for many foods (and even for us humans), some puppies just simply don't like the taste of certain foods – it's all down to personal preference after all. 
As one previous Ekanuba customer explained: "We tried this as an alternative to Royal Canin (Labrador Junior) after reading reviews. Sadly she was totally disinterested. It has to be said that the Royal Canin food smells much more appetising – even to my nose." Can't please all of the people all of the time.
Royal Canin Puppy Food in Gravy
Age: Up to 12 months old | Supplements: Vitamin D3, E1 (Iron), E2, E4, E5, E6 | Additives: Various sugars
The Maxi Puppy version is suitable for puppy's up to 15 months old
Contains complex antioxidants, such as vitamin E, to support the immune system
Available in pre-weighed, individually portioned sachets
Very low in protein at only 8.3%
It doesn't come in a wheat-free variety for pups with a sensitive stomach
Royal Canin Puppy Food in Gravy is specially formulated to meet all of a puppy's nutritional needs whilst they are in the most important phase of their lives. It has added vitamins and nutrients to help give your puppy energy, assist with their digestive health, and support healthy skeletal development.
This brand of wet dog food is also available as a dry food, which means that you can mix the two together should your dog prefer a semi-crunchy texture. If this is an option you are considering, the correct portion sizes can be found on the Royal Canin website. 
The majority of puppy foods are only suitable for puppies up until the age of 12 months. However, with Royal Canin's Maxi Puppy in Gravy, larger breeds can continue using this food until they grow to 15 months old. 
As one customer of this product (with a Shih Tzu) explained, "I use this food together with the Royal Canin mini puppy dry food when weaning my litters. This gives all puppies a choice depending upon where they are in their development. All my puppies like this food and I find it to be sustaining and therefore good value."
This brand of puppy food has a fair amount of ingredients, but unfortunately this does not include much protein, which is required for adequate growth. It does also list 'various sugars' as an ingredient – something which should be considered when pairing with various snacks and treats – as too much sugar must be avoided. 
Very few websites have negative comments published about Royal Canin's Puppy Food in Gravy. However, one customer said,  "The dish used in the photograph on the packaging must be no more than an inch big. Very misleading as to the contents of the pouches, which look like large chunks on the packet, but in reality are tiny uniform pieces of around 12mmx3mm."
Burgess Sensitive Hypoallergenic Dog Food Puppy Turkey and Rice
Best puppy food for sensitive stomachs
Age: Up to 12 months | Supplements: Vitamin A, vitamin D3, vitamin E, vitamin C | Additives: Free from added colourants | Age: Suitable for puppies between one and 12-months-old | Supplements: Turkey, pea protein, rice, linseed and fish oils | Additives: Free from artificial colours and flavours, wheat, gluten, soya, dairy
It is available in multiple flavours (chicken and lamb) for various breed sizes
The range also includes food for puppies who suffer with sensitive skin
Despite being a dry food, some customers have commented on the sticky texture of the food
It is quite high in fat compared to other brands of puppy food
Purina boasts an extensive range of wet and dry food for both dogs and cats, with recipes that have been lovingly developed by an expert team of 350 nutritionists, vets, and scientists. 
Purina PRO PLAN Puppy Sensitive Digestion with OPTIDIGEST contains a number of highly digestible ingredients such as egg, which helps the digestion process, and a natural clay called bentonite, which encourages good stool quality. It also contains a number of healthy fats, such as omega 6 and omega 3, and a multitude of vitamins, including A, D3, E, and C. 
As well as offering multiple flavours (chicken and lamb), Purina also produces a range that is specifically for puppies who have sensitive skin (salmon). 
The majority of online reviews available for this range are positive, with many customers reflecting on how much this food has eased their puppies stomach problems. 
Take this customer for example, "My six month old Sprocker was prone to runny tummies and flatulence, but a few days on this food has already improved it. We've always fed our dogs Purina Pro Plan and wouldn't use anything else." With a host of different flavours to choose from, and a range specifically for sensitive skin, there's a lot more to offer than many other brands. 
Advertised as a dry food, a number of customers have commented on the slightly wetter texture compared to other brands of dry food. "I just wish it didn't feel so sticky when you handle it but perhaps that's the oils in it," explained one Purina Pro plan customer. Another commented on the high fat content of the brand, which at 19% is considered as being on the higher side and runs the risk of obesity through overfeeding.
Taste of the Wild High Prairie Puppy Recipe
Best all natural puppy food
Age: Suitable for puppies from six weeks old | Supplements: Contains probiotics, DHA, vitamins, minerals, and antioxidants | Additives: Free from artificial colors, flavors, preservatives, grain, corn, wheat, and fillers.
High level of probiotics
Pasture-raised Bison and Venison
All-natural ingredients
One of the more expensive products on the market
While it may not be the cheapest puppy food on the shelves, this all-natural formula from Taste of the Wild is certainly one of the best. Made with pasture-raised Bison and Venison as the first ingredients, the small and mouth-watering morsels of kibble are a flavor and texture sensation your pup will love.
Made with Taste of the Wild's propriety K9 Strain Probiotics that are added to the kibble after the cooking process to ensure viability, each pound of kibble provides 80 million live, active cultures that support the digestive and immune systems. It's also packed full of DHA, an Omega-3 fatty acid that's been sourced from Salmon oil and supports a growing puppy's brain and vision development.
We love the wide range of fruits and vegetables in this formula, ranging from blueberries and raspberries to sweet potatoes and peas, which give a puppy all the zinc, selenium, and vitamin E they need to stay fit and healthy. There's also added dried chicory root, a potent prebiotic that provides fuel for the probiotics to keep the digestive system running smoothly. 
Taste of the Wild High Prairie Puppy Recipe is one of the more expensive puppy foods on the market, but reviewers don't seem to mind parting with a few extra pennies, with one pet parent saying that switching to this kibble has reduced her vet bills. "This food may appear more expensive than grocery store brands, but when you consider all of the long term health benefits of a grain-free food and the savings from vet bills (not to mention that your dogs will feel better, longer), I actually think that this food is saving you money."
Trying new puppy food
When trying any new brand, it's important to gradually switch your puppy's food to allow their digestive systems to adapt to it slowly. Not all types of puppy food will be suitable for every puppy, so be sure to seek professional medical advice from your vet should you notice any concerning changes (or even before switching to ensure that the food you are intending to buy would be suitable for your puppy). 
Get the best advice, tips and top tech for your beloved Pets
Thank you for signing up to Petsradar. You will receive a verification email shortly.
There was a problem. Please refresh the page and try again.