Best puppy treats: Reward your young dog in style
Help your new furbaby learn the ropes with the best puppy treats for reward-based training
Included in this guide:
1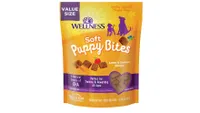 Wellness
Natural Grain Free Puppy Training Treats
2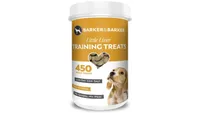 Barker
& Barker 450 Little Liver Training Treats
3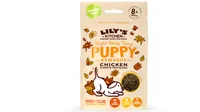 Lily's
Kitchen Chicken & White Fish Slices Treats For Puppies
4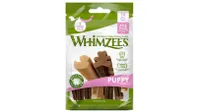 Whimzees
Puppy Natural Dental Dog Chew Stix
5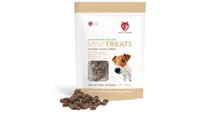 Healthy
Hounds Super-Premium Grain-Free Mini Treats
6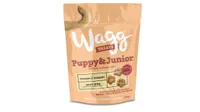 Wagg
Puppy and Junior Treats
7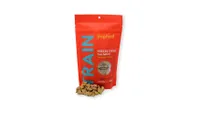 Pupford
Freeze-Dried Salmon Training Treats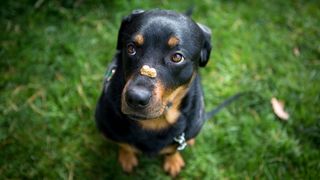 (Image credit: Getty Images)
If you've just welcomed a new bundle of joy into your family, then the best puppy treats are going to be your closest ally and friend when it comes to helping your fur baby ace their crate, leash, and potty training over the coming months.
Not only are dog treats a great way to get them to follow your commands, they can also help young dogs learn in ways that are fun and tasty and help to cement their bond with you.
When it comes to selecting treats for your pup, there are a few things worth considering. Firstly, while treats can be added as a topper to wet puppy food to introduce variety and new textures into their diet, always factor that addition into your fur baby's daily caloric intake to avoid weight gain.
Next, you'll want to ensure you're selecting the right size treat for your dog's breed with smaller dogs doing best with small treats and larger dogs benefiting from something a little more substantial.
When you're doing leash or recall training, you'll benefit from soft treats that your puppy can easily gobble down as this will allow you to keep up a higher rate of reinforcement. For crate training, treats that keep them occupied for longer can be a good way to go. It's also worth considering dental chews for use outside of training as these can help keep your pup's teeth clean and their breath smelling sweet.
While we recommend treats are always used in moderation, they're a great way of helping the newest member of your family to differentiate between positive and negative behaviors in a rewards-based way. To help you get started, we've rounded up the best puppy treats on the market right now with a range of options to suit every furkid and family.
PetsRadar's pick of the best puppy treats
Best overall puppy treat: Wellness Natural Grain Free Puppy Training Treats
Best budget puppy treat: Barker & Barker 450 Little Liver Training Treats
Best young puppy treat: Lily's Kitchen Chicken & White Fish Slices Treats For Puppies
Best dental care puppy treat: Whimzees Puppy Natural Dental Dog Chew Stix
Best all-natural puppy training treat: Healthy Hounds Super-Premium Grain-Free Mini Treats
Best all-natural puppy training treat: Wagg Puppy and Junior Treats
Best low calorie treat: Pupford Freeze-Dried Salmon Training Treats
Wellness Natural Grain Free Puppy Training Treats
Suitable for: Puppies 6 weeks and over | Food type: Small bites | Bag size: 3-ounce and 8-ounce
Simple and natural ingredients
High in vitamins and minerals
Low calorie
Expensive
With close to 25,000 five-star reviews on Amazon, we knew that these tasty puppy treats from the ever-popular Wellness brand were going to be tough to beat and it turns out, we were right.
A clear winner for the best overall puppy training treats, these moist and tasty morsels are the perfect blend of soft and chewy. Made from fresh lamb and salmon, they contain all the flavors from land and sea that puppies love.
Packed full of DHA for healthy brain development and with antioxidant-rich sweet potatoes and blueberries to keep the immune system firing on all cylinders, there's also a good dash of omega fatty acids to keep your pup's skin smooth and their coat looking shiny.
We love that these treats are thoughtfully made with simple, natural, and high-quality ingredients and are free from meat by-products, artificial colors, flavors, and preservatives. They're grain-free as well, making them an excellent choice for young pups with digestive issues.
With plenty of protein to keep them full, lots of fruits and vegetables for health, and at just six calories per treat, these craveable and sniffable rewards will motivate any puppy into action.
Barker & Barker 450 Little Liver Training Treats
Suitable for: Puppies aged 2 months and over | Treat type: Small kibble | Bag size: 450-treat pot
Suitable for very young puppies
Huge number of treats per pot
Low calorie and low salt
Airtight, puppy-proof pot
Not as 'natural' as some puppy treats
Not suitable for dalmatians
If you view dog treats as a training tool rather than something to give out on-demand or at set times between meals, then Barker & Barker's Little Liver Training Treats are likely to be your go-to choice. Each sturdy pot contains a whopping 450 treats. Both the pot size and treats are vitamin pill-sized. They're small enough that you can dole them out a few at a time over and over again without fear that your in-training puppy will get fat on the rewards.
Each treat contains 0.3 calories and is 50% protein. A handy guide on the back of the pot tells you how many mini treats you can safely give your pup each day, given this is a complementary food source, not a meal replacement. Even the tiniest puppies may be able to have up to 40 Little Liver Treats a day, which means you'll be able to have several short sessions of behavior training. Do check the exact guidance for your breed and age of puppy though, as Barker's is aimed at dogs from two months old right up to adult.
Barker's takes a more pragmatic than foodie approach to rewards but customer reviews suggest the pork liver flavor appeals to their pups. They are pungent enough to let the dog know there's a treat to be had, but don't smell strong enough to cause an unpleasant lingering odor. Because the treats are so tiny, even small puppies can easily swallow them without needing to stop and chew them. This means fun training games and exercise aren't interrupted while deserving treats are consumed.
If you need a training treat for your puppy, Barkers & Barkers is a brilliant choice, whatever their age or breed!
Lily's Kitchen Chicken & White Fish Slices Treats For Puppies
Suitable for: Puppies aged 8 weeks and over | Treat type: Air-dried fresh food sachet | Bag size: 60g or 12 x 60g multi-pack
Fresh fish and poultry
All-natural ingredients
Resealable food sachet
Expensive
No 'play' element to dispensing this treat
Lily's Kitchens' fresh dog food has a great reputation, so it's little surprise to find their training treat offering is also focused around fresh ingredients and an all-natural approach. Whereas almost all other puppy treats are either chews or kibble-based, Lily's offers tempting slices of 30% sustainably sourced fresh fish and 40% chicken with a sprinkling of parsley. The rest of the ingredients are potato, rapeseed oil, and minerals. This is the epitome of 'human-grade' pet food. Because of the softness of the food-based treat, there's no real issue with offering this to a young puppy.
While all this sounds very much like a tasty dinner rather than a reward for continued good behavior, Lily's says the very high nutritional value of the fish and chicken slices are 'brilliant for positive reinforcement when training'. It doesn't have the fun factor of a chew or a hidden biscuit though. The treats come in resealable sachets, and are designed to be slipped into a pocket and slyly offered should your in-training puppy earn a reward. The food is air-dried to keep the nutrients intact. This, of course, means the food, although fresh, is dry, and a bowl of fresh water must accompany it. (This is what we'd expect whenever pets are offered anything to eat, of course.)
Lily's says you can offer your pet up to eight sachets of this food per day, which would be both expensive and extravagant. You'll want to choose the 12-sachet multi-buy option if your puppy is to have more than one sachet a day! More usefully, there's a food guidance tool on the Lily's Kitchen website, which helps you work out which of its products are suitable for your puppy and his or her stage of development and how much food, in grams, they should be eating per day.
Whimzees Puppy Natural Dental Dog Chew Stix
Best dental care puppy treat
Suitable for: Puppies aged 3 months and older | Treat type: dental chew | Bag size: 100g
All-natural ingredients list
Sugar-free and low fat
Versions for small and larger breeds
Expensive
Whimzees Natural Dental Dog Chews get an enthusiastic response from puppies and their owners both for their tooth care and how entertained the unusually shaped chews keep their delighted recipients. Despite being a specialist dental treat, they're rated 32nd overall for all dog foods by Amazon customers. They're also recognized by the VOHC (Veterinary Oral Health Council).
Whimzees' Puppy version sticks with the all-natural ingredients list but comes in an easier-to-tackle stick design that the makers claim are 80% more effective than some dental sticks at removing plaque and tartar. Look carefully, and you'll see the sticks are extruded in the shape of a duck and a teddy bear. The puppy chews are noticeably softer than the adult dog equivalent.
They're intended as a one-a-day treat that brushes the puppy's teeth as he or she chews. The chews are low calorie, sugar-free and vegetarian, consisting of potato starch, glycerin, powdered cellulose, lecithin, dried yeast, malt extract, lupine, and calcium carbonate. Yeast extract provides vitamin B, minerals, and amino acids while malt extract improves your pet's metabolism, helping keep them trim.
Calcium helps with the development of your puppy's teeth, while lupine is a protein-rich bean that, unlike soya, is unlikely to trigger tummies. Overall, there's 7% fiber in these tasty, GMO and grain-free treats.
A 100g bag of these dental chews contains a week's worth of sticks – i.e. just seven – making it far more expensive to keep your pooch's teeth in tip-top condition than the budget choice of DentaStix Dental. However, a key difference is that Whimzees' Puppy Dental Dog Chews are low calorie - not something that can be said of all dental sticks.
Healthy Hounds Super-Premium Grain-Free Mini Treats
Best all-natural puppy training treat
Suitable for: Puppies aged 4 months or over | Treat type: Dry biscuit | Bag size: 500g
No artificial ingredients
87% poultry content
Grain, wheat, gluten, and GMO-free
Appealing taste and smell
Handy resealable package
Tiny treats could lead to over-feeding
Not suitable for really young puppies
If you're after a natural training treat for your puppy and she or he has reached 16 weeks old, Healthy Hounds' Grain-Free Mini Dog Training Treats are ideal. They're made from nothing but 18% turkey, 37% chicken, 25% duck, potatoes, sweet potatoes, and a meat-based gravy. This means there's protein and carbohydrate a-plenty, as well as vitamins and minerals, but no unwelcome grains or wheat, both of which could trigger an upset tum and distress a growing puppy. Every 100g provides 389 calories, equating to a mere 2.3 cals per treat in these good value 500g bags, each of which contains 800 treats.
They're small and crunchy and come in a resealable package, so you can produce a few treats when your obedient puppy earns them, then pocket the packet and get on with more training or a stroll. Customers rate them highly for the smell, which seems to appeal to most dogs, while the taste ensures they're keen for more. The small size means they're particularly beloved by small and toy dog owners, but you must still be careful to avoid giving them to young puppies as they are also very solid.
Because the treats are pretty tiny it's important to ensure you don't get fooled by their small size into giving your puppy too many. They may be lower calorie than some treats, but puppies, in particular, need less to eat than you may think. Consult a feeding guide for your puppy's age and breed, and make sure that no more than a tenth of his or her daily intake is coming from treats.
Wagg Puppy and Junior Treats
Best all-natural puppy training treat
Suitable for: Puppies aged 8 weeks and older | Treat type: Moist biscuit | Bag size: 120g
Choice of flavors
Suitable for younger puppies
No artificial flavorings or color
Contains wheat and whey
Additives include colorings
Waggs' Treats are unusual in that there's a choice of flavors, and almost all are suitable for very young dogs. Puppies from eight weeks old get to try out Chicken and Yogurt, Lamb, and Rice (for sensitive tummies), Chicken, Ham, and Beef, or even the low-fat Turkey and Rice option. Most are simply intended as treats for a growing, eager-to-please puppy, while the Chicken and Cheese and Chicken, Beef and Lamb versions are described as 'training treats'.
The Puppy and Junior Chicken and Yogurt option ranks top overall on Amazon for Dog Biscuits and Snacks and contains 24% chicken meal, 4% yoghurt (containing calcium, of course, to promote strong teeth and bones), minerals, gelatine, glycerine – for a shiny puppy coat – plus whey powder to help build bulk. Unfortunately, it also contains wheat, a great way to bulk out food, but also a potential intolerance trigger. The list of healthy vitamins includes A, D3, and E, as well as zinc and selenium. The latter two help boost the immune system. There are also preservatives and food colorings, which are less welcome.
Nonetheless, Wagg's Puppy and Junior Treats are popular with customers for a reason: they're sugar-free – certainly not something true of all pet treats – oven-baked and have 20% moisture content, so they're not dry and brittle like some biscuity treats. They still need to be given with water, of course. A redesigned version of these soft puppy treats sees them take on the cute form of a puppy's paw. They are a little large for some tiny puppies (breed depending, of course), so you may want to give a younger puppy half at a time. They're easy enough to break into pieces and are certainly a hit with canine recipients.
Pupford Freeze-Dried Salmon Training Treats
Suitable for: Puppies aged 6 weeks and older | Treat type: Freeze-dried salmon | Bag size: 113g
Only two ingredients
High-quality
Variety of other flavors available
Expensive
At less than one calorie per treat, these mouth-watering salmon morsels are ideal for long training sessions. Containing just two ingredients, these treats are freeze-dried to maintain nutrients, taste, and freshness.
Free from fillers, sugar, and other unhealthy ingredients, the salmon is mixed with an antioxidant called tocopherol, which also acts as a binding agent to ensure the treats stay together. At 42% protein, 15% fat, and 3% fiber, these treats will fuel your puppy and keep them full during training.
With over 475 treats per bag, this product offers exceptional value, and the salmon flavor can be easily swapped out for chicken, liver, or rabbit if your pup isn't a fan of the fishy taste. The treats are suitable for all puppy ages and stages and each one is the size of a pea, making them easy to chew and swallow.
When you buy these treats you'll also gain access to a free dog training app and class that, which offers help and support on how to best train your pup. Simple and delicious, these low-calorie treats are sure to get your puppy's tail wagging.
How to choose the best puppy treat
Once they're weaned, at around eight weeks old, you'll be keen to start your puppy's toilet training. When choosing training treats that can help with this look for soft puppy treats such as Wellness Soft Puppy Bites that a young pup can manage. Dry puppy food kibble hidden in soft chews makes a good treat for a puppy that's a few months old, as does the tiny kibble used for clicker training treats.
Softly, softly. Your puppy's teeth will still be developing, so avoid hard biscuity treats and food, or soak the treats in warm water to make them easier to swallow. Clicker training treats are often this tiny kibble type.
Size matters. A very small dog or young puppy won't be able to manage chunky treats, so check the packaging for advice on what size and age of puppy the treat is suitable for. Many puppy treats are labelled for 6 months or older for this exact reason. If yours is a medium-sized breed, it's probably fine to go by such age guidance, and larger dogs should have no issues. If, however, your puppy is a small or toy breed, read the packaging carefully, as there may be more specific advice on if and when they'll be big enough to manage the biscuit or chew. If the treat is too large it could stick in your puppy's throat, which would be both distressing and dangerous.
There are toy treats and chews intended for smaller breeds, so it may be wise to stick to treats that are designed for their smaller stomachs and mouths.
Check the ingredients list. Puppy treats should contain a mix of protein, nutrients and minerals. The European Pet Food Agency has a guide to dog food formulations. Avoid products that contain sugar and ingredients such as wheat that could trigger an intolerance. Puppies have delicate tummies that can't always digest wheat or dairy.
Portion control. Although treats can be a significant part of your dog's diet, treats are no substitute for their actual meals. The American Kennel Club advises treats make up no more than 10% of your puppy's overall food consumption.
For a by-breed breakdown of ingredients puppies need see the MSD Vet Manual's guide.
Drinking buddy. As with meals, treats should always be given with plenty of fresh water to drink.
Be realistic. Your puppy doesn't need to have the absolute most expensive treats. Buy what you can afford, focusing on high protein content and avoiding preservatives and non-natural additives.
Routine approach. Once you've found a treat or chew your puppy enjoys, stick with it. Dogs need consistency. This applies to the treats they earn for their good behavior, as well as to the expectations you have of them.
Get the best advice, tips and top tech for your beloved Pets
Thank you for signing up to Petsradar. You will receive a verification email shortly.
There was a problem. Please refresh the page and try again.