Best dog treats: Reward your pooch with these tasty snacks
The best dog treats are delicious, healthy and they'll keep your pooch on their paws at all times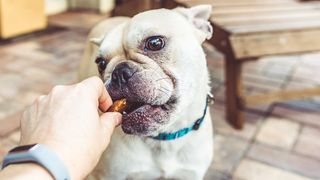 (Image credit: Getty)
Dogs love receiving rewards, and the best dog treats are the perfect way to reward good behavior, motivate them, and show them your affection. Whether you use snacks during training sessions, or simply for spoiling, the dog treats should be healthy as well as tasty. 
But with so many snacks to choose from, it can often be tricky to know the right ones for your pup. From low-calorie treats to ensure they stay in great shape, to the best dental chews for healthy teeth, you'll find a snack to suit every taste (literally!). 
However, while you'll be spoilt for choice, there are some important things to consider. Before buying, make sure your treat size is in proportion to the size of your dog. For instance, if your pooch is small, you don't want the risk of potential choking hazards. Also if the snack is too big or abrasive, it may not be suitable or safe for their tiny teeth. In addition, it may be worthwhile looking into special dog treats for sensitive stomachs if your pup is prone to allergies.  These will be gentler on the tummy and easier to digest. 
In most cases, you can offer variety by adding treats alongside the best dog food. Not only will this make your pup's regular meals more exciting, but it's a great reason not to miss out on dinner! To help you decide, check our top picks for the best dog treats to reward your pooch for good behavior, and keep their tail wagging.
PetsRadar's pick of the best dog treats
Best overall dog treat: Lily's Kitchen Dog Treats Mini Beef Burgers
Best budget dog treat: Bounce and Bella Premium Grain Free Training Treats
Best treats for overweight dogs: Hill's Healthy Weight Dog Treats
Best gourmet dog treats: Billy + Margot's 100% Venison Treats
Best sweet dog treats: Good Boy Choc Drops
Best dental dog treats: Greenies Original Dental Treat
Best all-natural treat: Hill's Natural Dog Treats
Best dog treat for puppies: Wellness Natural Crunchy Puppy Bites Chicken & Carrots Recipe
Contains: 80% beef | Ingredients: : Sustainably sourced | Packaging: Eco-friendly | Recipe: vet-approved
Simple recipe with natural ingredients
Eco-friendly packaging
Vet-approved
Not many treats per bag
According to the company, Lily's Kitchen Dog Treats Mini Beef Burgers are the 'best ever'. While only dogs can truly be the judge of that, it seems these treats go down a storm with dog owners.
Each little round burger is 80% freshly prepared beef. Other ingredients – all sustainably sourced – include pea protein, antioxidants, kale and chia seeds, which are high in omega 3, which has been linked to bone health in dogs. And they're oven baked, too, supposedly for better taste.
They're 383 calories per 100g and each individual treat is made up of 43% crude protein and 2.5% crude fibers – that's a lot of ruff-age… sorry!
You can feed your dog up to five of these treats a day, according to Lily's Kitchen, and they're suitable for dogs four months and older. They're not tailored to any particular breed or need, but they seem to go down particularly well with dogs with sensitive tummies.
You can buy them in 70g bags, as well as in multipacks of eight if you trust your dog won't find a way to go rifling through the treat drawer after dark. Lily's Kitchen says they're the perfect snack for training, in-between meals or 'just because'.
You're not going to get the absolute best value for money with these treats, but they go down a storm with customers' dogs, and they're full of healthy ingredients for your dog.
Click here to read the full Lily's Kitchen Dog Treats Mini Beef Burgers review.
Bounce and Bella Premium Grain Free Poultry Training Treats for Dogs
Ingredients: All natural | Contains: No artificial additives | Hypoallergenic: Yes | Recipe: 5 ingredients
Simple recipe
No additives
Money-back guarantee
Treats come in no-frills packaging
These Grain-Free Poultry Training Treats for Dogs might look basic, but they certainly pack a punch for their price tag.
The ingredients in these potent little treats are 80% poultry, and 20% potato and sweet potato. That's right – nothing else. That's one meaty ratio.
The poultry in each bone-shaped treat is made up of chicken, duck and turkey, to cater to all dogs' taste buds. And freshly prepared poultry, at that, according to Bounce and Bella.
The treats are grain-free, which the brand says helps your dog to have better digestion and more energy, less weight gain and healthier skin. Each treat contains 20% crude protein and 2% fiber. They're hypoallergenic, too, so better suited to dogs with allergies or intolerances.
These little treats might not be much to look at, but because they're so small, they're perfect to pop in your pocket when you're going on a dog walk, or as a reward during training. They only contain 2.4 calories per treat, so they're perfect for dogs who need a fair bit of tasty praise in order to learn. There are a whopping 800 treats per bag, or thereabouts.
And if you don't like them – or, should we say, your dog doesn't like them – Bounce and Bella offers a 100% money-back guarantee. But that's unlikely; there's no arguing with the fact that, as far as ingredients go, these are one of the best quality dog treats on the market.
Hill's Healthy Weight Dog Treats
Best treats for overweight dogs
Contains: Cereals and vegetables | Recipe: High fibre | Recommended for: Overweight dogs | No: Artificial ingredients
Vet-recommended
Contains vegetables
Enriched with vitamins and minerals
Not the most exciting to look at
According to recent research, most dog treats on the market exceed the recommended daily allowance for dogs.
Whether your dog is on a diet, or needs a low-fat diet for health reasons, there's no reason they have to miss out on treats every now and again. There's a great selection of low-fat and low-calorie options out there for slimming pooches – including Hill's Healthy Weight Dog Treats.
These little bone-shaped treats are made with cereals, vegetables and meat derivatives, and are specifically designed for overweight and obese dogs, and those prone to putting on weight.
Each oven-baked treat contains 22% protein and 3.8% crude fiber, and is only nine calories – the perfect snack for dogs watching their waistline, and for dogs that like a good crunch, too. They're also enriched with vitamins and minerals so that even dieting dogs don't have to miss out on their nutrients.
Hills uses scientific research to inform the creation of its dog foods and dog treats, and the brand describes itself as a global leader in nutritional healthcare for animals.
The low-calorie dog treat market is rather limited. While Hill's aren't the lowest calorie dog snack on the market (some weigh in at just three calories per treat), Hill's dog treats fare much better than most for the quality of its ingredients, especially as they contain no additives.
These little bite-size, bone-shaped treats come in bags of 220g, and are suitable for dogs aged eight weeks and over.
Billy + Margot's 100% Venison Treats
Ingredients: Grain-free | Contains: No preservatives | Weight: 75g | Hypoallergenic: Yes | With: Vitamins and minerals
Re-sealable bag for freshness
Hypoallergenic
Good quality ingredients
On the expensive side
If only the very finest dog treats will do for yourdog, look no further than Billy + Margot's dried Venison Treats. They're made from premium Scottish Highland venison meat that's been air-dried for a premium snack.
They contain no artificial colors, additives or preservatives, and each 75g packet contains almost 50g of crude protein. A whopping 250g of fresh meat goes into every 100g of dried product, which explains why they're so rich in protein.
Each Billy + Margot product is formulated to meet nutritional levels established by AAFCO Dog Food Nutrient Profiles for adult maintenance. They're also hypoallergenic, which means they're good for dogs that have intolerances to some ingredients in other dog treats. 
According to Pet MD, venison contains less fat and cholesterol than beef, which is why it's an increasingly popular meat in dog foods. It's also a good source of B vitamins and minerals including zinc and iron, which can help dogs maintain healthy energy levels.
Venison is a novel protein, which is why it could help reduce allergens and skin irritations for dogs that are intolerant to some ingredients.
There are numerous dog treats on the shelves that cater for the more discerning dog, but they don't all put their ingredients where their mouths are. The recipe for these venison treats, however, stands out from the crowd. They are on the more expensive side, but for the very good boys and girls, they are worth the splurge.
Good Boy Choc Drops
Recipe: Specially formulated chocolate substitute | Contains: Added vitamins and minerals | Ingredients: No sugar
Sugar-free
Bite-size
Good value
Not the healthiest treat
We dress our dogs in clothes, take them for massages and even bring them to yoga classes, so why can't we feed them special dog chocolate treats every now and again?
Human chocolate is poisonous for dogs, but that doesn't mean they need to miss out on the indulgence. Good Boy's Sugar-free Choc Drops are the perfect alternative to chocolate that won't result in an emergency trip to the vets.
They're made from a specially formulated chocolate substitute that's suitable for dogs. They look just like human chocolate, too, so your dog will never have to know the difference. But don't worry – they aren't toxic to humans so there's no need to panic if your children accidentally mistake one for a Cadbury's button.
They're suitable for all dogs over the age of three months. Good Boy recommends small dogs can have up to 10 drops per day, medium dogs can have 12-15 drops per day, and large dogs can have 24-36 drops per day. This makes them the perfect treat to pop in your pocket on walks when you need to bribe your dog to walk a bit further, or distract them from a squirrel.
Each button is made up of 6% protein and almost the same amount of calcium. They're not the healthiest treat on the market, but they do contain minerals, vitamins A and D, cereals and milk. They're also sugar-free. There aren't many other dog chocolate products on the market, but these are by far among the healthiest unhealthy dog treats.
Greenies Original Dental Treat
Fights: Plaque and tartar | Promises: Fresh breath and clean teeth | Choose from: Four different sizes | Flavoured: With natural spearmint
Made with natural ingredients
Freshens breath
Generous size
Long ingredients list
These chewy dental dog treats claim to provide a 'meal's worth of goodness' for dogs. They clean teeth, remove plaque and tartar, and – a relief for owners whose dogs like to greet them with a slobbery kiss in the morning – they freshen breath, too.
The chews work in a similar way to a toothbrush. They gently scrape the surface of the tooth to help brush away plaque and tartar that could otherwise cause problems. Greenies says feeding your dog these treats could result in 60% less tartar accumulation and 32% less plaque accumulation
These dog treats come vet-recommended, and promise to help digestion with their highly soluble ingredients. These ingredients include wheat flour, minerals and vitamins and a natural poultry flavor. While the ingredients list isn't necessarily the best quality, each treat contains added vitamins and minerals. And every spearmint-flavoured toothbrush-shaped treat contains 30% crude protein and 6% crude fiber.
In addition, every Greenies treat adheres to the Association of American Feed Control Officials standards for pet food.
There are six different packet sizes to choose from, ranging from 11 to 130 treats per bag. They are suitable for dogs that weigh over 5lbs and over the age of six months.
Greenies also offers smaller versions of this treat, as well as a range of other treats, such as pumpkin spice, gingerbread and blueberry flavoured treats, as well as products specifically tailored towards puppies and older dogs.
There are numerous dog treats on the market aimed at oral health, and these are one of the most popular.
Hill's Natural Dog Treats, Soft-Baked Naturals with Chicken & Carrots
Contains: Grain-free chicken | Ingredients: Real chicken and carrots | Packaging: Eco-friendly | Recipe: Vet-approved
Grain-free ingredients
Low-calorie
Mini size ideal for training
Good price
Recommended for adult dogs only
Small bag
If you're after an all-natural snack packed with nutrition and flavor, Hill's Dog treats offer the perfect balance. Made from grain free chicken and carrots, not only will this tickle your dog's tastebuds, but also provide a low-calorie snack. This will help keep the pounds off so your canine companion will always stay fit and healthy. 
These snacks are recommended for adult dogs, so may not be suitable for younger pups. However, their mini-sized bites are ideal for rewarding seniors and are easy on the teeth.  These snacks are also ideal for dogs who suffer from allergies, as its grain-free formula doesn't contain corn, wheat, soy or any added artificial flavors or preservatives.
One thing to note is the texture states soft-baked, while a few users have mentioned that they are actually not as soft as expected. But these were still soft enough for older dogs to happily chew on and enjoy the flavors. 
Overall, this is a highly nutritious and tasty treat option that will keep your pooch healthy and happy!
Wellness Natural Crunchy Puppy Bites Chicken & Carrots Recipe
Best dog treats for puppies
Contains: Chicken and carrots | Ingredients: Sustainably sourced | Packaging: Eco-friendly | Recipe: Vet-approved
Two kinds of fresh meat
All natural ingredients 
Compact size
Pricey for a small bag
These puppy bites may be small but they pack a powerful punch. Specifically formulated for dogs under one year of age, these mini, crunchy puppy treats are bursting with all the nutritional value, goodness, and tasty flavors your pup will need to thrive. 
Made from fresh, premium chicken and all-natural ingredients, including sources of DHA and Omega 3, they're free from artificial colors, wheat, dairy, and meat by-products. From fresh carrots and apples to flaxseed and blueberries, this formula contains the necessary nutrients to support your pup's development.  
Your pup will enjoy the miniature shapes and delicious crunchy texture. In fact, these bite-sized treats are perfect for training sessions or simply for spoiling your pooch. Another bonus is that the snacks are suitable for all breeds and sizes. 
Some customers have mentioned they're a little on the pricey side, considering the bag is only 6 ounces. However, if you're after top-notch, organic quality for your puppy, then this is certainly worth the splurge.  
How to choose the best dog treat for your dog
When it comes to choosing the best dog treat for your dog, there are a few things to bear in mind.
First, if your dog has any special dietary requirements or health needs – such as gum disease or being overweight – consider opting for a treat that is specific to them. A low-calorie treat for a dog that needs to watch their waistline means they don't need to miss out on rewards, while a treat specifically aimed at fighting plaque will help dogs with gum and teeth problems get the best of both worlds.
Similarly, for dogs with digestive issues, or just sensitive stomachs, try testing them out on one of the many dog treats on the shelves that specifically promise to be kind on digestion.
When it comes to ingredients, the same rules generally apply to dogs as they do for humans. The fewer and fresher the ingredients, the better.
There's a lot to consider when picking the right treat for your dog – and, ultimately, they will usually get the final say. But if you can manage to find a dog treat that your pet doesn't turn their nose up at, and that has some great ingredients to supplement their diet, you'll be in their good books forever. 
For extra brownie points, you could try and make your own homemade dog treats.
Jessica is a freelance features journalist. When she isn't writing, she's chasing after strangers' dogs in the park.
Get the best advice, tips and top tech for your beloved Pets
Thank you for signing up to Petsradar. You will receive a verification email shortly.
There was a problem. Please refresh the page and try again.