Five dog treats for sensitive stomachs
Does your canine companion need dog treats for sensitive stomachs? Here are five tasty options for pets with digestion woes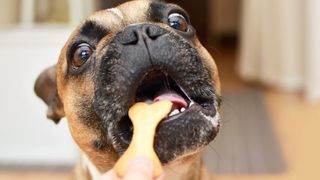 (Image credit: Getty Images)
It's not uncommon for a dog to need special dog treats for sensitive stomachs. In the same way humans can experience digestive issues, dogs can suffer from these too, whether it's intolerances to certain foods or flare-ups relating to existing conditions. This can also extend to meal times as well as treat times and we offer some solutions to these problems too. If your dog experiences issues even after eating the best dry dog food then it might be a good idea to consider the best dog food for allergies instead.
The good news is that there are dedicated dog treats for sensitive stomachs in pooches – they're more digestible than ever, thanks to better formulations, more sophisticated production processes and extensive research into ingredients that can benefit your dog in a variety of ways.
All of these developments mean it's now easier than ever to treat your trusted canine companion without risking adverse side effects, and we've found five delicious dog treats perfect for dogs with sensitive stomachs.

If you find your dog's digestion improves, then take a look at our round-up of the best dog treats available today.
1. Pooch and Mutt's Natural Treats for Digestion and Wind
Is your pooch having a pongy moment? While some species are more prone to flatulence than others, (yes, French bulldogs, we're looking at you), all dogs have windy days, which is why it's a good idea to keep some digestion-easing snacks to hand.
These mini-bones from Pooch and Mutt are the perfect treats for dogs with flatulence. They include parsley, which has been used as a remedy for flatulence and bloating for hundreds of years, and charcoal, which helps dogs digest food, thereby reducing the risk of excess gas.
Finally, there's chicory. "This herbaceous plant contains a prebiotic dietary fiber which nourishes the friendly gut bacteria," explains Cam Wimble, aka The Dog Nutritionist. "It helps to ensure your dog's gut microbiome is balanced and working as it should be."
2. Yakers Himalayan Yak Milk Dog Chew
Discerning doggies will love these satisfyingly chompable chews. Yak milk is the main ingredient, used alongside a pinch of salt (under 0.1%) and a few drops of lime juice. The last two ingredients are used to harden these all-natural dog chews, which are made in the Himalayas, where they've been chewed by both locals and their canine companions for hundreds of years.
These tasty dog treats from Yakers are gluten-free and have a low-fat content too – the yak milk is skimmed, leaving a fat content of just 5%. Don't worry about lactose intolerances either – both the cream and whey are removed, so the lactose content is less than 1%.
The chews are especially ideal as a treat for dogs that have recently been unwell – the all-natural roster of ingredients will give their tummies time to settle.
3. ProDog Tripe Bone
What dog doesn't love a bone? ProDog's delicious (at least from your dog's point of view) treat isn't just any bone either – it's an all-natural boredom buster made with tripe, which is packed with naturally occurring probiotics and digestive enzymes. Prone to squeamishness? You might want to skip this next bit.
Tripe is the stomach of ruminating (grazing) animals such as cows and sheep – creatures with stomachs divided into four chambers, and the ability to break down their food with a potent mix of digestive enzymes, gastric juices and amino acids. In a nutshell, these are the best bones for dogs with sensitive stomachs.
The bad news is that tripe stinks, which is why we love these air-dried treats – your four-legged friend will reap all of the benefits of tripe, and you won't have to hire a fumigator every time you give them one.
4. Skinner's Salmon and Rice
If your dog is experiencing digestive issues, it's important to try and single out which food is causing the problem.
"Digestive upsets can be influenced by a number of factors," points out Zoe Russell, a dog nutritionist who has spent years studying animal nutrition, genetics and welfare. "These include including infection, over-supplementation, health issues and breed predispositions."
If your pet's diet includes a wide range of treats and different types of dog food, treating them to one created specifically for dogs with sensitive stomachs will help eliminate potential irritants while giving their tummies some time-out.
Skinner's Salmon and Rice is a great example. Although not a dog treat in the traditional sense, this top-quality, hypoallergenic dog food is worth splurging out on – especially if you're giving your dog's diet a temporary upgrade in order to work out which foods don't agree with him, or to simply give an irritated tummy a rest.
It is gluten-free and free from maize and barley (all of which can irritate sensitive stomachs), and when it comes to food for dogs with digestive issues, salmon is a brilliant choice – proteins such as beef can be harder for their tummies to process.
5. The Golden Paste Company's Turmeric Chicken Slices
Canines and curry certainly don't mix, but you'll probably be surprised to hear that turmeric, a bright yellow spice often used in curries for its aromatic qualities, is regarded by many as a superfood for dogs, due to its ability to support the naturally-occurring micro-flora which aids doggie digestive systems.
"There's ongoing research looking into its potential as an anti-ulcer and as a gastroprotective agent, because of its amazing anti-inflammatory and antioxidant activities," says dog nutritionist Cam Wimble. "A small amount will help settle your dog's stomach, but don't give them too much – if overconsumed, it could work to clear your dog out, fast!"
The Golden Paste Company's Turmeric Chicken Slices have been formulated to increase the bio-availability of turmeric, which basically means it's easier for dogs to benefit from the spice's soothing qualities, without the risk of any side effects.
Canine conclusion
In summary, although natural, simple ingredients are best for dogs with digestive problems, it's important not to write off ingredients on the assumption that they're more likely to compound existing issues.
Sophisticated formulations mean that ingredients that dog owners once steered clear of – such as salmon or milk-based treats – can now be easily digested, which means it's easier than ever to reward your dog with a delicious, digestible treat.
If you'd like to take complete control over canine reward time, we can show you how to make your own homemade dog treats too.
Get the best advice, tips and top tech for your beloved Pets
Tamara Hinson is a freelance writer who grew up with huskies but unfortunately now has a husband who is allergic to dogs. Luckily she has a neighbour who lets her dog-sit her Maltese terrier and a nearby greyhound rescue centre where she can walk the residents.